SIDI Crossfire 3 SRS
Regular price
Sale price
$999.00
Unit price
/
per
or 4 payments of
Regular price
$0.00
Sale price
$249.75
Unit price
/
per
with
---
---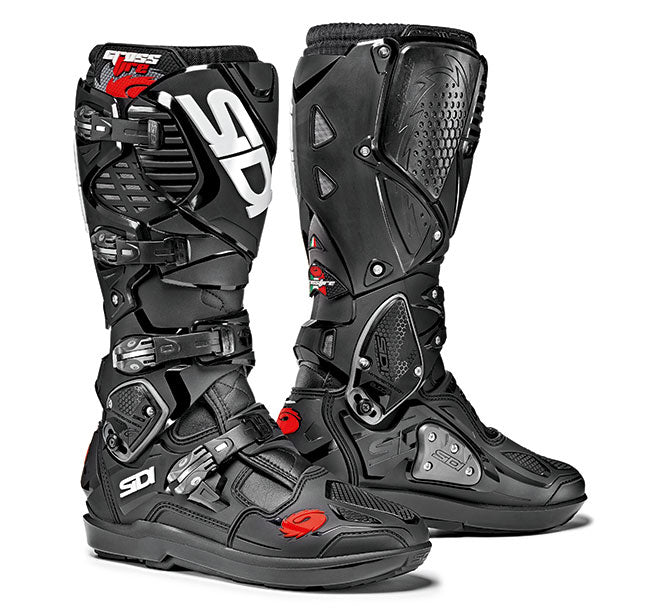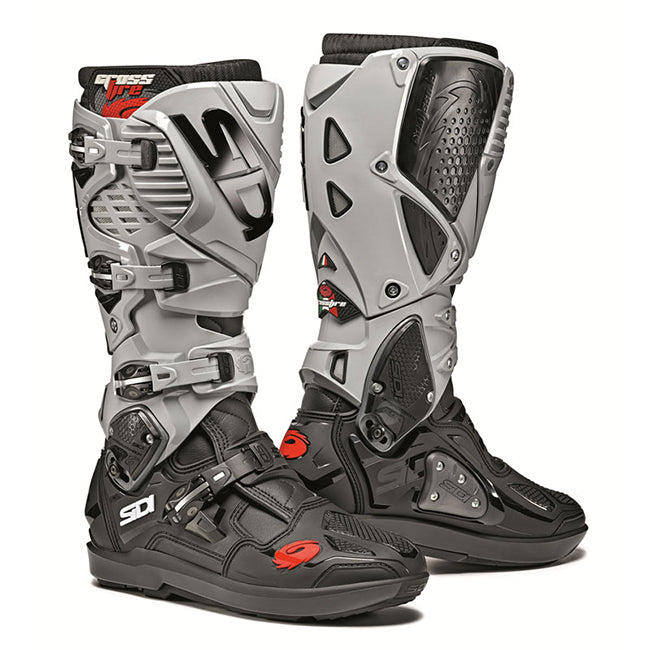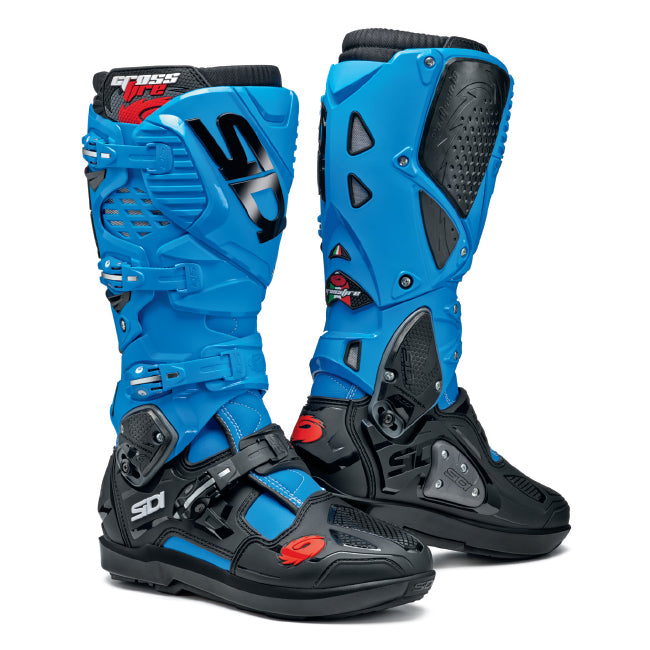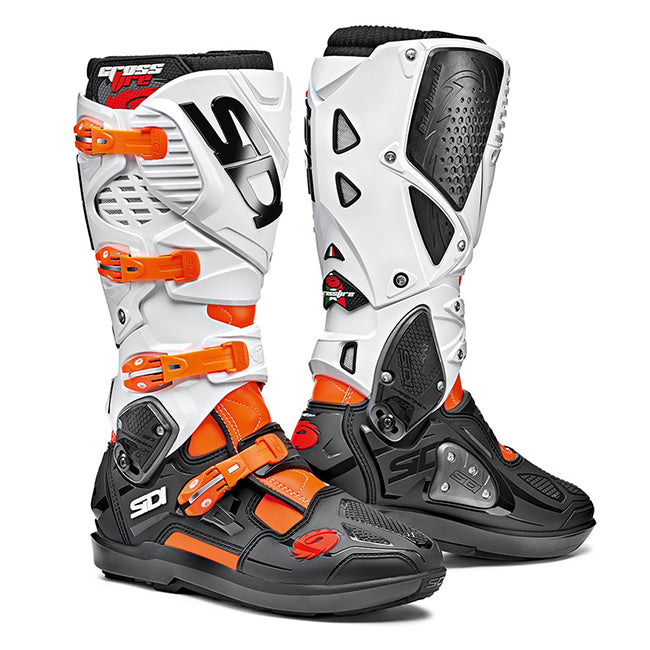 SIDI Crossfire 3 SRS Boots - Black
The legendary Crossfire line has evolved again. The SIDI Crossfire 3 SRS Boots have been completely redesigned, with only the acclaimed SIDI cam lock buckles and straps carrying over from the Crossfire 2 SRS Boots. The new inner gaiter has a larger circumference than the Crossfire 2, accommodating an even wider range of calf sizes and making for a tight seal around the rider's lower leg no matter what knee brace system may be used. The upper inside of the gaiter features a suede heat protection-grip panel for maximum grip. The Dual Flex ankle has been redesigned to prevent motion beyond anatomical limits that may cause injury, without restricting dexterity for normal shifting and braking. The SIDI Crossfire 3 SRS Boots are possibly the most durable, serviceable motocross boots on the market - the design uses hardware instead of stitching so virtually every part is replaceable, season after season. 
Improved Fit:
New sole boat features a more cupped and thicker design so the rider's foot rests deeper into the sole system
Removable arch support
Replacement parts available. SIDI boots are a narrow fit and they recommend going up a size from what you would normally wear.
{"id":7304363147420,"title":"SIDI Crossfire 3 SRS","handle":"sidi-crossfire-3-srs","description":"\u003cp\u003e\u003cstrong\u003eSIDI Crossfire 3 SRS Boots - Black\u003c\/strong\u003e\u003c\/p\u003e\n\n\u003cp\u003eThe legendary Crossfire line has evolved again. The SIDI Crossfire 3 SRS Boots have been completely redesigned, with only the acclaimed SIDI cam lock buckles and straps carrying over from the Crossfire 2 SRS Boots. The new inner gaiter has a larger circumference than the Crossfire 2, accommodating an even wider range of calf sizes and making for a tight seal around the rider's lower leg no matter what knee brace system may be used. The upper inside of the gaiter features a suede heat protection-grip panel for maximum grip. The Dual Flex ankle has been redesigned to prevent motion beyond anatomical limits that may cause injury, without restricting dexterity for normal shifting and braking. The SIDI Crossfire 3 SRS Boots are possibly the most durable, serviceable motocross boots on the market - the design uses hardware instead of stitching so virtually every part is replaceable, season after season. \u003c\/p\u003e\n\n\u003cp\u003eImproved Fit:\u003c\/p\u003e\n\n\u003cul\u003e\n\t\u003cli\u003eNew sole boat features a more cupped and thicker design so the rider's foot rests deeper into the sole system\u003c\/li\u003e\n\t\u003cli\u003eRemovable arch support\u003c\/li\u003e\n\u003c\/ul\u003e\n\n\u003cp\u003e \u003c\/p\u003e\n\n\u003cp\u003eReplacement parts available. SIDI boots are a narrow fit and they recommend going up a size from what you would normally wear.\u003c\/p\u003e\n","published_at":"2022-06-20T14:07:47+12:00","created_at":"2022-05-26T23:54:35+12:00","vendor":"SIDI","type":"Apparel-Offroad-Boots-Mens","tags":["S3-Cat-Apparel","S3-Cat-Apparel-Offroad","S3-Cat-Apparel-Offroad-Boots","S3-Cat-Apparel-Offroad-Boots-Mens","Sprint3","Sprint3-New"],"price":99900,"price_min":99900,"price_max":99900,"available":true,"price_varies":false,"compare_at_price":null,"compare_at_price_min":0,"compare_at_price_max":0,"compare_at_price_varies":false,"variants":[{"id":41661338189980,"title":"Crossfire3 SRS 40 black MX boots Sidi [A]","option1":"Crossfire3 SRS 40 black MX boots Sidi [A]","option2":null,"option3":null,"sku":"CFIRE3SRS40B","requires_shipping":true,"taxable":true,"featured_image":{"id":33931028529308,"product_id":7304363147420,"position":1,"created_at":"2022-05-26T23:54:43+12:00","updated_at":"2022-05-26T23:54:43+12:00","alt":"Crossfire3SRS_Black-Black","width":650,"height":608,"src":"\/\/motogear.co.nz\/cdn\/shop\/products\/d4286ebe89470a772f5e93a3800d771f_2f9c5114-37a1-4a45-b9d7-cd29ae0aa85e.jpg?v=1653566083","variant_ids":[41661338189980,41661338222748,41661338255516,41661338288284,41661338321052,41661338353820,41661338386588,41661338419356]},"available":true,"name":"SIDI Crossfire 3 SRS - Crossfire3 SRS 40 black MX boots Sidi [A]","public_title":"Crossfire3 SRS 40 black MX boots Sidi [A]","options":["Crossfire3 SRS 40 black MX boots Sidi [A]"],"price":99900,"weight":0,"compare_at_price":null,"inventory_management":"sprint3-fulfillment","barcode":"8017732537003","featured_media":{"alt":"Crossfire3SRS_Black-Black","id":26282727571612,"position":1,"preview_image":{"aspect_ratio":1.069,"height":608,"width":650,"src":"\/\/motogear.co.nz\/cdn\/shop\/products\/d4286ebe89470a772f5e93a3800d771f_2f9c5114-37a1-4a45-b9d7-cd29ae0aa85e.jpg?v=1653566083"}}},{"id":41661338222748,"title":"Crossfire3 SRS 41 black MX boots Sidi [AC]","option1":"Crossfire3 SRS 41 black MX boots Sidi [AC]","option2":null,"option3":null,"sku":"CFIRE3SRS41B","requires_shipping":true,"taxable":true,"featured_image":{"id":33931028529308,"product_id":7304363147420,"position":1,"created_at":"2022-05-26T23:54:43+12:00","updated_at":"2022-05-26T23:54:43+12:00","alt":"Crossfire3SRS_Black-Black","width":650,"height":608,"src":"\/\/motogear.co.nz\/cdn\/shop\/products\/d4286ebe89470a772f5e93a3800d771f_2f9c5114-37a1-4a45-b9d7-cd29ae0aa85e.jpg?v=1653566083","variant_ids":[41661338189980,41661338222748,41661338255516,41661338288284,41661338321052,41661338353820,41661338386588,41661338419356]},"available":true,"name":"SIDI Crossfire 3 SRS - Crossfire3 SRS 41 black MX boots Sidi [AC]","public_title":"Crossfire3 SRS 41 black MX boots Sidi [AC]","options":["Crossfire3 SRS 41 black MX boots Sidi [AC]"],"price":99900,"weight":0,"compare_at_price":null,"inventory_management":"sprint3-fulfillment","barcode":"8017732497284","featured_media":{"alt":"Crossfire3SRS_Black-Black","id":26282727571612,"position":1,"preview_image":{"aspect_ratio":1.069,"height":608,"width":650,"src":"\/\/motogear.co.nz\/cdn\/shop\/products\/d4286ebe89470a772f5e93a3800d771f_2f9c5114-37a1-4a45-b9d7-cd29ae0aa85e.jpg?v=1653566083"}}},{"id":41661338255516,"title":"Crossfire3 SRS 42 black MX boots Sidi [A]","option1":"Crossfire3 SRS 42 black MX boots Sidi [A]","option2":null,"option3":null,"sku":"CFIRE3SRS42B","requires_shipping":true,"taxable":true,"featured_image":{"id":33931028529308,"product_id":7304363147420,"position":1,"created_at":"2022-05-26T23:54:43+12:00","updated_at":"2022-05-26T23:54:43+12:00","alt":"Crossfire3SRS_Black-Black","width":650,"height":608,"src":"\/\/motogear.co.nz\/cdn\/shop\/products\/d4286ebe89470a772f5e93a3800d771f_2f9c5114-37a1-4a45-b9d7-cd29ae0aa85e.jpg?v=1653566083","variant_ids":[41661338189980,41661338222748,41661338255516,41661338288284,41661338321052,41661338353820,41661338386588,41661338419356]},"available":true,"name":"SIDI Crossfire 3 SRS - Crossfire3 SRS 42 black MX boots Sidi [A]","public_title":"Crossfire3 SRS 42 black MX boots Sidi [A]","options":["Crossfire3 SRS 42 black MX boots Sidi [A]"],"price":99900,"weight":0,"compare_at_price":null,"inventory_management":"sprint3-fulfillment","barcode":"8017732537027","featured_media":{"alt":"Crossfire3SRS_Black-Black","id":26282727571612,"position":1,"preview_image":{"aspect_ratio":1.069,"height":608,"width":650,"src":"\/\/motogear.co.nz\/cdn\/shop\/products\/d4286ebe89470a772f5e93a3800d771f_2f9c5114-37a1-4a45-b9d7-cd29ae0aa85e.jpg?v=1653566083"}}},{"id":41661338288284,"title":"Crossfire3 SRS 43 black MX boots Sidi [A]","option1":"Crossfire3 SRS 43 black MX boots Sidi [A]","option2":null,"option3":null,"sku":"CFIRE3SRS43B","requires_shipping":true,"taxable":true,"featured_image":{"id":33931028529308,"product_id":7304363147420,"position":1,"created_at":"2022-05-26T23:54:43+12:00","updated_at":"2022-05-26T23:54:43+12:00","alt":"Crossfire3SRS_Black-Black","width":650,"height":608,"src":"\/\/motogear.co.nz\/cdn\/shop\/products\/d4286ebe89470a772f5e93a3800d771f_2f9c5114-37a1-4a45-b9d7-cd29ae0aa85e.jpg?v=1653566083","variant_ids":[41661338189980,41661338222748,41661338255516,41661338288284,41661338321052,41661338353820,41661338386588,41661338419356]},"available":true,"name":"SIDI Crossfire 3 SRS - Crossfire3 SRS 43 black MX boots Sidi [A]","public_title":"Crossfire3 SRS 43 black MX boots Sidi [A]","options":["Crossfire3 SRS 43 black MX boots Sidi [A]"],"price":99900,"weight":0,"compare_at_price":null,"inventory_management":"sprint3-fulfillment","barcode":"8017732493125","featured_media":{"alt":"Crossfire3SRS_Black-Black","id":26282727571612,"position":1,"preview_image":{"aspect_ratio":1.069,"height":608,"width":650,"src":"\/\/motogear.co.nz\/cdn\/shop\/products\/d4286ebe89470a772f5e93a3800d771f_2f9c5114-37a1-4a45-b9d7-cd29ae0aa85e.jpg?v=1653566083"}}},{"id":41661338321052,"title":"Crossfire3 SRS 44 black MX boots Sidi [C]","option1":"Crossfire3 SRS 44 black MX boots Sidi [C]","option2":null,"option3":null,"sku":"CFIRE3SRS44B","requires_shipping":true,"taxable":true,"featured_image":{"id":33931028529308,"product_id":7304363147420,"position":1,"created_at":"2022-05-26T23:54:43+12:00","updated_at":"2022-05-26T23:54:43+12:00","alt":"Crossfire3SRS_Black-Black","width":650,"height":608,"src":"\/\/motogear.co.nz\/cdn\/shop\/products\/d4286ebe89470a772f5e93a3800d771f_2f9c5114-37a1-4a45-b9d7-cd29ae0aa85e.jpg?v=1653566083","variant_ids":[41661338189980,41661338222748,41661338255516,41661338288284,41661338321052,41661338353820,41661338386588,41661338419356]},"available":true,"name":"SIDI Crossfire 3 SRS - Crossfire3 SRS 44 black MX boots Sidi [C]","public_title":"Crossfire3 SRS 44 black MX boots Sidi [C]","options":["Crossfire3 SRS 44 black MX boots Sidi [C]"],"price":99900,"weight":0,"compare_at_price":null,"inventory_management":"sprint3-fulfillment","barcode":"8017732493132","featured_media":{"alt":"Crossfire3SRS_Black-Black","id":26282727571612,"position":1,"preview_image":{"aspect_ratio":1.069,"height":608,"width":650,"src":"\/\/motogear.co.nz\/cdn\/shop\/products\/d4286ebe89470a772f5e93a3800d771f_2f9c5114-37a1-4a45-b9d7-cd29ae0aa85e.jpg?v=1653566083"}}},{"id":41661338353820,"title":"Crossfire3 SRS 45 black MX boots Sidi []","option1":"Crossfire3 SRS 45 black MX boots Sidi []","option2":null,"option3":null,"sku":"CFIRE3SRS45B","requires_shipping":true,"taxable":true,"featured_image":{"id":33931028529308,"product_id":7304363147420,"position":1,"created_at":"2022-05-26T23:54:43+12:00","updated_at":"2022-05-26T23:54:43+12:00","alt":"Crossfire3SRS_Black-Black","width":650,"height":608,"src":"\/\/motogear.co.nz\/cdn\/shop\/products\/d4286ebe89470a772f5e93a3800d771f_2f9c5114-37a1-4a45-b9d7-cd29ae0aa85e.jpg?v=1653566083","variant_ids":[41661338189980,41661338222748,41661338255516,41661338288284,41661338321052,41661338353820,41661338386588,41661338419356]},"available":false,"name":"SIDI Crossfire 3 SRS - Crossfire3 SRS 45 black MX boots Sidi []","public_title":"Crossfire3 SRS 45 black MX boots Sidi []","options":["Crossfire3 SRS 45 black MX boots Sidi []"],"price":99900,"weight":0,"compare_at_price":null,"inventory_management":"sprint3-fulfillment","barcode":"8017732537072","featured_media":{"alt":"Crossfire3SRS_Black-Black","id":26282727571612,"position":1,"preview_image":{"aspect_ratio":1.069,"height":608,"width":650,"src":"\/\/motogear.co.nz\/cdn\/shop\/products\/d4286ebe89470a772f5e93a3800d771f_2f9c5114-37a1-4a45-b9d7-cd29ae0aa85e.jpg?v=1653566083"}}},{"id":41661338386588,"title":"Crossfire3 SRS 46 black MX boots Sidi [C]","option1":"Crossfire3 SRS 46 black MX boots Sidi [C]","option2":null,"option3":null,"sku":"CFIRE3SRS46B","requires_shipping":true,"taxable":true,"featured_image":{"id":33931028529308,"product_id":7304363147420,"position":1,"created_at":"2022-05-26T23:54:43+12:00","updated_at":"2022-05-26T23:54:43+12:00","alt":"Crossfire3SRS_Black-Black","width":650,"height":608,"src":"\/\/motogear.co.nz\/cdn\/shop\/products\/d4286ebe89470a772f5e93a3800d771f_2f9c5114-37a1-4a45-b9d7-cd29ae0aa85e.jpg?v=1653566083","variant_ids":[41661338189980,41661338222748,41661338255516,41661338288284,41661338321052,41661338353820,41661338386588,41661338419356]},"available":false,"name":"SIDI Crossfire 3 SRS - Crossfire3 SRS 46 black MX boots Sidi [C]","public_title":"Crossfire3 SRS 46 black MX boots Sidi [C]","options":["Crossfire3 SRS 46 black MX boots Sidi [C]"],"price":99900,"weight":0,"compare_at_price":null,"inventory_management":"sprint3-fulfillment","barcode":"8017732537089","featured_media":{"alt":"Crossfire3SRS_Black-Black","id":26282727571612,"position":1,"preview_image":{"aspect_ratio":1.069,"height":608,"width":650,"src":"\/\/motogear.co.nz\/cdn\/shop\/products\/d4286ebe89470a772f5e93a3800d771f_2f9c5114-37a1-4a45-b9d7-cd29ae0aa85e.jpg?v=1653566083"}}},{"id":41661338419356,"title":"Crossfire3 SRS 47 black MX boots Sidi []","option1":"Crossfire3 SRS 47 black MX boots Sidi []","option2":null,"option3":null,"sku":"CFIRE3SRS47B","requires_shipping":true,"taxable":true,"featured_image":{"id":33931028529308,"product_id":7304363147420,"position":1,"created_at":"2022-05-26T23:54:43+12:00","updated_at":"2022-05-26T23:54:43+12:00","alt":"Crossfire3SRS_Black-Black","width":650,"height":608,"src":"\/\/motogear.co.nz\/cdn\/shop\/products\/d4286ebe89470a772f5e93a3800d771f_2f9c5114-37a1-4a45-b9d7-cd29ae0aa85e.jpg?v=1653566083","variant_ids":[41661338189980,41661338222748,41661338255516,41661338288284,41661338321052,41661338353820,41661338386588,41661338419356]},"available":true,"name":"SIDI Crossfire 3 SRS - Crossfire3 SRS 47 black MX boots Sidi []","public_title":"Crossfire3 SRS 47 black MX boots Sidi []","options":["Crossfire3 SRS 47 black MX boots Sidi []"],"price":99900,"weight":0,"compare_at_price":null,"inventory_management":"sprint3-fulfillment","barcode":"8017732493163","featured_media":{"alt":"Crossfire3SRS_Black-Black","id":26282727571612,"position":1,"preview_image":{"aspect_ratio":1.069,"height":608,"width":650,"src":"\/\/motogear.co.nz\/cdn\/shop\/products\/d4286ebe89470a772f5e93a3800d771f_2f9c5114-37a1-4a45-b9d7-cd29ae0aa85e.jpg?v=1653566083"}}},{"id":41661338452124,"title":"Crossfire3 SRS 42 black\/ash MX boots Sidi [A]","option1":"Crossfire3 SRS 42 black\/ash MX boots Sidi [A]","option2":null,"option3":null,"sku":"CFIRE3SRS42BA","requires_shipping":true,"taxable":true,"featured_image":{"id":33931028562076,"product_id":7304363147420,"position":2,"created_at":"2022-05-26T23:54:43+12:00","updated_at":"2022-05-26T23:54:43+12:00","alt":"SIDI CF3 SRS BLACK ASH","width":650,"height":650,"src":"\/\/motogear.co.nz\/cdn\/shop\/products\/c4208fad7fc819818603c8347afc2d96_f0819846-41c7-4c42-8f55-0ddfb5e402dd.jpg?v=1653566083","variant_ids":[41661338452124,41661338484892,41661338517660,41661338550428,41661338583196,41661338615964]},"available":true,"name":"SIDI Crossfire 3 SRS - Crossfire3 SRS 42 black\/ash MX boots Sidi [A]","public_title":"Crossfire3 SRS 42 black\/ash MX boots Sidi [A]","options":["Crossfire3 SRS 42 black\/ash MX boots Sidi [A]"],"price":99900,"weight":0,"compare_at_price":null,"inventory_management":"sprint3-fulfillment","barcode":"8017732535443","featured_media":{"alt":"SIDI CF3 SRS BLACK ASH","id":26282727604380,"position":2,"preview_image":{"aspect_ratio":1.0,"height":650,"width":650,"src":"\/\/motogear.co.nz\/cdn\/shop\/products\/c4208fad7fc819818603c8347afc2d96_f0819846-41c7-4c42-8f55-0ddfb5e402dd.jpg?v=1653566083"}}},{"id":41661338484892,"title":"Crossfire3 SRS 43 black\/ash MX boots Sidi [A]","option1":"Crossfire3 SRS 43 black\/ash MX boots Sidi [A]","option2":null,"option3":null,"sku":"CFIRE3SRS43BA","requires_shipping":true,"taxable":true,"featured_image":{"id":33931028562076,"product_id":7304363147420,"position":2,"created_at":"2022-05-26T23:54:43+12:00","updated_at":"2022-05-26T23:54:43+12:00","alt":"SIDI CF3 SRS BLACK ASH","width":650,"height":650,"src":"\/\/motogear.co.nz\/cdn\/shop\/products\/c4208fad7fc819818603c8347afc2d96_f0819846-41c7-4c42-8f55-0ddfb5e402dd.jpg?v=1653566083","variant_ids":[41661338452124,41661338484892,41661338517660,41661338550428,41661338583196,41661338615964]},"available":true,"name":"SIDI Crossfire 3 SRS - Crossfire3 SRS 43 black\/ash MX boots Sidi [A]","public_title":"Crossfire3 SRS 43 black\/ash MX boots Sidi [A]","options":["Crossfire3 SRS 43 black\/ash MX boots Sidi [A]"],"price":99900,"weight":0,"compare_at_price":null,"inventory_management":"sprint3-fulfillment","barcode":"8017732536952","featured_media":{"alt":"SIDI CF3 SRS BLACK ASH","id":26282727604380,"position":2,"preview_image":{"aspect_ratio":1.0,"height":650,"width":650,"src":"\/\/motogear.co.nz\/cdn\/shop\/products\/c4208fad7fc819818603c8347afc2d96_f0819846-41c7-4c42-8f55-0ddfb5e402dd.jpg?v=1653566083"}}},{"id":41661338517660,"title":"Crossfire3 SRS 44 black\/ash MX boots Sidi []","option1":"Crossfire3 SRS 44 black\/ash MX boots Sidi []","option2":null,"option3":null,"sku":"CFIRE3SRS44BA","requires_shipping":true,"taxable":true,"featured_image":{"id":33931028562076,"product_id":7304363147420,"position":2,"created_at":"2022-05-26T23:54:43+12:00","updated_at":"2022-05-26T23:54:43+12:00","alt":"SIDI CF3 SRS BLACK ASH","width":650,"height":650,"src":"\/\/motogear.co.nz\/cdn\/shop\/products\/c4208fad7fc819818603c8347afc2d96_f0819846-41c7-4c42-8f55-0ddfb5e402dd.jpg?v=1653566083","variant_ids":[41661338452124,41661338484892,41661338517660,41661338550428,41661338583196,41661338615964]},"available":true,"name":"SIDI Crossfire 3 SRS - Crossfire3 SRS 44 black\/ash MX boots Sidi []","public_title":"Crossfire3 SRS 44 black\/ash MX boots Sidi []","options":["Crossfire3 SRS 44 black\/ash MX boots Sidi []"],"price":99900,"weight":0,"compare_at_price":null,"inventory_management":"sprint3-fulfillment","barcode":"8017732535450","featured_media":{"alt":"SIDI CF3 SRS BLACK ASH","id":26282727604380,"position":2,"preview_image":{"aspect_ratio":1.0,"height":650,"width":650,"src":"\/\/motogear.co.nz\/cdn\/shop\/products\/c4208fad7fc819818603c8347afc2d96_f0819846-41c7-4c42-8f55-0ddfb5e402dd.jpg?v=1653566083"}}},{"id":41661338550428,"title":"Crossfire3 SRS 45 black\/ash MX boots Sidi []","option1":"Crossfire3 SRS 45 black\/ash MX boots Sidi []","option2":null,"option3":null,"sku":"CFIRE3SRS45BA","requires_shipping":true,"taxable":true,"featured_image":{"id":33931028562076,"product_id":7304363147420,"position":2,"created_at":"2022-05-26T23:54:43+12:00","updated_at":"2022-05-26T23:54:43+12:00","alt":"SIDI CF3 SRS BLACK ASH","width":650,"height":650,"src":"\/\/motogear.co.nz\/cdn\/shop\/products\/c4208fad7fc819818603c8347afc2d96_f0819846-41c7-4c42-8f55-0ddfb5e402dd.jpg?v=1653566083","variant_ids":[41661338452124,41661338484892,41661338517660,41661338550428,41661338583196,41661338615964]},"available":false,"name":"SIDI Crossfire 3 SRS - Crossfire3 SRS 45 black\/ash MX boots Sidi []","public_title":"Crossfire3 SRS 45 black\/ash MX boots Sidi []","options":["Crossfire3 SRS 45 black\/ash MX boots Sidi []"],"price":99900,"weight":0,"compare_at_price":null,"inventory_management":"sprint3-fulfillment","barcode":"8017732536983","featured_media":{"alt":"SIDI CF3 SRS BLACK ASH","id":26282727604380,"position":2,"preview_image":{"aspect_ratio":1.0,"height":650,"width":650,"src":"\/\/motogear.co.nz\/cdn\/shop\/products\/c4208fad7fc819818603c8347afc2d96_f0819846-41c7-4c42-8f55-0ddfb5e402dd.jpg?v=1653566083"}}},{"id":41661338583196,"title":"Crossfire3 SRS 46 black\/ash MX boots Sidi []","option1":"Crossfire3 SRS 46 black\/ash MX boots Sidi []","option2":null,"option3":null,"sku":"CFIRE3SRS46BA","requires_shipping":true,"taxable":true,"featured_image":{"id":33931028562076,"product_id":7304363147420,"position":2,"created_at":"2022-05-26T23:54:43+12:00","updated_at":"2022-05-26T23:54:43+12:00","alt":"SIDI CF3 SRS BLACK ASH","width":650,"height":650,"src":"\/\/motogear.co.nz\/cdn\/shop\/products\/c4208fad7fc819818603c8347afc2d96_f0819846-41c7-4c42-8f55-0ddfb5e402dd.jpg?v=1653566083","variant_ids":[41661338452124,41661338484892,41661338517660,41661338550428,41661338583196,41661338615964]},"available":true,"name":"SIDI Crossfire 3 SRS - Crossfire3 SRS 46 black\/ash MX boots Sidi []","public_title":"Crossfire3 SRS 46 black\/ash MX boots Sidi []","options":["Crossfire3 SRS 46 black\/ash MX boots Sidi []"],"price":99900,"weight":0,"compare_at_price":null,"inventory_management":"sprint3-fulfillment","barcode":"8017732536990","featured_media":{"alt":"SIDI CF3 SRS BLACK ASH","id":26282727604380,"position":2,"preview_image":{"aspect_ratio":1.0,"height":650,"width":650,"src":"\/\/motogear.co.nz\/cdn\/shop\/products\/c4208fad7fc819818603c8347afc2d96_f0819846-41c7-4c42-8f55-0ddfb5e402dd.jpg?v=1653566083"}}},{"id":41661338615964,"title":"Crossfire3 SRS 47 black\/ash MX boots Sidi []","option1":"Crossfire3 SRS 47 black\/ash MX boots Sidi []","option2":null,"option3":null,"sku":"CFIRE3SRS47BA","requires_shipping":true,"taxable":true,"featured_image":{"id":33931028562076,"product_id":7304363147420,"position":2,"created_at":"2022-05-26T23:54:43+12:00","updated_at":"2022-05-26T23:54:43+12:00","alt":"SIDI CF3 SRS BLACK ASH","width":650,"height":650,"src":"\/\/motogear.co.nz\/cdn\/shop\/products\/c4208fad7fc819818603c8347afc2d96_f0819846-41c7-4c42-8f55-0ddfb5e402dd.jpg?v=1653566083","variant_ids":[41661338452124,41661338484892,41661338517660,41661338550428,41661338583196,41661338615964]},"available":true,"name":"SIDI Crossfire 3 SRS - Crossfire3 SRS 47 black\/ash MX boots Sidi []","public_title":"Crossfire3 SRS 47 black\/ash MX boots Sidi []","options":["Crossfire3 SRS 47 black\/ash MX boots Sidi []"],"price":99900,"weight":0,"compare_at_price":null,"inventory_management":"sprint3-fulfillment","barcode":"8017732535467","featured_media":{"alt":"SIDI CF3 SRS BLACK ASH","id":26282727604380,"position":2,"preview_image":{"aspect_ratio":1.0,"height":650,"width":650,"src":"\/\/motogear.co.nz\/cdn\/shop\/products\/c4208fad7fc819818603c8347afc2d96_f0819846-41c7-4c42-8f55-0ddfb5e402dd.jpg?v=1653566083"}}},{"id":41661338648732,"title":"Crossfire3 SRS 42 light blue\/ black MX boots Sidi [A]","option1":"Crossfire3 SRS 42 light blue\/ black MX boots Sidi [A]","option2":null,"option3":null,"sku":"CFIRE3SRS42LB","requires_shipping":true,"taxable":true,"featured_image":{"id":33931028594844,"product_id":7304363147420,"position":3,"created_at":"2022-05-26T23:54:43+12:00","updated_at":"2022-05-26T23:54:43+12:00","alt":"SIDI CFIRE 3 SRS Light Blue Black","width":650,"height":650,"src":"\/\/motogear.co.nz\/cdn\/shop\/products\/1ce97bfa54e249e014e7287c99eb0f80_54d9ef67-75eb-466e-9058-0186fbeee6a3.jpg?v=1653566083","variant_ids":[41661338648732,41661338681500,41661338714268,41661338747036,41661338779804,41708927844508]},"available":false,"name":"SIDI Crossfire 3 SRS - Crossfire3 SRS 42 light blue\/ black MX boots Sidi [A]","public_title":"Crossfire3 SRS 42 light blue\/ black MX boots Sidi [A]","options":["Crossfire3 SRS 42 light blue\/ black MX boots Sidi [A]"],"price":99900,"weight":0,"compare_at_price":null,"inventory_management":"sprint3-fulfillment","barcode":"8017732553201","featured_media":{"alt":"SIDI CFIRE 3 SRS Light Blue Black","id":26282727637148,"position":3,"preview_image":{"aspect_ratio":1.0,"height":650,"width":650,"src":"\/\/motogear.co.nz\/cdn\/shop\/products\/1ce97bfa54e249e014e7287c99eb0f80_54d9ef67-75eb-466e-9058-0186fbeee6a3.jpg?v=1653566083"}}},{"id":41661338681500,"title":"Crossfire3 SRS 43 light blue\/ black MX boots Sidi [A]","option1":"Crossfire3 SRS 43 light blue\/ black MX boots Sidi [A]","option2":null,"option3":null,"sku":"CFIRE3SRS43LB","requires_shipping":true,"taxable":true,"featured_image":{"id":33931028594844,"product_id":7304363147420,"position":3,"created_at":"2022-05-26T23:54:43+12:00","updated_at":"2022-05-26T23:54:43+12:00","alt":"SIDI CFIRE 3 SRS Light Blue Black","width":650,"height":650,"src":"\/\/motogear.co.nz\/cdn\/shop\/products\/1ce97bfa54e249e014e7287c99eb0f80_54d9ef67-75eb-466e-9058-0186fbeee6a3.jpg?v=1653566083","variant_ids":[41661338648732,41661338681500,41661338714268,41661338747036,41661338779804,41708927844508]},"available":true,"name":"SIDI Crossfire 3 SRS - Crossfire3 SRS 43 light blue\/ black MX boots Sidi [A]","public_title":"Crossfire3 SRS 43 light blue\/ black MX boots Sidi [A]","options":["Crossfire3 SRS 43 light blue\/ black MX boots Sidi [A]"],"price":99900,"weight":0,"compare_at_price":null,"inventory_management":"sprint3-fulfillment","barcode":"8017732553218","featured_media":{"alt":"SIDI CFIRE 3 SRS Light Blue Black","id":26282727637148,"position":3,"preview_image":{"aspect_ratio":1.0,"height":650,"width":650,"src":"\/\/motogear.co.nz\/cdn\/shop\/products\/1ce97bfa54e249e014e7287c99eb0f80_54d9ef67-75eb-466e-9058-0186fbeee6a3.jpg?v=1653566083"}}},{"id":41661338714268,"title":"Crossfire3 SRS 44 light blue\/ black MX boots Sidi [A]","option1":"Crossfire3 SRS 44 light blue\/ black MX boots Sidi [A]","option2":null,"option3":null,"sku":"CFIRE3SRS44LB","requires_shipping":true,"taxable":true,"featured_image":{"id":33931028594844,"product_id":7304363147420,"position":3,"created_at":"2022-05-26T23:54:43+12:00","updated_at":"2022-05-26T23:54:43+12:00","alt":"SIDI CFIRE 3 SRS Light Blue Black","width":650,"height":650,"src":"\/\/motogear.co.nz\/cdn\/shop\/products\/1ce97bfa54e249e014e7287c99eb0f80_54d9ef67-75eb-466e-9058-0186fbeee6a3.jpg?v=1653566083","variant_ids":[41661338648732,41661338681500,41661338714268,41661338747036,41661338779804,41708927844508]},"available":true,"name":"SIDI Crossfire 3 SRS - Crossfire3 SRS 44 light blue\/ black MX boots Sidi [A]","public_title":"Crossfire3 SRS 44 light blue\/ black MX boots Sidi [A]","options":["Crossfire3 SRS 44 light blue\/ black MX boots Sidi [A]"],"price":99900,"weight":0,"compare_at_price":null,"inventory_management":"sprint3-fulfillment","barcode":"8017732553232","featured_media":{"alt":"SIDI CFIRE 3 SRS Light Blue Black","id":26282727637148,"position":3,"preview_image":{"aspect_ratio":1.0,"height":650,"width":650,"src":"\/\/motogear.co.nz\/cdn\/shop\/products\/1ce97bfa54e249e014e7287c99eb0f80_54d9ef67-75eb-466e-9058-0186fbeee6a3.jpg?v=1653566083"}}},{"id":41661338747036,"title":"Crossfire3 SRS 45 light blue\/ black MX boots Sidi [A]","option1":"Crossfire3 SRS 45 light blue\/ black MX boots Sidi [A]","option2":null,"option3":null,"sku":"CFIRE3SRS45LB","requires_shipping":true,"taxable":true,"featured_image":{"id":33931028594844,"product_id":7304363147420,"position":3,"created_at":"2022-05-26T23:54:43+12:00","updated_at":"2022-05-26T23:54:43+12:00","alt":"SIDI CFIRE 3 SRS Light Blue Black","width":650,"height":650,"src":"\/\/motogear.co.nz\/cdn\/shop\/products\/1ce97bfa54e249e014e7287c99eb0f80_54d9ef67-75eb-466e-9058-0186fbeee6a3.jpg?v=1653566083","variant_ids":[41661338648732,41661338681500,41661338714268,41661338747036,41661338779804,41708927844508]},"available":false,"name":"SIDI Crossfire 3 SRS - Crossfire3 SRS 45 light blue\/ black MX boots Sidi [A]","public_title":"Crossfire3 SRS 45 light blue\/ black MX boots Sidi [A]","options":["Crossfire3 SRS 45 light blue\/ black MX boots Sidi [A]"],"price":99900,"weight":0,"compare_at_price":null,"inventory_management":"sprint3-fulfillment","barcode":"8017732553256","featured_media":{"alt":"SIDI CFIRE 3 SRS Light Blue Black","id":26282727637148,"position":3,"preview_image":{"aspect_ratio":1.0,"height":650,"width":650,"src":"\/\/motogear.co.nz\/cdn\/shop\/products\/1ce97bfa54e249e014e7287c99eb0f80_54d9ef67-75eb-466e-9058-0186fbeee6a3.jpg?v=1653566083"}}},{"id":41708927844508,"title":"Crossfire3 SRS 46 light blue\/ black MX boots Sidi [A]","option1":"Crossfire3 SRS 46 light blue\/ black MX boots Sidi [A]","option2":null,"option3":null,"sku":"CFIRE3SRS46LB","requires_shipping":true,"taxable":true,"featured_image":{"id":33931028594844,"product_id":7304363147420,"position":3,"created_at":"2022-05-26T23:54:43+12:00","updated_at":"2022-05-26T23:54:43+12:00","alt":"SIDI CFIRE 3 SRS Light Blue Black","width":650,"height":650,"src":"\/\/motogear.co.nz\/cdn\/shop\/products\/1ce97bfa54e249e014e7287c99eb0f80_54d9ef67-75eb-466e-9058-0186fbeee6a3.jpg?v=1653566083","variant_ids":[41661338648732,41661338681500,41661338714268,41661338747036,41661338779804,41708927844508]},"available":false,"name":"SIDI Crossfire 3 SRS - Crossfire3 SRS 46 light blue\/ black MX boots Sidi [A]","public_title":"Crossfire3 SRS 46 light blue\/ black MX boots Sidi [A]","options":["Crossfire3 SRS 46 light blue\/ black MX boots Sidi [A]"],"price":99900,"weight":0,"compare_at_price":null,"inventory_management":"sprint3-fulfillment","barcode":"8017732553263","featured_media":{"alt":"SIDI CFIRE 3 SRS Light Blue Black","id":26282727637148,"position":3,"preview_image":{"aspect_ratio":1.0,"height":650,"width":650,"src":"\/\/motogear.co.nz\/cdn\/shop\/products\/1ce97bfa54e249e014e7287c99eb0f80_54d9ef67-75eb-466e-9058-0186fbeee6a3.jpg?v=1653566083"}}},{"id":41661338779804,"title":"Crossfire3 SRS 47 light blue\/ black MX boots Sidi [A]","option1":"Crossfire3 SRS 47 light blue\/ black MX boots Sidi [A]","option2":null,"option3":null,"sku":"CFIRE3SRS47LB","requires_shipping":true,"taxable":true,"featured_image":{"id":33931028594844,"product_id":7304363147420,"position":3,"created_at":"2022-05-26T23:54:43+12:00","updated_at":"2022-05-26T23:54:43+12:00","alt":"SIDI CFIRE 3 SRS Light Blue Black","width":650,"height":650,"src":"\/\/motogear.co.nz\/cdn\/shop\/products\/1ce97bfa54e249e014e7287c99eb0f80_54d9ef67-75eb-466e-9058-0186fbeee6a3.jpg?v=1653566083","variant_ids":[41661338648732,41661338681500,41661338714268,41661338747036,41661338779804,41708927844508]},"available":false,"name":"SIDI Crossfire 3 SRS - Crossfire3 SRS 47 light blue\/ black MX boots Sidi [A]","public_title":"Crossfire3 SRS 47 light blue\/ black MX boots Sidi [A]","options":["Crossfire3 SRS 47 light blue\/ black MX boots Sidi [A]"],"price":99900,"weight":0,"compare_at_price":null,"inventory_management":"sprint3-fulfillment","barcode":"8017732553270","featured_media":{"alt":"SIDI CFIRE 3 SRS Light Blue Black","id":26282727637148,"position":3,"preview_image":{"aspect_ratio":1.0,"height":650,"width":650,"src":"\/\/motogear.co.nz\/cdn\/shop\/products\/1ce97bfa54e249e014e7287c99eb0f80_54d9ef67-75eb-466e-9058-0186fbeee6a3.jpg?v=1653566083"}}},{"id":41661338812572,"title":"Crossfire3 SRS 42 orange\/black white MX boots Sidi [A]","option1":"Crossfire3 SRS 42 orange\/black white MX boots Sidi [A]","option2":null,"option3":null,"sku":"CFIRE3SRS42OBW","requires_shipping":true,"taxable":true,"featured_image":{"id":33931028627612,"product_id":7304363147420,"position":4,"created_at":"2022-05-26T23:54:43+12:00","updated_at":"2022-05-26T23:54:43+12:00","alt":"SIDI CFIRE 3 SRS Orange Black White","width":650,"height":650,"src":"\/\/motogear.co.nz\/cdn\/shop\/products\/2ff9f3f8fe6e8138c652a8f64f9e7b5e_b3da558c-256f-40ab-9096-21f9a3d7a7a8.jpg?v=1653566083","variant_ids":[41661338812572,41661338845340,41661338878108,41661338910876,41661338943644,41661338976412]},"available":true,"name":"SIDI Crossfire 3 SRS - Crossfire3 SRS 42 orange\/black white MX boots Sidi [A]","public_title":"Crossfire3 SRS 42 orange\/black white MX boots Sidi [A]","options":["Crossfire3 SRS 42 orange\/black white MX boots Sidi [A]"],"price":99900,"weight":0,"compare_at_price":null,"inventory_management":"sprint3-fulfillment","barcode":"8017732536662","featured_media":{"alt":"SIDI CFIRE 3 SRS Orange Black White","id":26282727669916,"position":4,"preview_image":{"aspect_ratio":1.0,"height":650,"width":650,"src":"\/\/motogear.co.nz\/cdn\/shop\/products\/2ff9f3f8fe6e8138c652a8f64f9e7b5e_b3da558c-256f-40ab-9096-21f9a3d7a7a8.jpg?v=1653566083"}}},{"id":41661338845340,"title":"Crossfire3 SRS 43 orange\/black \/white MX boots Sidi [A]","option1":"Crossfire3 SRS 43 orange\/black \/white MX boots Sidi [A]","option2":null,"option3":null,"sku":"CFIRE3SRS43OBW","requires_shipping":true,"taxable":true,"featured_image":{"id":33931028627612,"product_id":7304363147420,"position":4,"created_at":"2022-05-26T23:54:43+12:00","updated_at":"2022-05-26T23:54:43+12:00","alt":"SIDI CFIRE 3 SRS Orange Black White","width":650,"height":650,"src":"\/\/motogear.co.nz\/cdn\/shop\/products\/2ff9f3f8fe6e8138c652a8f64f9e7b5e_b3da558c-256f-40ab-9096-21f9a3d7a7a8.jpg?v=1653566083","variant_ids":[41661338812572,41661338845340,41661338878108,41661338910876,41661338943644,41661338976412]},"available":true,"name":"SIDI Crossfire 3 SRS - Crossfire3 SRS 43 orange\/black \/white MX boots Sidi [A]","public_title":"Crossfire3 SRS 43 orange\/black \/white MX boots Sidi [A]","options":["Crossfire3 SRS 43 orange\/black \/white MX boots Sidi [A]"],"price":99900,"weight":0,"compare_at_price":null,"inventory_management":"sprint3-fulfillment","barcode":"8017732535528","featured_media":{"alt":"SIDI CFIRE 3 SRS Orange Black White","id":26282727669916,"position":4,"preview_image":{"aspect_ratio":1.0,"height":650,"width":650,"src":"\/\/motogear.co.nz\/cdn\/shop\/products\/2ff9f3f8fe6e8138c652a8f64f9e7b5e_b3da558c-256f-40ab-9096-21f9a3d7a7a8.jpg?v=1653566083"}}},{"id":41661338878108,"title":"Crossfire3 SRS 44 orange\/black \/white MX boots Sidi [A]","option1":"Crossfire3 SRS 44 orange\/black \/white MX boots Sidi [A]","option2":null,"option3":null,"sku":"CFIRE3SRS44OBW","requires_shipping":true,"taxable":true,"featured_image":{"id":33931028627612,"product_id":7304363147420,"position":4,"created_at":"2022-05-26T23:54:43+12:00","updated_at":"2022-05-26T23:54:43+12:00","alt":"SIDI CFIRE 3 SRS Orange Black White","width":650,"height":650,"src":"\/\/motogear.co.nz\/cdn\/shop\/products\/2ff9f3f8fe6e8138c652a8f64f9e7b5e_b3da558c-256f-40ab-9096-21f9a3d7a7a8.jpg?v=1653566083","variant_ids":[41661338812572,41661338845340,41661338878108,41661338910876,41661338943644,41661338976412]},"available":true,"name":"SIDI Crossfire 3 SRS - Crossfire3 SRS 44 orange\/black \/white MX boots Sidi [A]","public_title":"Crossfire3 SRS 44 orange\/black \/white MX boots Sidi [A]","options":["Crossfire3 SRS 44 orange\/black \/white MX boots Sidi [A]"],"price":99900,"weight":0,"compare_at_price":null,"inventory_management":"sprint3-fulfillment","barcode":"8017732535542","featured_media":{"alt":"SIDI CFIRE 3 SRS Orange Black White","id":26282727669916,"position":4,"preview_image":{"aspect_ratio":1.0,"height":650,"width":650,"src":"\/\/motogear.co.nz\/cdn\/shop\/products\/2ff9f3f8fe6e8138c652a8f64f9e7b5e_b3da558c-256f-40ab-9096-21f9a3d7a7a8.jpg?v=1653566083"}}},{"id":41661338910876,"title":"Crossfire3 SRS 45 orange\/black \/white MX boots Sidi [A]","option1":"Crossfire3 SRS 45 orange\/black \/white MX boots Sidi [A]","option2":null,"option3":null,"sku":"CFIRE3SRS45OBW","requires_shipping":true,"taxable":true,"featured_image":{"id":33931028627612,"product_id":7304363147420,"position":4,"created_at":"2022-05-26T23:54:43+12:00","updated_at":"2022-05-26T23:54:43+12:00","alt":"SIDI CFIRE 3 SRS Orange Black White","width":650,"height":650,"src":"\/\/motogear.co.nz\/cdn\/shop\/products\/2ff9f3f8fe6e8138c652a8f64f9e7b5e_b3da558c-256f-40ab-9096-21f9a3d7a7a8.jpg?v=1653566083","variant_ids":[41661338812572,41661338845340,41661338878108,41661338910876,41661338943644,41661338976412]},"available":false,"name":"SIDI Crossfire 3 SRS - Crossfire3 SRS 45 orange\/black \/white MX boots Sidi [A]","public_title":"Crossfire3 SRS 45 orange\/black \/white MX boots Sidi [A]","options":["Crossfire3 SRS 45 orange\/black \/white MX boots Sidi [A]"],"price":99900,"weight":0,"compare_at_price":null,"inventory_management":"sprint3-fulfillment","barcode":"8017732535559","featured_media":{"alt":"SIDI CFIRE 3 SRS Orange Black White","id":26282727669916,"position":4,"preview_image":{"aspect_ratio":1.0,"height":650,"width":650,"src":"\/\/motogear.co.nz\/cdn\/shop\/products\/2ff9f3f8fe6e8138c652a8f64f9e7b5e_b3da558c-256f-40ab-9096-21f9a3d7a7a8.jpg?v=1653566083"}}},{"id":41661338943644,"title":"Crossfire3 SRS 46 orange\/black \/white MX boots Sidi [A]","option1":"Crossfire3 SRS 46 orange\/black \/white MX boots Sidi [A]","option2":null,"option3":null,"sku":"CFIRE3SRS46OBW","requires_shipping":true,"taxable":true,"featured_image":{"id":33931028627612,"product_id":7304363147420,"position":4,"created_at":"2022-05-26T23:54:43+12:00","updated_at":"2022-05-26T23:54:43+12:00","alt":"SIDI CFIRE 3 SRS Orange Black White","width":650,"height":650,"src":"\/\/motogear.co.nz\/cdn\/shop\/products\/2ff9f3f8fe6e8138c652a8f64f9e7b5e_b3da558c-256f-40ab-9096-21f9a3d7a7a8.jpg?v=1653566083","variant_ids":[41661338812572,41661338845340,41661338878108,41661338910876,41661338943644,41661338976412]},"available":true,"name":"SIDI Crossfire 3 SRS - Crossfire3 SRS 46 orange\/black \/white MX boots Sidi [A]","public_title":"Crossfire3 SRS 46 orange\/black \/white MX boots Sidi [A]","options":["Crossfire3 SRS 46 orange\/black \/white MX boots Sidi [A]"],"price":99900,"weight":0,"compare_at_price":null,"inventory_management":"sprint3-fulfillment","barcode":"8017732536693","featured_media":{"alt":"SIDI CFIRE 3 SRS Orange Black White","id":26282727669916,"position":4,"preview_image":{"aspect_ratio":1.0,"height":650,"width":650,"src":"\/\/motogear.co.nz\/cdn\/shop\/products\/2ff9f3f8fe6e8138c652a8f64f9e7b5e_b3da558c-256f-40ab-9096-21f9a3d7a7a8.jpg?v=1653566083"}}},{"id":41661338976412,"title":"Crossfire3 SRS 47 orange\/black \/white MX boots Sidi [A]","option1":"Crossfire3 SRS 47 orange\/black \/white MX boots Sidi [A]","option2":null,"option3":null,"sku":"CFIRE3SRS47OBW","requires_shipping":true,"taxable":true,"featured_image":{"id":33931028627612,"product_id":7304363147420,"position":4,"created_at":"2022-05-26T23:54:43+12:00","updated_at":"2022-05-26T23:54:43+12:00","alt":"SIDI CFIRE 3 SRS Orange Black White","width":650,"height":650,"src":"\/\/motogear.co.nz\/cdn\/shop\/products\/2ff9f3f8fe6e8138c652a8f64f9e7b5e_b3da558c-256f-40ab-9096-21f9a3d7a7a8.jpg?v=1653566083","variant_ids":[41661338812572,41661338845340,41661338878108,41661338910876,41661338943644,41661338976412]},"available":true,"name":"SIDI Crossfire 3 SRS - Crossfire3 SRS 47 orange\/black \/white MX boots Sidi [A]","public_title":"Crossfire3 SRS 47 orange\/black \/white MX boots Sidi [A]","options":["Crossfire3 SRS 47 orange\/black \/white MX boots Sidi [A]"],"price":99900,"weight":0,"compare_at_price":null,"inventory_management":"sprint3-fulfillment","barcode":"8017732536709","featured_media":{"alt":"SIDI CFIRE 3 SRS Orange Black White","id":26282727669916,"position":4,"preview_image":{"aspect_ratio":1.0,"height":650,"width":650,"src":"\/\/motogear.co.nz\/cdn\/shop\/products\/2ff9f3f8fe6e8138c652a8f64f9e7b5e_b3da558c-256f-40ab-9096-21f9a3d7a7a8.jpg?v=1653566083"}}},{"id":41894683246748,"title":"*Crossfire3 SRS 44 black\/ white\/yellow MX boots Sidi [A]","option1":"*Crossfire3 SRS 44 black\/ white\/yellow MX boots Sidi [A]","option2":null,"option3":null,"sku":"CFIRE3SRS44BWY","requires_shipping":true,"taxable":true,"featured_image":{"id":34070893920412,"product_id":7304363147420,"position":5,"created_at":"2022-06-22T18:59:46+12:00","updated_at":"2022-06-22T18:59:46+12:00","alt":"Crossfire3_srs_WhiteBlackYellowFluo","width":650,"height":608,"src":"\/\/motogear.co.nz\/cdn\/shop\/products\/02a3e35a9591a782e21f798ab5f93579.jpg?v=1655881186","variant_ids":[41894683246748]},"available":false,"name":"SIDI Crossfire 3 SRS - *Crossfire3 SRS 44 black\/ white\/yellow MX boots Sidi [A]","public_title":"*Crossfire3 SRS 44 black\/ white\/yellow MX boots Sidi [A]","options":["*Crossfire3 SRS 44 black\/ white\/yellow MX boots Sidi [A]"],"price":99900,"weight":0,"compare_at_price":null,"inventory_management":"sprint3-fulfillment","barcode":"8017732494870","featured_media":{"alt":"Crossfire3_srs_WhiteBlackYellowFluo","id":26423965745308,"position":5,"preview_image":{"aspect_ratio":1.069,"height":608,"width":650,"src":"\/\/motogear.co.nz\/cdn\/shop\/products\/02a3e35a9591a782e21f798ab5f93579.jpg?v=1655881186"}}}],"images":["\/\/motogear.co.nz\/cdn\/shop\/products\/d4286ebe89470a772f5e93a3800d771f_2f9c5114-37a1-4a45-b9d7-cd29ae0aa85e.jpg?v=1653566083","\/\/motogear.co.nz\/cdn\/shop\/products\/c4208fad7fc819818603c8347afc2d96_f0819846-41c7-4c42-8f55-0ddfb5e402dd.jpg?v=1653566083","\/\/motogear.co.nz\/cdn\/shop\/products\/1ce97bfa54e249e014e7287c99eb0f80_54d9ef67-75eb-466e-9058-0186fbeee6a3.jpg?v=1653566083","\/\/motogear.co.nz\/cdn\/shop\/products\/2ff9f3f8fe6e8138c652a8f64f9e7b5e_b3da558c-256f-40ab-9096-21f9a3d7a7a8.jpg?v=1653566083","\/\/motogear.co.nz\/cdn\/shop\/products\/02a3e35a9591a782e21f798ab5f93579.jpg?v=1655881186","\/\/motogear.co.nz\/cdn\/shop\/products\/ec8e44c16d4876752f6cbe49e23a3036_78c00838-27c0-4e48-bb1c-8a8f11ab5b12.jpg?v=1669960169"],"featured_image":"\/\/motogear.co.nz\/cdn\/shop\/products\/d4286ebe89470a772f5e93a3800d771f_2f9c5114-37a1-4a45-b9d7-cd29ae0aa85e.jpg?v=1653566083","options":["Stock Item"],"media":[{"alt":"Crossfire3SRS_Black-Black","id":26282727571612,"position":1,"preview_image":{"aspect_ratio":1.069,"height":608,"width":650,"src":"\/\/motogear.co.nz\/cdn\/shop\/products\/d4286ebe89470a772f5e93a3800d771f_2f9c5114-37a1-4a45-b9d7-cd29ae0aa85e.jpg?v=1653566083"},"aspect_ratio":1.069,"height":608,"media_type":"image","src":"\/\/motogear.co.nz\/cdn\/shop\/products\/d4286ebe89470a772f5e93a3800d771f_2f9c5114-37a1-4a45-b9d7-cd29ae0aa85e.jpg?v=1653566083","width":650},{"alt":"SIDI CF3 SRS BLACK ASH","id":26282727604380,"position":2,"preview_image":{"aspect_ratio":1.0,"height":650,"width":650,"src":"\/\/motogear.co.nz\/cdn\/shop\/products\/c4208fad7fc819818603c8347afc2d96_f0819846-41c7-4c42-8f55-0ddfb5e402dd.jpg?v=1653566083"},"aspect_ratio":1.0,"height":650,"media_type":"image","src":"\/\/motogear.co.nz\/cdn\/shop\/products\/c4208fad7fc819818603c8347afc2d96_f0819846-41c7-4c42-8f55-0ddfb5e402dd.jpg?v=1653566083","width":650},{"alt":"SIDI CFIRE 3 SRS Light Blue Black","id":26282727637148,"position":3,"preview_image":{"aspect_ratio":1.0,"height":650,"width":650,"src":"\/\/motogear.co.nz\/cdn\/shop\/products\/1ce97bfa54e249e014e7287c99eb0f80_54d9ef67-75eb-466e-9058-0186fbeee6a3.jpg?v=1653566083"},"aspect_ratio":1.0,"height":650,"media_type":"image","src":"\/\/motogear.co.nz\/cdn\/shop\/products\/1ce97bfa54e249e014e7287c99eb0f80_54d9ef67-75eb-466e-9058-0186fbeee6a3.jpg?v=1653566083","width":650},{"alt":"SIDI CFIRE 3 SRS Orange Black White","id":26282727669916,"position":4,"preview_image":{"aspect_ratio":1.0,"height":650,"width":650,"src":"\/\/motogear.co.nz\/cdn\/shop\/products\/2ff9f3f8fe6e8138c652a8f64f9e7b5e_b3da558c-256f-40ab-9096-21f9a3d7a7a8.jpg?v=1653566083"},"aspect_ratio":1.0,"height":650,"media_type":"image","src":"\/\/motogear.co.nz\/cdn\/shop\/products\/2ff9f3f8fe6e8138c652a8f64f9e7b5e_b3da558c-256f-40ab-9096-21f9a3d7a7a8.jpg?v=1653566083","width":650},{"alt":"Crossfire3_srs_WhiteBlackYellowFluo","id":26423965745308,"position":5,"preview_image":{"aspect_ratio":1.069,"height":608,"width":650,"src":"\/\/motogear.co.nz\/cdn\/shop\/products\/02a3e35a9591a782e21f798ab5f93579.jpg?v=1655881186"},"aspect_ratio":1.069,"height":608,"media_type":"image","src":"\/\/motogear.co.nz\/cdn\/shop\/products\/02a3e35a9591a782e21f798ab5f93579.jpg?v=1655881186","width":650},{"alt":"SIDI boot size chart","id":27636805468316,"position":6,"preview_image":{"aspect_ratio":1.0,"height":1080,"width":1080,"src":"\/\/motogear.co.nz\/cdn\/shop\/products\/ec8e44c16d4876752f6cbe49e23a3036_78c00838-27c0-4e48-bb1c-8a8f11ab5b12.jpg?v=1669960169"},"aspect_ratio":1.0,"height":1080,"media_type":"image","src":"\/\/motogear.co.nz\/cdn\/shop\/products\/ec8e44c16d4876752f6cbe49e23a3036_78c00838-27c0-4e48-bb1c-8a8f11ab5b12.jpg?v=1669960169","width":1080}],"content":"\u003cp\u003e\u003cstrong\u003eSIDI Crossfire 3 SRS Boots - Black\u003c\/strong\u003e\u003c\/p\u003e\n\n\u003cp\u003eThe legendary Crossfire line has evolved again. The SIDI Crossfire 3 SRS Boots have been completely redesigned, with only the acclaimed SIDI cam lock buckles and straps carrying over from the Crossfire 2 SRS Boots. The new inner gaiter has a larger circumference than the Crossfire 2, accommodating an even wider range of calf sizes and making for a tight seal around the rider's lower leg no matter what knee brace system may be used. The upper inside of the gaiter features a suede heat protection-grip panel for maximum grip. The Dual Flex ankle has been redesigned to prevent motion beyond anatomical limits that may cause injury, without restricting dexterity for normal shifting and braking. The SIDI Crossfire 3 SRS Boots are possibly the most durable, serviceable motocross boots on the market - the design uses hardware instead of stitching so virtually every part is replaceable, season after season. \u003c\/p\u003e\n\n\u003cp\u003eImproved Fit:\u003c\/p\u003e\n\n\u003cul\u003e\n\t\u003cli\u003eNew sole boat features a more cupped and thicker design so the rider's foot rests deeper into the sole system\u003c\/li\u003e\n\t\u003cli\u003eRemovable arch support\u003c\/li\u003e\n\u003c\/ul\u003e\n\n\u003cp\u003e \u003c\/p\u003e\n\n\u003cp\u003eReplacement parts available. SIDI boots are a narrow fit and they recommend going up a size from what you would normally wear.\u003c\/p\u003e\n"}