SIDI Canyon GORE-TEX Boots
Regular price
Sale price
$599.00
Unit price
/
per
or 4 payments of
Regular price
$0.00
Sale price
$149.75
Unit price
/
per
with
---
---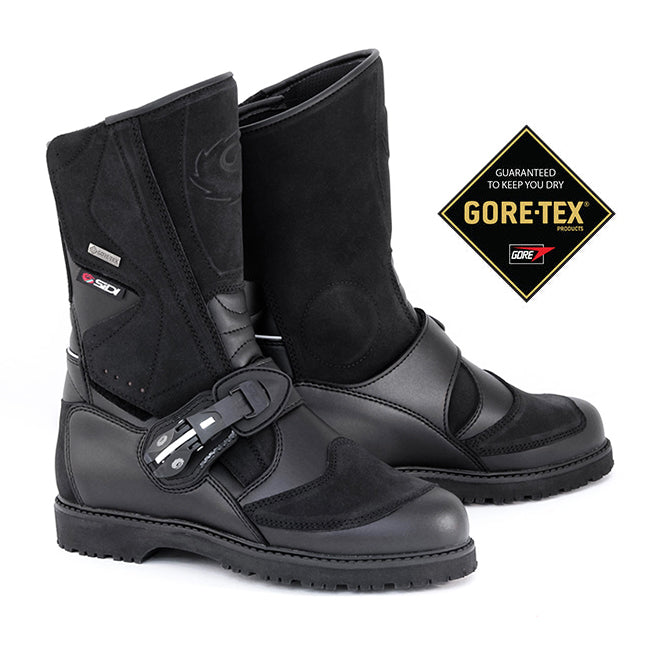 SIDI Canyon Gore Boots
Produced with top-grain leather and shammy split-grain leather on the boot leg. Lined with GORE-TEX® membrane, the boot instep features a replaceable micrometric SL lever and closure strap.The SL lever may be used in two ways: more than one click at a time for an immediate lock, or half a click at a time for an excellent micrometric adjustment. The grey flaps can be pressed together to unlock completely or alternately to loosen the fit gradually.
Full grain leather
GORE-TEX® the worlds No1 waterproof, breathable membrane to keep your feet dry and comfortable
VELCRO® straps and strap with SL buckle
Nylon insole and removable arch support
Rubber sole, with slip-proof design
Replacement parts available. SIDI boots are a narrow fit and they recommend going up a size from what you would normally wear.
{"id":7304362328220,"title":"SIDI Canyon GORE-TEX Boots","handle":"sidi-canyon-gore-boots","description":"\u003cp\u003e\u003cstrong\u003eSIDI Canyon Gore \u003c\/strong\u003e\u003cstrong\u003eBoots\u003c\/strong\u003e\u003c\/p\u003e\n\n\u003cp\u003eProduced with top-grain leather and shammy split-grain leather on the boot leg. Lined with GORE-TEX® membrane, the boot instep features a replaceable micrometric SL lever and closure strap.The SL lever may be used in two ways: more than one click at a time for an immediate lock, or half a click at a time for an excellent micrometric adjustment. The grey flaps can be pressed together to unlock completely or alternately to loosen the fit gradually.\u003c\/p\u003e\n\n\u003cul\u003e\n\t\u003cli\u003eFull grain leather\u003c\/li\u003e\n\t\u003cli\u003eGORE-TEX® the worlds No1 waterproof, breathable membrane to keep your feet dry and comfortable\u003c\/li\u003e\n\t\u003cli\u003eVELCRO® straps and strap with SL buckle\u003c\/li\u003e\n\t\u003cli\u003eNylon insole and removable arch support\u003c\/li\u003e\n\t\u003cli\u003eRubber sole, with slip-proof design\u003c\/li\u003e\n\u003c\/ul\u003e\n\n\u003cp\u003e \u003c\/p\u003e\n\n\u003cp\u003eReplacement parts available. SIDI boots are a narrow fit and they recommend going up a size from what you would normally wear.\u003c\/p\u003e\n","published_at":"2022-06-20T14:07:46+12:00","created_at":"2022-05-26T23:51:58+12:00","vendor":"SIDI","type":"Apparel-Road-Boots\u0026Shoes-Mens","tags":["S3-Cat-Apparel","S3-Cat-Apparel-Road","S3-Cat-Apparel-Road-Boots\u0026Shoes","S3-Cat-Apparel-Road-Boots\u0026Shoes-Mens","Sprint3","Sprint3-New"],"price":59900,"price_min":59900,"price_max":59900,"available":true,"price_varies":false,"compare_at_price":null,"compare_at_price_min":0,"compare_at_price_max":0,"compare_at_price_varies":false,"variants":[{"id":41661333602460,"title":"Canyon 37 black Gore-Tex off\/road boots Sidi []","option1":"Canyon 37 black Gore-Tex off\/road boots Sidi []","option2":null,"option3":null,"sku":"CANYON37B","requires_shipping":true,"taxable":true,"featured_image":{"id":33931020501148,"product_id":7304362328220,"position":1,"created_at":"2022-05-26T23:52:02+12:00","updated_at":"2022-05-26T23:52:02+12:00","alt":"Canyon Gore Boots - Black","width":650,"height":650,"src":"\/\/motogear.co.nz\/cdn\/shop\/products\/2fe83500cc427bf4d6c5562f7d426a48.jpg?v=1653565922","variant_ids":[41661333602460,41661333635228,41661333667996,41661333700764,41661333733532,41661333766300,41661333799068,41661333831836,41661333864604,41661333897372,41661333930140,41661333962908]},"available":true,"name":"SIDI Canyon GORE-TEX Boots - Canyon 37 black Gore-Tex off\/road boots Sidi []","public_title":"Canyon 37 black Gore-Tex off\/road boots Sidi []","options":["Canyon 37 black Gore-Tex off\/road boots Sidi []"],"price":59900,"weight":0,"compare_at_price":null,"inventory_management":"sprint3-fulfillment","barcode":"8017732552792","featured_media":{"alt":"Canyon Gore Boots - Black","id":26282719412380,"position":1,"preview_image":{"aspect_ratio":1.0,"height":650,"width":650,"src":"\/\/motogear.co.nz\/cdn\/shop\/products\/2fe83500cc427bf4d6c5562f7d426a48.jpg?v=1653565922"}}},{"id":41661333635228,"title":"Canyon 38 black Gore-Tex off\/road boots Sidi []","option1":"Canyon 38 black Gore-Tex off\/road boots Sidi []","option2":null,"option3":null,"sku":"CANYON38B","requires_shipping":true,"taxable":true,"featured_image":{"id":33931020501148,"product_id":7304362328220,"position":1,"created_at":"2022-05-26T23:52:02+12:00","updated_at":"2022-05-26T23:52:02+12:00","alt":"Canyon Gore Boots - Black","width":650,"height":650,"src":"\/\/motogear.co.nz\/cdn\/shop\/products\/2fe83500cc427bf4d6c5562f7d426a48.jpg?v=1653565922","variant_ids":[41661333602460,41661333635228,41661333667996,41661333700764,41661333733532,41661333766300,41661333799068,41661333831836,41661333864604,41661333897372,41661333930140,41661333962908]},"available":true,"name":"SIDI Canyon GORE-TEX Boots - Canyon 38 black Gore-Tex off\/road boots Sidi []","public_title":"Canyon 38 black Gore-Tex off\/road boots Sidi []","options":["Canyon 38 black Gore-Tex off\/road boots Sidi []"],"price":59900,"weight":0,"compare_at_price":null,"inventory_management":"sprint3-fulfillment","barcode":"8017732493774","featured_media":{"alt":"Canyon Gore Boots - Black","id":26282719412380,"position":1,"preview_image":{"aspect_ratio":1.0,"height":650,"width":650,"src":"\/\/motogear.co.nz\/cdn\/shop\/products\/2fe83500cc427bf4d6c5562f7d426a48.jpg?v=1653565922"}}},{"id":41661333667996,"title":"Canyon 39 black Gore-Tex off\/road boots Sidi [AC]","option1":"Canyon 39 black Gore-Tex off\/road boots Sidi [AC]","option2":null,"option3":null,"sku":"CANYON39B","requires_shipping":true,"taxable":true,"featured_image":{"id":33931020501148,"product_id":7304362328220,"position":1,"created_at":"2022-05-26T23:52:02+12:00","updated_at":"2022-05-26T23:52:02+12:00","alt":"Canyon Gore Boots - Black","width":650,"height":650,"src":"\/\/motogear.co.nz\/cdn\/shop\/products\/2fe83500cc427bf4d6c5562f7d426a48.jpg?v=1653565922","variant_ids":[41661333602460,41661333635228,41661333667996,41661333700764,41661333733532,41661333766300,41661333799068,41661333831836,41661333864604,41661333897372,41661333930140,41661333962908]},"available":true,"name":"SIDI Canyon GORE-TEX Boots - Canyon 39 black Gore-Tex off\/road boots Sidi [AC]","public_title":"Canyon 39 black Gore-Tex off\/road boots Sidi [AC]","options":["Canyon 39 black Gore-Tex off\/road boots Sidi [AC]"],"price":59900,"weight":0,"compare_at_price":null,"inventory_management":"sprint3-fulfillment","barcode":"2000000094526","featured_media":{"alt":"Canyon Gore Boots - Black","id":26282719412380,"position":1,"preview_image":{"aspect_ratio":1.0,"height":650,"width":650,"src":"\/\/motogear.co.nz\/cdn\/shop\/products\/2fe83500cc427bf4d6c5562f7d426a48.jpg?v=1653565922"}}},{"id":41661333700764,"title":"Canyon 40 black Gore-Tex off\/road boots Sidi [AC]","option1":"Canyon 40 black Gore-Tex off\/road boots Sidi [AC]","option2":null,"option3":null,"sku":"CANYON40B","requires_shipping":true,"taxable":true,"featured_image":{"id":33931020501148,"product_id":7304362328220,"position":1,"created_at":"2022-05-26T23:52:02+12:00","updated_at":"2022-05-26T23:52:02+12:00","alt":"Canyon Gore Boots - Black","width":650,"height":650,"src":"\/\/motogear.co.nz\/cdn\/shop\/products\/2fe83500cc427bf4d6c5562f7d426a48.jpg?v=1653565922","variant_ids":[41661333602460,41661333635228,41661333667996,41661333700764,41661333733532,41661333766300,41661333799068,41661333831836,41661333864604,41661333897372,41661333930140,41661333962908]},"available":false,"name":"SIDI Canyon GORE-TEX Boots - Canyon 40 black Gore-Tex off\/road boots Sidi [AC]","public_title":"Canyon 40 black Gore-Tex off\/road boots Sidi [AC]","options":["Canyon 40 black Gore-Tex off\/road boots Sidi [AC]"],"price":59900,"weight":0,"compare_at_price":null,"inventory_management":"sprint3-fulfillment","barcode":"8017732552822","featured_media":{"alt":"Canyon Gore Boots - Black","id":26282719412380,"position":1,"preview_image":{"aspect_ratio":1.0,"height":650,"width":650,"src":"\/\/motogear.co.nz\/cdn\/shop\/products\/2fe83500cc427bf4d6c5562f7d426a48.jpg?v=1653565922"}}},{"id":41661333733532,"title":"Canyon 41 black Gore-Tex off\/road boots Sidi [C]","option1":"Canyon 41 black Gore-Tex off\/road boots Sidi [C]","option2":null,"option3":null,"sku":"CANYON41B","requires_shipping":true,"taxable":true,"featured_image":{"id":33931020501148,"product_id":7304362328220,"position":1,"created_at":"2022-05-26T23:52:02+12:00","updated_at":"2022-05-26T23:52:02+12:00","alt":"Canyon Gore Boots - Black","width":650,"height":650,"src":"\/\/motogear.co.nz\/cdn\/shop\/products\/2fe83500cc427bf4d6c5562f7d426a48.jpg?v=1653565922","variant_ids":[41661333602460,41661333635228,41661333667996,41661333700764,41661333733532,41661333766300,41661333799068,41661333831836,41661333864604,41661333897372,41661333930140,41661333962908]},"available":true,"name":"SIDI Canyon GORE-TEX Boots - Canyon 41 black Gore-Tex off\/road boots Sidi [C]","public_title":"Canyon 41 black Gore-Tex off\/road boots Sidi [C]","options":["Canyon 41 black Gore-Tex off\/road boots Sidi [C]"],"price":59900,"weight":0,"compare_at_price":null,"inventory_management":"sprint3-fulfillment","barcode":"8017732552839","featured_media":{"alt":"Canyon Gore Boots - Black","id":26282719412380,"position":1,"preview_image":{"aspect_ratio":1.0,"height":650,"width":650,"src":"\/\/motogear.co.nz\/cdn\/shop\/products\/2fe83500cc427bf4d6c5562f7d426a48.jpg?v=1653565922"}}},{"id":41661333766300,"title":"Canyon 42 black Gore-Tex off\/road boots Sidi [AC]","option1":"Canyon 42 black Gore-Tex off\/road boots Sidi [AC]","option2":null,"option3":null,"sku":"CANYON42B","requires_shipping":true,"taxable":true,"featured_image":{"id":33931020501148,"product_id":7304362328220,"position":1,"created_at":"2022-05-26T23:52:02+12:00","updated_at":"2022-05-26T23:52:02+12:00","alt":"Canyon Gore Boots - Black","width":650,"height":650,"src":"\/\/motogear.co.nz\/cdn\/shop\/products\/2fe83500cc427bf4d6c5562f7d426a48.jpg?v=1653565922","variant_ids":[41661333602460,41661333635228,41661333667996,41661333700764,41661333733532,41661333766300,41661333799068,41661333831836,41661333864604,41661333897372,41661333930140,41661333962908]},"available":true,"name":"SIDI Canyon GORE-TEX Boots - Canyon 42 black Gore-Tex off\/road boots Sidi [AC]","public_title":"Canyon 42 black Gore-Tex off\/road boots Sidi [AC]","options":["Canyon 42 black Gore-Tex off\/road boots Sidi [AC]"],"price":59900,"weight":0,"compare_at_price":null,"inventory_management":"sprint3-fulfillment","barcode":"8017732411938","featured_media":{"alt":"Canyon Gore Boots - Black","id":26282719412380,"position":1,"preview_image":{"aspect_ratio":1.0,"height":650,"width":650,"src":"\/\/motogear.co.nz\/cdn\/shop\/products\/2fe83500cc427bf4d6c5562f7d426a48.jpg?v=1653565922"}}},{"id":41661333799068,"title":"Canyon 43 black Gore-Tex off\/road boots Sidi [AC]","option1":"Canyon 43 black Gore-Tex off\/road boots Sidi [AC]","option2":null,"option3":null,"sku":"CANYON43B","requires_shipping":true,"taxable":true,"featured_image":{"id":33931020501148,"product_id":7304362328220,"position":1,"created_at":"2022-05-26T23:52:02+12:00","updated_at":"2022-05-26T23:52:02+12:00","alt":"Canyon Gore Boots - Black","width":650,"height":650,"src":"\/\/motogear.co.nz\/cdn\/shop\/products\/2fe83500cc427bf4d6c5562f7d426a48.jpg?v=1653565922","variant_ids":[41661333602460,41661333635228,41661333667996,41661333700764,41661333733532,41661333766300,41661333799068,41661333831836,41661333864604,41661333897372,41661333930140,41661333962908]},"available":true,"name":"SIDI Canyon GORE-TEX Boots - Canyon 43 black Gore-Tex off\/road boots Sidi [AC]","public_title":"Canyon 43 black Gore-Tex off\/road boots Sidi [AC]","options":["Canyon 43 black Gore-Tex off\/road boots Sidi [AC]"],"price":59900,"weight":0,"compare_at_price":null,"inventory_management":"sprint3-fulfillment","barcode":"8017732411945","featured_media":{"alt":"Canyon Gore Boots - Black","id":26282719412380,"position":1,"preview_image":{"aspect_ratio":1.0,"height":650,"width":650,"src":"\/\/motogear.co.nz\/cdn\/shop\/products\/2fe83500cc427bf4d6c5562f7d426a48.jpg?v=1653565922"}}},{"id":41661333831836,"title":"Canyon 44 black Gore-Tex^ off\/road boots Sidi [AC]","option1":"Canyon 44 black Gore-Tex^ off\/road boots Sidi [AC]","option2":null,"option3":null,"sku":"CANYON44B","requires_shipping":true,"taxable":true,"featured_image":{"id":33931020501148,"product_id":7304362328220,"position":1,"created_at":"2022-05-26T23:52:02+12:00","updated_at":"2022-05-26T23:52:02+12:00","alt":"Canyon Gore Boots - Black","width":650,"height":650,"src":"\/\/motogear.co.nz\/cdn\/shop\/products\/2fe83500cc427bf4d6c5562f7d426a48.jpg?v=1653565922","variant_ids":[41661333602460,41661333635228,41661333667996,41661333700764,41661333733532,41661333766300,41661333799068,41661333831836,41661333864604,41661333897372,41661333930140,41661333962908]},"available":true,"name":"SIDI Canyon GORE-TEX Boots - Canyon 44 black Gore-Tex^ off\/road boots Sidi [AC]","public_title":"Canyon 44 black Gore-Tex^ off\/road boots Sidi [AC]","options":["Canyon 44 black Gore-Tex^ off\/road boots Sidi [AC]"],"price":59900,"weight":0,"compare_at_price":null,"inventory_management":"sprint3-fulfillment","barcode":"8017732552877","featured_media":{"alt":"Canyon Gore Boots - Black","id":26282719412380,"position":1,"preview_image":{"aspect_ratio":1.0,"height":650,"width":650,"src":"\/\/motogear.co.nz\/cdn\/shop\/products\/2fe83500cc427bf4d6c5562f7d426a48.jpg?v=1653565922"}}},{"id":41661333864604,"title":"Canyon 45 black Gore-Tex^ off\/road boots Sidi [AC]","option1":"Canyon 45 black Gore-Tex^ off\/road boots Sidi [AC]","option2":null,"option3":null,"sku":"CANYON45B","requires_shipping":true,"taxable":true,"featured_image":{"id":33931020501148,"product_id":7304362328220,"position":1,"created_at":"2022-05-26T23:52:02+12:00","updated_at":"2022-05-26T23:52:02+12:00","alt":"Canyon Gore Boots - Black","width":650,"height":650,"src":"\/\/motogear.co.nz\/cdn\/shop\/products\/2fe83500cc427bf4d6c5562f7d426a48.jpg?v=1653565922","variant_ids":[41661333602460,41661333635228,41661333667996,41661333700764,41661333733532,41661333766300,41661333799068,41661333831836,41661333864604,41661333897372,41661333930140,41661333962908]},"available":true,"name":"SIDI Canyon GORE-TEX Boots - Canyon 45 black Gore-Tex^ off\/road boots Sidi [AC]","public_title":"Canyon 45 black Gore-Tex^ off\/road boots Sidi [AC]","options":["Canyon 45 black Gore-Tex^ off\/road boots Sidi [AC]"],"price":59900,"weight":0,"compare_at_price":null,"inventory_management":"sprint3-fulfillment","barcode":"8017732552891","featured_media":{"alt":"Canyon Gore Boots - Black","id":26282719412380,"position":1,"preview_image":{"aspect_ratio":1.0,"height":650,"width":650,"src":"\/\/motogear.co.nz\/cdn\/shop\/products\/2fe83500cc427bf4d6c5562f7d426a48.jpg?v=1653565922"}}},{"id":41661333897372,"title":"Canyon 46 black Gore-Tex^ off\/road boots Sidi [AC]","option1":"Canyon 46 black Gore-Tex^ off\/road boots Sidi [AC]","option2":null,"option3":null,"sku":"CANYON46B","requires_shipping":true,"taxable":true,"featured_image":{"id":33931020501148,"product_id":7304362328220,"position":1,"created_at":"2022-05-26T23:52:02+12:00","updated_at":"2022-05-26T23:52:02+12:00","alt":"Canyon Gore Boots - Black","width":650,"height":650,"src":"\/\/motogear.co.nz\/cdn\/shop\/products\/2fe83500cc427bf4d6c5562f7d426a48.jpg?v=1653565922","variant_ids":[41661333602460,41661333635228,41661333667996,41661333700764,41661333733532,41661333766300,41661333799068,41661333831836,41661333864604,41661333897372,41661333930140,41661333962908]},"available":true,"name":"SIDI Canyon GORE-TEX Boots - Canyon 46 black Gore-Tex^ off\/road boots Sidi [AC]","public_title":"Canyon 46 black Gore-Tex^ off\/road boots Sidi [AC]","options":["Canyon 46 black Gore-Tex^ off\/road boots Sidi [AC]"],"price":59900,"weight":0,"compare_at_price":null,"inventory_management":"sprint3-fulfillment","barcode":"8017732552907","featured_media":{"alt":"Canyon Gore Boots - Black","id":26282719412380,"position":1,"preview_image":{"aspect_ratio":1.0,"height":650,"width":650,"src":"\/\/motogear.co.nz\/cdn\/shop\/products\/2fe83500cc427bf4d6c5562f7d426a48.jpg?v=1653565922"}}},{"id":41661333930140,"title":"Canyon 47 black Gore-Tex off\/road boots Sidi [AC]","option1":"Canyon 47 black Gore-Tex off\/road boots Sidi [AC]","option2":null,"option3":null,"sku":"CANYON47B","requires_shipping":true,"taxable":true,"featured_image":{"id":33931020501148,"product_id":7304362328220,"position":1,"created_at":"2022-05-26T23:52:02+12:00","updated_at":"2022-05-26T23:52:02+12:00","alt":"Canyon Gore Boots - Black","width":650,"height":650,"src":"\/\/motogear.co.nz\/cdn\/shop\/products\/2fe83500cc427bf4d6c5562f7d426a48.jpg?v=1653565922","variant_ids":[41661333602460,41661333635228,41661333667996,41661333700764,41661333733532,41661333766300,41661333799068,41661333831836,41661333864604,41661333897372,41661333930140,41661333962908]},"available":true,"name":"SIDI Canyon GORE-TEX Boots - Canyon 47 black Gore-Tex off\/road boots Sidi [AC]","public_title":"Canyon 47 black Gore-Tex off\/road boots Sidi [AC]","options":["Canyon 47 black Gore-Tex off\/road boots Sidi [AC]"],"price":59900,"weight":0,"compare_at_price":null,"inventory_management":"sprint3-fulfillment","barcode":"8017732552914","featured_media":{"alt":"Canyon Gore Boots - Black","id":26282719412380,"position":1,"preview_image":{"aspect_ratio":1.0,"height":650,"width":650,"src":"\/\/motogear.co.nz\/cdn\/shop\/products\/2fe83500cc427bf4d6c5562f7d426a48.jpg?v=1653565922"}}},{"id":41661333962908,"title":"Canyon 48 black Gore-Tex off\/road boots Sidi [AC]","option1":"Canyon 48 black Gore-Tex off\/road boots Sidi [AC]","option2":null,"option3":null,"sku":"CANYON48B","requires_shipping":true,"taxable":true,"featured_image":{"id":33931020501148,"product_id":7304362328220,"position":1,"created_at":"2022-05-26T23:52:02+12:00","updated_at":"2022-05-26T23:52:02+12:00","alt":"Canyon Gore Boots - Black","width":650,"height":650,"src":"\/\/motogear.co.nz\/cdn\/shop\/products\/2fe83500cc427bf4d6c5562f7d426a48.jpg?v=1653565922","variant_ids":[41661333602460,41661333635228,41661333667996,41661333700764,41661333733532,41661333766300,41661333799068,41661333831836,41661333864604,41661333897372,41661333930140,41661333962908]},"available":true,"name":"SIDI Canyon GORE-TEX Boots - Canyon 48 black Gore-Tex off\/road boots Sidi [AC]","public_title":"Canyon 48 black Gore-Tex off\/road boots Sidi [AC]","options":["Canyon 48 black Gore-Tex off\/road boots Sidi [AC]"],"price":59900,"weight":0,"compare_at_price":null,"inventory_management":"sprint3-fulfillment","barcode":"8017732552921","featured_media":{"alt":"Canyon Gore Boots - Black","id":26282719412380,"position":1,"preview_image":{"aspect_ratio":1.0,"height":650,"width":650,"src":"\/\/motogear.co.nz\/cdn\/shop\/products\/2fe83500cc427bf4d6c5562f7d426a48.jpg?v=1653565922"}}}],"images":["\/\/motogear.co.nz\/cdn\/shop\/products\/2fe83500cc427bf4d6c5562f7d426a48.jpg?v=1653565922","\/\/motogear.co.nz\/cdn\/shop\/products\/ec8e44c16d4876752f6cbe49e23a3036_3c793dac-e6d8-432e-ab96-05fbb71059a3.jpg?v=1669960105"],"featured_image":"\/\/motogear.co.nz\/cdn\/shop\/products\/2fe83500cc427bf4d6c5562f7d426a48.jpg?v=1653565922","options":["Stock Item"],"media":[{"alt":"Canyon Gore Boots - Black","id":26282719412380,"position":1,"preview_image":{"aspect_ratio":1.0,"height":650,"width":650,"src":"\/\/motogear.co.nz\/cdn\/shop\/products\/2fe83500cc427bf4d6c5562f7d426a48.jpg?v=1653565922"},"aspect_ratio":1.0,"height":650,"media_type":"image","src":"\/\/motogear.co.nz\/cdn\/shop\/products\/2fe83500cc427bf4d6c5562f7d426a48.jpg?v=1653565922","width":650},{"alt":"SIDI boot size chart","id":27636787445916,"position":2,"preview_image":{"aspect_ratio":1.0,"height":1080,"width":1080,"src":"\/\/motogear.co.nz\/cdn\/shop\/products\/ec8e44c16d4876752f6cbe49e23a3036_3c793dac-e6d8-432e-ab96-05fbb71059a3.jpg?v=1669960105"},"aspect_ratio":1.0,"height":1080,"media_type":"image","src":"\/\/motogear.co.nz\/cdn\/shop\/products\/ec8e44c16d4876752f6cbe49e23a3036_3c793dac-e6d8-432e-ab96-05fbb71059a3.jpg?v=1669960105","width":1080}],"content":"\u003cp\u003e\u003cstrong\u003eSIDI Canyon Gore \u003c\/strong\u003e\u003cstrong\u003eBoots\u003c\/strong\u003e\u003c\/p\u003e\n\n\u003cp\u003eProduced with top-grain leather and shammy split-grain leather on the boot leg. Lined with GORE-TEX® membrane, the boot instep features a replaceable micrometric SL lever and closure strap.The SL lever may be used in two ways: more than one click at a time for an immediate lock, or half a click at a time for an excellent micrometric adjustment. The grey flaps can be pressed together to unlock completely or alternately to loosen the fit gradually.\u003c\/p\u003e\n\n\u003cul\u003e\n\t\u003cli\u003eFull grain leather\u003c\/li\u003e\n\t\u003cli\u003eGORE-TEX® the worlds No1 waterproof, breathable membrane to keep your feet dry and comfortable\u003c\/li\u003e\n\t\u003cli\u003eVELCRO® straps and strap with SL buckle\u003c\/li\u003e\n\t\u003cli\u003eNylon insole and removable arch support\u003c\/li\u003e\n\t\u003cli\u003eRubber sole, with slip-proof design\u003c\/li\u003e\n\u003c\/ul\u003e\n\n\u003cp\u003e \u003c\/p\u003e\n\n\u003cp\u003eReplacement parts available. SIDI boots are a narrow fit and they recommend going up a size from what you would normally wear.\u003c\/p\u003e\n"}