SIDI ATOJO SRS Boots
Regular price
Sale price
$799.00
Unit price
/
per
or 4 payments of
Regular price
$0.00
Sale price
$199.75
Unit price
/
per
with
---
---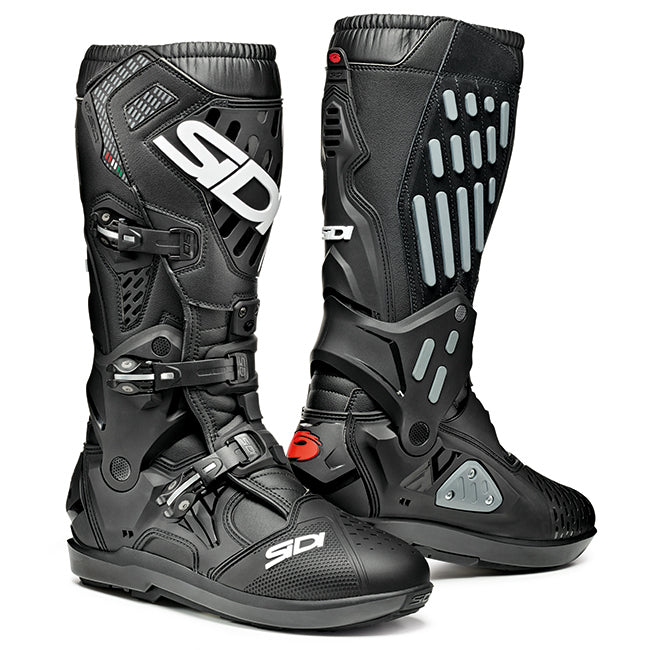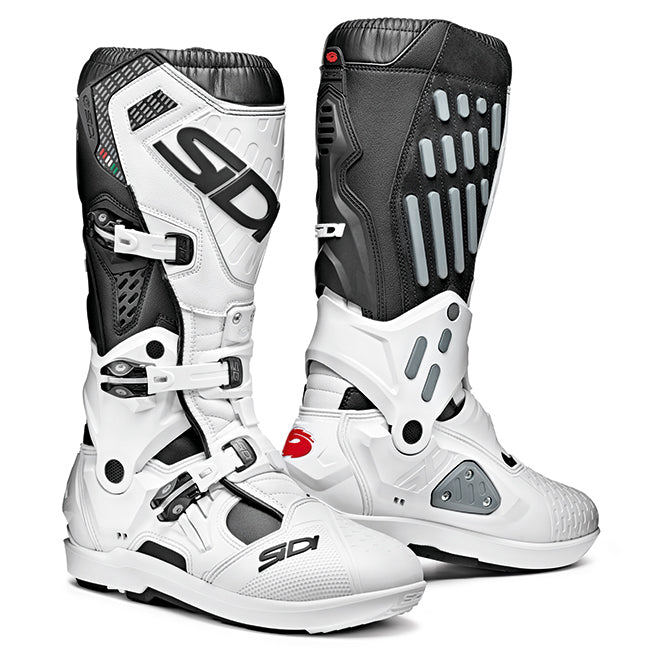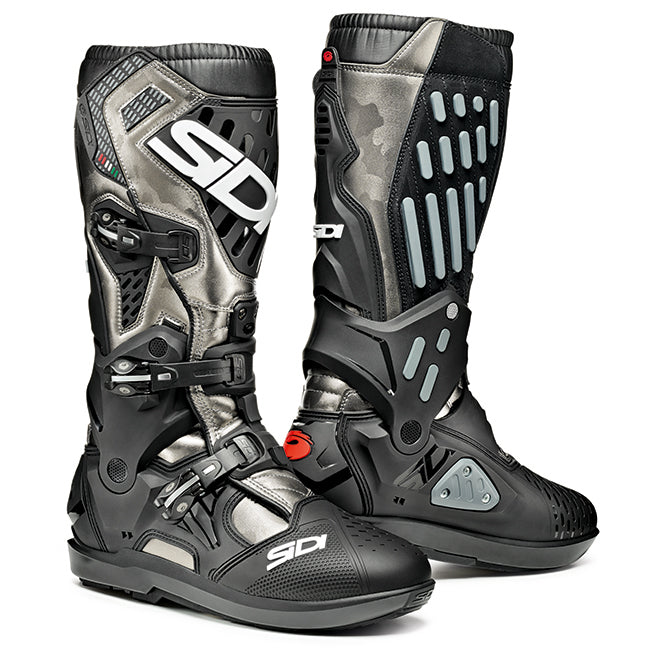 SIDI ATOJO SRS Boots - Black
Go light. Go quick. Go Atojo.
The Sidi Atojo SRS boots are once again revolutionizing the world of motocross. The name "Atojo" is an acronym that represents three of Sidi's world-dominating MX riders:  "A" as in Alessandro Lupino, "TO" as in Tony Cairoli and "JO" as in Jorge Prado. This collaboration created a boot that balances protection, durability, comfort and lightweight - all while maximizing the rider's connection to the bike. 
The acclaimed SIDI cam lock buckles and straps, a wide calf opening and compatible interface with knee braces will find a fit for virtually every rider. The unique Atojo SR Hinge System makes Sidi's existing ankle protection system even better. The dovetail sole from the CROSSFIRE 3 and replaceable buckles will keep this pair of boots performing for years of hard riding.
Atojo SR Hinge System, two flex points allow the ankle to move naturally but prevent hyper extension therefore injury, of the ankle and the Achilles
Hyperextension Control, prevents excessive flexation rearwards, frontwards and protects the lower tibia from hyper flexation
TECHNOMICRO Upper with High Impact Reinforcement, the whole boot is constructed of synthetic suede with high impact PU plastic reinforcement
Cambrelle is used to line the foot contact surface. The polyamide structure of Cambrelle has a high resistance to abrasion and a great degree of moisture absorption, thus ensuring a rapid drying of the fabric and preventing the onset of bacteria. From the ankle to mid-calf the Atojo SRS Boots are lined with a jersey treated material with a Teflon fabric protector. The Teflon treatment prevents absorption of water and sweat.
The malleolus area is protected by an ergonomic padding with memory
Around the calf is an elastic gaiter with an anti-heat protection panel/calf plate. The gaiter is closed with a hook and loop flap to prevent the entry of rocks and dirt and features a wide adjustment.
The ankle panel with the central strap is replaceable using 4 screws that connect it to the boot
3 Buckle Closure, from the CROSSFIRE 3, replaceable and customisable
All buckles move independently of each other and have just one fixed point (by a screw)
A spoiler has been added to the lower buckle to deflect debris away from the buckle
Adjust the straps once and they will be at the same position for every ride after that. No more readjusting for every ride or mid-day during a ride.
The Dovetail SRS (Sole Replacement System) is designed and patented by Sidi. The central part of the sole is made up of a rubber insert with a new interlocking dovetail system with 4 screws for easy replacement.
Removeable arch support
An enduro lug sole is also available
Adjustable Calf System, allows the rider to adjust the calf inner diameter to suit more people.
Malleolus external plastic guard with ergonomic closed cell foam padding internally to enhance protection of small foot bones
Replaceable inner kick starter/foot peg nylon guard on the inside area of both boots
Boot leg is fully assembled with screws, is stitch-free and entirely replaceable
All bolt-on parts are replaceable
Replaceable shin plate
Non-Bootie Design, Booties make the design larger and cumbersome, add to the boot's thickness, which interferes with shifting. Inner booties retain body heat affecting the rider's performance and comfort.
Replacement parts available. SIDI boots are a narrow fit and they recommend going up a size from what you would normally wear.
{"id":7304338112668,"title":"SIDI ATOJO SRS Boots","handle":"sidi-atojo-srs-boots","description":"\u003cp\u003e\u003cstrong\u003eSIDI ATOJO SRS Boots - Black\u003c\/strong\u003e\u003c\/p\u003e\n\n\u003cp\u003eGo light. Go quick. Go Atojo.\u003c\/p\u003e\n\n\u003cp\u003eThe Sidi Atojo SRS boots are once again revolutionizing the world of motocross. The name \"Atojo\" is an acronym that represents three of Sidi's world-dominating MX riders:  \"A" as in Alessandro Lupino, \"TO" as in Tony Cairoli and \"JO" as in Jorge Prado. This collaboration created a boot that balances protection, durability, comfort and lightweight - all while maximizing the rider's connection to the bike. \u003c\/p\u003e\n\n\u003cp\u003eThe acclaimed SIDI cam lock buckles and straps, a wide calf opening and compatible interface with knee braces will find a fit for virtually every rider. The unique Atojo SR Hinge System makes Sidi's existing ankle protection system even better. The dovetail sole from the CROSSFIRE 3 and replaceable buckles will keep this pair of boots performing for years of hard riding.\u003c\/p\u003e\n\n\u003cul\u003e\n\t\u003cli\u003eAtojo SR Hinge System, two flex points allow the ankle to move naturally but prevent hyper extension therefore injury, of the ankle and the Achilles\u003c\/li\u003e\n\t\u003cli\u003eHyperextension Control, prevents excessive flexation rearwards, frontwards and protects the lower tibia from hyper flexation\u003c\/li\u003e\n\t\u003cli\u003eTECHNOMICRO Upper with High Impact Reinforcement, the whole boot is constructed of synthetic suede with high impact PU plastic reinforcement\u003c\/li\u003e\n\t\u003cli\u003eCambrelle is used to line the foot contact surface. The polyamide structure of Cambrelle has a high resistance to abrasion and a great degree of moisture absorption, thus ensuring a rapid drying of the fabric and preventing the onset of bacteria. From the ankle to mid-calf the Atojo SRS Boots are lined with a jersey treated material with a Teflon fabric protector. The Teflon treatment prevents absorption of water and sweat.\u003c\/li\u003e\n\t\u003cli\u003eThe malleolus area is protected by an ergonomic padding with memory\u003c\/li\u003e\n\t\u003cli\u003eAround the calf is an elastic gaiter with an anti-heat protection panel\/calf plate. The gaiter is closed with a hook and loop flap to prevent the entry of rocks and dirt and features a wide adjustment.\u003c\/li\u003e\n\t\u003cli\u003eThe ankle panel with the central strap is replaceable using 4 screws that connect it to the boot\u003c\/li\u003e\n\t\u003cli\u003e3 Buckle Closure, from the CROSSFIRE 3, replaceable and customisable\u003c\/li\u003e\n\t\u003cli\u003eAll buckles move independently of each other and have just one fixed point (by a screw)\u003c\/li\u003e\n\t\u003cli\u003eA spoiler has been added to the lower buckle to deflect debris away from the buckle\u003c\/li\u003e\n\t\u003cli\u003eAdjust the straps once and they will be at the same position for every ride after that. No more readjusting for every ride or mid-day during a ride.\u003c\/li\u003e\n\t\u003cli\u003eThe Dovetail SRS (Sole Replacement System) is designed and patented by Sidi. The central part of the sole is made up of a rubber insert with a new interlocking dovetail system with 4 screws for easy replacement.\u003c\/li\u003e\n\t\u003cli\u003eRemoveable arch support\u003c\/li\u003e\n\t\u003cli\u003eAn enduro lug sole is also available\u003c\/li\u003e\n\t\u003cli\u003eAdjustable Calf System, allows the rider to adjust the calf inner diameter to suit more people.\u003c\/li\u003e\n\t\u003cli\u003eMalleolus external plastic guard with ergonomic closed cell foam padding internally to enhance protection of small foot bones\u003c\/li\u003e\n\t\u003cli\u003eReplaceable inner kick starter\/foot peg nylon guard on the inside area of both boots\u003c\/li\u003e\n\t\u003cli\u003eBoot leg is fully assembled with screws, is stitch-free and entirely replaceable\u003c\/li\u003e\n\t\u003cli\u003eAll bolt-on parts are replaceable\u003c\/li\u003e\n\t\u003cli\u003eReplaceable shin plate\u003c\/li\u003e\n\t\u003cli\u003eNon-Bootie Design, Booties make the design larger and cumbersome, add to the boot's thickness, which interferes with shifting. Inner booties retain body heat affecting the rider's performance and comfort.\u003c\/li\u003e\n\u003c\/ul\u003e\n\n\u003cp\u003eReplacement parts available. SIDI boots are a narrow fit and they recommend going up a size from what you would normally wear.\u003c\/p\u003e\n\u003cul class=\"s3-links\"\u003e\r\n\u003cli class=\"s3-link-pdf\"\u003e\u003ca href=\"http:\/\/darbi.sprint3.com\/package\/webservice\/kernel_resources_render.asp?intKernel_resource_PK=701\" target=\"_blank\"\u003eSIDI CROSSFIRE 3 Parts A\u003c\/a\u003e\u003c\/li\u003e\r\n\u003cli class=\"s3-link-pdf\"\u003e\u003ca href=\"http:\/\/darbi.sprint3.com\/package\/webservice\/kernel_resources_render.asp?intKernel_resource_PK=702\" target=\"_blank\"\u003eSIDI CROSSFIRE 3 Parts B\u003c\/a\u003e\u003c\/li\u003e\r\n\u003c\/ul\u003e\r\n","published_at":"2022-06-20T14:07:42+12:00","created_at":"2022-05-26T22:58:04+12:00","vendor":"SIDI","type":"Apparel-Offroad-Boots-Mens","tags":["S3-Cat-Apparel","S3-Cat-Apparel-Offroad","S3-Cat-Apparel-Offroad-Boots","S3-Cat-Apparel-Offroad-Boots-Mens","Sprint3","Sprint3-New"],"price":79900,"price_min":79900,"price_max":89900,"available":true,"price_varies":true,"compare_at_price":null,"compare_at_price_min":0,"compare_at_price_max":0,"compare_at_price_varies":false,"variants":[{"id":41661198860444,"title":"*41 Atojo SRS Black MX boots Sidi [A]","option1":"*41 Atojo SRS Black MX boots Sidi [A]","option2":null,"option3":null,"sku":"ATOJOSRS41B","requires_shipping":true,"taxable":true,"featured_image":{"id":33930790731932,"product_id":7304338112668,"position":1,"created_at":"2022-05-26T22:58:11+12:00","updated_at":"2022-05-26T22:58:11+12:00","alt":"SIDI ATOJO SRS Black MX Boots","width":650,"height":650,"src":"\/\/motogear.co.nz\/cdn\/shop\/products\/8689cc39ec95dce4c090e5a7a89c9b2a_8cd08883-2566-4cbe-a3e6-363baff6ac60.jpg?v=1653562691","variant_ids":[41661198860444,41661198893212,41661198925980,41661198958748,41661198991516,41661199024284,41661199057052]},"available":true,"name":"SIDI ATOJO SRS Boots - *41 Atojo SRS Black MX boots Sidi [A]","public_title":"*41 Atojo SRS Black MX boots Sidi [A]","options":["*41 Atojo SRS Black MX boots Sidi [A]"],"price":79900,"weight":0,"compare_at_price":null,"inventory_management":"sprint3-fulfillment","barcode":"8017732543707","featured_media":{"alt":"SIDI ATOJO SRS Black MX Boots","id":26282487447708,"position":1,"preview_image":{"aspect_ratio":1.0,"height":650,"width":650,"src":"\/\/motogear.co.nz\/cdn\/shop\/products\/8689cc39ec95dce4c090e5a7a89c9b2a_8cd08883-2566-4cbe-a3e6-363baff6ac60.jpg?v=1653562691"}}},{"id":41661198893212,"title":"*42 Atojo SRS Black MX boots Sidi [A]","option1":"*42 Atojo SRS Black MX boots Sidi [A]","option2":null,"option3":null,"sku":"ATOJOSRS42B","requires_shipping":true,"taxable":true,"featured_image":{"id":33930790731932,"product_id":7304338112668,"position":1,"created_at":"2022-05-26T22:58:11+12:00","updated_at":"2022-05-26T22:58:11+12:00","alt":"SIDI ATOJO SRS Black MX Boots","width":650,"height":650,"src":"\/\/motogear.co.nz\/cdn\/shop\/products\/8689cc39ec95dce4c090e5a7a89c9b2a_8cd08883-2566-4cbe-a3e6-363baff6ac60.jpg?v=1653562691","variant_ids":[41661198860444,41661198893212,41661198925980,41661198958748,41661198991516,41661199024284,41661199057052]},"available":true,"name":"SIDI ATOJO SRS Boots - *42 Atojo SRS Black MX boots Sidi [A]","public_title":"*42 Atojo SRS Black MX boots Sidi [A]","options":["*42 Atojo SRS Black MX boots Sidi [A]"],"price":79900,"weight":0,"compare_at_price":null,"inventory_management":"sprint3-fulfillment","barcode":"2502162935902","featured_media":{"alt":"SIDI ATOJO SRS Black MX Boots","id":26282487447708,"position":1,"preview_image":{"aspect_ratio":1.0,"height":650,"width":650,"src":"\/\/motogear.co.nz\/cdn\/shop\/products\/8689cc39ec95dce4c090e5a7a89c9b2a_8cd08883-2566-4cbe-a3e6-363baff6ac60.jpg?v=1653562691"}}},{"id":41661198925980,"title":"*43 Atojo SRS Black MX boots Sidi [A]","option1":"*43 Atojo SRS Black MX boots Sidi [A]","option2":null,"option3":null,"sku":"ATOJOSRS43B","requires_shipping":true,"taxable":true,"featured_image":{"id":33930790731932,"product_id":7304338112668,"position":1,"created_at":"2022-05-26T22:58:11+12:00","updated_at":"2022-05-26T22:58:11+12:00","alt":"SIDI ATOJO SRS Black MX Boots","width":650,"height":650,"src":"\/\/motogear.co.nz\/cdn\/shop\/products\/8689cc39ec95dce4c090e5a7a89c9b2a_8cd08883-2566-4cbe-a3e6-363baff6ac60.jpg?v=1653562691","variant_ids":[41661198860444,41661198893212,41661198925980,41661198958748,41661198991516,41661199024284,41661199057052]},"available":false,"name":"SIDI ATOJO SRS Boots - *43 Atojo SRS Black MX boots Sidi [A]","public_title":"*43 Atojo SRS Black MX boots Sidi [A]","options":["*43 Atojo SRS Black MX boots Sidi [A]"],"price":79900,"weight":0,"compare_at_price":null,"inventory_management":"sprint3-fulfillment","barcode":"8017732540492","featured_media":{"alt":"SIDI ATOJO SRS Black MX Boots","id":26282487447708,"position":1,"preview_image":{"aspect_ratio":1.0,"height":650,"width":650,"src":"\/\/motogear.co.nz\/cdn\/shop\/products\/8689cc39ec95dce4c090e5a7a89c9b2a_8cd08883-2566-4cbe-a3e6-363baff6ac60.jpg?v=1653562691"}}},{"id":41661198958748,"title":"*44 Atojo SRS Black MX boots Sidi [AC]","option1":"*44 Atojo SRS Black MX boots Sidi [AC]","option2":null,"option3":null,"sku":"ATOJOSRS44B","requires_shipping":true,"taxable":true,"featured_image":{"id":33930790731932,"product_id":7304338112668,"position":1,"created_at":"2022-05-26T22:58:11+12:00","updated_at":"2022-05-26T22:58:11+12:00","alt":"SIDI ATOJO SRS Black MX Boots","width":650,"height":650,"src":"\/\/motogear.co.nz\/cdn\/shop\/products\/8689cc39ec95dce4c090e5a7a89c9b2a_8cd08883-2566-4cbe-a3e6-363baff6ac60.jpg?v=1653562691","variant_ids":[41661198860444,41661198893212,41661198925980,41661198958748,41661198991516,41661199024284,41661199057052]},"available":true,"name":"SIDI ATOJO SRS Boots - *44 Atojo SRS Black MX boots Sidi [AC]","public_title":"*44 Atojo SRS Black MX boots Sidi [AC]","options":["*44 Atojo SRS Black MX boots Sidi [AC]"],"price":79900,"weight":0,"compare_at_price":null,"inventory_management":"sprint3-fulfillment","barcode":"8017732541086","featured_media":{"alt":"SIDI ATOJO SRS Black MX Boots","id":26282487447708,"position":1,"preview_image":{"aspect_ratio":1.0,"height":650,"width":650,"src":"\/\/motogear.co.nz\/cdn\/shop\/products\/8689cc39ec95dce4c090e5a7a89c9b2a_8cd08883-2566-4cbe-a3e6-363baff6ac60.jpg?v=1653562691"}}},{"id":41661198991516,"title":"*45 Atojo SRS Black MX boots Sidi [A]","option1":"*45 Atojo SRS Black MX boots Sidi [A]","option2":null,"option3":null,"sku":"ATOJOSRS45B","requires_shipping":true,"taxable":true,"featured_image":{"id":33930790731932,"product_id":7304338112668,"position":1,"created_at":"2022-05-26T22:58:11+12:00","updated_at":"2022-05-26T22:58:11+12:00","alt":"SIDI ATOJO SRS Black MX Boots","width":650,"height":650,"src":"\/\/motogear.co.nz\/cdn\/shop\/products\/8689cc39ec95dce4c090e5a7a89c9b2a_8cd08883-2566-4cbe-a3e6-363baff6ac60.jpg?v=1653562691","variant_ids":[41661198860444,41661198893212,41661198925980,41661198958748,41661198991516,41661199024284,41661199057052]},"available":false,"name":"SIDI ATOJO SRS Boots - *45 Atojo SRS Black MX boots Sidi [A]","public_title":"*45 Atojo SRS Black MX boots Sidi [A]","options":["*45 Atojo SRS Black MX boots Sidi [A]"],"price":79900,"weight":0,"compare_at_price":null,"inventory_management":"sprint3-fulfillment","barcode":"8017732541109","featured_media":{"alt":"SIDI ATOJO SRS Black MX Boots","id":26282487447708,"position":1,"preview_image":{"aspect_ratio":1.0,"height":650,"width":650,"src":"\/\/motogear.co.nz\/cdn\/shop\/products\/8689cc39ec95dce4c090e5a7a89c9b2a_8cd08883-2566-4cbe-a3e6-363baff6ac60.jpg?v=1653562691"}}},{"id":41661199024284,"title":"*46 Atojo SRS Black MX boots Sidi [A]","option1":"*46 Atojo SRS Black MX boots Sidi [A]","option2":null,"option3":null,"sku":"ATOJOSRS46B","requires_shipping":true,"taxable":true,"featured_image":{"id":33930790731932,"product_id":7304338112668,"position":1,"created_at":"2022-05-26T22:58:11+12:00","updated_at":"2022-05-26T22:58:11+12:00","alt":"SIDI ATOJO SRS Black MX Boots","width":650,"height":650,"src":"\/\/motogear.co.nz\/cdn\/shop\/products\/8689cc39ec95dce4c090e5a7a89c9b2a_8cd08883-2566-4cbe-a3e6-363baff6ac60.jpg?v=1653562691","variant_ids":[41661198860444,41661198893212,41661198925980,41661198958748,41661198991516,41661199024284,41661199057052]},"available":true,"name":"SIDI ATOJO SRS Boots - *46 Atojo SRS Black MX boots Sidi [A]","public_title":"*46 Atojo SRS Black MX boots Sidi [A]","options":["*46 Atojo SRS Black MX boots Sidi [A]"],"price":89900,"weight":0,"compare_at_price":null,"inventory_management":"sprint3-fulfillment","barcode":"8017732541116","featured_media":{"alt":"SIDI ATOJO SRS Black MX Boots","id":26282487447708,"position":1,"preview_image":{"aspect_ratio":1.0,"height":650,"width":650,"src":"\/\/motogear.co.nz\/cdn\/shop\/products\/8689cc39ec95dce4c090e5a7a89c9b2a_8cd08883-2566-4cbe-a3e6-363baff6ac60.jpg?v=1653562691"}}},{"id":41661199057052,"title":"*47 Atojo SRS Black MX boots Sidi [A]","option1":"*47 Atojo SRS Black MX boots Sidi [A]","option2":null,"option3":null,"sku":"ATOJOSRS47B","requires_shipping":true,"taxable":true,"featured_image":{"id":33930790731932,"product_id":7304338112668,"position":1,"created_at":"2022-05-26T22:58:11+12:00","updated_at":"2022-05-26T22:58:11+12:00","alt":"SIDI ATOJO SRS Black MX Boots","width":650,"height":650,"src":"\/\/motogear.co.nz\/cdn\/shop\/products\/8689cc39ec95dce4c090e5a7a89c9b2a_8cd08883-2566-4cbe-a3e6-363baff6ac60.jpg?v=1653562691","variant_ids":[41661198860444,41661198893212,41661198925980,41661198958748,41661198991516,41661199024284,41661199057052]},"available":false,"name":"SIDI ATOJO SRS Boots - *47 Atojo SRS Black MX boots Sidi [A]","public_title":"*47 Atojo SRS Black MX boots Sidi [A]","options":["*47 Atojo SRS Black MX boots Sidi [A]"],"price":79900,"weight":0,"compare_at_price":null,"inventory_management":"sprint3-fulfillment","barcode":"8017732541123","featured_media":{"alt":"SIDI ATOJO SRS Black MX Boots","id":26282487447708,"position":1,"preview_image":{"aspect_ratio":1.0,"height":650,"width":650,"src":"\/\/motogear.co.nz\/cdn\/shop\/products\/8689cc39ec95dce4c090e5a7a89c9b2a_8cd08883-2566-4cbe-a3e6-363baff6ac60.jpg?v=1653562691"}}},{"id":41661199089820,"title":"42 Atojo SRS Black\/White MX boots Sidi [A]","option1":"42 Atojo SRS Black\/White MX boots Sidi [A]","option2":null,"option3":null,"sku":"ATOJOSRS42BW","requires_shipping":true,"taxable":true,"featured_image":{"id":33930790764700,"product_id":7304338112668,"position":2,"created_at":"2022-05-26T22:58:11+12:00","updated_at":"2022-05-26T22:58:11+12:00","alt":"SIDI ATOJO SRS Black White MX Boots","width":650,"height":650,"src":"\/\/motogear.co.nz\/cdn\/shop\/products\/53cc2d732ed435de0013f3d778459bcc_81895757-c4d5-4ed3-9266-79c2769272a3.jpg?v=1653562691","variant_ids":[41661199089820,41661199122588,41661199155356,41661199188124,41661199220892,41661199253660]},"available":true,"name":"SIDI ATOJO SRS Boots - 42 Atojo SRS Black\/White MX boots Sidi [A]","public_title":"42 Atojo SRS Black\/White MX boots Sidi [A]","options":["42 Atojo SRS Black\/White MX boots Sidi [A]"],"price":79900,"weight":0,"compare_at_price":null,"inventory_management":"sprint3-fulfillment","barcode":"8017732543615","featured_media":{"alt":"SIDI ATOJO SRS Black White MX Boots","id":26282487480476,"position":2,"preview_image":{"aspect_ratio":1.0,"height":650,"width":650,"src":"\/\/motogear.co.nz\/cdn\/shop\/products\/53cc2d732ed435de0013f3d778459bcc_81895757-c4d5-4ed3-9266-79c2769272a3.jpg?v=1653562691"}}},{"id":41661199122588,"title":"43 Atojo SRS Black\/White MX boots Sidi [A]","option1":"43 Atojo SRS Black\/White MX boots Sidi [A]","option2":null,"option3":null,"sku":"ATOJOSRS43BW","requires_shipping":true,"taxable":true,"featured_image":{"id":33930790764700,"product_id":7304338112668,"position":2,"created_at":"2022-05-26T22:58:11+12:00","updated_at":"2022-05-26T22:58:11+12:00","alt":"SIDI ATOJO SRS Black White MX Boots","width":650,"height":650,"src":"\/\/motogear.co.nz\/cdn\/shop\/products\/53cc2d732ed435de0013f3d778459bcc_81895757-c4d5-4ed3-9266-79c2769272a3.jpg?v=1653562691","variant_ids":[41661199089820,41661199122588,41661199155356,41661199188124,41661199220892,41661199253660]},"available":true,"name":"SIDI ATOJO SRS Boots - 43 Atojo SRS Black\/White MX boots Sidi [A]","public_title":"43 Atojo SRS Black\/White MX boots Sidi [A]","options":["43 Atojo SRS Black\/White MX boots Sidi [A]"],"price":79900,"weight":0,"compare_at_price":null,"inventory_management":"sprint3-fulfillment","barcode":"8017732540461","featured_media":{"alt":"SIDI ATOJO SRS Black White MX Boots","id":26282487480476,"position":2,"preview_image":{"aspect_ratio":1.0,"height":650,"width":650,"src":"\/\/motogear.co.nz\/cdn\/shop\/products\/53cc2d732ed435de0013f3d778459bcc_81895757-c4d5-4ed3-9266-79c2769272a3.jpg?v=1653562691"}}},{"id":41661199155356,"title":"44 Atojo SRS Black\/White MX boots Sidi [A]","option1":"44 Atojo SRS Black\/White MX boots Sidi [A]","option2":null,"option3":null,"sku":"ATOJOSRS44BW","requires_shipping":true,"taxable":true,"featured_image":{"id":33930790764700,"product_id":7304338112668,"position":2,"created_at":"2022-05-26T22:58:11+12:00","updated_at":"2022-05-26T22:58:11+12:00","alt":"SIDI ATOJO SRS Black White MX Boots","width":650,"height":650,"src":"\/\/motogear.co.nz\/cdn\/shop\/products\/53cc2d732ed435de0013f3d778459bcc_81895757-c4d5-4ed3-9266-79c2769272a3.jpg?v=1653562691","variant_ids":[41661199089820,41661199122588,41661199155356,41661199188124,41661199220892,41661199253660]},"available":true,"name":"SIDI ATOJO SRS Boots - 44 Atojo SRS Black\/White MX boots Sidi [A]","public_title":"44 Atojo SRS Black\/White MX boots Sidi [A]","options":["44 Atojo SRS Black\/White MX boots Sidi [A]"],"price":79900,"weight":0,"compare_at_price":null,"inventory_management":"sprint3-fulfillment","barcode":"8017732540997","featured_media":{"alt":"SIDI ATOJO SRS Black White MX Boots","id":26282487480476,"position":2,"preview_image":{"aspect_ratio":1.0,"height":650,"width":650,"src":"\/\/motogear.co.nz\/cdn\/shop\/products\/53cc2d732ed435de0013f3d778459bcc_81895757-c4d5-4ed3-9266-79c2769272a3.jpg?v=1653562691"}}},{"id":41661199188124,"title":"45 Atojo SRS Black\/White MX boots Sidi []","option1":"45 Atojo SRS Black\/White MX boots Sidi []","option2":null,"option3":null,"sku":"ATOJOSRS45BW","requires_shipping":true,"taxable":true,"featured_image":{"id":33930790764700,"product_id":7304338112668,"position":2,"created_at":"2022-05-26T22:58:11+12:00","updated_at":"2022-05-26T22:58:11+12:00","alt":"SIDI ATOJO SRS Black White MX Boots","width":650,"height":650,"src":"\/\/motogear.co.nz\/cdn\/shop\/products\/53cc2d732ed435de0013f3d778459bcc_81895757-c4d5-4ed3-9266-79c2769272a3.jpg?v=1653562691","variant_ids":[41661199089820,41661199122588,41661199155356,41661199188124,41661199220892,41661199253660]},"available":false,"name":"SIDI ATOJO SRS Boots - 45 Atojo SRS Black\/White MX boots Sidi []","public_title":"45 Atojo SRS Black\/White MX boots Sidi []","options":["45 Atojo SRS Black\/White MX boots Sidi []"],"price":79900,"weight":0,"compare_at_price":null,"inventory_management":"sprint3-fulfillment","barcode":"8017732541017","featured_media":{"alt":"SIDI ATOJO SRS Black White MX Boots","id":26282487480476,"position":2,"preview_image":{"aspect_ratio":1.0,"height":650,"width":650,"src":"\/\/motogear.co.nz\/cdn\/shop\/products\/53cc2d732ed435de0013f3d778459bcc_81895757-c4d5-4ed3-9266-79c2769272a3.jpg?v=1653562691"}}},{"id":41661199220892,"title":"46 Atojo SRS Black\/White MX boots Sidi [A]","option1":"46 Atojo SRS Black\/White MX boots Sidi [A]","option2":null,"option3":null,"sku":"ATOJOSRS46BW","requires_shipping":true,"taxable":true,"featured_image":{"id":33930790764700,"product_id":7304338112668,"position":2,"created_at":"2022-05-26T22:58:11+12:00","updated_at":"2022-05-26T22:58:11+12:00","alt":"SIDI ATOJO SRS Black White MX Boots","width":650,"height":650,"src":"\/\/motogear.co.nz\/cdn\/shop\/products\/53cc2d732ed435de0013f3d778459bcc_81895757-c4d5-4ed3-9266-79c2769272a3.jpg?v=1653562691","variant_ids":[41661199089820,41661199122588,41661199155356,41661199188124,41661199220892,41661199253660]},"available":true,"name":"SIDI ATOJO SRS Boots - 46 Atojo SRS Black\/White MX boots Sidi [A]","public_title":"46 Atojo SRS Black\/White MX boots Sidi [A]","options":["46 Atojo SRS Black\/White MX boots Sidi [A]"],"price":79900,"weight":0,"compare_at_price":null,"inventory_management":"sprint3-fulfillment","barcode":"8017732541024","featured_media":{"alt":"SIDI ATOJO SRS Black White MX Boots","id":26282487480476,"position":2,"preview_image":{"aspect_ratio":1.0,"height":650,"width":650,"src":"\/\/motogear.co.nz\/cdn\/shop\/products\/53cc2d732ed435de0013f3d778459bcc_81895757-c4d5-4ed3-9266-79c2769272a3.jpg?v=1653562691"}}},{"id":41661199253660,"title":"47 Atojo SRS Black\/White MX boots Sidi []","option1":"47 Atojo SRS Black\/White MX boots Sidi []","option2":null,"option3":null,"sku":"ATOJOSRS47BW","requires_shipping":true,"taxable":true,"featured_image":{"id":33930790764700,"product_id":7304338112668,"position":2,"created_at":"2022-05-26T22:58:11+12:00","updated_at":"2022-05-26T22:58:11+12:00","alt":"SIDI ATOJO SRS Black White MX Boots","width":650,"height":650,"src":"\/\/motogear.co.nz\/cdn\/shop\/products\/53cc2d732ed435de0013f3d778459bcc_81895757-c4d5-4ed3-9266-79c2769272a3.jpg?v=1653562691","variant_ids":[41661199089820,41661199122588,41661199155356,41661199188124,41661199220892,41661199253660]},"available":false,"name":"SIDI ATOJO SRS Boots - 47 Atojo SRS Black\/White MX boots Sidi []","public_title":"47 Atojo SRS Black\/White MX boots Sidi []","options":["47 Atojo SRS Black\/White MX boots Sidi []"],"price":79900,"weight":0,"compare_at_price":null,"inventory_management":"sprint3-fulfillment","barcode":"8017732541031","featured_media":{"alt":"SIDI ATOJO SRS Black White MX Boots","id":26282487480476,"position":2,"preview_image":{"aspect_ratio":1.0,"height":650,"width":650,"src":"\/\/motogear.co.nz\/cdn\/shop\/products\/53cc2d732ed435de0013f3d778459bcc_81895757-c4d5-4ed3-9266-79c2769272a3.jpg?v=1653562691"}}},{"id":41708911984796,"title":"*43 Atojo SRS Lead Grey\/Black MX boots Sidi [AC]","option1":"*43 Atojo SRS Lead Grey\/Black MX boots Sidi [AC]","option2":null,"option3":null,"sku":"ATOJOSRS43GB","requires_shipping":true,"taxable":true,"featured_image":{"id":33930790797468,"product_id":7304338112668,"position":3,"created_at":"2022-05-26T22:58:11+12:00","updated_at":"2022-05-26T22:58:11+12:00","alt":"SIDI ATOJO SRS Lead Grey_Black MX Boots","width":650,"height":650,"src":"\/\/motogear.co.nz\/cdn\/shop\/products\/3e4ea86eda4a05dc166da04278666612_99862a22-e789-4355-a9de-758df74cfbcb.jpg?v=1653562691","variant_ids":[41661199286428,41661199319196,41661199351964,41708911984796,41708912017564]},"available":true,"name":"SIDI ATOJO SRS Boots - *43 Atojo SRS Lead Grey\/Black MX boots Sidi [AC]","public_title":"*43 Atojo SRS Lead Grey\/Black MX boots Sidi [AC]","options":["*43 Atojo SRS Lead Grey\/Black MX boots Sidi [AC]"],"price":79900,"weight":0,"compare_at_price":null,"inventory_management":"sprint3-fulfillment","barcode":"8017732540454","featured_media":{"alt":"SIDI ATOJO SRS Lead Grey_Black MX Boots","id":26282487513244,"position":3,"preview_image":{"aspect_ratio":1.0,"height":650,"width":650,"src":"\/\/motogear.co.nz\/cdn\/shop\/products\/3e4ea86eda4a05dc166da04278666612_99862a22-e789-4355-a9de-758df74cfbcb.jpg?v=1653562691"}}},{"id":41661199286428,"title":"*44 Atojo SRS Lead Grey\/Black MX boots Sidi [AC]","option1":"*44 Atojo SRS Lead Grey\/Black MX boots Sidi [AC]","option2":null,"option3":null,"sku":"ATOJOSRS44GB","requires_shipping":true,"taxable":true,"featured_image":{"id":33930790797468,"product_id":7304338112668,"position":3,"created_at":"2022-05-26T22:58:11+12:00","updated_at":"2022-05-26T22:58:11+12:00","alt":"SIDI ATOJO SRS Lead Grey_Black MX Boots","width":650,"height":650,"src":"\/\/motogear.co.nz\/cdn\/shop\/products\/3e4ea86eda4a05dc166da04278666612_99862a22-e789-4355-a9de-758df74cfbcb.jpg?v=1653562691","variant_ids":[41661199286428,41661199319196,41661199351964,41708911984796,41708912017564]},"available":false,"name":"SIDI ATOJO SRS Boots - *44 Atojo SRS Lead Grey\/Black MX boots Sidi [AC]","public_title":"*44 Atojo SRS Lead Grey\/Black MX boots Sidi [AC]","options":["*44 Atojo SRS Lead Grey\/Black MX boots Sidi [AC]"],"price":79900,"weight":0,"compare_at_price":null,"inventory_management":"sprint3-fulfillment","barcode":"8017732540904","featured_media":{"alt":"SIDI ATOJO SRS Lead Grey_Black MX Boots","id":26282487513244,"position":3,"preview_image":{"aspect_ratio":1.0,"height":650,"width":650,"src":"\/\/motogear.co.nz\/cdn\/shop\/products\/3e4ea86eda4a05dc166da04278666612_99862a22-e789-4355-a9de-758df74cfbcb.jpg?v=1653562691"}}},{"id":41708912017564,"title":"*45 Atojo SRS Lead Grey\/Black MX boots Sidi [A]","option1":"*45 Atojo SRS Lead Grey\/Black MX boots Sidi [A]","option2":null,"option3":null,"sku":"ATOJOSRS45GB","requires_shipping":true,"taxable":true,"featured_image":{"id":33930790797468,"product_id":7304338112668,"position":3,"created_at":"2022-05-26T22:58:11+12:00","updated_at":"2022-05-26T22:58:11+12:00","alt":"SIDI ATOJO SRS Lead Grey_Black MX Boots","width":650,"height":650,"src":"\/\/motogear.co.nz\/cdn\/shop\/products\/3e4ea86eda4a05dc166da04278666612_99862a22-e789-4355-a9de-758df74cfbcb.jpg?v=1653562691","variant_ids":[41661199286428,41661199319196,41661199351964,41708911984796,41708912017564]},"available":true,"name":"SIDI ATOJO SRS Boots - *45 Atojo SRS Lead Grey\/Black MX boots Sidi [A]","public_title":"*45 Atojo SRS Lead Grey\/Black MX boots Sidi [A]","options":["*45 Atojo SRS Lead Grey\/Black MX boots Sidi [A]"],"price":79900,"weight":0,"compare_at_price":null,"inventory_management":"sprint3-fulfillment","barcode":"8017732540928","featured_media":{"alt":"SIDI ATOJO SRS Lead Grey_Black MX Boots","id":26282487513244,"position":3,"preview_image":{"aspect_ratio":1.0,"height":650,"width":650,"src":"\/\/motogear.co.nz\/cdn\/shop\/products\/3e4ea86eda4a05dc166da04278666612_99862a22-e789-4355-a9de-758df74cfbcb.jpg?v=1653562691"}}},{"id":41661199319196,"title":"*46 Atojo SRS Lead Grey\/Black MX boots Sidi [A]","option1":"*46 Atojo SRS Lead Grey\/Black MX boots Sidi [A]","option2":null,"option3":null,"sku":"ATOJOSRS46GB","requires_shipping":true,"taxable":true,"featured_image":{"id":33930790797468,"product_id":7304338112668,"position":3,"created_at":"2022-05-26T22:58:11+12:00","updated_at":"2022-05-26T22:58:11+12:00","alt":"SIDI ATOJO SRS Lead Grey_Black MX Boots","width":650,"height":650,"src":"\/\/motogear.co.nz\/cdn\/shop\/products\/3e4ea86eda4a05dc166da04278666612_99862a22-e789-4355-a9de-758df74cfbcb.jpg?v=1653562691","variant_ids":[41661199286428,41661199319196,41661199351964,41708911984796,41708912017564]},"available":true,"name":"SIDI ATOJO SRS Boots - *46 Atojo SRS Lead Grey\/Black MX boots Sidi [A]","public_title":"*46 Atojo SRS Lead Grey\/Black MX boots Sidi [A]","options":["*46 Atojo SRS Lead Grey\/Black MX boots Sidi [A]"],"price":79900,"weight":0,"compare_at_price":null,"inventory_management":"sprint3-fulfillment","barcode":"8017732540935","featured_media":{"alt":"SIDI ATOJO SRS Lead Grey_Black MX Boots","id":26282487513244,"position":3,"preview_image":{"aspect_ratio":1.0,"height":650,"width":650,"src":"\/\/motogear.co.nz\/cdn\/shop\/products\/3e4ea86eda4a05dc166da04278666612_99862a22-e789-4355-a9de-758df74cfbcb.jpg?v=1653562691"}}},{"id":41661199351964,"title":"*47 Atojo SRS Lead Grey\/Black MX boots Sidi [A]","option1":"*47 Atojo SRS Lead Grey\/Black MX boots Sidi [A]","option2":null,"option3":null,"sku":"ATOJOSRS47GB","requires_shipping":true,"taxable":true,"featured_image":{"id":33930790797468,"product_id":7304338112668,"position":3,"created_at":"2022-05-26T22:58:11+12:00","updated_at":"2022-05-26T22:58:11+12:00","alt":"SIDI ATOJO SRS Lead Grey_Black MX Boots","width":650,"height":650,"src":"\/\/motogear.co.nz\/cdn\/shop\/products\/3e4ea86eda4a05dc166da04278666612_99862a22-e789-4355-a9de-758df74cfbcb.jpg?v=1653562691","variant_ids":[41661199286428,41661199319196,41661199351964,41708911984796,41708912017564]},"available":false,"name":"SIDI ATOJO SRS Boots - *47 Atojo SRS Lead Grey\/Black MX boots Sidi [A]","public_title":"*47 Atojo SRS Lead Grey\/Black MX boots Sidi [A]","options":["*47 Atojo SRS Lead Grey\/Black MX boots Sidi [A]"],"price":79900,"weight":0,"compare_at_price":null,"inventory_management":"sprint3-fulfillment","barcode":"8017732540942","featured_media":{"alt":"SIDI ATOJO SRS Lead Grey_Black MX Boots","id":26282487513244,"position":3,"preview_image":{"aspect_ratio":1.0,"height":650,"width":650,"src":"\/\/motogear.co.nz\/cdn\/shop\/products\/3e4ea86eda4a05dc166da04278666612_99862a22-e789-4355-a9de-758df74cfbcb.jpg?v=1653562691"}}}],"images":["\/\/motogear.co.nz\/cdn\/shop\/products\/8689cc39ec95dce4c090e5a7a89c9b2a_8cd08883-2566-4cbe-a3e6-363baff6ac60.jpg?v=1653562691","\/\/motogear.co.nz\/cdn\/shop\/products\/53cc2d732ed435de0013f3d778459bcc_81895757-c4d5-4ed3-9266-79c2769272a3.jpg?v=1653562691","\/\/motogear.co.nz\/cdn\/shop\/products\/3e4ea86eda4a05dc166da04278666612_99862a22-e789-4355-a9de-758df74cfbcb.jpg?v=1653562691","\/\/motogear.co.nz\/cdn\/shop\/products\/ec8e44c16d4876752f6cbe49e23a3036_19dd7c24-fa82-4053-8aca-45520884f7c0.jpg?v=1669959591"],"featured_image":"\/\/motogear.co.nz\/cdn\/shop\/products\/8689cc39ec95dce4c090e5a7a89c9b2a_8cd08883-2566-4cbe-a3e6-363baff6ac60.jpg?v=1653562691","options":["Stock Item"],"media":[{"alt":"SIDI ATOJO SRS Black MX Boots","id":26282487447708,"position":1,"preview_image":{"aspect_ratio":1.0,"height":650,"width":650,"src":"\/\/motogear.co.nz\/cdn\/shop\/products\/8689cc39ec95dce4c090e5a7a89c9b2a_8cd08883-2566-4cbe-a3e6-363baff6ac60.jpg?v=1653562691"},"aspect_ratio":1.0,"height":650,"media_type":"image","src":"\/\/motogear.co.nz\/cdn\/shop\/products\/8689cc39ec95dce4c090e5a7a89c9b2a_8cd08883-2566-4cbe-a3e6-363baff6ac60.jpg?v=1653562691","width":650},{"alt":"SIDI ATOJO SRS Black White MX Boots","id":26282487480476,"position":2,"preview_image":{"aspect_ratio":1.0,"height":650,"width":650,"src":"\/\/motogear.co.nz\/cdn\/shop\/products\/53cc2d732ed435de0013f3d778459bcc_81895757-c4d5-4ed3-9266-79c2769272a3.jpg?v=1653562691"},"aspect_ratio":1.0,"height":650,"media_type":"image","src":"\/\/motogear.co.nz\/cdn\/shop\/products\/53cc2d732ed435de0013f3d778459bcc_81895757-c4d5-4ed3-9266-79c2769272a3.jpg?v=1653562691","width":650},{"alt":"SIDI ATOJO SRS Lead Grey_Black MX Boots","id":26282487513244,"position":3,"preview_image":{"aspect_ratio":1.0,"height":650,"width":650,"src":"\/\/motogear.co.nz\/cdn\/shop\/products\/3e4ea86eda4a05dc166da04278666612_99862a22-e789-4355-a9de-758df74cfbcb.jpg?v=1653562691"},"aspect_ratio":1.0,"height":650,"media_type":"image","src":"\/\/motogear.co.nz\/cdn\/shop\/products\/3e4ea86eda4a05dc166da04278666612_99862a22-e789-4355-a9de-758df74cfbcb.jpg?v=1653562691","width":650},{"alt":"SIDI boot size chart","id":27636698349724,"position":4,"preview_image":{"aspect_ratio":1.0,"height":1080,"width":1080,"src":"\/\/motogear.co.nz\/cdn\/shop\/products\/ec8e44c16d4876752f6cbe49e23a3036_19dd7c24-fa82-4053-8aca-45520884f7c0.jpg?v=1669959591"},"aspect_ratio":1.0,"height":1080,"media_type":"image","src":"\/\/motogear.co.nz\/cdn\/shop\/products\/ec8e44c16d4876752f6cbe49e23a3036_19dd7c24-fa82-4053-8aca-45520884f7c0.jpg?v=1669959591","width":1080}],"content":"\u003cp\u003e\u003cstrong\u003eSIDI ATOJO SRS Boots - Black\u003c\/strong\u003e\u003c\/p\u003e\n\n\u003cp\u003eGo light. Go quick. Go Atojo.\u003c\/p\u003e\n\n\u003cp\u003eThe Sidi Atojo SRS boots are once again revolutionizing the world of motocross. The name \"Atojo\" is an acronym that represents three of Sidi's world-dominating MX riders:  \"A" as in Alessandro Lupino, \"TO" as in Tony Cairoli and \"JO" as in Jorge Prado. This collaboration created a boot that balances protection, durability, comfort and lightweight - all while maximizing the rider's connection to the bike. \u003c\/p\u003e\n\n\u003cp\u003eThe acclaimed SIDI cam lock buckles and straps, a wide calf opening and compatible interface with knee braces will find a fit for virtually every rider. The unique Atojo SR Hinge System makes Sidi's existing ankle protection system even better. The dovetail sole from the CROSSFIRE 3 and replaceable buckles will keep this pair of boots performing for years of hard riding.\u003c\/p\u003e\n\n\u003cul\u003e\n\t\u003cli\u003eAtojo SR Hinge System, two flex points allow the ankle to move naturally but prevent hyper extension therefore injury, of the ankle and the Achilles\u003c\/li\u003e\n\t\u003cli\u003eHyperextension Control, prevents excessive flexation rearwards, frontwards and protects the lower tibia from hyper flexation\u003c\/li\u003e\n\t\u003cli\u003eTECHNOMICRO Upper with High Impact Reinforcement, the whole boot is constructed of synthetic suede with high impact PU plastic reinforcement\u003c\/li\u003e\n\t\u003cli\u003eCambrelle is used to line the foot contact surface. The polyamide structure of Cambrelle has a high resistance to abrasion and a great degree of moisture absorption, thus ensuring a rapid drying of the fabric and preventing the onset of bacteria. From the ankle to mid-calf the Atojo SRS Boots are lined with a jersey treated material with a Teflon fabric protector. The Teflon treatment prevents absorption of water and sweat.\u003c\/li\u003e\n\t\u003cli\u003eThe malleolus area is protected by an ergonomic padding with memory\u003c\/li\u003e\n\t\u003cli\u003eAround the calf is an elastic gaiter with an anti-heat protection panel\/calf plate. The gaiter is closed with a hook and loop flap to prevent the entry of rocks and dirt and features a wide adjustment.\u003c\/li\u003e\n\t\u003cli\u003eThe ankle panel with the central strap is replaceable using 4 screws that connect it to the boot\u003c\/li\u003e\n\t\u003cli\u003e3 Buckle Closure, from the CROSSFIRE 3, replaceable and customisable\u003c\/li\u003e\n\t\u003cli\u003eAll buckles move independently of each other and have just one fixed point (by a screw)\u003c\/li\u003e\n\t\u003cli\u003eA spoiler has been added to the lower buckle to deflect debris away from the buckle\u003c\/li\u003e\n\t\u003cli\u003eAdjust the straps once and they will be at the same position for every ride after that. No more readjusting for every ride or mid-day during a ride.\u003c\/li\u003e\n\t\u003cli\u003eThe Dovetail SRS (Sole Replacement System) is designed and patented by Sidi. The central part of the sole is made up of a rubber insert with a new interlocking dovetail system with 4 screws for easy replacement.\u003c\/li\u003e\n\t\u003cli\u003eRemoveable arch support\u003c\/li\u003e\n\t\u003cli\u003eAn enduro lug sole is also available\u003c\/li\u003e\n\t\u003cli\u003eAdjustable Calf System, allows the rider to adjust the calf inner diameter to suit more people.\u003c\/li\u003e\n\t\u003cli\u003eMalleolus external plastic guard with ergonomic closed cell foam padding internally to enhance protection of small foot bones\u003c\/li\u003e\n\t\u003cli\u003eReplaceable inner kick starter\/foot peg nylon guard on the inside area of both boots\u003c\/li\u003e\n\t\u003cli\u003eBoot leg is fully assembled with screws, is stitch-free and entirely replaceable\u003c\/li\u003e\n\t\u003cli\u003eAll bolt-on parts are replaceable\u003c\/li\u003e\n\t\u003cli\u003eReplaceable shin plate\u003c\/li\u003e\n\t\u003cli\u003eNon-Bootie Design, Booties make the design larger and cumbersome, add to the boot's thickness, which interferes with shifting. Inner booties retain body heat affecting the rider's performance and comfort.\u003c\/li\u003e\n\u003c\/ul\u003e\n\n\u003cp\u003eReplacement parts available. SIDI boots are a narrow fit and they recommend going up a size from what you would normally wear.\u003c\/p\u003e\n\u003cul class=\"s3-links\"\u003e\r\n\u003cli class=\"s3-link-pdf\"\u003e\u003ca href=\"http:\/\/darbi.sprint3.com\/package\/webservice\/kernel_resources_render.asp?intKernel_resource_PK=701\" target=\"_blank\"\u003eSIDI CROSSFIRE 3 Parts A\u003c\/a\u003e\u003c\/li\u003e\r\n\u003cli class=\"s3-link-pdf\"\u003e\u003ca href=\"http:\/\/darbi.sprint3.com\/package\/webservice\/kernel_resources_render.asp?intKernel_resource_PK=702\" target=\"_blank\"\u003eSIDI CROSSFIRE 3 Parts B\u003c\/a\u003e\u003c\/li\u003e\r\n\u003c\/ul\u003e\r\n"}