SCOTT Prospect Amplifier Range
Regular price
Sale price
$219.00
Unit price
/
per
or 4 payments of
Regular price
$0.00
Sale price
$54.75
Unit price
/
per
with
---
---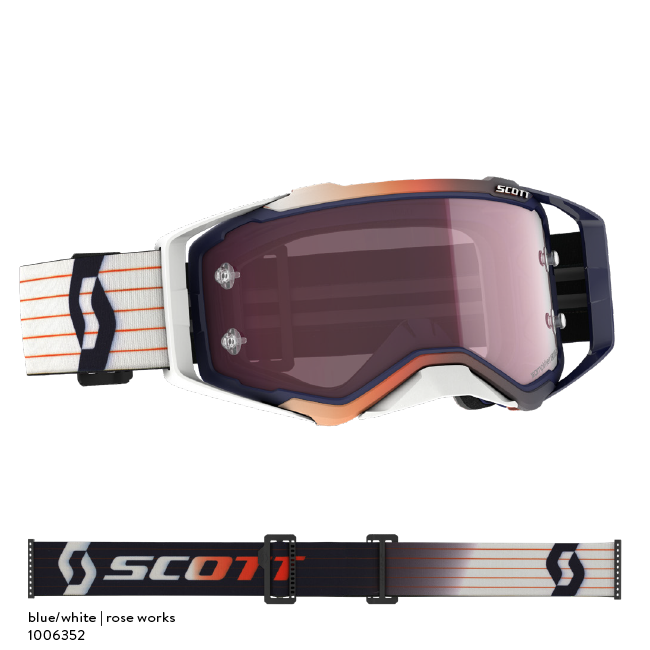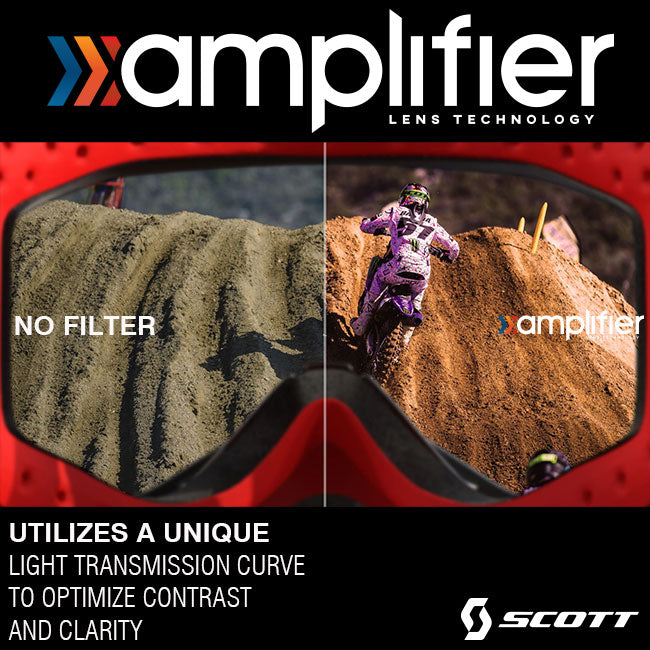 Prospect Amplifier Gold Chrome ( for Overcast and Mixed conditions )
The new SCOTT Prospect Amplifier Goggle not only defends, but also enhances your vision when riding. These lenses are injection molded to provide improved definition and optical clarity, allowing you to see contours and transitions in the dirt like never before.
AMPLIFIER TECHNOLOGY 
The injected Amplifier lens increases clarity and contrast to offer riders superior vision over a standard lens.  
LENS LOCK SYSTEM 
With this feature SCOTT guarantees the safest lens retention on the market. It features 4 locking pins that go through the lens keeping the lens in no matter what.
PIVOTING OUTRIGGERS 
The two pivoting outriggers adapt to any helmet shape, providing a good seal on the rider's face.
{"id":7304338866332,"title":"SCOTT Prospect Amplifier Range","handle":"scott-prospect-amplifier-range","description":"\u003cp\u003e\u003cstrong\u003eProspect Amplifier Gold Chrome ( for Overcast and Mixed conditions )\u003c\/strong\u003e\u003c\/p\u003e\n\n\u003cp\u003eThe new SCOTT Prospect Amplifier Goggle not only defends, but also enhances your vision when riding. These lenses are injection molded to provide improved definition and optical clarity, allowing you to see contours and transitions in the dirt like never before.\u003c\/p\u003e\n\n\u003cp\u003eAMPLIFIER TECHNOLOGY \u003cbr\u003e\nThe injected Amplifier lens increases clarity and contrast to offer riders superior vision over a standard lens.  \u003c\/p\u003e\n\n\u003cp\u003eLENS LOCK SYSTEM \u003cbr\u003e\nWith this feature SCOTT guarantees the safest lens retention on the market. It features 4 locking pins that go through the lens keeping the lens in no matter what.\u003c\/p\u003e\n\n\u003cp\u003ePIVOTING OUTRIGGERS \u003cbr\u003e\nThe two pivoting outriggers adapt to any helmet shape, providing a good seal on the rider's face.\u003c\/p\u003e\n\u003cul class=\"s3-links\"\u003e\r\n\u003cli class=\"s3-link-pdf\"\u003e\u003ca href=\"http:\/\/darbi.sprint3.com\/package\/webservice\/kernel_resources_render.asp?intKernel_resource_PK=647\" target=\"_blank\"\u003eScott Googles lens Guide 2015\/16\u003c\/a\u003e\u003c\/li\u003e\r\n\u003c\/ul\u003e\r\n","published_at":"2022-07-20T11:38:23+12:00","created_at":"2022-05-26T22:59:29+12:00","vendor":"Scott Goggles","type":"Apparel-Offroad-Goggles","tags":["S3-Cat-Apparel","S3-Cat-Apparel-Offroad","S3-Cat-Apparel-Offroad-Goggles","Sprint3","Sprint3-New"],"price":19900,"price_min":19900,"price_max":21900,"available":true,"price_varies":true,"compare_at_price":null,"compare_at_price_min":0,"compare_at_price_max":0,"compare_at_price_varies":false,"variants":[{"id":41661202104476,"title":"Prospect Amplifier Goggle Mar ble\/White Gold Works Lens Sco[AC]","option1":"Prospect Amplifier Goggle Mar ble\/White Gold Works Lens Sco[AC]","option2":null,"option3":null,"sku":"S285536-7082324","requires_shipping":true,"taxable":true,"featured_image":{"id":33930796662940,"product_id":7304338866332,"position":1,"created_at":"2022-05-26T22:59:35+12:00","updated_at":"2022-05-26T22:59:35+12:00","alt":"Prospect Amplifier- Marble Black White\/Gold Chrome works lens","width":650,"height":650,"src":"\/\/motogear.co.nz\/cdn\/shop\/products\/72c6c3df56079fc739fea3520e79b0f2_586b7914-c1cd-49c6-9091-310ea6adc1d5.png?v=1653562775","variant_ids":[41661202104476]},"available":true,"name":"SCOTT Prospect Amplifier Range - Prospect Amplifier Goggle Mar ble\/White Gold Works Lens Sco[AC]","public_title":"Prospect Amplifier Goggle Mar ble\/White Gold Works Lens Sco[AC]","options":["Prospect Amplifier Goggle Mar ble\/White Gold Works Lens Sco[AC]"],"price":21900,"weight":0,"compare_at_price":null,"inventory_management":"sprint3-fulfillment","barcode":"192820572239","featured_media":{"alt":"Prospect Amplifier- Marble Black White\/Gold Chrome works lens","id":26282493378716,"position":1,"preview_image":{"aspect_ratio":1.0,"height":650,"width":650,"src":"\/\/motogear.co.nz\/cdn\/shop\/products\/72c6c3df56079fc739fea3520e79b0f2_586b7914-c1cd-49c6-9091-310ea6adc1d5.png?v=1653562775"}}},{"id":41661202137244,"title":"Prospect Amplifier Goggle Blu e\/White Rose Works Lens Scott[AC]","option1":"Prospect Amplifier Goggle Blu e\/White Rose Works Lens Scott[AC]","option2":null,"option3":null,"sku":"S285536-1006352","requires_shipping":true,"taxable":true,"featured_image":{"id":33930796695708,"product_id":7304338866332,"position":2,"created_at":"2022-05-26T22:59:35+12:00","updated_at":"2022-05-26T22:59:35+12:00","alt":"Prospect Amplifier- Blue White\/Rose Works Lens","width":650,"height":650,"src":"\/\/motogear.co.nz\/cdn\/shop\/products\/10c5cc1c62e7f11794ac25d3a4439611_fafe98c0-2c92-48f9-b5b6-1fb80fd886d8.png?v=1653562775","variant_ids":[41661202137244]},"available":true,"name":"SCOTT Prospect Amplifier Range - Prospect Amplifier Goggle Blu e\/White Rose Works Lens Scott[AC]","public_title":"Prospect Amplifier Goggle Blu e\/White Rose Works Lens Scott[AC]","options":["Prospect Amplifier Goggle Blu e\/White Rose Works Lens Scott[AC]"],"price":19900,"weight":0,"compare_at_price":null,"inventory_management":"sprint3-fulfillment","barcode":"192820572284","featured_media":{"alt":"Prospect Amplifier- Blue White\/Rose Works Lens","id":26282493411484,"position":2,"preview_image":{"aspect_ratio":1.0,"height":650,"width":650,"src":"\/\/motogear.co.nz\/cdn\/shop\/products\/10c5cc1c62e7f11794ac25d3a4439611_fafe98c0-2c92-48f9-b5b6-1fb80fd886d8.png?v=1653562775"}}},{"id":41661202170012,"title":"Prospect Amplifier Marble Blk \/White Rose Works Lens Scott [AC]","option1":"Prospect Amplifier Marble Blk \/White Rose Works Lens Scott [AC]","option2":null,"option3":null,"sku":"S285536-7082352","requires_shipping":true,"taxable":true,"featured_image":{"id":33930796728476,"product_id":7304338866332,"position":3,"created_at":"2022-05-26T22:59:35+12:00","updated_at":"2022-05-26T22:59:35+12:00","alt":"Prospect Amplifier Marble Black White with Rose lens","width":650,"height":650,"src":"\/\/motogear.co.nz\/cdn\/shop\/products\/8102fc67a745f234e72bba75a6983e3e_ebd76efd-dbb5-4bbd-83b5-97bdfcf86513.jpg?v=1653562775","variant_ids":[41661202170012]},"available":true,"name":"SCOTT Prospect Amplifier Range - Prospect Amplifier Marble Blk \/White Rose Works Lens Scott [AC]","public_title":"Prospect Amplifier Marble Blk \/White Rose Works Lens Scott [AC]","options":["Prospect Amplifier Marble Blk \/White Rose Works Lens Scott [AC]"],"price":19900,"weight":0,"compare_at_price":null,"inventory_management":"sprint3-fulfillment","barcode":"192820572291","featured_media":{"alt":"Prospect Amplifier Marble Black White with Rose lens","id":26282493444252,"position":3,"preview_image":{"aspect_ratio":1.0,"height":650,"width":650,"src":"\/\/motogear.co.nz\/cdn\/shop\/products\/8102fc67a745f234e72bba75a6983e3e_ebd76efd-dbb5-4bbd-83b5-97bdfcf86513.jpg?v=1653562775"}}}],"images":["\/\/motogear.co.nz\/cdn\/shop\/products\/72c6c3df56079fc739fea3520e79b0f2_586b7914-c1cd-49c6-9091-310ea6adc1d5.png?v=1653562775","\/\/motogear.co.nz\/cdn\/shop\/products\/10c5cc1c62e7f11794ac25d3a4439611_fafe98c0-2c92-48f9-b5b6-1fb80fd886d8.png?v=1653562775","\/\/motogear.co.nz\/cdn\/shop\/products\/8102fc67a745f234e72bba75a6983e3e_ebd76efd-dbb5-4bbd-83b5-97bdfcf86513.jpg?v=1653562775","\/\/motogear.co.nz\/cdn\/shop\/products\/753fa79ecaae75afb35106406e1cfe83_0ea2816b-ea98-4ec3-a050-a5e978ba77fb.jpg?v=1653562775"],"featured_image":"\/\/motogear.co.nz\/cdn\/shop\/products\/72c6c3df56079fc739fea3520e79b0f2_586b7914-c1cd-49c6-9091-310ea6adc1d5.png?v=1653562775","options":["Stock Item"],"media":[{"alt":"Prospect Amplifier- Marble Black White\/Gold Chrome works lens","id":26282493378716,"position":1,"preview_image":{"aspect_ratio":1.0,"height":650,"width":650,"src":"\/\/motogear.co.nz\/cdn\/shop\/products\/72c6c3df56079fc739fea3520e79b0f2_586b7914-c1cd-49c6-9091-310ea6adc1d5.png?v=1653562775"},"aspect_ratio":1.0,"height":650,"media_type":"image","src":"\/\/motogear.co.nz\/cdn\/shop\/products\/72c6c3df56079fc739fea3520e79b0f2_586b7914-c1cd-49c6-9091-310ea6adc1d5.png?v=1653562775","width":650},{"alt":"Prospect Amplifier- Blue White\/Rose Works Lens","id":26282493411484,"position":2,"preview_image":{"aspect_ratio":1.0,"height":650,"width":650,"src":"\/\/motogear.co.nz\/cdn\/shop\/products\/10c5cc1c62e7f11794ac25d3a4439611_fafe98c0-2c92-48f9-b5b6-1fb80fd886d8.png?v=1653562775"},"aspect_ratio":1.0,"height":650,"media_type":"image","src":"\/\/motogear.co.nz\/cdn\/shop\/products\/10c5cc1c62e7f11794ac25d3a4439611_fafe98c0-2c92-48f9-b5b6-1fb80fd886d8.png?v=1653562775","width":650},{"alt":"Prospect Amplifier Marble Black White with Rose lens","id":26282493444252,"position":3,"preview_image":{"aspect_ratio":1.0,"height":650,"width":650,"src":"\/\/motogear.co.nz\/cdn\/shop\/products\/8102fc67a745f234e72bba75a6983e3e_ebd76efd-dbb5-4bbd-83b5-97bdfcf86513.jpg?v=1653562775"},"aspect_ratio":1.0,"height":650,"media_type":"image","src":"\/\/motogear.co.nz\/cdn\/shop\/products\/8102fc67a745f234e72bba75a6983e3e_ebd76efd-dbb5-4bbd-83b5-97bdfcf86513.jpg?v=1653562775","width":650},{"alt":"SCOTT Amplifier Lens Technology","id":26282493477020,"position":4,"preview_image":{"aspect_ratio":1.0,"height":650,"width":650,"src":"\/\/motogear.co.nz\/cdn\/shop\/products\/753fa79ecaae75afb35106406e1cfe83_0ea2816b-ea98-4ec3-a050-a5e978ba77fb.jpg?v=1653562775"},"aspect_ratio":1.0,"height":650,"media_type":"image","src":"\/\/motogear.co.nz\/cdn\/shop\/products\/753fa79ecaae75afb35106406e1cfe83_0ea2816b-ea98-4ec3-a050-a5e978ba77fb.jpg?v=1653562775","width":650}],"content":"\u003cp\u003e\u003cstrong\u003eProspect Amplifier Gold Chrome ( for Overcast and Mixed conditions )\u003c\/strong\u003e\u003c\/p\u003e\n\n\u003cp\u003eThe new SCOTT Prospect Amplifier Goggle not only defends, but also enhances your vision when riding. These lenses are injection molded to provide improved definition and optical clarity, allowing you to see contours and transitions in the dirt like never before.\u003c\/p\u003e\n\n\u003cp\u003eAMPLIFIER TECHNOLOGY \u003cbr\u003e\nThe injected Amplifier lens increases clarity and contrast to offer riders superior vision over a standard lens.  \u003c\/p\u003e\n\n\u003cp\u003eLENS LOCK SYSTEM \u003cbr\u003e\nWith this feature SCOTT guarantees the safest lens retention on the market. It features 4 locking pins that go through the lens keeping the lens in no matter what.\u003c\/p\u003e\n\n\u003cp\u003ePIVOTING OUTRIGGERS \u003cbr\u003e\nThe two pivoting outriggers adapt to any helmet shape, providing a good seal on the rider's face.\u003c\/p\u003e\n\u003cul class=\"s3-links\"\u003e\r\n\u003cli class=\"s3-link-pdf\"\u003e\u003ca href=\"http:\/\/darbi.sprint3.com\/package\/webservice\/kernel_resources_render.asp?intKernel_resource_PK=647\" target=\"_blank\"\u003eScott Googles lens Guide 2015\/16\u003c\/a\u003e\u003c\/li\u003e\r\n\u003c\/ul\u003e\r\n"}