SCORPION SERKET TAPER Full System
Regular price
Sale price
$2,418.79
Unit price
/
per
or 4 payments of
Regular price
$0.00
Sale price
$604.69
Unit price
/
per
with
---
---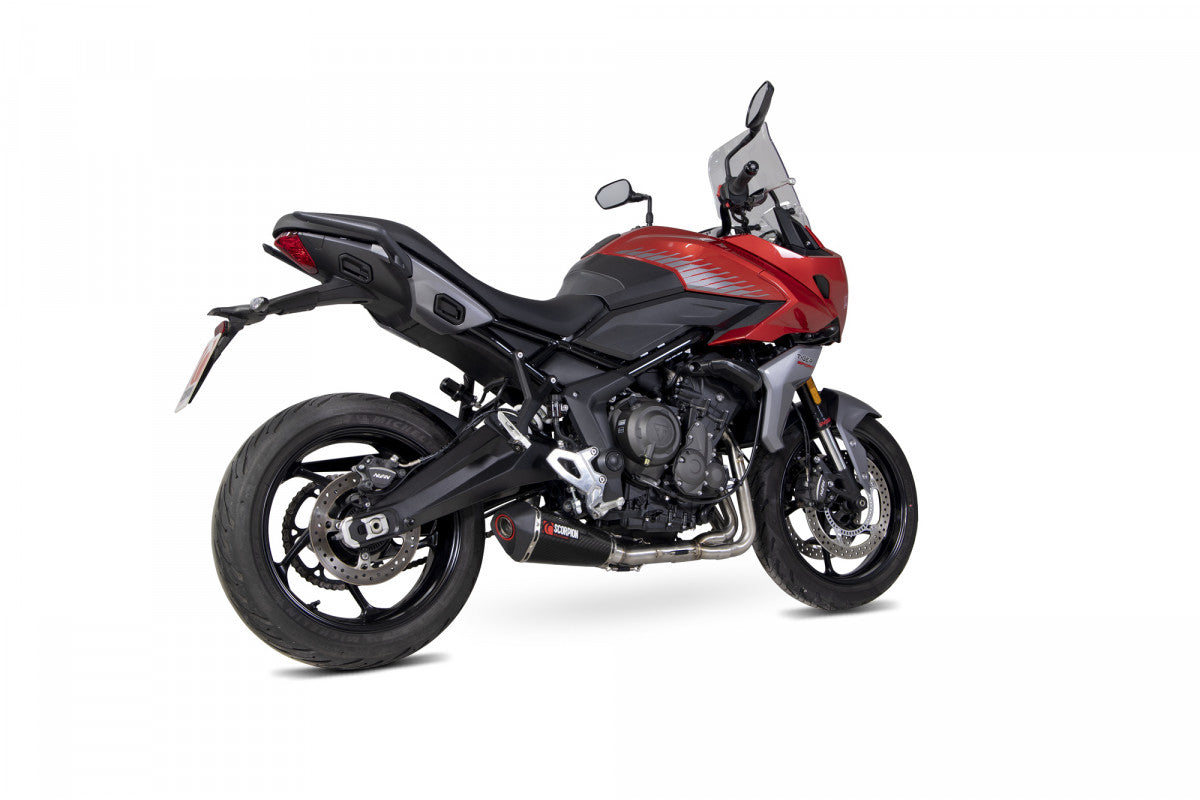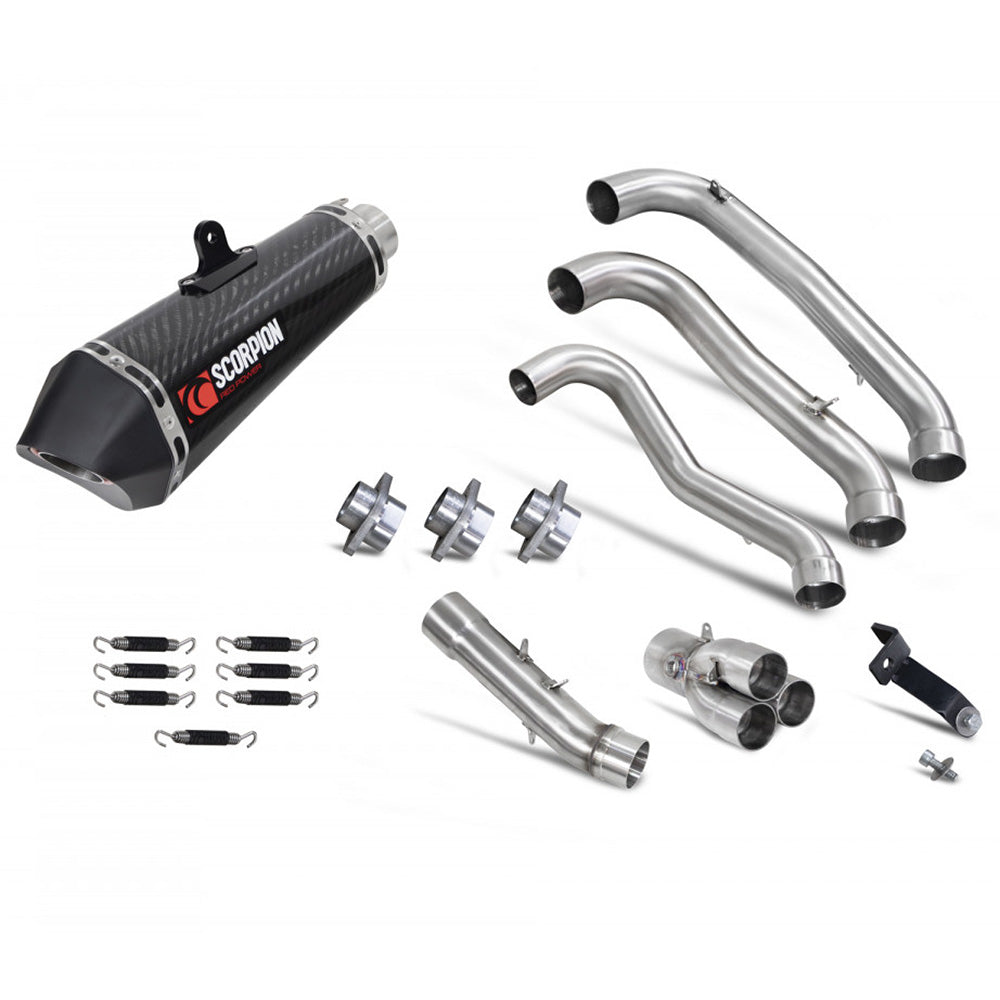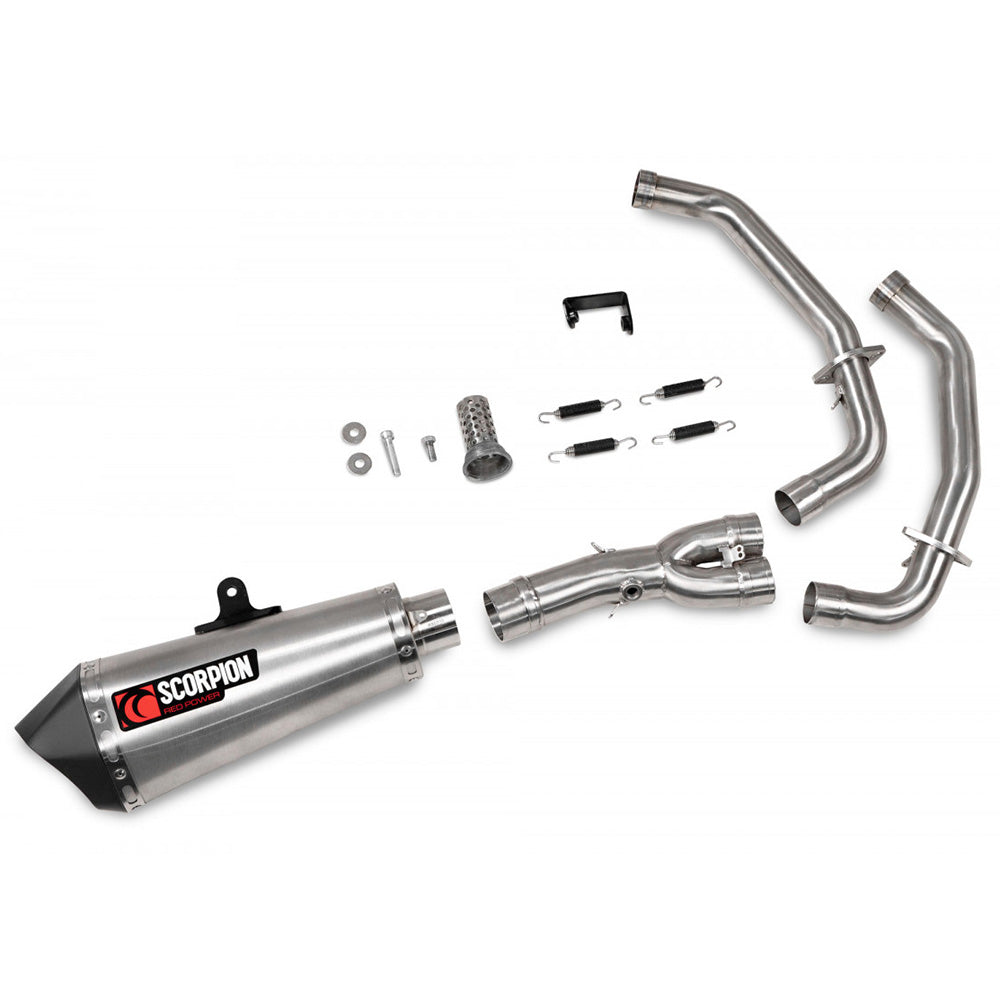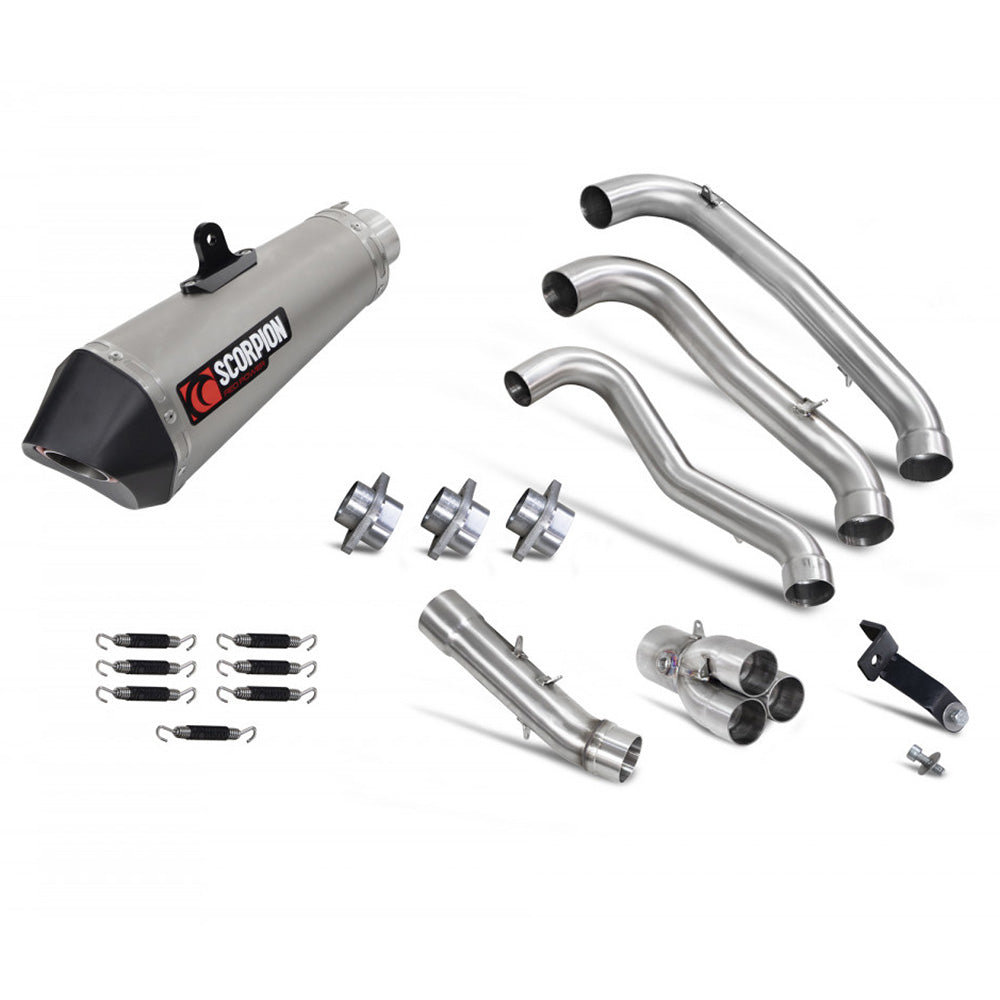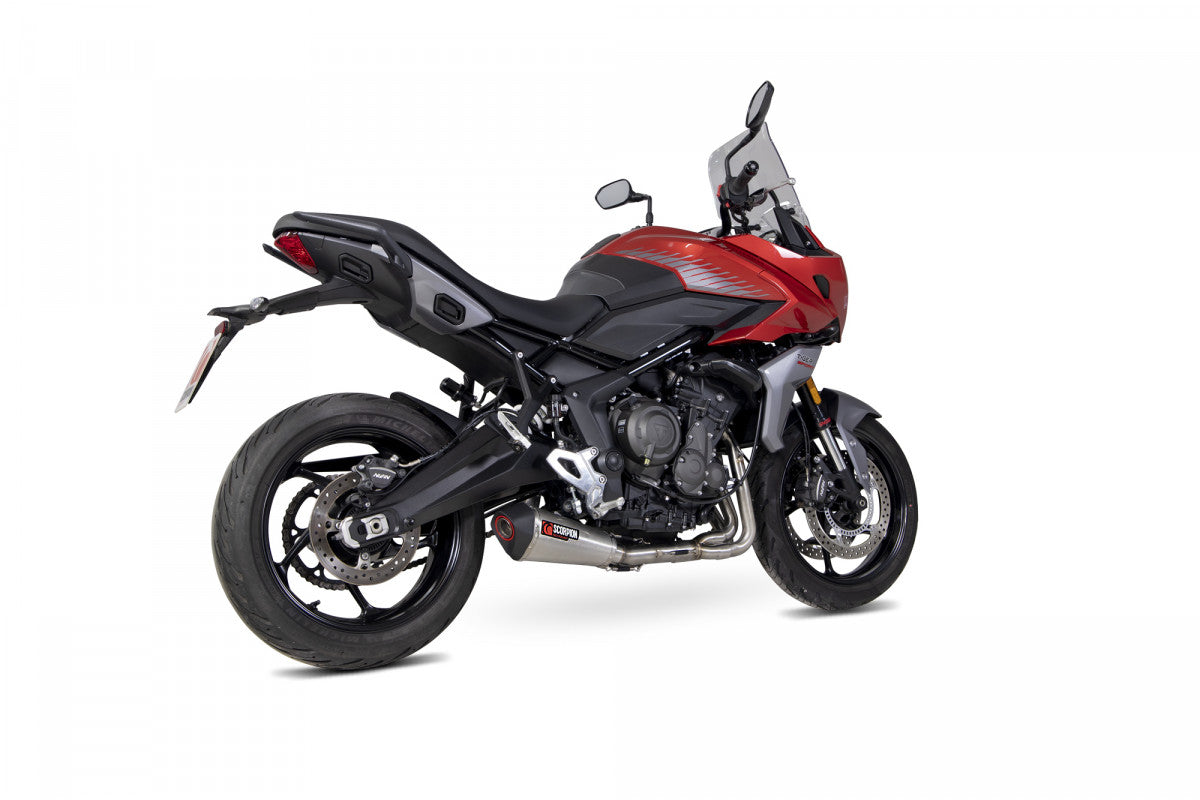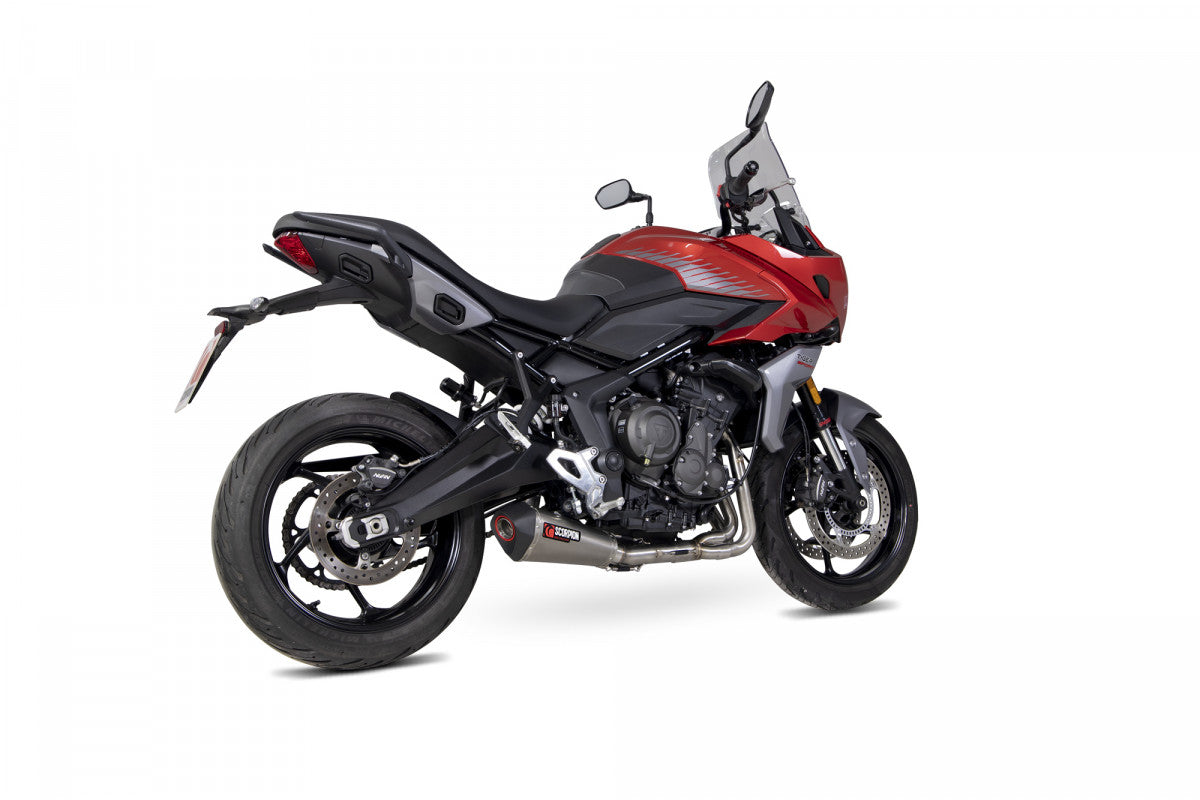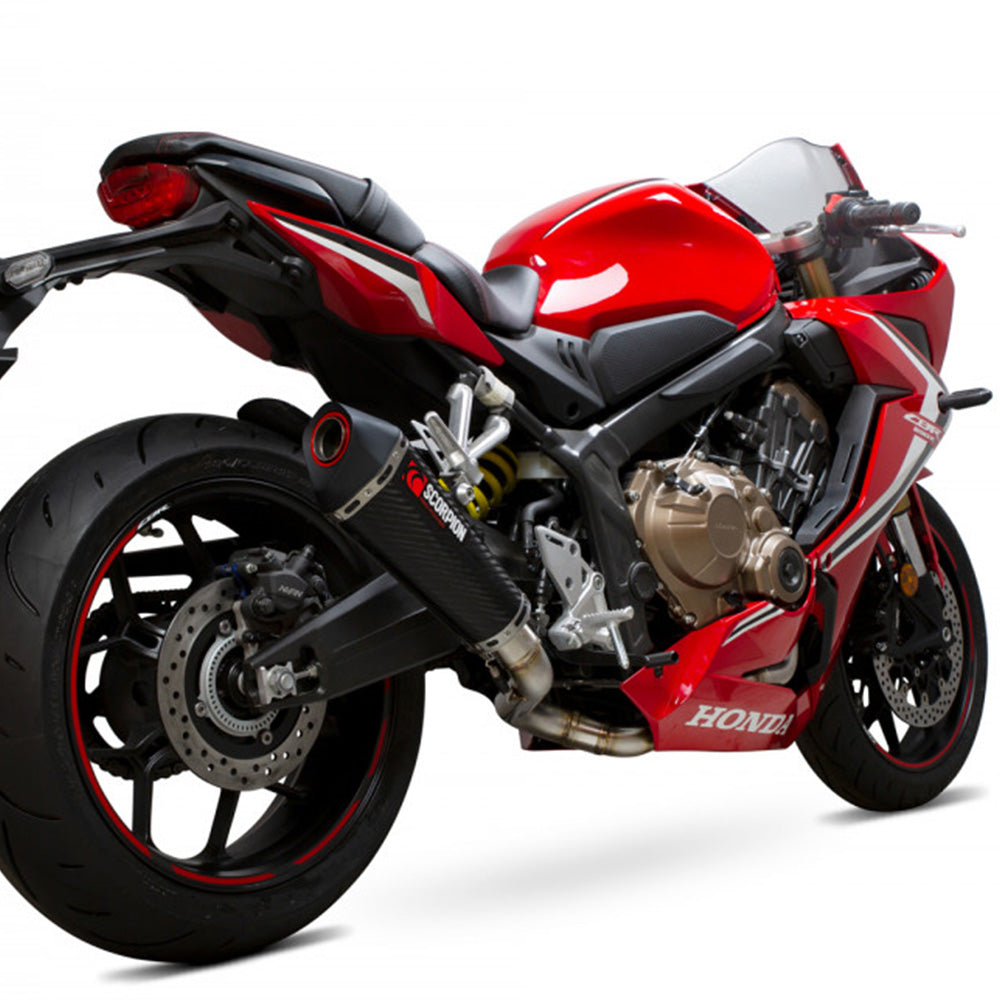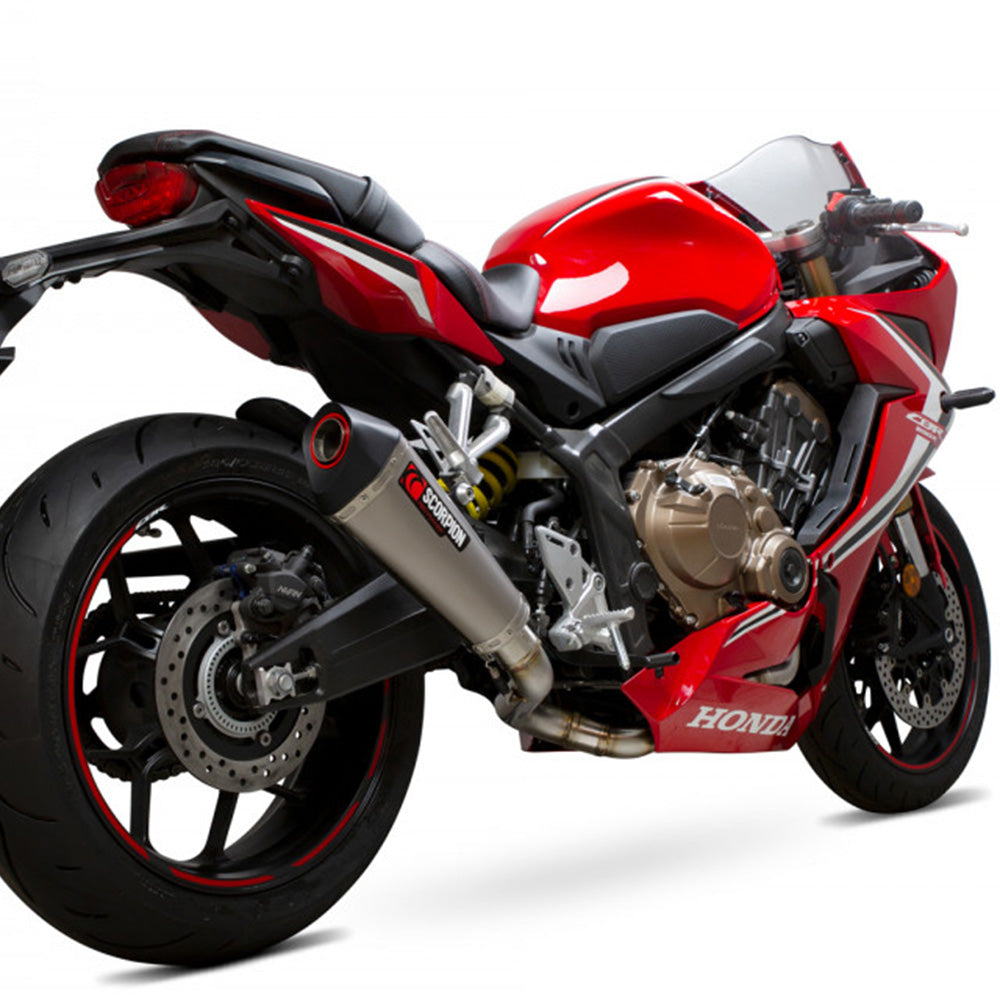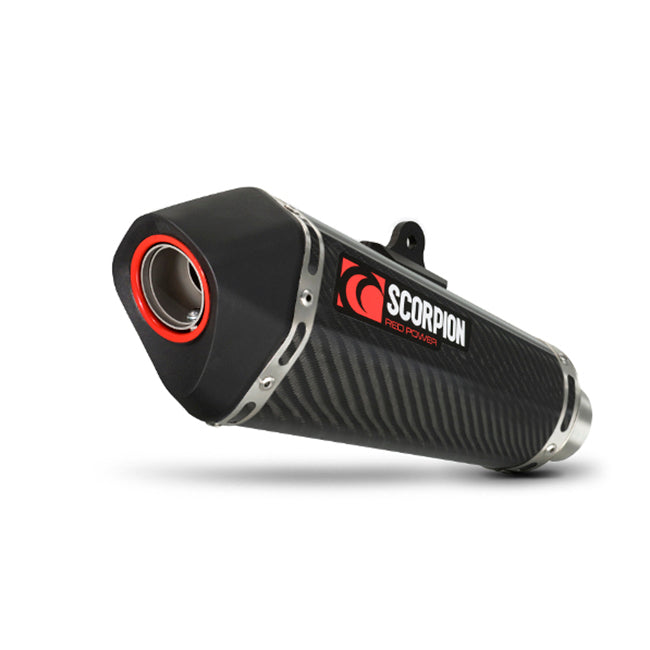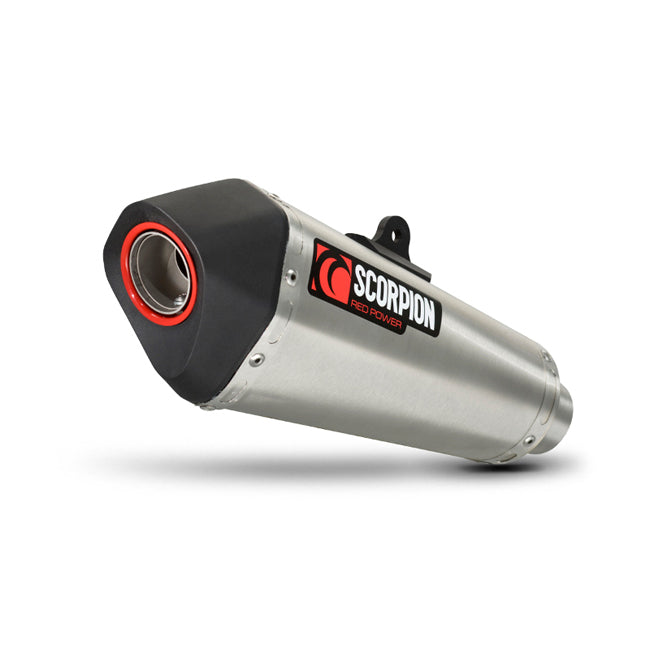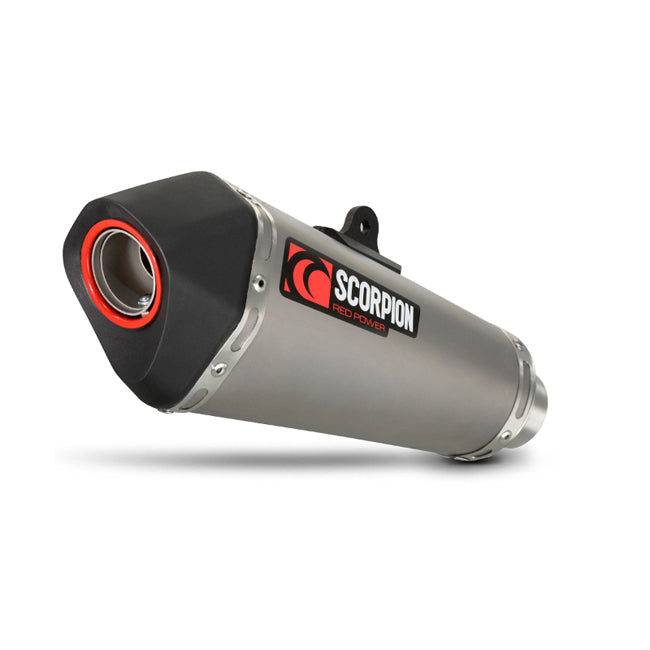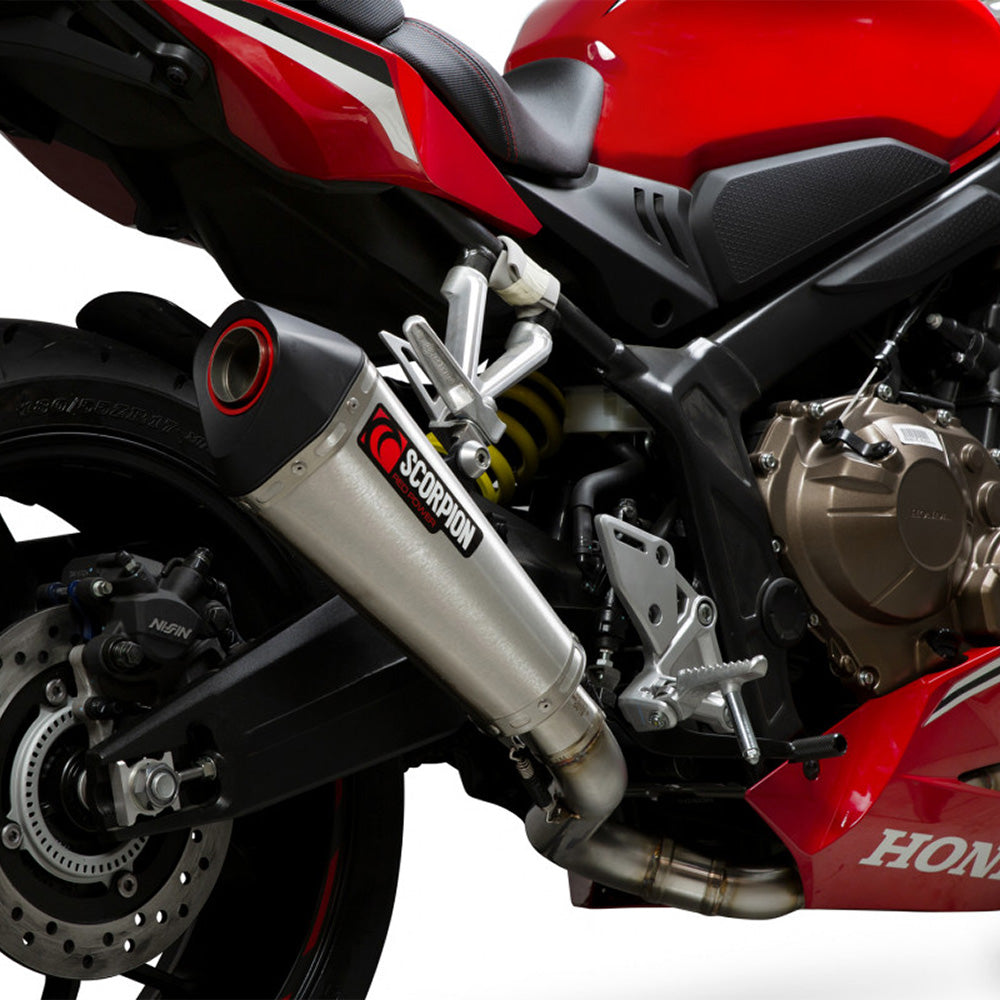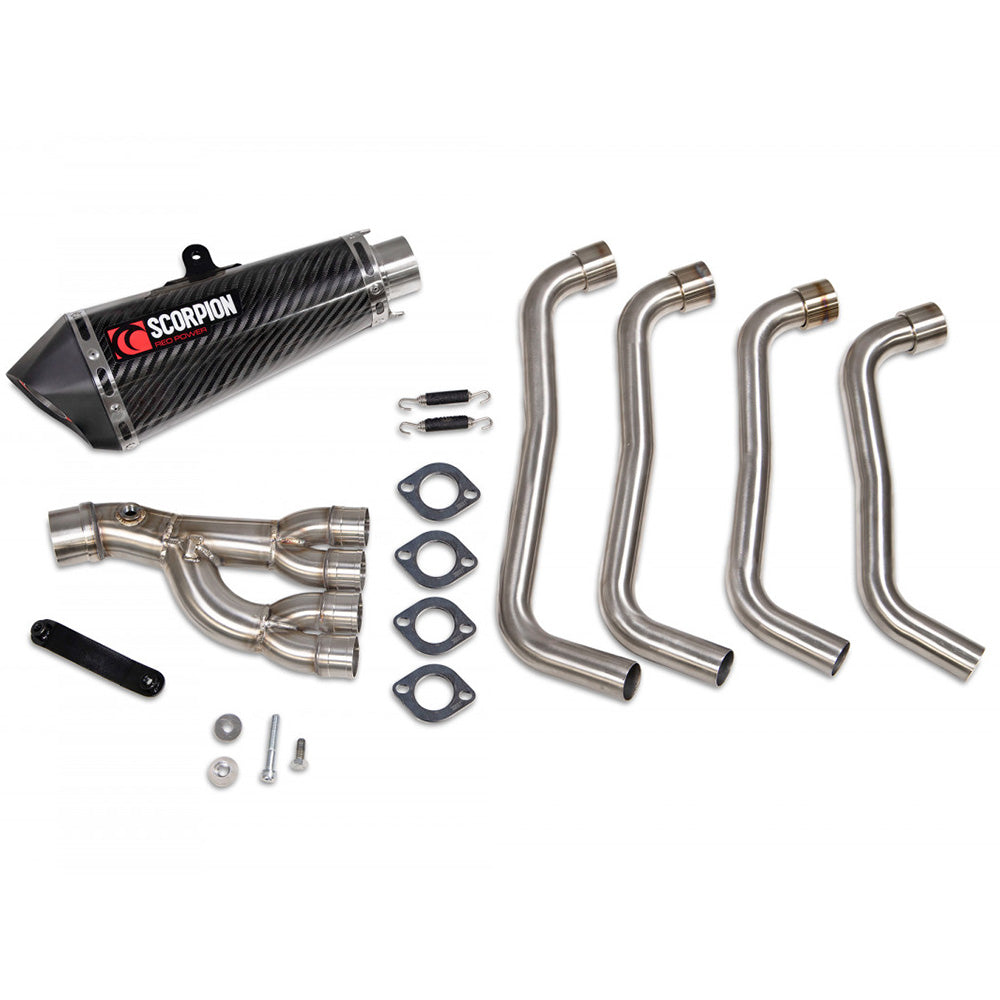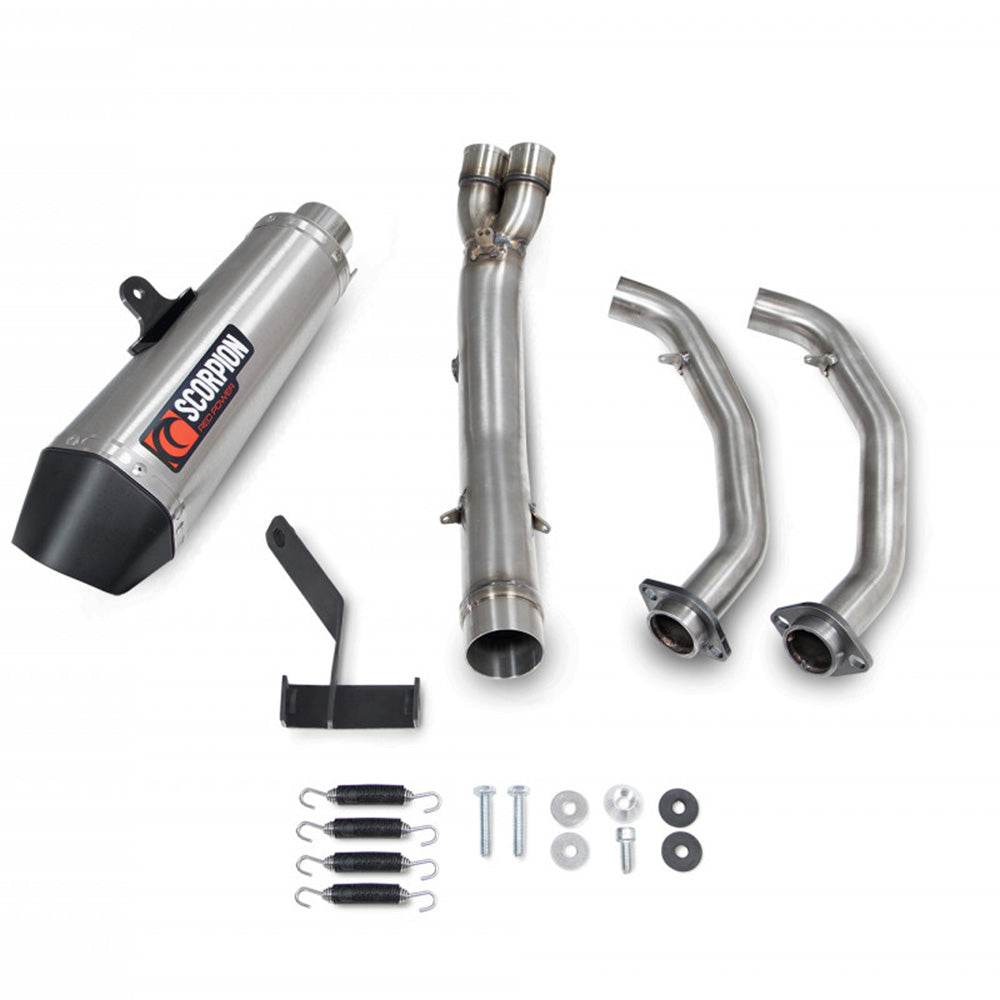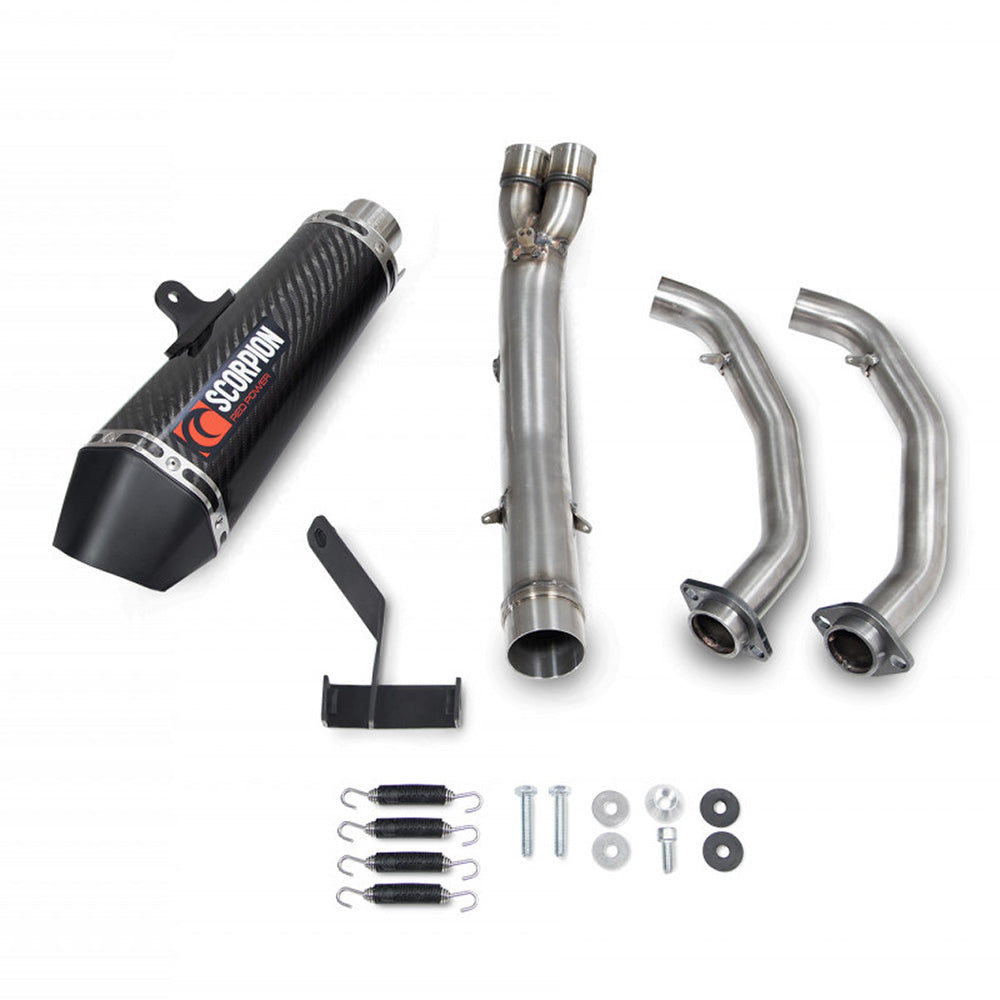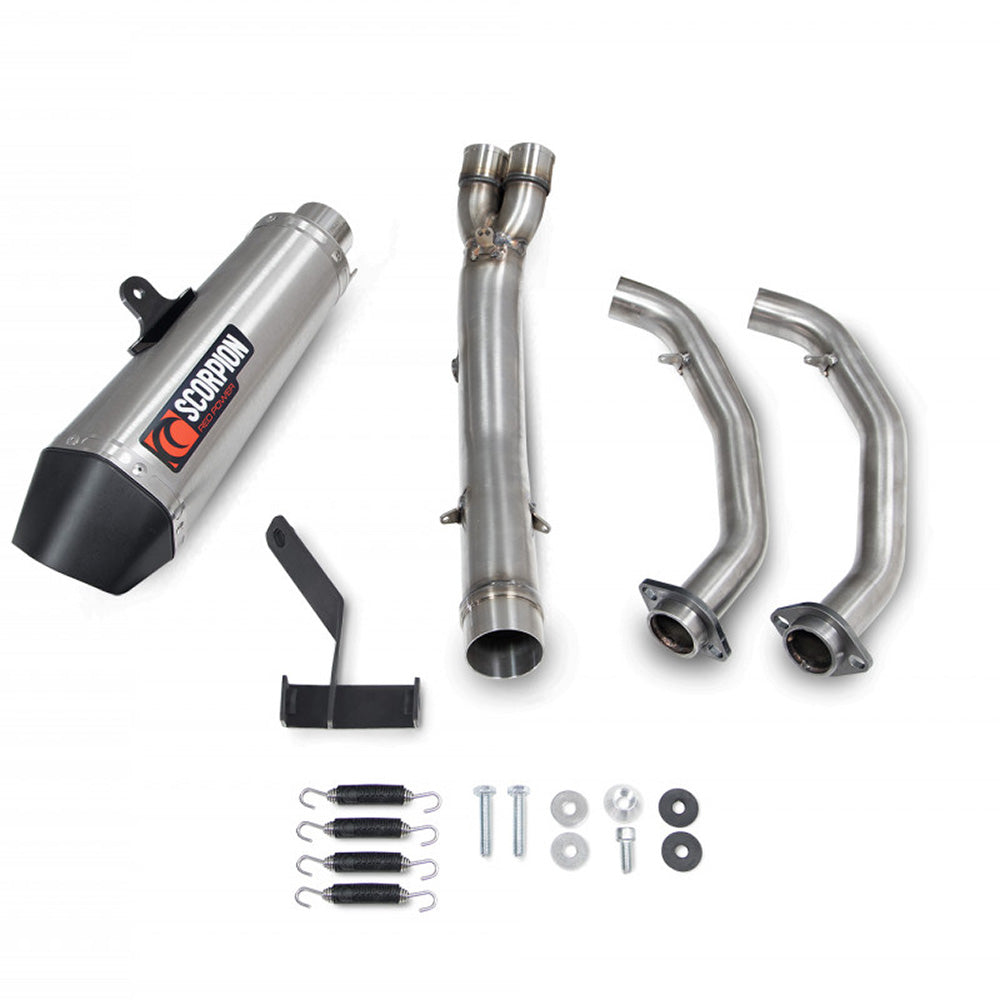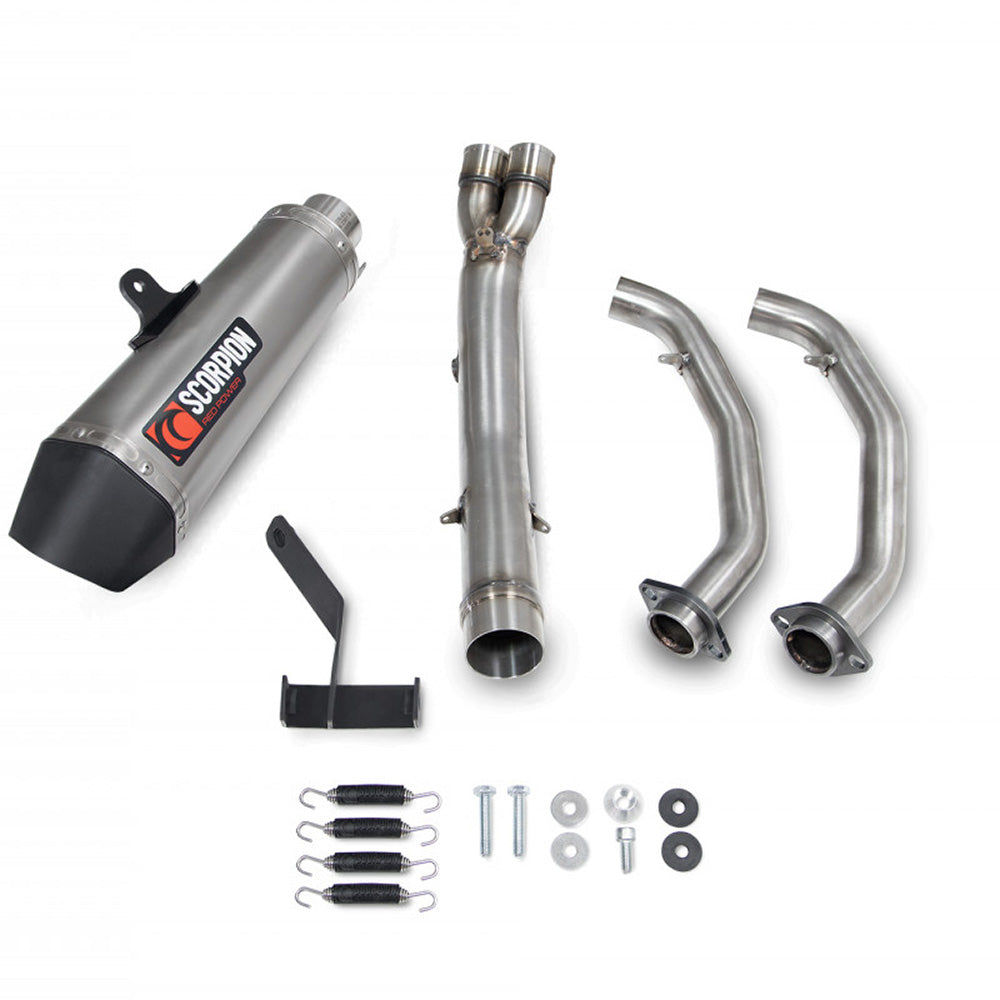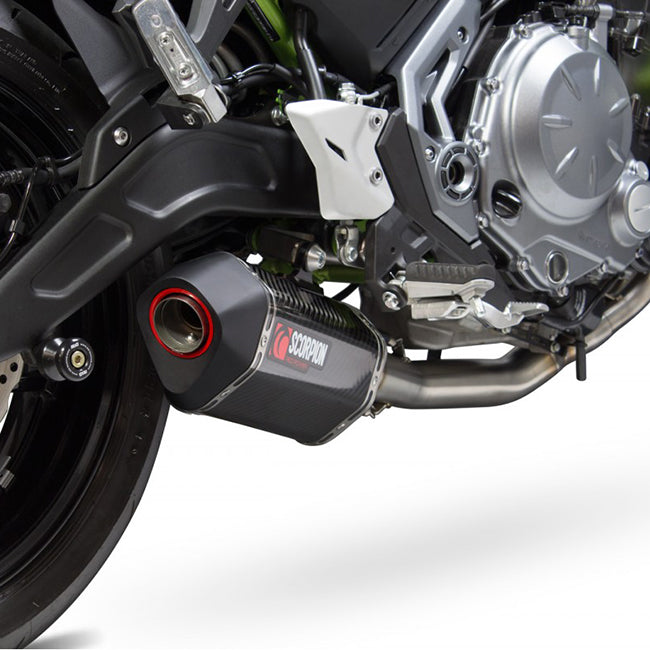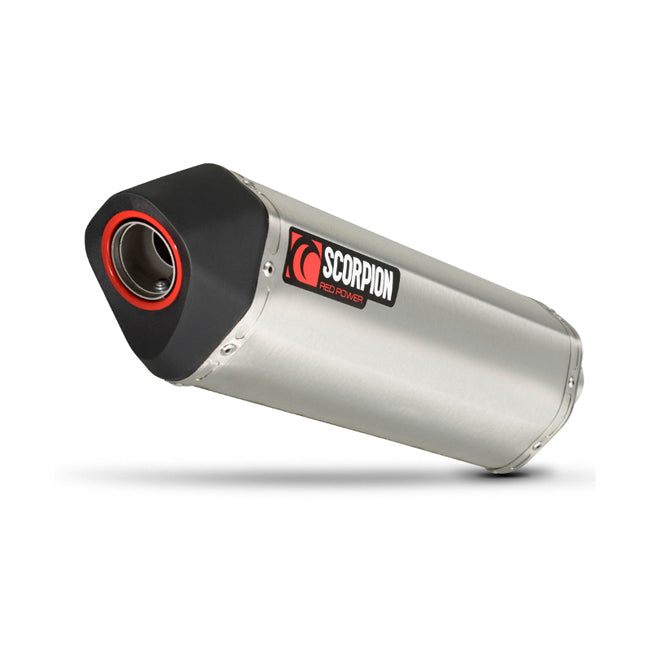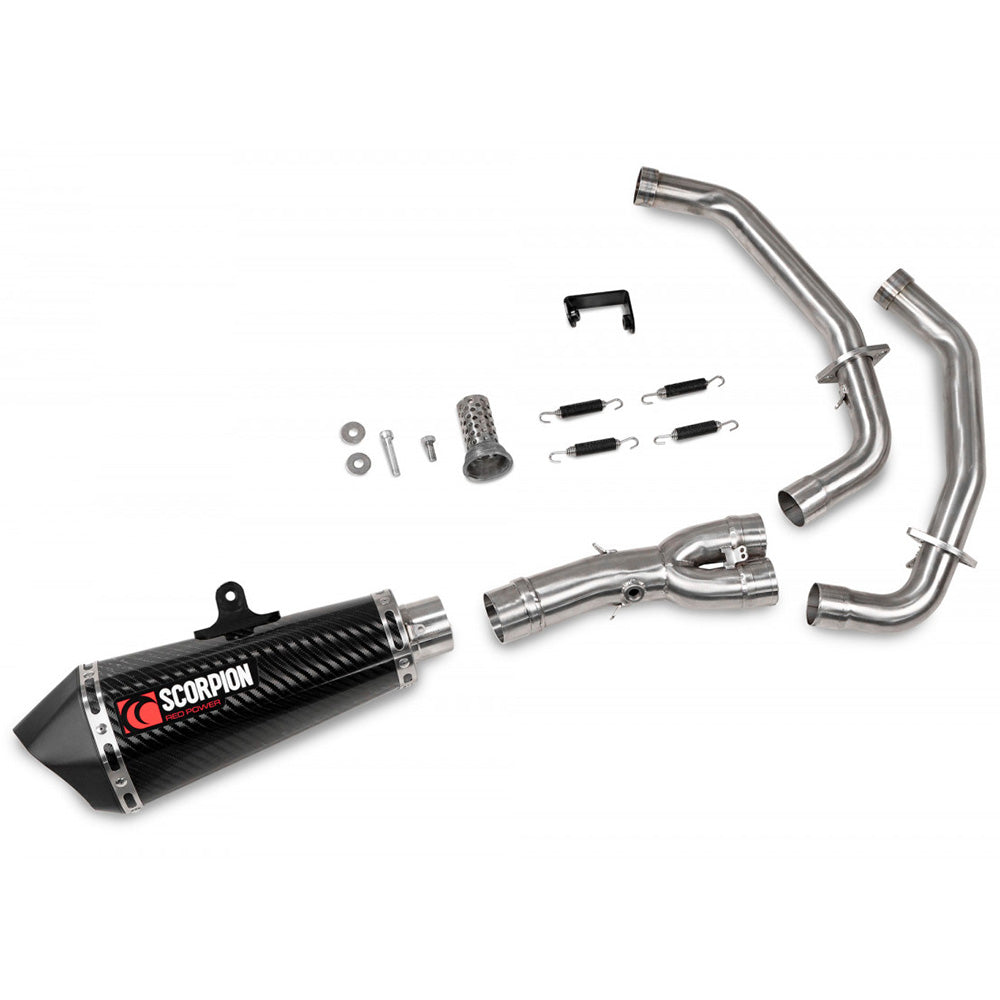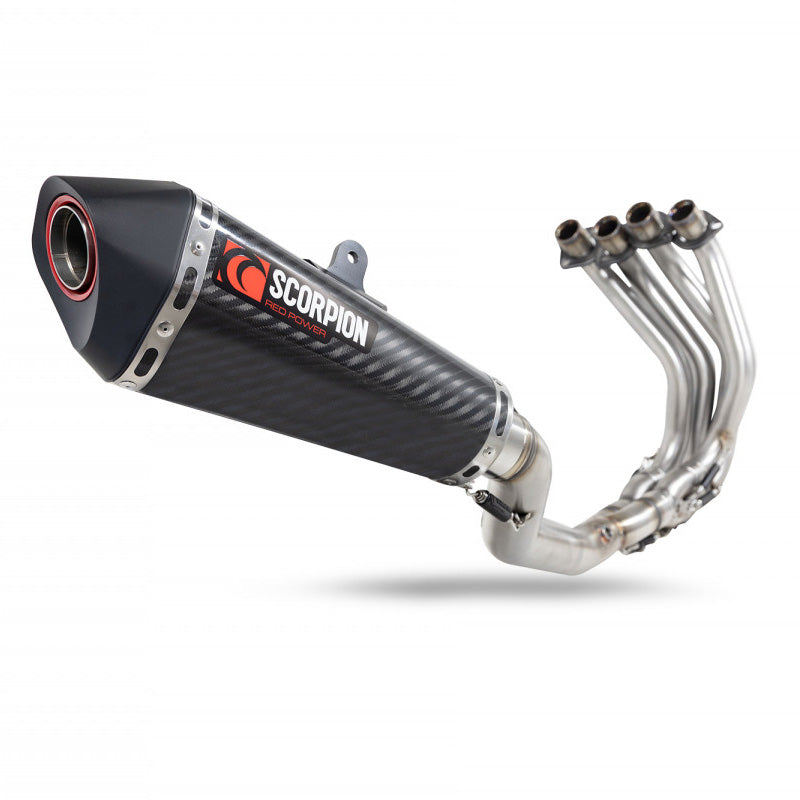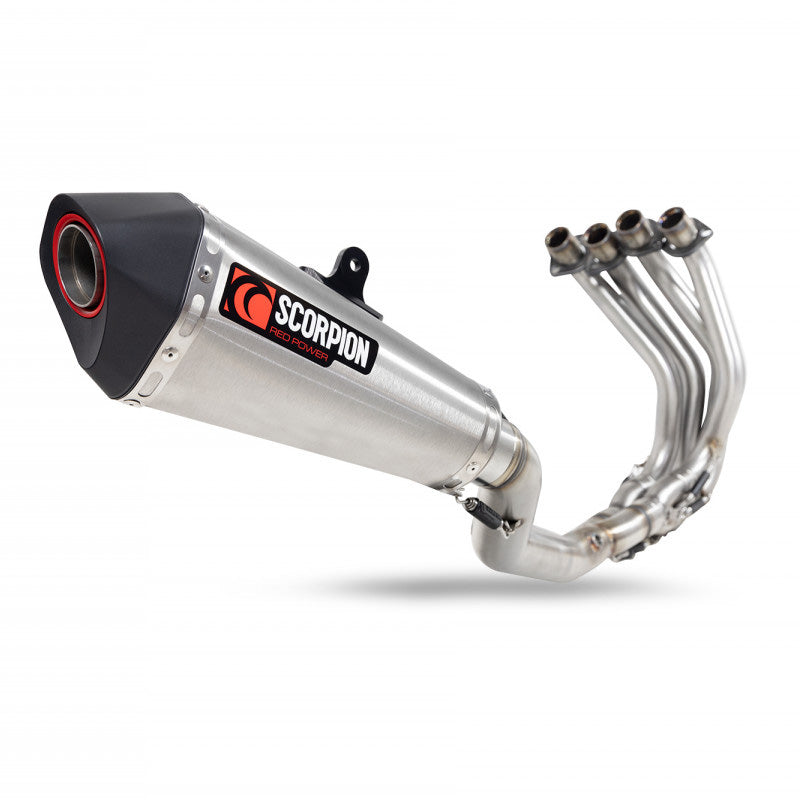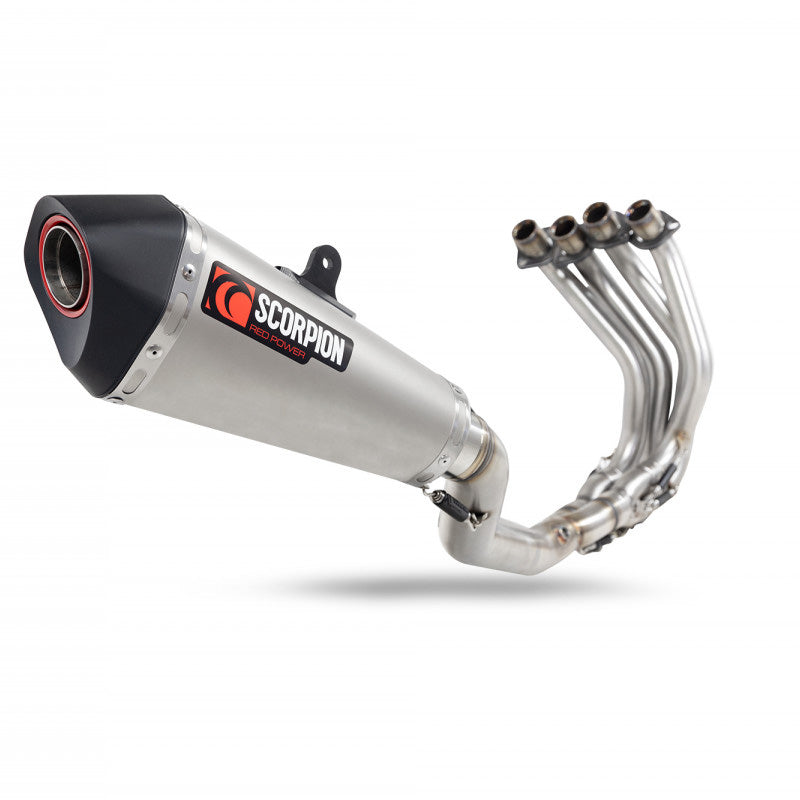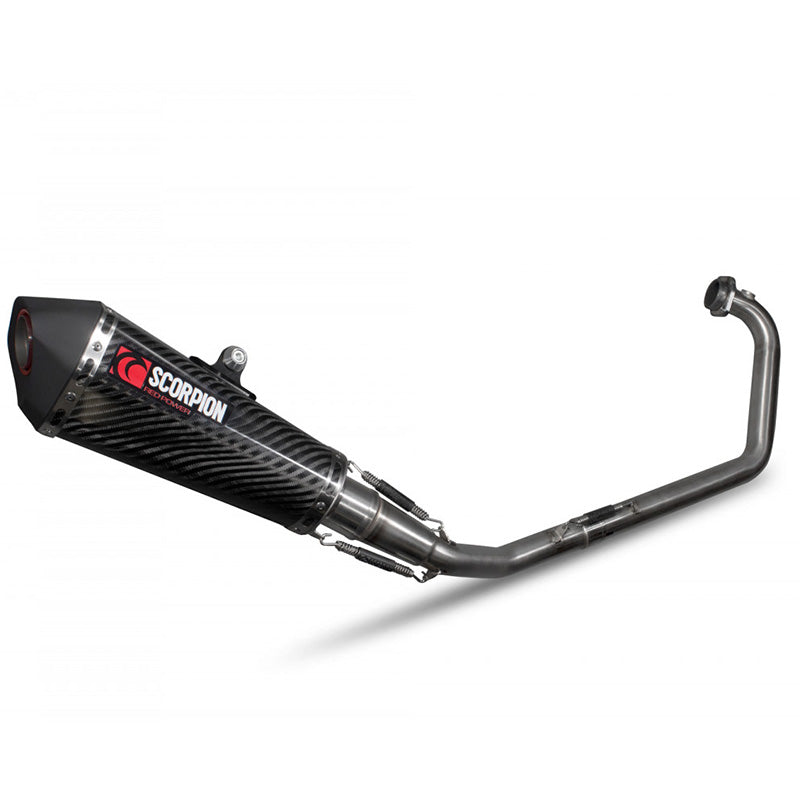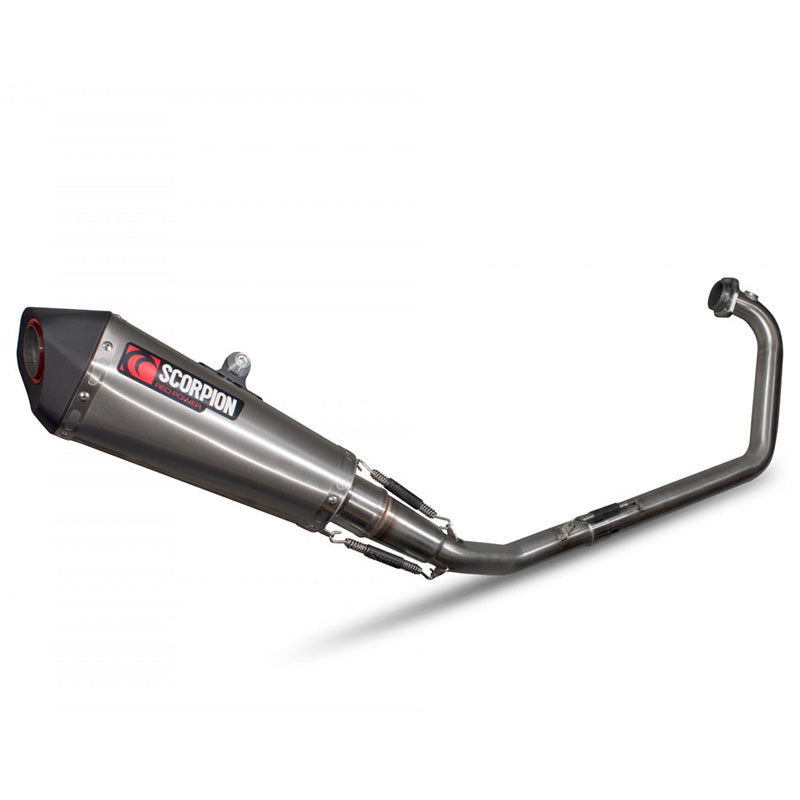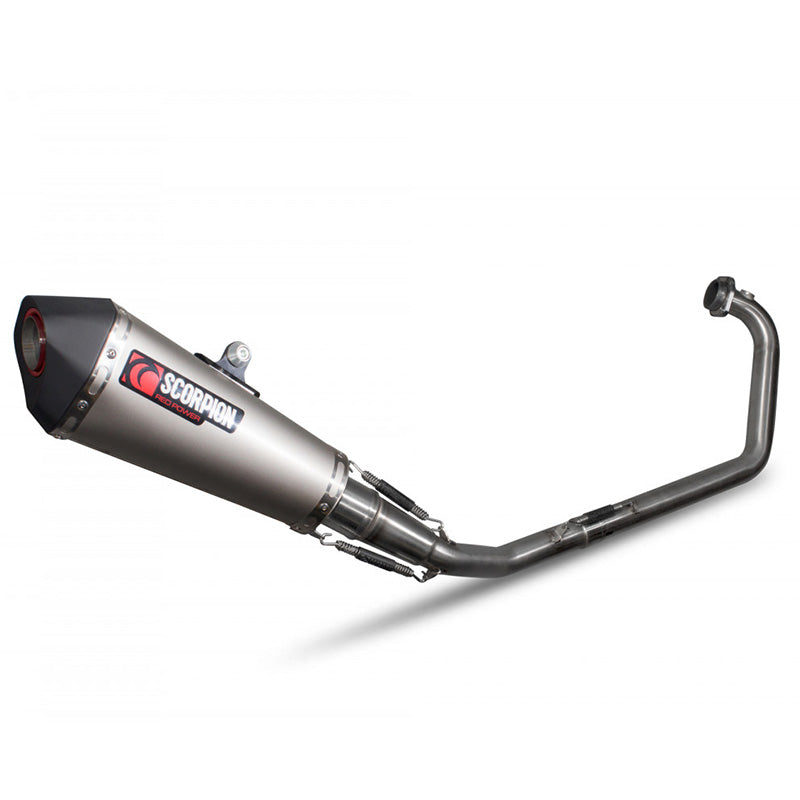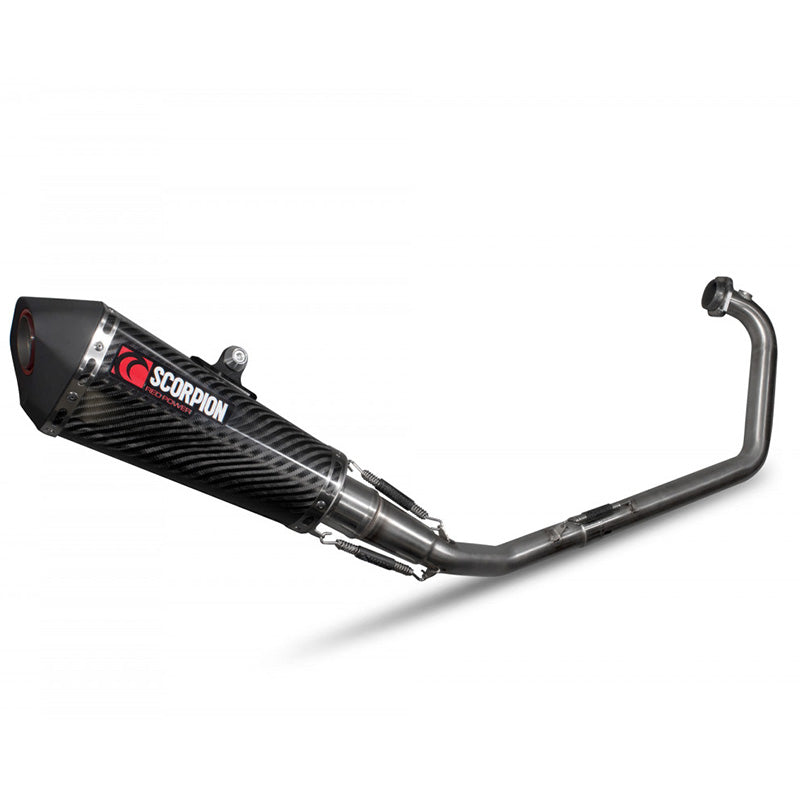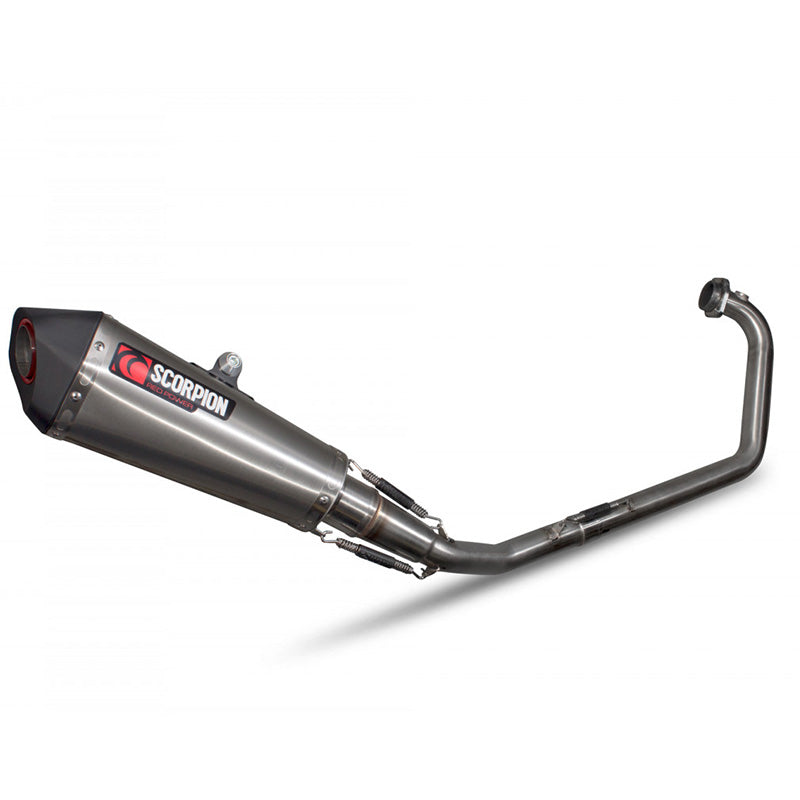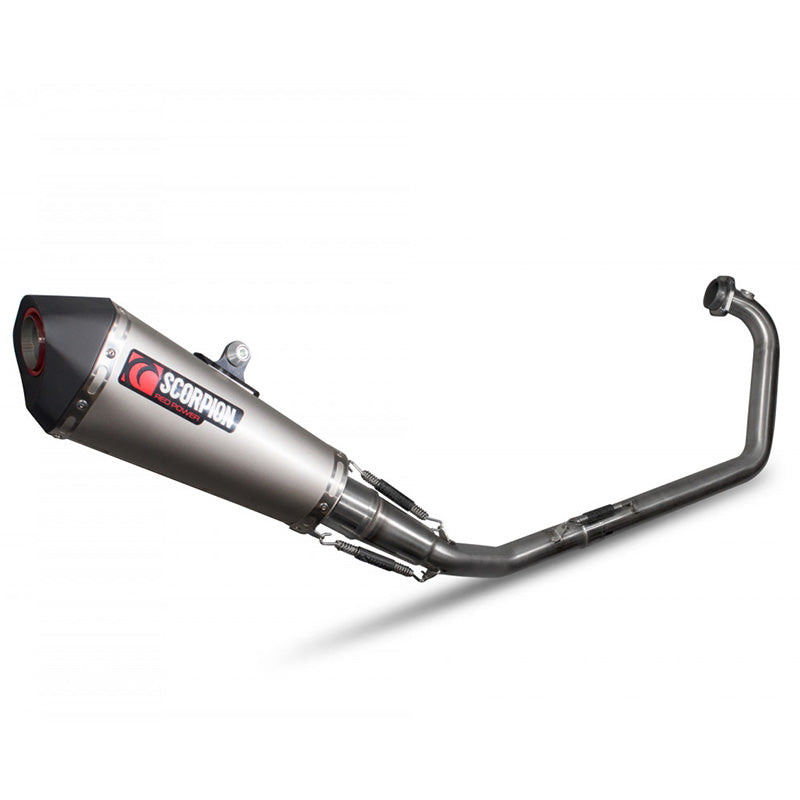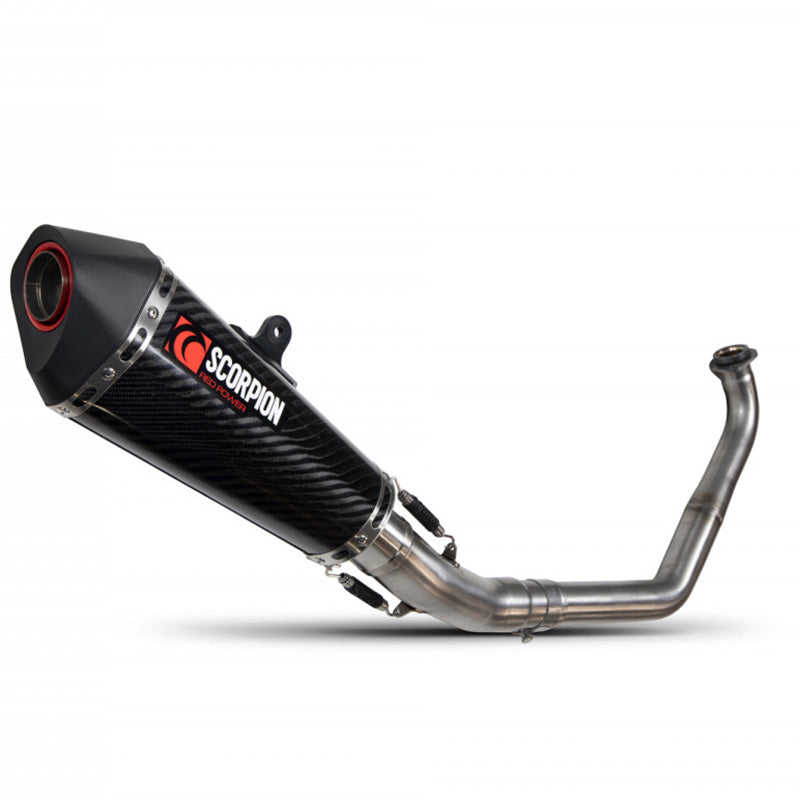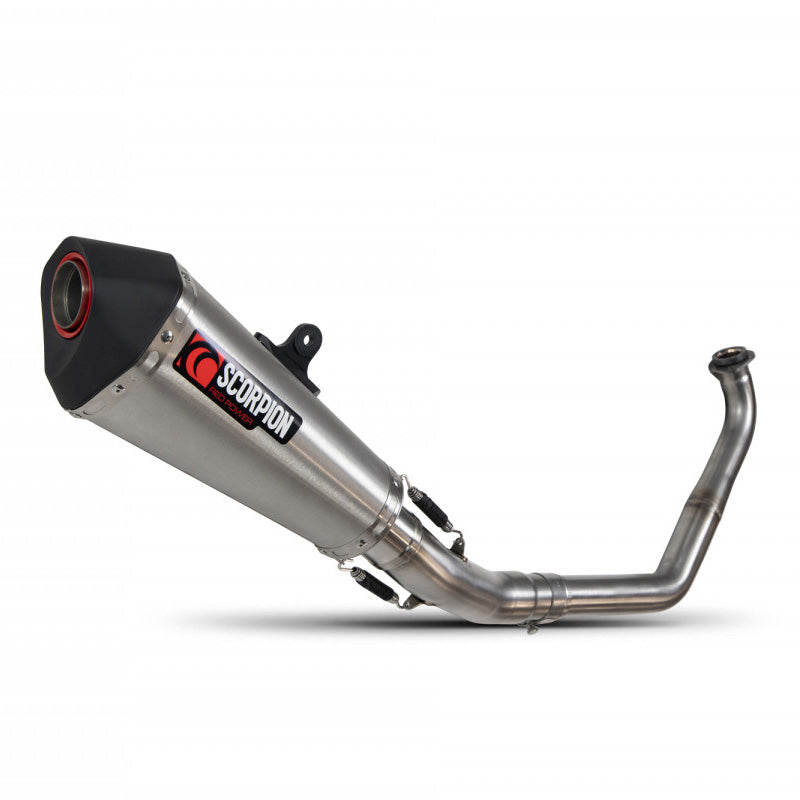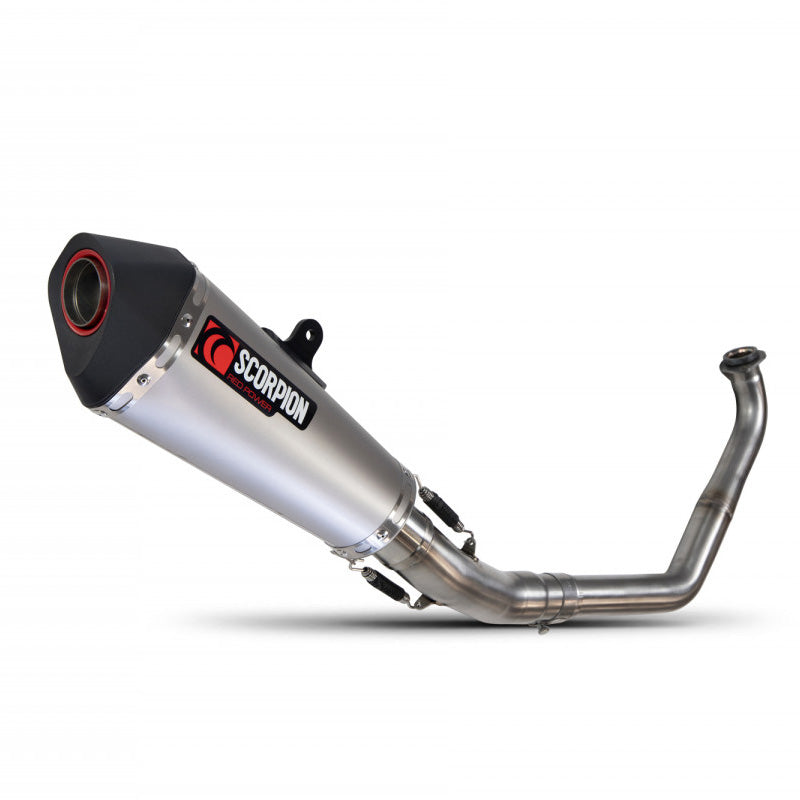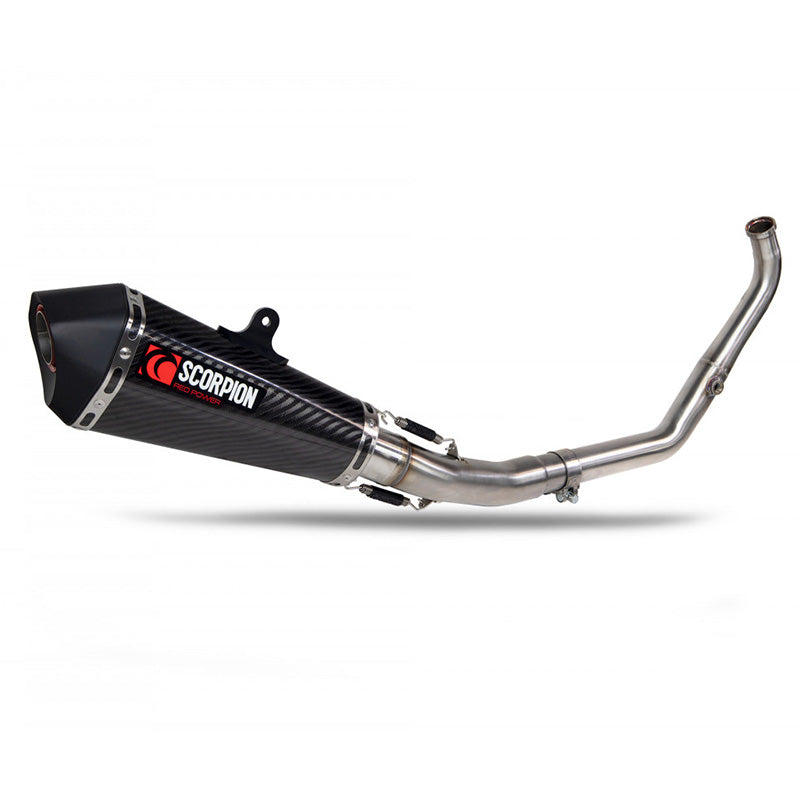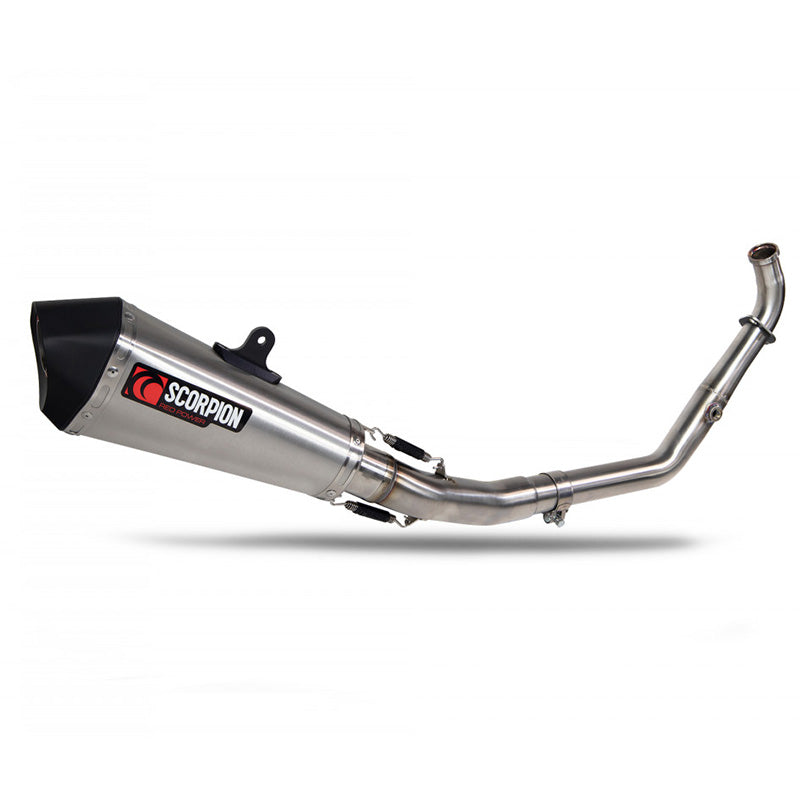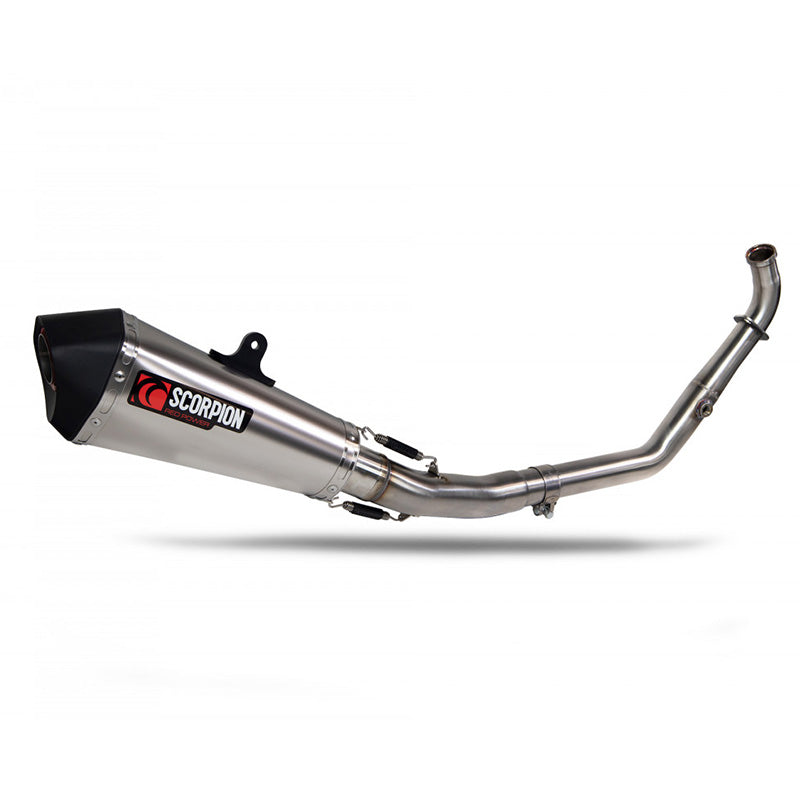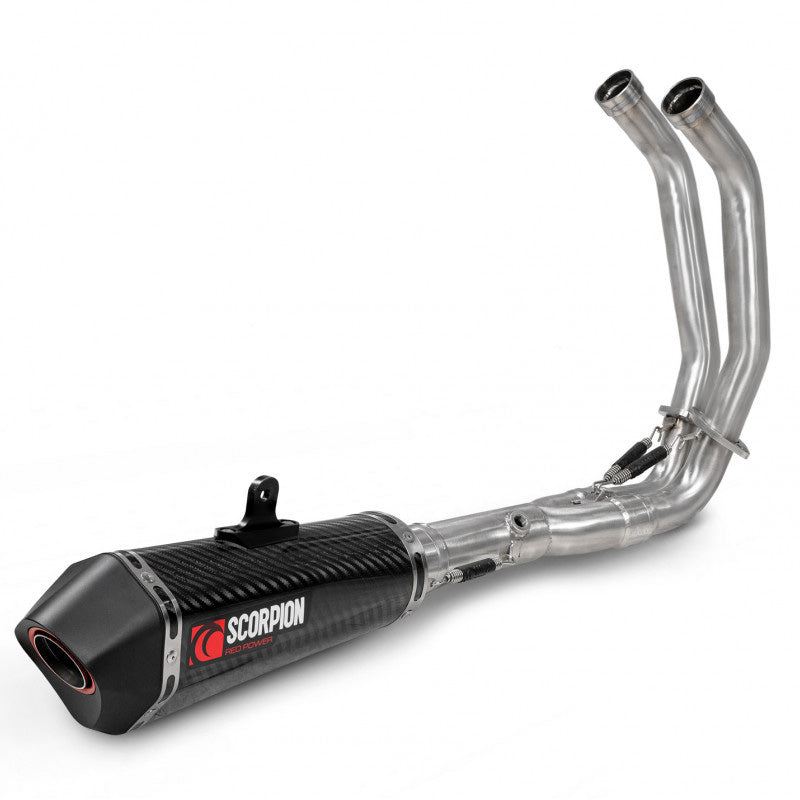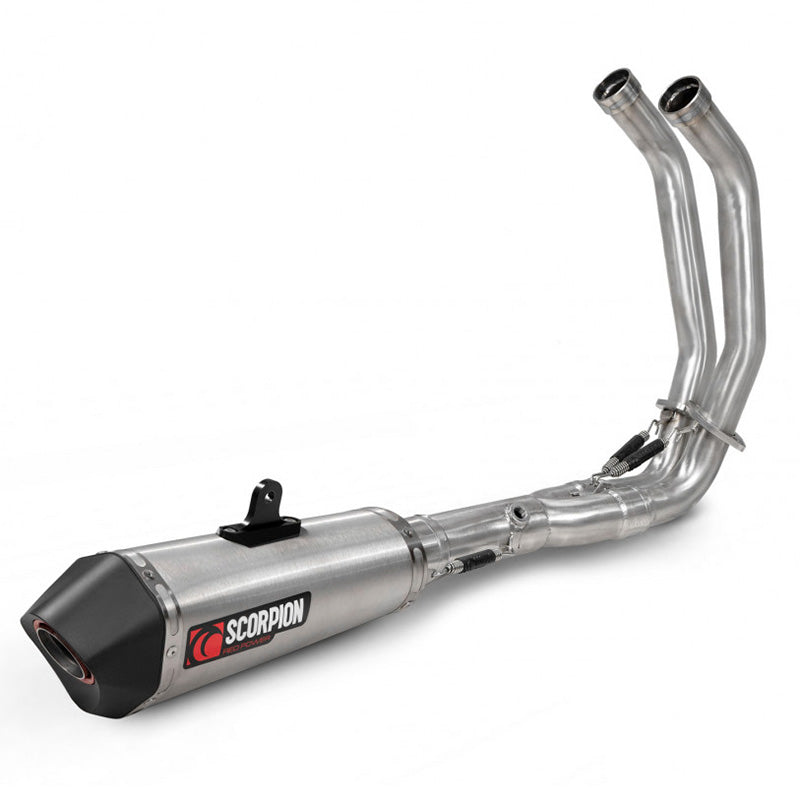 Hand Crafted Performance Exhausts
Scorpion offers an extensive and exciting range of motorcycle exhausts...And the 'Serket Taper' exhaust is one of Scorpions 'Headline Acts'. Its design includes a unique precision formed 6 facet profile and an Aerospace derived multi composite 'Claw Contoured' outlet. Additionally the 'Serket' features a tempered / fused sleeve seam with compression coined ends and a GP Style double spring mount - Oh yeah...and as the name may suggest a nice tapered design for a more extreme race look.
You only have to hold a Scorpion exhaust to appreciate the premium design and construction qualities, which translate into tangible gains in both performance and reliability. Hand crafted in England and widely regarded as the best bike exhaust on the market today, Scorpion has become one of the most popular upgrades a rider can make.
Bike specific fitment means this simple 'plug and play' exhaust can be fitted with ease with no mapping or re-jetting required.
Weight saving alternative to the standard OE fitted can .
Available in Carbon Fibre or Titanium sleeved options depending on the style you are looking to create.
See fitments for your model specific bike
{"id":7659320148124,"title":"SCORPION SERKET TAPER Full System","handle":"scorpion-serket-taper-full-system","description":"\u003cp\u003e\u003cstrong\u003eHand Crafted Performance Exhausts\u003c\/strong\u003e\u003c\/p\u003e\n\n\u003cp\u003eScorpion offers an extensive and exciting range of motorcycle exhausts...And the 'Serket Taper' exhaust is one of Scorpions 'Headline Acts'. Its design includes a unique precision formed 6 facet profile and an Aerospace derived multi composite 'Claw Contoured' outlet. Additionally the 'Serket' features a tempered \/ fused sleeve seam with compression coined ends and a GP Style double spring mount - Oh yeah...and as the name may suggest a nice tapered design for a more extreme race look.\u003c\/p\u003e\n\n\u003cp\u003eYou only have to hold a Scorpion exhaust to appreciate the premium design and construction qualities, which translate into tangible gains in both performance and reliability. Hand crafted in England and widely regarded as the best bike exhaust on the market today, Scorpion has become one of the most popular upgrades a rider can make.\u003c\/p\u003e\n\n\u003cul\u003e\n\t\u003cli\u003eBike specific fitment means this simple 'plug and play' exhaust can be fitted with ease with no mapping or re-jetting required.\u003c\/li\u003e\n\t\u003cli\u003eWeight saving alternative to the standard OE fitted can .\u003c\/li\u003e\n\t\u003cli\u003eAvailable in Carbon Fibre or Titanium sleeved options depending on the style you are looking to create.\u003c\/li\u003e\n\u003c\/ul\u003e\n\n\u003cp\u003eSee fitments for your model specific bike\u003c\/p\u003e\n","published_at":"2023-07-20T15:26:50+12:00","created_at":"2023-07-12T20:10:17+12:00","vendor":"Motogear New Zealand","type":"Accessories-Road-Exhaust-FullSystem","tags":["S3-Cat-Accessories","S3-Cat-Accessories-Road","S3-Cat-Accessories-Road-Exhaust","S3-Cat-Accessories-Road-Exhaust-FullSystem","Sprint3","Sprint3-New"],"price":92593,"price_min":92593,"price_max":331912,"available":true,"price_varies":true,"compare_at_price":null,"compare_at_price_min":0,"compare_at_price_max":0,"compare_at_price_varies":false,"variants":[{"id":42564921262236,"title":"Triumph Tiger Sport 660 Serket Taper Full System Carbon Fibre","option1":"Triumph Tiger Sport 660 Serket Taper Full System Carbon Fibre","option2":null,"option3":null,"sku":"RTR93SYSCEO","requires_shipping":true,"taxable":true,"featured_image":{"id":36430445150364,"product_id":7659320148124,"position":4,"created_at":"2023-08-22T19:34:03+12:00","updated_at":"2023-08-22T19:34:03+12:00","alt":"Triumph Tiger Sport 660 Carbon","width":1200,"height":800,"src":"\/\/motogear.co.nz\/cdn\/shop\/products\/abe8f6ef6b3a4ecec6cd84b03fb5c229.jpg?v=1692689643","variant_ids":[42564921262236]},"available":true,"name":"SCORPION SERKET TAPER Full System - Triumph Tiger Sport 660 Serket Taper Full System Carbon Fibre","public_title":"Triumph Tiger Sport 660 Serket Taper Full System Carbon Fibre","options":["Triumph Tiger Sport 660 Serket Taper Full System Carbon Fibre"],"price":241879,"weight":0,"compare_at_price":null,"inventory_management":"sprint3-fulfillment","barcode":"8486470775938","featured_media":{"alt":"Triumph Tiger Sport 660 Carbon","id":28809457238172,"position":4,"preview_image":{"aspect_ratio":1.5,"height":800,"width":1200,"src":"\/\/motogear.co.nz\/cdn\/shop\/products\/abe8f6ef6b3a4ecec6cd84b03fb5c229.jpg?v=1692689643"}}},{"id":42564921295004,"title":"Triumph Tiger Sport 660 Serket Taper Full System S\/Steel","option1":"Triumph Tiger Sport 660 Serket Taper Full System S\/Steel","option2":null,"option3":null,"sku":"RTR93SYSSEO","requires_shipping":true,"taxable":true,"featured_image":{"id":36430445183132,"product_id":7659320148124,"position":5,"created_at":"2023-08-22T19:34:03+12:00","updated_at":"2023-08-22T19:34:03+12:00","alt":"Triumph Tiger Sport 660 ST Stainless","width":1200,"height":800,"src":"\/\/motogear.co.nz\/cdn\/shop\/products\/73ee5564466bfc6f45cf38695911b043.jpg?v=1692689643","variant_ids":[42564921295004]},"available":false,"name":"SCORPION SERKET TAPER Full System - Triumph Tiger Sport 660 Serket Taper Full System S\/Steel","public_title":"Triumph Tiger Sport 660 Serket Taper Full System S\/Steel","options":["Triumph Tiger Sport 660 Serket Taper Full System S\/Steel"],"price":226426,"weight":0,"compare_at_price":null,"inventory_management":"sprint3-fulfillment","barcode":null,"featured_media":{"alt":"Triumph Tiger Sport 660 ST Stainless","id":28809457270940,"position":5,"preview_image":{"aspect_ratio":1.5,"height":800,"width":1200,"src":"\/\/motogear.co.nz\/cdn\/shop\/products\/73ee5564466bfc6f45cf38695911b043.jpg?v=1692689643"}}},{"id":42564921327772,"title":"Triumph Tiger Sport 660 Serket Taper Full System Titanium","option1":"Triumph Tiger Sport 660 Serket Taper Full System Titanium","option2":null,"option3":null,"sku":"RTR93SYSTEO","requires_shipping":true,"taxable":true,"featured_image":{"id":36430445215900,"product_id":7659320148124,"position":6,"created_at":"2023-08-22T19:34:03+12:00","updated_at":"2023-08-22T19:34:03+12:00","alt":"Triumph Tiger Sport 660 ST Titanium","width":1200,"height":800,"src":"\/\/motogear.co.nz\/cdn\/shop\/products\/6df78d91425a566743ade4fdf5df87a8.jpg?v=1692689643","variant_ids":[42564921327772]},"available":false,"name":"SCORPION SERKET TAPER Full System - Triumph Tiger Sport 660 Serket Taper Full System Titanium","public_title":"Triumph Tiger Sport 660 Serket Taper Full System Titanium","options":["Triumph Tiger Sport 660 Serket Taper Full System Titanium"],"price":241879,"weight":0,"compare_at_price":null,"inventory_management":"sprint3-fulfillment","barcode":null,"featured_media":{"alt":"Triumph Tiger Sport 660 ST Titanium","id":28809457303708,"position":6,"preview_image":{"aspect_ratio":1.5,"height":800,"width":1200,"src":"\/\/motogear.co.nz\/cdn\/shop\/products\/6df78d91425a566743ade4fdf5df87a8.jpg?v=1692689643"}}},{"id":42564921360540,"title":"Honda CBR650R 21-23 Serket Taper Full System Carbon","option1":"Honda CBR650R 21-23 Serket Taper Full System Carbon","option2":null,"option3":null,"sku":"RHA197SYSCEO","requires_shipping":true,"taxable":true,"featured_image":{"id":36262491586716,"product_id":7659320148124,"position":7,"created_at":"2023-07-12T20:10:51+12:00","updated_at":"2023-07-12T20:10:51+12:00","alt":"SERKET TAPER FULL SYSTEM CARBON, HONDA CBR 650 R 21-CURRENT\n2021 - 2022","width":1000,"height":1000,"src":"\/\/motogear.co.nz\/cdn\/shop\/products\/a13ec48dc297af153b98649dedae383f_2e6442d9-2e07-4c69-850d-ab80ac78ebe3.jpg?v=1689149451","variant_ids":[42564921360540]},"available":false,"name":"SCORPION SERKET TAPER Full System - Honda CBR650R 21-23 Serket Taper Full System Carbon","public_title":"Honda CBR650R 21-23 Serket Taper Full System Carbon","options":["Honda CBR650R 21-23 Serket Taper Full System Carbon"],"price":267411,"weight":0,"compare_at_price":null,"inventory_management":"sprint3-fulfillment","barcode":null,"featured_media":{"alt":"SERKET TAPER FULL SYSTEM CARBON, HONDA CBR 650 R 21-CURRENT\n2021 - 2022","id":28639238652060,"position":7,"preview_image":{"aspect_ratio":1.0,"height":1000,"width":1000,"src":"\/\/motogear.co.nz\/cdn\/shop\/products\/a13ec48dc297af153b98649dedae383f_2e6442d9-2e07-4c69-850d-ab80ac78ebe3.jpg?v=1689149451"}}},{"id":42564921393308,"title":"Honda CBR650R 21-23 Serket Taper Full System S\/Steel","option1":"Honda CBR650R 21-23 Serket Taper Full System S\/Steel","option2":null,"option3":null,"sku":"RHA197SYSSEO","requires_shipping":true,"taxable":true,"featured_image":{"id":36262491619484,"product_id":7659320148124,"position":8,"created_at":"2023-07-12T20:10:51+12:00","updated_at":"2023-07-12T20:10:51+12:00","alt":"SERKET TAPER FULL SYSTEM STAINLEES STEEL, HONDA CBR 650 R 21-CURRENT\n2021 - 2022","width":1000,"height":1000,"src":"\/\/motogear.co.nz\/cdn\/shop\/products\/71456fdc4a4f675ff69bfe8bd160583e_e0192a8b-f4d7-4aee-b46b-f9f8dbb22ca6.jpg?v=1689149451","variant_ids":[42564921393308]},"available":false,"name":"SCORPION SERKET TAPER Full System - Honda CBR650R 21-23 Serket Taper Full System S\/Steel","public_title":"Honda CBR650R 21-23 Serket Taper Full System S\/Steel","options":["Honda CBR650R 21-23 Serket Taper Full System S\/Steel"],"price":251958,"weight":0,"compare_at_price":null,"inventory_management":"sprint3-fulfillment","barcode":null,"featured_media":{"alt":"SERKET TAPER FULL SYSTEM STAINLEES STEEL, HONDA CBR 650 R 21-CURRENT\n2021 - 2022","id":28639238684828,"position":8,"preview_image":{"aspect_ratio":1.0,"height":1000,"width":1000,"src":"\/\/motogear.co.nz\/cdn\/shop\/products\/71456fdc4a4f675ff69bfe8bd160583e_e0192a8b-f4d7-4aee-b46b-f9f8dbb22ca6.jpg?v=1689149451"}}},{"id":42564921426076,"title":"Honda CBR650R 21-23 Serket Taper Full System Titanium","option1":"Honda CBR650R 21-23 Serket Taper Full System Titanium","option2":null,"option3":null,"sku":"RHA197SYSTEO","requires_shipping":true,"taxable":true,"featured_image":{"id":36262491652252,"product_id":7659320148124,"position":9,"created_at":"2023-07-12T20:10:51+12:00","updated_at":"2023-07-12T20:10:51+12:00","alt":"SERKET TAPER FULL SYSTEM TITANIUM, HONDA CBR 650 R 21-CURRENT\n2021 - 2022","width":1000,"height":1000,"src":"\/\/motogear.co.nz\/cdn\/shop\/products\/a316cfb4b2d08ca076f840a396320b2a_efa83bd0-e936-43da-b6ff-6c3f0fd83833.jpg?v=1689149451","variant_ids":[42564921426076]},"available":false,"name":"SCORPION SERKET TAPER Full System - Honda CBR650R 21-23 Serket Taper Full System Titanium","public_title":"Honda CBR650R 21-23 Serket Taper Full System Titanium","options":["Honda CBR650R 21-23 Serket Taper Full System Titanium"],"price":267411,"weight":0,"compare_at_price":null,"inventory_management":"sprint3-fulfillment","barcode":null,"featured_media":{"alt":"SERKET TAPER FULL SYSTEM TITANIUM, HONDA CBR 650 R 21-CURRENT\n2021 - 2022","id":28639238717596,"position":9,"preview_image":{"aspect_ratio":1.0,"height":1000,"width":1000,"src":"\/\/motogear.co.nz\/cdn\/shop\/products\/a316cfb4b2d08ca076f840a396320b2a_efa83bd0-e936-43da-b6ff-6c3f0fd83833.jpg?v=1689149451"}}},{"id":42564921458844,"title":"Honda CBR 125 R 11-16 Serket Taper Full Sys Carbon","option1":"Honda CBR 125 R 11-16 Serket Taper Full Sys Carbon","option2":null,"option3":null,"sku":"RHA151CEO","requires_shipping":true,"taxable":true,"featured_image":{"id":36262491685020,"product_id":7659320148124,"position":10,"created_at":"2023-07-12T20:10:51+12:00","updated_at":"2023-07-12T20:10:51+12:00","alt":"SCORPION Serket Taper Carbon","width":650,"height":650,"src":"\/\/motogear.co.nz\/cdn\/shop\/products\/603a042d2979c10a8e02f0872bccb8c0_d371127d-3b90-4c8a-bfe0-ba0c4fd719fb.jpg?v=1689149451","variant_ids":[42564921458844,42564921557148,42564921655452,42564921917596,42564922015900,42564922245276,42564922343580,42564922441884,42564922540188,42564922638492,42564922736796,42564922835100,42564922933404,42564923031708,42564923130012,42564923359388,42564923457692,42564923555996,42564923654300,42564923752604,42564923850908,42624924221596,42624924319900]},"available":false,"name":"SCORPION SERKET TAPER Full System - Honda CBR 125 R 11-16 Serket Taper Full Sys Carbon","public_title":"Honda CBR 125 R 11-16 Serket Taper Full Sys Carbon","options":["Honda CBR 125 R 11-16 Serket Taper Full Sys Carbon"],"price":102294,"weight":0,"compare_at_price":null,"inventory_management":"sprint3-fulfillment","barcode":"8486470222654","featured_media":{"alt":"SCORPION Serket Taper Carbon","id":28639238750364,"position":10,"preview_image":{"aspect_ratio":1.0,"height":650,"width":650,"src":"\/\/motogear.co.nz\/cdn\/shop\/products\/603a042d2979c10a8e02f0872bccb8c0_d371127d-3b90-4c8a-bfe0-ba0c4fd719fb.jpg?v=1689149451"}}},{"id":42564921491612,"title":"Honda CBR 125 R 11-16 Serket Taper Full Sys Stainles","option1":"Honda CBR 125 R 11-16 Serket Taper Full Sys Stainles","option2":null,"option3":null,"sku":"RHA151SEO","requires_shipping":true,"taxable":true,"featured_image":{"id":36262491717788,"product_id":7659320148124,"position":11,"created_at":"2023-07-12T20:10:51+12:00","updated_at":"2023-07-12T20:10:51+12:00","alt":"SCORPION Serket Taper Stainless","width":650,"height":650,"src":"\/\/motogear.co.nz\/cdn\/shop\/products\/a8b38b99fc5360c4f28fdbcff87d87da_e76361e5-3c9e-43e2-98a2-f56c603a8dd5.jpg?v=1689149451","variant_ids":[42564921491612,42564921589916,42564921688220,42564921884828,42564921950364,42564922048668,42564922278044,42564922376348,42564922474652,42564922572956,42564922671260,42564922769564,42564922867868,42564922966172,42564923064476,42564923162780,42564923392156,42564923490460,42564923588764,42564923687068,42564923785372,42564923883676,42624924254364,42624924352668]},"available":false,"name":"SCORPION SERKET TAPER Full System - Honda CBR 125 R 11-16 Serket Taper Full Sys Stainles","public_title":"Honda CBR 125 R 11-16 Serket Taper Full Sys Stainles","options":["Honda CBR 125 R 11-16 Serket Taper Full Sys Stainles"],"price":92593,"weight":0,"compare_at_price":null,"inventory_management":"sprint3-fulfillment","barcode":"8486470222722","featured_media":{"alt":"SCORPION Serket Taper Stainless","id":28639238783132,"position":11,"preview_image":{"aspect_ratio":1.0,"height":650,"width":650,"src":"\/\/motogear.co.nz\/cdn\/shop\/products\/a8b38b99fc5360c4f28fdbcff87d87da_e76361e5-3c9e-43e2-98a2-f56c603a8dd5.jpg?v=1689149451"}}},{"id":42564921524380,"title":"Honda CBR 125 R 11-16 Serket Taper Full Sys Titanium","option1":"Honda CBR 125 R 11-16 Serket Taper Full Sys Titanium","option2":null,"option3":null,"sku":"RHA151TEO","requires_shipping":true,"taxable":true,"featured_image":{"id":36262491750556,"product_id":7659320148124,"position":12,"created_at":"2023-07-12T20:10:51+12:00","updated_at":"2023-07-12T20:10:51+12:00","alt":"SCORPION Serket Taper Titanium","width":650,"height":650,"src":"\/\/motogear.co.nz\/cdn\/shop\/products\/fc45793f2539a3f008c7c1b2925e5846_6b2ef5e4-dc51-4f4c-9550-8b52adfe537d.jpg?v=1689149451","variant_ids":[42564921524380,42564921622684,42564921720988,42564921983132,42564922081436,42564922310812,42564922409116,42564922507420,42564922605724,42564922704028,42564922802332,42564922900636,42564922998940,42564923097244,42564923195548,42564923424924,42564923523228,42564923621532,42564923719836,42564923818140,42564923916444,42624924287132]},"available":false,"name":"SCORPION SERKET TAPER Full System - Honda CBR 125 R 11-16 Serket Taper Full Sys Titanium","public_title":"Honda CBR 125 R 11-16 Serket Taper Full Sys Titanium","options":["Honda CBR 125 R 11-16 Serket Taper Full Sys Titanium"],"price":102294,"weight":0,"compare_at_price":null,"inventory_management":"sprint3-fulfillment","barcode":"8486470222890","featured_media":{"alt":"SCORPION Serket Taper Titanium","id":28639238815900,"position":12,"preview_image":{"aspect_ratio":1.0,"height":650,"width":650,"src":"\/\/motogear.co.nz\/cdn\/shop\/products\/fc45793f2539a3f008c7c1b2925e5846_6b2ef5e4-dc51-4f4c-9550-8b52adfe537d.jpg?v=1689149451"}}},{"id":42564921557148,"title":"Honda CBR 650F\/ CB650F 14-18 Serket Taper Full Sys Carbon","option1":"Honda CBR 650F\/ CB650F 14-18 Serket Taper Full Sys Carbon","option2":null,"option3":null,"sku":"RHA165SYSCEO","requires_shipping":true,"taxable":true,"featured_image":{"id":36262491685020,"product_id":7659320148124,"position":10,"created_at":"2023-07-12T20:10:51+12:00","updated_at":"2023-07-12T20:10:51+12:00","alt":"SCORPION Serket Taper Carbon","width":650,"height":650,"src":"\/\/motogear.co.nz\/cdn\/shop\/products\/603a042d2979c10a8e02f0872bccb8c0_d371127d-3b90-4c8a-bfe0-ba0c4fd719fb.jpg?v=1689149451","variant_ids":[42564921458844,42564921557148,42564921655452,42564921917596,42564922015900,42564922245276,42564922343580,42564922441884,42564922540188,42564922638492,42564922736796,42564922835100,42564922933404,42564923031708,42564923130012,42564923359388,42564923457692,42564923555996,42564923654300,42564923752604,42564923850908,42624924221596,42624924319900]},"available":false,"name":"SCORPION SERKET TAPER Full System - Honda CBR 650F\/ CB650F 14-18 Serket Taper Full Sys Carbon","public_title":"Honda CBR 650F\/ CB650F 14-18 Serket Taper Full Sys Carbon","options":["Honda CBR 650F\/ CB650F 14-18 Serket Taper Full Sys Carbon"],"price":265395,"weight":0,"compare_at_price":null,"inventory_management":"sprint3-fulfillment","barcode":"8486470307580","featured_media":{"alt":"SCORPION Serket Taper Carbon","id":28639238750364,"position":10,"preview_image":{"aspect_ratio":1.0,"height":650,"width":650,"src":"\/\/motogear.co.nz\/cdn\/shop\/products\/603a042d2979c10a8e02f0872bccb8c0_d371127d-3b90-4c8a-bfe0-ba0c4fd719fb.jpg?v=1689149451"}}},{"id":42564921589916,"title":"Honda CBR 650F\/ CB650F 14-18 Serket Taper Full Sys Stainles","option1":"Honda CBR 650F\/ CB650F 14-18 Serket Taper Full Sys Stainles","option2":null,"option3":null,"sku":"RHA165SYSSEO","requires_shipping":true,"taxable":true,"featured_image":{"id":36262491717788,"product_id":7659320148124,"position":11,"created_at":"2023-07-12T20:10:51+12:00","updated_at":"2023-07-12T20:10:51+12:00","alt":"SCORPION Serket Taper Stainless","width":650,"height":650,"src":"\/\/motogear.co.nz\/cdn\/shop\/products\/a8b38b99fc5360c4f28fdbcff87d87da_e76361e5-3c9e-43e2-98a2-f56c603a8dd5.jpg?v=1689149451","variant_ids":[42564921491612,42564921589916,42564921688220,42564921884828,42564921950364,42564922048668,42564922278044,42564922376348,42564922474652,42564922572956,42564922671260,42564922769564,42564922867868,42564922966172,42564923064476,42564923162780,42564923392156,42564923490460,42564923588764,42564923687068,42564923785372,42564923883676,42624924254364,42624924352668]},"available":false,"name":"SCORPION SERKET TAPER Full System - Honda CBR 650F\/ CB650F 14-18 Serket Taper Full Sys Stainles","public_title":"Honda CBR 650F\/ CB650F 14-18 Serket Taper Full Sys Stainles","options":["Honda CBR 650F\/ CB650F 14-18 Serket Taper Full Sys Stainles"],"price":248598,"weight":0,"compare_at_price":null,"inventory_management":"sprint3-fulfillment","barcode":"8486470312980","featured_media":{"alt":"SCORPION Serket Taper Stainless","id":28639238783132,"position":11,"preview_image":{"aspect_ratio":1.0,"height":650,"width":650,"src":"\/\/motogear.co.nz\/cdn\/shop\/products\/a8b38b99fc5360c4f28fdbcff87d87da_e76361e5-3c9e-43e2-98a2-f56c603a8dd5.jpg?v=1689149451"}}},{"id":42564921622684,"title":"Honda CBR 650F\/ CB650F 14-18 Serket Taper Full Sys Titanium","option1":"Honda CBR 650F\/ CB650F 14-18 Serket Taper Full Sys Titanium","option2":null,"option3":null,"sku":"RHA165SYSTEO","requires_shipping":true,"taxable":true,"featured_image":{"id":36262491750556,"product_id":7659320148124,"position":12,"created_at":"2023-07-12T20:10:51+12:00","updated_at":"2023-07-12T20:10:51+12:00","alt":"SCORPION Serket Taper Titanium","width":650,"height":650,"src":"\/\/motogear.co.nz\/cdn\/shop\/products\/fc45793f2539a3f008c7c1b2925e5846_6b2ef5e4-dc51-4f4c-9550-8b52adfe537d.jpg?v=1689149451","variant_ids":[42564921524380,42564921622684,42564921720988,42564921983132,42564922081436,42564922310812,42564922409116,42564922507420,42564922605724,42564922704028,42564922802332,42564922900636,42564922998940,42564923097244,42564923195548,42564923424924,42564923523228,42564923621532,42564923719836,42564923818140,42564923916444,42624924287132]},"available":false,"name":"SCORPION SERKET TAPER Full System - Honda CBR 650F\/ CB650F 14-18 Serket Taper Full Sys Titanium","public_title":"Honda CBR 650F\/ CB650F 14-18 Serket Taper Full Sys Titanium","options":["Honda CBR 650F\/ CB650F 14-18 Serket Taper Full Sys Titanium"],"price":265395,"weight":0,"compare_at_price":null,"inventory_management":"sprint3-fulfillment","barcode":"8486470307412","featured_media":{"alt":"SCORPION Serket Taper Titanium","id":28639238815900,"position":12,"preview_image":{"aspect_ratio":1.0,"height":650,"width":650,"src":"\/\/motogear.co.nz\/cdn\/shop\/products\/fc45793f2539a3f008c7c1b2925e5846_6b2ef5e4-dc51-4f4c-9550-8b52adfe537d.jpg?v=1689149451"}}},{"id":42564921655452,"title":"Honda CBR250RR 17-18 Serket Taper Full System Carbon","option1":"Honda CBR250RR 17-18 Serket Taper Full System Carbon","option2":null,"option3":null,"sku":"RHA177SYSCEO","requires_shipping":true,"taxable":true,"featured_image":{"id":36262491685020,"product_id":7659320148124,"position":10,"created_at":"2023-07-12T20:10:51+12:00","updated_at":"2023-07-12T20:10:51+12:00","alt":"SCORPION Serket Taper Carbon","width":650,"height":650,"src":"\/\/motogear.co.nz\/cdn\/shop\/products\/603a042d2979c10a8e02f0872bccb8c0_d371127d-3b90-4c8a-bfe0-ba0c4fd719fb.jpg?v=1689149451","variant_ids":[42564921458844,42564921557148,42564921655452,42564921917596,42564922015900,42564922245276,42564922343580,42564922441884,42564922540188,42564922638492,42564922736796,42564922835100,42564922933404,42564923031708,42564923130012,42564923359388,42564923457692,42564923555996,42564923654300,42564923752604,42564923850908,42624924221596,42624924319900]},"available":false,"name":"SCORPION SERKET TAPER Full System - Honda CBR250RR 17-18 Serket Taper Full System Carbon","public_title":"Honda CBR250RR 17-18 Serket Taper Full System Carbon","options":["Honda CBR250RR 17-18 Serket Taper Full System Carbon"],"price":184097,"weight":0,"compare_at_price":null,"inventory_management":"sprint3-fulfillment","barcode":"8486470382730","featured_media":{"alt":"SCORPION Serket Taper Carbon","id":28639238750364,"position":10,"preview_image":{"aspect_ratio":1.0,"height":650,"width":650,"src":"\/\/motogear.co.nz\/cdn\/shop\/products\/603a042d2979c10a8e02f0872bccb8c0_d371127d-3b90-4c8a-bfe0-ba0c4fd719fb.jpg?v=1689149451"}}},{"id":42564921688220,"title":"Honda CBR250RR 17-18 Serket Taper Full System Stainless","option1":"Honda CBR250RR 17-18 Serket Taper Full System Stainless","option2":null,"option3":null,"sku":"RHA177SYSSEO","requires_shipping":true,"taxable":true,"featured_image":{"id":36262491717788,"product_id":7659320148124,"position":11,"created_at":"2023-07-12T20:10:51+12:00","updated_at":"2023-07-12T20:10:51+12:00","alt":"SCORPION Serket Taper Stainless","width":650,"height":650,"src":"\/\/motogear.co.nz\/cdn\/shop\/products\/a8b38b99fc5360c4f28fdbcff87d87da_e76361e5-3c9e-43e2-98a2-f56c603a8dd5.jpg?v=1689149451","variant_ids":[42564921491612,42564921589916,42564921688220,42564921884828,42564921950364,42564922048668,42564922278044,42564922376348,42564922474652,42564922572956,42564922671260,42564922769564,42564922867868,42564922966172,42564923064476,42564923162780,42564923392156,42564923490460,42564923588764,42564923687068,42564923785372,42564923883676,42624924254364,42624924352668]},"available":false,"name":"SCORPION SERKET TAPER Full System - Honda CBR250RR 17-18 Serket Taper Full System Stainless","public_title":"Honda CBR250RR 17-18 Serket Taper Full System Stainless","options":["Honda CBR250RR 17-18 Serket Taper Full System Stainless"],"price":172675,"weight":0,"compare_at_price":null,"inventory_management":"sprint3-fulfillment","barcode":"8486470382808","featured_media":{"alt":"SCORPION Serket Taper Stainless","id":28639238783132,"position":11,"preview_image":{"aspect_ratio":1.0,"height":650,"width":650,"src":"\/\/motogear.co.nz\/cdn\/shop\/products\/a8b38b99fc5360c4f28fdbcff87d87da_e76361e5-3c9e-43e2-98a2-f56c603a8dd5.jpg?v=1689149451"}}},{"id":42564921720988,"title":"Honda CBR250RR 17-18 Serket Taper Full System Titanium","option1":"Honda CBR250RR 17-18 Serket Taper Full System Titanium","option2":null,"option3":null,"sku":"RHA177SYSTEO","requires_shipping":true,"taxable":true,"featured_image":{"id":36262491750556,"product_id":7659320148124,"position":12,"created_at":"2023-07-12T20:10:51+12:00","updated_at":"2023-07-12T20:10:51+12:00","alt":"SCORPION Serket Taper Titanium","width":650,"height":650,"src":"\/\/motogear.co.nz\/cdn\/shop\/products\/fc45793f2539a3f008c7c1b2925e5846_6b2ef5e4-dc51-4f4c-9550-8b52adfe537d.jpg?v=1689149451","variant_ids":[42564921524380,42564921622684,42564921720988,42564921983132,42564922081436,42564922310812,42564922409116,42564922507420,42564922605724,42564922704028,42564922802332,42564922900636,42564922998940,42564923097244,42564923195548,42564923424924,42564923523228,42564923621532,42564923719836,42564923818140,42564923916444,42624924287132]},"available":false,"name":"SCORPION SERKET TAPER Full System - Honda CBR250RR 17-18 Serket Taper Full System Titanium","public_title":"Honda CBR250RR 17-18 Serket Taper Full System Titanium","options":["Honda CBR250RR 17-18 Serket Taper Full System Titanium"],"price":184097,"weight":0,"compare_at_price":null,"inventory_management":"sprint3-fulfillment","barcode":"8486470382976","featured_media":{"alt":"SCORPION Serket Taper Titanium","id":28639238815900,"position":12,"preview_image":{"aspect_ratio":1.0,"height":650,"width":650,"src":"\/\/motogear.co.nz\/cdn\/shop\/products\/fc45793f2539a3f008c7c1b2925e5846_6b2ef5e4-dc51-4f4c-9550-8b52adfe537d.jpg?v=1689149451"}}},{"id":42564921753756,"title":"Honda CBR650R 2019-20 Serket Taper Full System Carbon","option1":"Honda CBR650R 2019-20 Serket Taper Full System Carbon","option2":null,"option3":null,"sku":"RHA190SYSCEO","requires_shipping":true,"taxable":true,"featured_image":{"id":36262491783324,"product_id":7659320148124,"position":13,"created_at":"2023-07-12T20:10:51+12:00","updated_at":"2023-07-12T20:10:51+12:00","alt":"SERKET TAPER FULL SYSTEM CARBON, HONDA CBR 650 R\n2019 - 2020","width":1000,"height":1000,"src":"\/\/motogear.co.nz\/cdn\/shop\/products\/86dd84948a5767120c1dfdc81fe3f22f_e8c2b736-62dd-4b2b-92d7-d6ede516a95c.jpg?v=1689149451","variant_ids":[42564921753756]},"available":false,"name":"SCORPION SERKET TAPER Full System - Honda CBR650R 2019-20 Serket Taper Full System Carbon","public_title":"Honda CBR650R 2019-20 Serket Taper Full System Carbon","options":["Honda CBR650R 2019-20 Serket Taper Full System Carbon"],"price":267411,"weight":0,"compare_at_price":null,"inventory_management":"sprint3-fulfillment","barcode":null,"featured_media":{"alt":"SERKET TAPER FULL SYSTEM CARBON, HONDA CBR 650 R\n2019 - 2020","id":28639238848668,"position":13,"preview_image":{"aspect_ratio":1.0,"height":1000,"width":1000,"src":"\/\/motogear.co.nz\/cdn\/shop\/products\/86dd84948a5767120c1dfdc81fe3f22f_e8c2b736-62dd-4b2b-92d7-d6ede516a95c.jpg?v=1689149451"}}},{"id":42564921786524,"title":"Honda CBR650R 2019-20 Serket Taper Full System S\/Steel","option1":"Honda CBR650R 2019-20 Serket Taper Full System S\/Steel","option2":null,"option3":null,"sku":"RHA190SYSSEO","requires_shipping":true,"taxable":true,"featured_image":{"id":36262491816092,"product_id":7659320148124,"position":14,"created_at":"2023-07-12T20:10:51+12:00","updated_at":"2023-07-12T20:10:51+12:00","alt":"SERKET TAPER FULL SYSTEM STAINLESS STEEL, HONDA CBR 650 R\n2019 - 2020","width":1000,"height":1000,"src":"\/\/motogear.co.nz\/cdn\/shop\/products\/5a542ec2280f770da9140d502472b09d_52a8e3cf-bb60-4463-9a7f-55a41066dbd2.jpg?v=1689149451","variant_ids":[42564921786524]},"available":false,"name":"SCORPION SERKET TAPER Full System - Honda CBR650R 2019-20 Serket Taper Full System S\/Steel","public_title":"Honda CBR650R 2019-20 Serket Taper Full System S\/Steel","options":["Honda CBR650R 2019-20 Serket Taper Full System S\/Steel"],"price":251958,"weight":0,"compare_at_price":null,"inventory_management":"sprint3-fulfillment","barcode":null,"featured_media":{"alt":"SERKET TAPER FULL SYSTEM STAINLESS STEEL, HONDA CBR 650 R\n2019 - 2020","id":28639238881436,"position":14,"preview_image":{"aspect_ratio":1.0,"height":1000,"width":1000,"src":"\/\/motogear.co.nz\/cdn\/shop\/products\/5a542ec2280f770da9140d502472b09d_52a8e3cf-bb60-4463-9a7f-55a41066dbd2.jpg?v=1689149451"}}},{"id":42564921819292,"title":"Honda CBR650R 2019 Serket Taper Full System Titanium","option1":"Honda CBR650R 2019 Serket Taper Full System Titanium","option2":null,"option3":null,"sku":"RHA190SYSTEO","requires_shipping":true,"taxable":true,"featured_image":{"id":36262491848860,"product_id":7659320148124,"position":15,"created_at":"2023-07-12T20:10:51+12:00","updated_at":"2023-07-12T20:10:51+12:00","alt":"SERKET TAPER FULL SYSTEM TITANIUM, HONDA CBR 650 R 2019 - 2020","width":1000,"height":1000,"src":"\/\/motogear.co.nz\/cdn\/shop\/products\/a064c8af2fbf9b2c8a8be325145e0c43_2fb6a2e1-ebbc-4e67-a5dd-f692c5a999ba.jpg?v=1689149451","variant_ids":[42564921819292]},"available":false,"name":"SCORPION SERKET TAPER Full System - Honda CBR650R 2019 Serket Taper Full System Titanium","public_title":"Honda CBR650R 2019 Serket Taper Full System Titanium","options":["Honda CBR650R 2019 Serket Taper Full System Titanium"],"price":267411,"weight":0,"compare_at_price":null,"inventory_management":"sprint3-fulfillment","barcode":"8486470405736","featured_media":{"alt":"SERKET TAPER FULL SYSTEM TITANIUM, HONDA CBR 650 R 2019 - 2020","id":28639238914204,"position":15,"preview_image":{"aspect_ratio":1.0,"height":1000,"width":1000,"src":"\/\/motogear.co.nz\/cdn\/shop\/products\/a064c8af2fbf9b2c8a8be325145e0c43_2fb6a2e1-ebbc-4e67-a5dd-f692c5a999ba.jpg?v=1689149451"}}},{"id":42564921852060,"title":"Honda CBR650R 19- Serket Taper Full System C\/Fibre","option1":"Honda CBR650R 19- Serket Taper Full System C\/Fibre","option2":null,"option3":null,"sku":"RHA196SYSCEO","requires_shipping":true,"taxable":true,"featured_image":{"id":36262491914396,"product_id":7659320148124,"position":16,"created_at":"2023-07-12T20:10:51+12:00","updated_at":"2023-07-12T20:10:51+12:00","alt":"SERKET TAPER FULL SYSTEM CARBON, HONDA CB 650 R 19-CURRENT\n2019 - 2022","width":1000,"height":1000,"src":"\/\/motogear.co.nz\/cdn\/shop\/products\/18d548f77b19ebe6b3dd867d7fbdb2b2_b5149168-fc62-44af-b97f-73451ab20649.jpg?v=1689149451","variant_ids":[42564921852060]},"available":false,"name":"SCORPION SERKET TAPER Full System - Honda CBR650R 19- Serket Taper Full System C\/Fibre","public_title":"Honda CBR650R 19- Serket Taper Full System C\/Fibre","options":["Honda CBR650R 19- Serket Taper Full System C\/Fibre"],"price":267411,"weight":0,"compare_at_price":null,"inventory_management":"sprint3-fulfillment","barcode":null,"featured_media":{"alt":"SERKET TAPER FULL SYSTEM CARBON, HONDA CB 650 R 19-CURRENT\n2019 - 2022","id":28639238979740,"position":16,"preview_image":{"aspect_ratio":1.0,"height":1000,"width":1000,"src":"\/\/motogear.co.nz\/cdn\/shop\/products\/18d548f77b19ebe6b3dd867d7fbdb2b2_b5149168-fc62-44af-b97f-73451ab20649.jpg?v=1689149451"}}},{"id":42564921884828,"title":"Honda CBR650R 19- Serket Taper Full System S\/Steel","option1":"Honda CBR650R 19- Serket Taper Full System S\/Steel","option2":null,"option3":null,"sku":"RHA196SYSSEO","requires_shipping":true,"taxable":true,"featured_image":{"id":36262491717788,"product_id":7659320148124,"position":11,"created_at":"2023-07-12T20:10:51+12:00","updated_at":"2023-07-12T20:10:51+12:00","alt":"SCORPION Serket Taper Stainless","width":650,"height":650,"src":"\/\/motogear.co.nz\/cdn\/shop\/products\/a8b38b99fc5360c4f28fdbcff87d87da_e76361e5-3c9e-43e2-98a2-f56c603a8dd5.jpg?v=1689149451","variant_ids":[42564921491612,42564921589916,42564921688220,42564921884828,42564921950364,42564922048668,42564922278044,42564922376348,42564922474652,42564922572956,42564922671260,42564922769564,42564922867868,42564922966172,42564923064476,42564923162780,42564923392156,42564923490460,42564923588764,42564923687068,42564923785372,42564923883676,42624924254364,42624924352668]},"available":false,"name":"SCORPION SERKET TAPER Full System - Honda CBR650R 19- Serket Taper Full System S\/Steel","public_title":"Honda CBR650R 19- Serket Taper Full System S\/Steel","options":["Honda CBR650R 19- Serket Taper Full System S\/Steel"],"price":251958,"weight":0,"compare_at_price":null,"inventory_management":"sprint3-fulfillment","barcode":null,"featured_media":{"alt":"SCORPION Serket Taper Stainless","id":28639238783132,"position":11,"preview_image":{"aspect_ratio":1.0,"height":650,"width":650,"src":"\/\/motogear.co.nz\/cdn\/shop\/products\/a8b38b99fc5360c4f28fdbcff87d87da_e76361e5-3c9e-43e2-98a2-f56c603a8dd5.jpg?v=1689149451"}}},{"id":42564921917596,"title":"Versys 650 07-14 Serket Taper Full Sys Carbon","option1":"Versys 650 07-14 Serket Taper Full Sys Carbon","option2":null,"option3":null,"sku":"RKA103SYSCEO","requires_shipping":true,"taxable":true,"featured_image":{"id":36262491685020,"product_id":7659320148124,"position":10,"created_at":"2023-07-12T20:10:51+12:00","updated_at":"2023-07-12T20:10:51+12:00","alt":"SCORPION Serket Taper Carbon","width":650,"height":650,"src":"\/\/motogear.co.nz\/cdn\/shop\/products\/603a042d2979c10a8e02f0872bccb8c0_d371127d-3b90-4c8a-bfe0-ba0c4fd719fb.jpg?v=1689149451","variant_ids":[42564921458844,42564921557148,42564921655452,42564921917596,42564922015900,42564922245276,42564922343580,42564922441884,42564922540188,42564922638492,42564922736796,42564922835100,42564922933404,42564923031708,42564923130012,42564923359388,42564923457692,42564923555996,42564923654300,42564923752604,42564923850908,42624924221596,42624924319900]},"available":false,"name":"SCORPION SERKET TAPER Full System - Versys 650 07-14 Serket Taper Full Sys Carbon","public_title":"Versys 650 07-14 Serket Taper Full Sys Carbon","options":["Versys 650 07-14 Serket Taper Full Sys Carbon"],"price":169940,"weight":0,"compare_at_price":null,"inventory_management":"sprint3-fulfillment","barcode":"8486470227604","featured_media":{"alt":"SCORPION Serket Taper Carbon","id":28639238750364,"position":10,"preview_image":{"aspect_ratio":1.0,"height":650,"width":650,"src":"\/\/motogear.co.nz\/cdn\/shop\/products\/603a042d2979c10a8e02f0872bccb8c0_d371127d-3b90-4c8a-bfe0-ba0c4fd719fb.jpg?v=1689149451"}}},{"id":42564921950364,"title":"Versys 650 07-14 Serket Taper Full Sys Stainles","option1":"Versys 650 07-14 Serket Taper Full Sys Stainles","option2":null,"option3":null,"sku":"RKA103SYSSEO","requires_shipping":true,"taxable":true,"featured_image":{"id":36262491717788,"product_id":7659320148124,"position":11,"created_at":"2023-07-12T20:10:51+12:00","updated_at":"2023-07-12T20:10:51+12:00","alt":"SCORPION Serket Taper Stainless","width":650,"height":650,"src":"\/\/motogear.co.nz\/cdn\/shop\/products\/a8b38b99fc5360c4f28fdbcff87d87da_e76361e5-3c9e-43e2-98a2-f56c603a8dd5.jpg?v=1689149451","variant_ids":[42564921491612,42564921589916,42564921688220,42564921884828,42564921950364,42564922048668,42564922278044,42564922376348,42564922474652,42564922572956,42564922671260,42564922769564,42564922867868,42564922966172,42564923064476,42564923162780,42564923392156,42564923490460,42564923588764,42564923687068,42564923785372,42564923883676,42624924254364,42624924352668]},"available":false,"name":"SCORPION SERKET TAPER Full System - Versys 650 07-14 Serket Taper Full Sys Stainles","public_title":"Versys 650 07-14 Serket Taper Full Sys Stainles","options":["Versys 650 07-14 Serket Taper Full Sys Stainles"],"price":154990,"weight":0,"compare_at_price":null,"inventory_management":"sprint3-fulfillment","barcode":"8486470227772","featured_media":{"alt":"SCORPION Serket Taper Stainless","id":28639238783132,"position":11,"preview_image":{"aspect_ratio":1.0,"height":650,"width":650,"src":"\/\/motogear.co.nz\/cdn\/shop\/products\/a8b38b99fc5360c4f28fdbcff87d87da_e76361e5-3c9e-43e2-98a2-f56c603a8dd5.jpg?v=1689149451"}}},{"id":42564921983132,"title":"Versys 650 07-14 Serket Taper Full Sys Titanium","option1":"Versys 650 07-14 Serket Taper Full Sys Titanium","option2":null,"option3":null,"sku":"RKA103SYSTEO","requires_shipping":true,"taxable":true,"featured_image":{"id":36262491750556,"product_id":7659320148124,"position":12,"created_at":"2023-07-12T20:10:51+12:00","updated_at":"2023-07-12T20:10:51+12:00","alt":"SCORPION Serket Taper Titanium","width":650,"height":650,"src":"\/\/motogear.co.nz\/cdn\/shop\/products\/fc45793f2539a3f008c7c1b2925e5846_6b2ef5e4-dc51-4f4c-9550-8b52adfe537d.jpg?v=1689149451","variant_ids":[42564921524380,42564921622684,42564921720988,42564921983132,42564922081436,42564922310812,42564922409116,42564922507420,42564922605724,42564922704028,42564922802332,42564922900636,42564922998940,42564923097244,42564923195548,42564923424924,42564923523228,42564923621532,42564923719836,42564923818140,42564923916444,42624924287132]},"available":false,"name":"SCORPION SERKET TAPER Full System - Versys 650 07-14 Serket Taper Full Sys Titanium","public_title":"Versys 650 07-14 Serket Taper Full Sys Titanium","options":["Versys 650 07-14 Serket Taper Full Sys Titanium"],"price":166540,"weight":0,"compare_at_price":null,"inventory_management":"sprint3-fulfillment","barcode":"8486470227840","featured_media":{"alt":"SCORPION Serket Taper Titanium","id":28639238815900,"position":12,"preview_image":{"aspect_ratio":1.0,"height":650,"width":650,"src":"\/\/motogear.co.nz\/cdn\/shop\/products\/fc45793f2539a3f008c7c1b2925e5846_6b2ef5e4-dc51-4f4c-9550-8b52adfe537d.jpg?v=1689149451"}}},{"id":42564922015900,"title":"Versys 650 15-21 Serket Taper Full Sys Carbon","option1":"Versys 650 15-21 Serket Taper Full Sys Carbon","option2":null,"option3":null,"sku":"RKA110SYSCEO","requires_shipping":true,"taxable":true,"featured_image":{"id":36262491685020,"product_id":7659320148124,"position":10,"created_at":"2023-07-12T20:10:51+12:00","updated_at":"2023-07-12T20:10:51+12:00","alt":"SCORPION Serket Taper Carbon","width":650,"height":650,"src":"\/\/motogear.co.nz\/cdn\/shop\/products\/603a042d2979c10a8e02f0872bccb8c0_d371127d-3b90-4c8a-bfe0-ba0c4fd719fb.jpg?v=1689149451","variant_ids":[42564921458844,42564921557148,42564921655452,42564921917596,42564922015900,42564922245276,42564922343580,42564922441884,42564922540188,42564922638492,42564922736796,42564922835100,42564922933404,42564923031708,42564923130012,42564923359388,42564923457692,42564923555996,42564923654300,42564923752604,42564923850908,42624924221596,42624924319900]},"available":false,"name":"SCORPION SERKET TAPER Full System - Versys 650 15-21 Serket Taper Full Sys Carbon","public_title":"Versys 650 15-21 Serket Taper Full Sys Carbon","options":["Versys 650 15-21 Serket Taper Full Sys Carbon"],"price":176374,"weight":0,"compare_at_price":null,"inventory_management":"sprint3-fulfillment","barcode":"8486470307894","featured_media":{"alt":"SCORPION Serket Taper Carbon","id":28639238750364,"position":10,"preview_image":{"aspect_ratio":1.0,"height":650,"width":650,"src":"\/\/motogear.co.nz\/cdn\/shop\/products\/603a042d2979c10a8e02f0872bccb8c0_d371127d-3b90-4c8a-bfe0-ba0c4fd719fb.jpg?v=1689149451"}}},{"id":42564922048668,"title":"Versys 650 15-21 Serket Taper Full Sys Stainles","option1":"Versys 650 15-21 Serket Taper Full Sys Stainles","option2":null,"option3":null,"sku":"RKA110SYSSEO","requires_shipping":true,"taxable":true,"featured_image":{"id":36262491717788,"product_id":7659320148124,"position":11,"created_at":"2023-07-12T20:10:51+12:00","updated_at":"2023-07-12T20:10:51+12:00","alt":"SCORPION Serket Taper Stainless","width":650,"height":650,"src":"\/\/motogear.co.nz\/cdn\/shop\/products\/a8b38b99fc5360c4f28fdbcff87d87da_e76361e5-3c9e-43e2-98a2-f56c603a8dd5.jpg?v=1689149451","variant_ids":[42564921491612,42564921589916,42564921688220,42564921884828,42564921950364,42564922048668,42564922278044,42564922376348,42564922474652,42564922572956,42564922671260,42564922769564,42564922867868,42564922966172,42564923064476,42564923162780,42564923392156,42564923490460,42564923588764,42564923687068,42564923785372,42564923883676,42624924254364,42624924352668]},"available":false,"name":"SCORPION SERKET TAPER Full System - Versys 650 15-21 Serket Taper Full Sys Stainles","public_title":"Versys 650 15-21 Serket Taper Full Sys Stainles","options":["Versys 650 15-21 Serket Taper Full Sys Stainles"],"price":160850,"weight":0,"compare_at_price":null,"inventory_management":"sprint3-fulfillment","barcode":"8486470307962","featured_media":{"alt":"SCORPION Serket Taper Stainless","id":28639238783132,"position":11,"preview_image":{"aspect_ratio":1.0,"height":650,"width":650,"src":"\/\/motogear.co.nz\/cdn\/shop\/products\/a8b38b99fc5360c4f28fdbcff87d87da_e76361e5-3c9e-43e2-98a2-f56c603a8dd5.jpg?v=1689149451"}}},{"id":42564922081436,"title":"Versys 650 15-21 Serket Taper Full Sys Titanium","option1":"Versys 650 15-21 Serket Taper Full Sys Titanium","option2":null,"option3":null,"sku":"RKA110SYSTEO","requires_shipping":true,"taxable":true,"featured_image":{"id":36262491750556,"product_id":7659320148124,"position":12,"created_at":"2023-07-12T20:10:51+12:00","updated_at":"2023-07-12T20:10:51+12:00","alt":"SCORPION Serket Taper Titanium","width":650,"height":650,"src":"\/\/motogear.co.nz\/cdn\/shop\/products\/fc45793f2539a3f008c7c1b2925e5846_6b2ef5e4-dc51-4f4c-9550-8b52adfe537d.jpg?v=1689149451","variant_ids":[42564921524380,42564921622684,42564921720988,42564921983132,42564922081436,42564922310812,42564922409116,42564922507420,42564922605724,42564922704028,42564922802332,42564922900636,42564922998940,42564923097244,42564923195548,42564923424924,42564923523228,42564923621532,42564923719836,42564923818140,42564923916444,42624924287132]},"available":false,"name":"SCORPION SERKET TAPER Full System - Versys 650 15-21 Serket Taper Full Sys Titanium","public_title":"Versys 650 15-21 Serket Taper Full Sys Titanium","options":["Versys 650 15-21 Serket Taper Full Sys Titanium"],"price":172842,"weight":0,"compare_at_price":null,"inventory_management":"sprint3-fulfillment","barcode":"8486470308020","featured_media":{"alt":"SCORPION Serket Taper Titanium","id":28639238815900,"position":12,"preview_image":{"aspect_ratio":1.0,"height":650,"width":650,"src":"\/\/motogear.co.nz\/cdn\/shop\/products\/fc45793f2539a3f008c7c1b2925e5846_6b2ef5e4-dc51-4f4c-9550-8b52adfe537d.jpg?v=1689149451"}}},{"id":42564922114204,"title":"Z650 21- Serket taper Full System S\/Steel Scorpion","option1":"Z650 21- Serket taper Full System S\/Steel Scorpion","option2":null,"option3":null,"sku":"RKA138SYSSEO","requires_shipping":true,"taxable":true,"featured_image":{"id":36262491947164,"product_id":7659320148124,"position":17,"created_at":"2023-07-12T20:10:51+12:00","updated_at":"2023-07-12T20:10:51+12:00","alt":"SERKET TAPER FULL SYSTEM STAINLESS STEEL, KAWASAKI Z 650 17-CURRENT\n2017 - 2022","width":1000,"height":1000,"src":"\/\/motogear.co.nz\/cdn\/shop\/products\/2317d988260e6e790f0c84bd90f29ded.jpg?v=1689149451","variant_ids":[42564922114204]},"available":false,"name":"SCORPION SERKET TAPER Full System - Z650 21- Serket taper Full System S\/Steel Scorpion","public_title":"Z650 21- Serket taper Full System S\/Steel Scorpion","options":["Z650 21- Serket taper Full System S\/Steel Scorpion"],"price":174800,"weight":0,"compare_at_price":null,"inventory_management":"sprint3-fulfillment","barcode":"8486470703412","featured_media":{"alt":"SERKET TAPER FULL SYSTEM STAINLESS STEEL, KAWASAKI Z 650 17-CURRENT\n2017 - 2022","id":28639239012508,"position":17,"preview_image":{"aspect_ratio":1.0,"height":1000,"width":1000,"src":"\/\/motogear.co.nz\/cdn\/shop\/products\/2317d988260e6e790f0c84bd90f29ded.jpg?v=1689149451"}}},{"id":42564922146972,"title":"Ninja 650 17- Serket taper Full System C\/Fibre Scorpion","option1":"Ninja 650 17- Serket taper Full System C\/Fibre Scorpion","option2":null,"option3":null,"sku":"RKA139SYSCEO","requires_shipping":true,"taxable":true,"featured_image":{"id":36262492012700,"product_id":7659320148124,"position":18,"created_at":"2023-07-12T20:10:51+12:00","updated_at":"2023-07-12T20:10:51+12:00","alt":"SERKET TAPER FULL SYSTEM CARBON, KAWASAKI NINJA 650 17-CURRENT\n2017 - 2022","width":1000,"height":1000,"src":"\/\/motogear.co.nz\/cdn\/shop\/products\/02cf7af478023391e90436f2778bda08_093181db-0868-4c32-8e57-851d2482fd1a.jpg?v=1689149451","variant_ids":[42564922146972]},"available":false,"name":"SCORPION SERKET TAPER Full System - Ninja 650 17- Serket taper Full System C\/Fibre Scorpion","public_title":"Ninja 650 17- Serket taper Full System C\/Fibre Scorpion","options":["Ninja 650 17- Serket taper Full System C\/Fibre Scorpion"],"price":196191,"weight":0,"compare_at_price":null,"inventory_management":"sprint3-fulfillment","barcode":null,"featured_media":{"alt":"SERKET TAPER FULL SYSTEM CARBON, KAWASAKI NINJA 650 17-CURRENT\n2017 - 2022","id":28639239045276,"position":18,"preview_image":{"aspect_ratio":1.0,"height":1000,"width":1000,"src":"\/\/motogear.co.nz\/cdn\/shop\/products\/02cf7af478023391e90436f2778bda08_093181db-0868-4c32-8e57-851d2482fd1a.jpg?v=1689149451"}}},{"id":42564922179740,"title":"Ninja 650 17- Serket taper Full System S\/Steel Scorpion","option1":"Ninja 650 17- Serket taper Full System S\/Steel Scorpion","option2":null,"option3":null,"sku":"RKA139SYSSEO","requires_shipping":true,"taxable":true,"featured_image":{"id":36262492045468,"product_id":7659320148124,"position":19,"created_at":"2023-07-12T20:10:51+12:00","updated_at":"2023-07-12T20:10:51+12:00","alt":"SERKET TAPER FULL SYSTEM STAINLESS STEEL, KAWASAKI NINJA 650 17-CURRENT\n2017 - 2022","width":1000,"height":1000,"src":"\/\/motogear.co.nz\/cdn\/shop\/products\/ab69dddcbab0ab01818e44eefcde1c8d_60c23c85-ad48-4814-8af8-607f77685d2d.jpg?v=1689149451","variant_ids":[42564922179740]},"available":false,"name":"SCORPION SERKET TAPER Full System - Ninja 650 17- Serket taper Full System S\/Steel Scorpion","public_title":"Ninja 650 17- Serket taper Full System S\/Steel Scorpion","options":["Ninja 650 17- Serket taper Full System S\/Steel Scorpion"],"price":181410,"weight":0,"compare_at_price":null,"inventory_management":"sprint3-fulfillment","barcode":"8486470704198","featured_media":{"alt":"SERKET TAPER FULL SYSTEM STAINLESS STEEL, KAWASAKI NINJA 650 17-CURRENT\n2017 - 2022","id":28639239110812,"position":19,"preview_image":{"aspect_ratio":1.0,"height":1000,"width":1000,"src":"\/\/motogear.co.nz\/cdn\/shop\/products\/ab69dddcbab0ab01818e44eefcde1c8d_60c23c85-ad48-4814-8af8-607f77685d2d.jpg?v=1689149451"}}},{"id":42564922212508,"title":"Ninja 650 17- Serket taper Full System Titanium Scorpion","option1":"Ninja 650 17- Serket taper Full System Titanium Scorpion","option2":null,"option3":null,"sku":"RKA139SYSTEO","requires_shipping":true,"taxable":true,"featured_image":{"id":36262492078236,"product_id":7659320148124,"position":20,"created_at":"2023-07-12T20:10:51+12:00","updated_at":"2023-07-12T20:10:51+12:00","alt":"SERKET TAPER FULL SYSTEM TITANIUM, KAWASAKI NINJA 650 17-CURRENT\n2017 - 2022","width":1000,"height":1000,"src":"\/\/motogear.co.nz\/cdn\/shop\/products\/06867593367b528554f9cd6fe437df11_e9d07fbb-9e4f-404f-9d7a-ae147b8882ff.jpg?v=1689149451","variant_ids":[42564922212508]},"available":false,"name":"SCORPION SERKET TAPER Full System - Ninja 650 17- Serket taper Full System Titanium Scorpion","public_title":"Ninja 650 17- Serket taper Full System Titanium Scorpion","options":["Ninja 650 17- Serket taper Full System Titanium Scorpion"],"price":196191,"weight":0,"compare_at_price":null,"inventory_management":"sprint3-fulfillment","barcode":null,"featured_media":{"alt":"SERKET TAPER FULL SYSTEM TITANIUM, KAWASAKI NINJA 650 17-CURRENT\n2017 - 2022","id":28639239143580,"position":20,"preview_image":{"aspect_ratio":1.0,"height":1000,"width":1000,"src":"\/\/motogear.co.nz\/cdn\/shop\/products\/06867593367b528554f9cd6fe437df11_e9d07fbb-9e4f-404f-9d7a-ae147b8882ff.jpg?v=1689149451"}}},{"id":42564922245276,"title":"Kawasaki 250R 08-12 Serket Taper Full Sys Carbon","option1":"Kawasaki 250R 08-12 Serket Taper Full Sys Carbon","option2":null,"option3":null,"sku":"RKA84SYSCEO","requires_shipping":true,"taxable":true,"featured_image":{"id":36262491685020,"product_id":7659320148124,"position":10,"created_at":"2023-07-12T20:10:51+12:00","updated_at":"2023-07-12T20:10:51+12:00","alt":"SCORPION Serket Taper Carbon","width":650,"height":650,"src":"\/\/motogear.co.nz\/cdn\/shop\/products\/603a042d2979c10a8e02f0872bccb8c0_d371127d-3b90-4c8a-bfe0-ba0c4fd719fb.jpg?v=1689149451","variant_ids":[42564921458844,42564921557148,42564921655452,42564921917596,42564922015900,42564922245276,42564922343580,42564922441884,42564922540188,42564922638492,42564922736796,42564922835100,42564922933404,42564923031708,42564923130012,42564923359388,42564923457692,42564923555996,42564923654300,42564923752604,42564923850908,42624924221596,42624924319900]},"available":false,"name":"SCORPION SERKET TAPER Full System - Kawasaki 250R 08-12 Serket Taper Full Sys Carbon","public_title":"Kawasaki 250R 08-12 Serket Taper Full Sys Carbon","options":["Kawasaki 250R 08-12 Serket Taper Full Sys Carbon"],"price":191010,"weight":0,"compare_at_price":null,"inventory_management":"sprint3-fulfillment","barcode":"8486470230574","featured_media":{"alt":"SCORPION Serket Taper Carbon","id":28639238750364,"position":10,"preview_image":{"aspect_ratio":1.0,"height":650,"width":650,"src":"\/\/motogear.co.nz\/cdn\/shop\/products\/603a042d2979c10a8e02f0872bccb8c0_d371127d-3b90-4c8a-bfe0-ba0c4fd719fb.jpg?v=1689149451"}}},{"id":42564922278044,"title":"Kawasaki 250R 08-12 Serket Taper Full Sys Stainles","option1":"Kawasaki 250R 08-12 Serket Taper Full Sys Stainles","option2":null,"option3":null,"sku":"RKA84SYSSEO","requires_shipping":true,"taxable":true,"featured_image":{"id":36262491717788,"product_id":7659320148124,"position":11,"created_at":"2023-07-12T20:10:51+12:00","updated_at":"2023-07-12T20:10:51+12:00","alt":"SCORPION Serket Taper Stainless","width":650,"height":650,"src":"\/\/motogear.co.nz\/cdn\/shop\/products\/a8b38b99fc5360c4f28fdbcff87d87da_e76361e5-3c9e-43e2-98a2-f56c603a8dd5.jpg?v=1689149451","variant_ids":[42564921491612,42564921589916,42564921688220,42564921884828,42564921950364,42564922048668,42564922278044,42564922376348,42564922474652,42564922572956,42564922671260,42564922769564,42564922867868,42564922966172,42564923064476,42564923162780,42564923392156,42564923490460,42564923588764,42564923687068,42564923785372,42564923883676,42624924254364,42624924352668]},"available":false,"name":"SCORPION SERKET TAPER Full System - Kawasaki 250R 08-12 Serket Taper Full Sys Stainles","public_title":"Kawasaki 250R 08-12 Serket Taper Full Sys Stainles","options":["Kawasaki 250R 08-12 Serket Taper Full Sys Stainles"],"price":186290,"weight":0,"compare_at_price":null,"inventory_management":"sprint3-fulfillment","barcode":"8486470230642","featured_media":{"alt":"SCORPION Serket Taper Stainless","id":28639238783132,"position":11,"preview_image":{"aspect_ratio":1.0,"height":650,"width":650,"src":"\/\/motogear.co.nz\/cdn\/shop\/products\/a8b38b99fc5360c4f28fdbcff87d87da_e76361e5-3c9e-43e2-98a2-f56c603a8dd5.jpg?v=1689149451"}}},{"id":42564922310812,"title":"Kawasaki 250R 08-12 Serket Taper Full Sys Titanium","option1":"Kawasaki 250R 08-12 Serket Taper Full Sys Titanium","option2":null,"option3":null,"sku":"RKA84SYSTEO","requires_shipping":true,"taxable":true,"featured_image":{"id":36262491750556,"product_id":7659320148124,"position":12,"created_at":"2023-07-12T20:10:51+12:00","updated_at":"2023-07-12T20:10:51+12:00","alt":"SCORPION Serket Taper Titanium","width":650,"height":650,"src":"\/\/motogear.co.nz\/cdn\/shop\/products\/fc45793f2539a3f008c7c1b2925e5846_6b2ef5e4-dc51-4f4c-9550-8b52adfe537d.jpg?v=1689149451","variant_ids":[42564921524380,42564921622684,42564921720988,42564921983132,42564922081436,42564922310812,42564922409116,42564922507420,42564922605724,42564922704028,42564922802332,42564922900636,42564922998940,42564923097244,42564923195548,42564923424924,42564923523228,42564923621532,42564923719836,42564923818140,42564923916444,42624924287132]},"available":false,"name":"SCORPION SERKET TAPER Full System - Kawasaki 250R 08-12 Serket Taper Full Sys Titanium","public_title":"Kawasaki 250R 08-12 Serket Taper Full Sys Titanium","options":["Kawasaki 250R 08-12 Serket Taper Full Sys Titanium"],"price":191010,"weight":0,"compare_at_price":null,"inventory_management":"sprint3-fulfillment","barcode":"8486470230710","featured_media":{"alt":"SCORPION Serket Taper Titanium","id":28639238815900,"position":12,"preview_image":{"aspect_ratio":1.0,"height":650,"width":650,"src":"\/\/motogear.co.nz\/cdn\/shop\/products\/fc45793f2539a3f008c7c1b2925e5846_6b2ef5e4-dc51-4f4c-9550-8b52adfe537d.jpg?v=1689149451"}}},{"id":42564922343580,"title":"Kawasaki ER6 F\/N 12-17 Serket Taper Full Sys Carbon","option1":"Kawasaki ER6 F\/N 12-17 Serket Taper Full Sys Carbon","option2":null,"option3":null,"sku":"RKA90SYSCEO","requires_shipping":true,"taxable":true,"featured_image":{"id":36262491685020,"product_id":7659320148124,"position":10,"created_at":"2023-07-12T20:10:51+12:00","updated_at":"2023-07-12T20:10:51+12:00","alt":"SCORPION Serket Taper Carbon","width":650,"height":650,"src":"\/\/motogear.co.nz\/cdn\/shop\/products\/603a042d2979c10a8e02f0872bccb8c0_d371127d-3b90-4c8a-bfe0-ba0c4fd719fb.jpg?v=1689149451","variant_ids":[42564921458844,42564921557148,42564921655452,42564921917596,42564922015900,42564922245276,42564922343580,42564922441884,42564922540188,42564922638492,42564922736796,42564922835100,42564922933404,42564923031708,42564923130012,42564923359388,42564923457692,42564923555996,42564923654300,42564923752604,42564923850908,42624924221596,42624924319900]},"available":false,"name":"SCORPION SERKET TAPER Full System - Kawasaki ER6 F\/N 12-17 Serket Taper Full Sys Carbon","public_title":"Kawasaki ER6 F\/N 12-17 Serket Taper Full Sys Carbon","options":["Kawasaki ER6 F\/N 12-17 Serket Taper Full Sys Carbon"],"price":177897,"weight":0,"compare_at_price":null,"inventory_management":"sprint3-fulfillment","barcode":"8486470231946","featured_media":{"alt":"SCORPION Serket Taper Carbon","id":28639238750364,"position":10,"preview_image":{"aspect_ratio":1.0,"height":650,"width":650,"src":"\/\/motogear.co.nz\/cdn\/shop\/products\/603a042d2979c10a8e02f0872bccb8c0_d371127d-3b90-4c8a-bfe0-ba0c4fd719fb.jpg?v=1689149451"}}},{"id":42564922376348,"title":"Kawasaki ER6 F\/N 12-17 Serket Taper Full Sys Stainles","option1":"Kawasaki ER6 F\/N 12-17 Serket Taper Full Sys Stainles","option2":null,"option3":null,"sku":"RKA90SYSSEO","requires_shipping":true,"taxable":true,"featured_image":{"id":36262491717788,"product_id":7659320148124,"position":11,"created_at":"2023-07-12T20:10:51+12:00","updated_at":"2023-07-12T20:10:51+12:00","alt":"SCORPION Serket Taper Stainless","width":650,"height":650,"src":"\/\/motogear.co.nz\/cdn\/shop\/products\/a8b38b99fc5360c4f28fdbcff87d87da_e76361e5-3c9e-43e2-98a2-f56c603a8dd5.jpg?v=1689149451","variant_ids":[42564921491612,42564921589916,42564921688220,42564921884828,42564921950364,42564922048668,42564922278044,42564922376348,42564922474652,42564922572956,42564922671260,42564922769564,42564922867868,42564922966172,42564923064476,42564923162780,42564923392156,42564923490460,42564923588764,42564923687068,42564923785372,42564923883676,42624924254364,42624924352668]},"available":false,"name":"SCORPION SERKET TAPER Full System - Kawasaki ER6 F\/N 12-17 Serket Taper Full Sys Stainles","public_title":"Kawasaki ER6 F\/N 12-17 Serket Taper Full Sys Stainles","options":["Kawasaki ER6 F\/N 12-17 Serket Taper Full Sys Stainles"],"price":161970,"weight":0,"compare_at_price":null,"inventory_management":"sprint3-fulfillment","barcode":"8486470232004","featured_media":{"alt":"SCORPION Serket Taper Stainless","id":28639238783132,"position":11,"preview_image":{"aspect_ratio":1.0,"height":650,"width":650,"src":"\/\/motogear.co.nz\/cdn\/shop\/products\/a8b38b99fc5360c4f28fdbcff87d87da_e76361e5-3c9e-43e2-98a2-f56c603a8dd5.jpg?v=1689149451"}}},{"id":42564922409116,"title":"Kawasaki ER6 F\/N 12-17 Serket Taper Full Sys Titanium","option1":"Kawasaki ER6 F\/N 12-17 Serket Taper Full Sys Titanium","option2":null,"option3":null,"sku":"RKA90SYSTEO","requires_shipping":true,"taxable":true,"featured_image":{"id":36262491750556,"product_id":7659320148124,"position":12,"created_at":"2023-07-12T20:10:51+12:00","updated_at":"2023-07-12T20:10:51+12:00","alt":"SCORPION Serket Taper Titanium","width":650,"height":650,"src":"\/\/motogear.co.nz\/cdn\/shop\/products\/fc45793f2539a3f008c7c1b2925e5846_6b2ef5e4-dc51-4f4c-9550-8b52adfe537d.jpg?v=1689149451","variant_ids":[42564921524380,42564921622684,42564921720988,42564921983132,42564922081436,42564922310812,42564922409116,42564922507420,42564922605724,42564922704028,42564922802332,42564922900636,42564922998940,42564923097244,42564923195548,42564923424924,42564923523228,42564923621532,42564923719836,42564923818140,42564923916444,42624924287132]},"available":false,"name":"SCORPION SERKET TAPER Full System - Kawasaki ER6 F\/N 12-17 Serket Taper Full Sys Titanium","public_title":"Kawasaki ER6 F\/N 12-17 Serket Taper Full Sys Titanium","options":["Kawasaki ER6 F\/N 12-17 Serket Taper Full Sys Titanium"],"price":177897,"weight":0,"compare_at_price":null,"inventory_management":"sprint3-fulfillment","barcode":"8486470232172","featured_media":{"alt":"SCORPION Serket Taper Titanium","id":28639238815900,"position":12,"preview_image":{"aspect_ratio":1.0,"height":650,"width":650,"src":"\/\/motogear.co.nz\/cdn\/shop\/products\/fc45793f2539a3f008c7c1b2925e5846_6b2ef5e4-dc51-4f4c-9550-8b52adfe537d.jpg?v=1689149451"}}},{"id":42564922441884,"title":"Ninja 300 12-15\/ Z300 15-16 Serket Taper Full Sys Carbon","option1":"Ninja 300 12-15\/ Z300 15-16 Serket Taper Full Sys Carbon","option2":null,"option3":null,"sku":"RKA96SYSCEO","requires_shipping":true,"taxable":true,"featured_image":{"id":36262491685020,"product_id":7659320148124,"position":10,"created_at":"2023-07-12T20:10:51+12:00","updated_at":"2023-07-12T20:10:51+12:00","alt":"SCORPION Serket Taper Carbon","width":650,"height":650,"src":"\/\/motogear.co.nz\/cdn\/shop\/products\/603a042d2979c10a8e02f0872bccb8c0_d371127d-3b90-4c8a-bfe0-ba0c4fd719fb.jpg?v=1689149451","variant_ids":[42564921458844,42564921557148,42564921655452,42564921917596,42564922015900,42564922245276,42564922343580,42564922441884,42564922540188,42564922638492,42564922736796,42564922835100,42564922933404,42564923031708,42564923130012,42564923359388,42564923457692,42564923555996,42564923654300,42564923752604,42564923850908,42624924221596,42624924319900]},"available":false,"name":"SCORPION SERKET TAPER Full System - Ninja 300 12-15\/ Z300 15-16 Serket Taper Full Sys Carbon","public_title":"Ninja 300 12-15\/ Z300 15-16 Serket Taper Full Sys Carbon","options":["Ninja 300 12-15\/ Z300 15-16 Serket Taper Full Sys Carbon"],"price":198239,"weight":0,"compare_at_price":null,"inventory_management":"sprint3-fulfillment","barcode":"8486470233476","featured_media":{"alt":"SCORPION Serket Taper Carbon","id":28639238750364,"position":10,"preview_image":{"aspect_ratio":1.0,"height":650,"width":650,"src":"\/\/motogear.co.nz\/cdn\/shop\/products\/603a042d2979c10a8e02f0872bccb8c0_d371127d-3b90-4c8a-bfe0-ba0c4fd719fb.jpg?v=1689149451"}}},{"id":42564922474652,"title":"Ninja 300 12-15\/ Z300 15-16 Serket Taper Full Sys Stainles","option1":"Ninja 300 12-15\/ Z300 15-16 Serket Taper Full Sys Stainles","option2":null,"option3":null,"sku":"RKA96SYSSEO","requires_shipping":true,"taxable":true,"featured_image":{"id":36262491717788,"product_id":7659320148124,"position":11,"created_at":"2023-07-12T20:10:51+12:00","updated_at":"2023-07-12T20:10:51+12:00","alt":"SCORPION Serket Taper Stainless","width":650,"height":650,"src":"\/\/motogear.co.nz\/cdn\/shop\/products\/a8b38b99fc5360c4f28fdbcff87d87da_e76361e5-3c9e-43e2-98a2-f56c603a8dd5.jpg?v=1689149451","variant_ids":[42564921491612,42564921589916,42564921688220,42564921884828,42564921950364,42564922048668,42564922278044,42564922376348,42564922474652,42564922572956,42564922671260,42564922769564,42564922867868,42564922966172,42564923064476,42564923162780,42564923392156,42564923490460,42564923588764,42564923687068,42564923785372,42564923883676,42624924254364,42624924352668]},"available":false,"name":"SCORPION SERKET TAPER Full System - Ninja 300 12-15\/ Z300 15-16 Serket Taper Full Sys Stainles","public_title":"Ninja 300 12-15\/ Z300 15-16 Serket Taper Full Sys Stainles","options":["Ninja 300 12-15\/ Z300 15-16 Serket Taper Full Sys Stainles"],"price":193337,"weight":0,"compare_at_price":null,"inventory_management":"sprint3-fulfillment","barcode":"8486470233544","featured_media":{"alt":"SCORPION Serket Taper Stainless","id":28639238783132,"position":11,"preview_image":{"aspect_ratio":1.0,"height":650,"width":650,"src":"\/\/motogear.co.nz\/cdn\/shop\/products\/a8b38b99fc5360c4f28fdbcff87d87da_e76361e5-3c9e-43e2-98a2-f56c603a8dd5.jpg?v=1689149451"}}},{"id":42564922507420,"title":"Ninja 300 12-15\/ Z300 15-16 Serket Taper Full Sys Titanium","option1":"Ninja 300 12-15\/ Z300 15-16 Serket Taper Full Sys Titanium","option2":null,"option3":null,"sku":"RKA96SYSTEO","requires_shipping":true,"taxable":true,"featured_image":{"id":36262491750556,"product_id":7659320148124,"position":12,"created_at":"2023-07-12T20:10:51+12:00","updated_at":"2023-07-12T20:10:51+12:00","alt":"SCORPION Serket Taper Titanium","width":650,"height":650,"src":"\/\/motogear.co.nz\/cdn\/shop\/products\/fc45793f2539a3f008c7c1b2925e5846_6b2ef5e4-dc51-4f4c-9550-8b52adfe537d.jpg?v=1689149451","variant_ids":[42564921524380,42564921622684,42564921720988,42564921983132,42564922081436,42564922310812,42564922409116,42564922507420,42564922605724,42564922704028,42564922802332,42564922900636,42564922998940,42564923097244,42564923195548,42564923424924,42564923523228,42564923621532,42564923719836,42564923818140,42564923916444,42624924287132]},"available":false,"name":"SCORPION SERKET TAPER Full System - Ninja 300 12-15\/ Z300 15-16 Serket Taper Full Sys Titanium","public_title":"Ninja 300 12-15\/ Z300 15-16 Serket Taper Full Sys Titanium","options":["Ninja 300 12-15\/ Z300 15-16 Serket Taper Full Sys Titanium"],"price":198239,"weight":0,"compare_at_price":null,"inventory_management":"sprint3-fulfillment","barcode":"8486470233612","featured_media":{"alt":"SCORPION Serket Taper Titanium","id":28639238815900,"position":12,"preview_image":{"aspect_ratio":1.0,"height":650,"width":650,"src":"\/\/motogear.co.nz\/cdn\/shop\/products\/fc45793f2539a3f008c7c1b2925e5846_6b2ef5e4-dc51-4f4c-9550-8b52adfe537d.jpg?v=1689149451"}}},{"id":42564922540188,"title":"Suzuki Gladius 650 09-16 Serket Taper Full Sys Carbon","option1":"Suzuki Gladius 650 09-16 Serket Taper Full Sys Carbon","option2":null,"option3":null,"sku":"RSI105SYSCEO","requires_shipping":true,"taxable":true,"featured_image":{"id":36262491685020,"product_id":7659320148124,"position":10,"created_at":"2023-07-12T20:10:51+12:00","updated_at":"2023-07-12T20:10:51+12:00","alt":"SCORPION Serket Taper Carbon","width":650,"height":650,"src":"\/\/motogear.co.nz\/cdn\/shop\/products\/603a042d2979c10a8e02f0872bccb8c0_d371127d-3b90-4c8a-bfe0-ba0c4fd719fb.jpg?v=1689149451","variant_ids":[42564921458844,42564921557148,42564921655452,42564921917596,42564922015900,42564922245276,42564922343580,42564922441884,42564922540188,42564922638492,42564922736796,42564922835100,42564922933404,42564923031708,42564923130012,42564923359388,42564923457692,42564923555996,42564923654300,42564923752604,42564923850908,42624924221596,42624924319900]},"available":false,"name":"SCORPION SERKET TAPER Full System - Suzuki Gladius 650 09-16 Serket Taper Full Sys Carbon","public_title":"Suzuki Gladius 650 09-16 Serket Taper Full Sys Carbon","options":["Suzuki Gladius 650 09-16 Serket Taper Full Sys Carbon"],"price":174691,"weight":0,"compare_at_price":null,"inventory_management":"sprint3-fulfillment","barcode":"8486470312676","featured_media":{"alt":"SCORPION Serket Taper Carbon","id":28639238750364,"position":10,"preview_image":{"aspect_ratio":1.0,"height":650,"width":650,"src":"\/\/motogear.co.nz\/cdn\/shop\/products\/603a042d2979c10a8e02f0872bccb8c0_d371127d-3b90-4c8a-bfe0-ba0c4fd719fb.jpg?v=1689149451"}}},{"id":42564922572956,"title":"Suzuki Gladius 650 09-16 Serket Taper Full Sys Stainles","option1":"Suzuki Gladius 650 09-16 Serket Taper Full Sys Stainles","option2":null,"option3":null,"sku":"RSI105SYSSEO","requires_shipping":true,"taxable":true,"featured_image":{"id":36262491717788,"product_id":7659320148124,"position":11,"created_at":"2023-07-12T20:10:51+12:00","updated_at":"2023-07-12T20:10:51+12:00","alt":"SCORPION Serket Taper Stainless","width":650,"height":650,"src":"\/\/motogear.co.nz\/cdn\/shop\/products\/a8b38b99fc5360c4f28fdbcff87d87da_e76361e5-3c9e-43e2-98a2-f56c603a8dd5.jpg?v=1689149451","variant_ids":[42564921491612,42564921589916,42564921688220,42564921884828,42564921950364,42564922048668,42564922278044,42564922376348,42564922474652,42564922572956,42564922671260,42564922769564,42564922867868,42564922966172,42564923064476,42564923162780,42564923392156,42564923490460,42564923588764,42564923687068,42564923785372,42564923883676,42624924254364,42624924352668]},"available":false,"name":"SCORPION SERKET TAPER Full System - Suzuki Gladius 650 09-16 Serket Taper Full Sys Stainles","public_title":"Suzuki Gladius 650 09-16 Serket Taper Full Sys Stainles","options":["Suzuki Gladius 650 09-16 Serket Taper Full Sys Stainles"],"price":161253,"weight":0,"compare_at_price":null,"inventory_management":"sprint3-fulfillment","barcode":"8486470312430","featured_media":{"alt":"SCORPION Serket Taper Stainless","id":28639238783132,"position":11,"preview_image":{"aspect_ratio":1.0,"height":650,"width":650,"src":"\/\/motogear.co.nz\/cdn\/shop\/products\/a8b38b99fc5360c4f28fdbcff87d87da_e76361e5-3c9e-43e2-98a2-f56c603a8dd5.jpg?v=1689149451"}}},{"id":42564922605724,"title":"Suzuki Gladius 650 09-16 Serket Taper Full Sys Titanium","option1":"Suzuki Gladius 650 09-16 Serket Taper Full Sys Titanium","option2":null,"option3":null,"sku":"RSI105SYSTEO","requires_shipping":true,"taxable":true,"featured_image":{"id":36262491750556,"product_id":7659320148124,"position":12,"created_at":"2023-07-12T20:10:51+12:00","updated_at":"2023-07-12T20:10:51+12:00","alt":"SCORPION Serket Taper Titanium","width":650,"height":650,"src":"\/\/motogear.co.nz\/cdn\/shop\/products\/fc45793f2539a3f008c7c1b2925e5846_6b2ef5e4-dc51-4f4c-9550-8b52adfe537d.jpg?v=1689149451","variant_ids":[42564921524380,42564921622684,42564921720988,42564921983132,42564922081436,42564922310812,42564922409116,42564922507420,42564922605724,42564922704028,42564922802332,42564922900636,42564922998940,42564923097244,42564923195548,42564923424924,42564923523228,42564923621532,42564923719836,42564923818140,42564923916444,42624924287132]},"available":false,"name":"SCORPION SERKET TAPER Full System - Suzuki Gladius 650 09-16 Serket Taper Full Sys Titanium","public_title":"Suzuki Gladius 650 09-16 Serket Taper Full Sys Titanium","options":["Suzuki Gladius 650 09-16 Serket Taper Full Sys Titanium"],"price":174691,"weight":0,"compare_at_price":null,"inventory_management":"sprint3-fulfillment","barcode":"8486470312508","featured_media":{"alt":"SCORPION Serket Taper Titanium","id":28639238815900,"position":12,"preview_image":{"aspect_ratio":1.0,"height":650,"width":650,"src":"\/\/motogear.co.nz\/cdn\/shop\/products\/fc45793f2539a3f008c7c1b2925e5846_6b2ef5e4-dc51-4f4c-9550-8b52adfe537d.jpg?v=1689149451"}}},{"id":42564922638492,"title":"Suzuki GSXR600\/750L1 11-19 Serket Taper Full Sys Carbon","option1":"Suzuki GSXR600\/750L1 11-19 Serket Taper Full Sys Carbon","option2":null,"option3":null,"sku":"RSI109SYSCEO","requires_shipping":true,"taxable":true,"featured_image":{"id":36262491685020,"product_id":7659320148124,"position":10,"created_at":"2023-07-12T20:10:51+12:00","updated_at":"2023-07-12T20:10:51+12:00","alt":"SCORPION Serket Taper Carbon","width":650,"height":650,"src":"\/\/motogear.co.nz\/cdn\/shop\/products\/603a042d2979c10a8e02f0872bccb8c0_d371127d-3b90-4c8a-bfe0-ba0c4fd719fb.jpg?v=1689149451","variant_ids":[42564921458844,42564921557148,42564921655452,42564921917596,42564922015900,42564922245276,42564922343580,42564922441884,42564922540188,42564922638492,42564922736796,42564922835100,42564922933404,42564923031708,42564923130012,42564923359388,42564923457692,42564923555996,42564923654300,42564923752604,42564923850908,42624924221596,42624924319900]},"available":false,"name":"SCORPION SERKET TAPER Full System - Suzuki GSXR600\/750L1 11-19 Serket Taper Full Sys Carbon","public_title":"Suzuki GSXR600\/750L1 11-19 Serket Taper Full Sys Carbon","options":["Suzuki GSXR600\/750L1 11-19 Serket Taper Full Sys Carbon"],"price":308396,"weight":0,"compare_at_price":null,"inventory_management":"sprint3-fulfillment","barcode":"8486470307726","featured_media":{"alt":"SCORPION Serket Taper Carbon","id":28639238750364,"position":10,"preview_image":{"aspect_ratio":1.0,"height":650,"width":650,"src":"\/\/motogear.co.nz\/cdn\/shop\/products\/603a042d2979c10a8e02f0872bccb8c0_d371127d-3b90-4c8a-bfe0-ba0c4fd719fb.jpg?v=1689149451"}}},{"id":42564922671260,"title":"Suzuki GSXR600\/750L1 11-18 Serket Taper Full Sys Stainles","option1":"Suzuki GSXR600\/750L1 11-18 Serket Taper Full Sys Stainles","option2":null,"option3":null,"sku":"RSI109SYSSEO","requires_shipping":true,"taxable":true,"featured_image":{"id":36262491717788,"product_id":7659320148124,"position":11,"created_at":"2023-07-12T20:10:51+12:00","updated_at":"2023-07-12T20:10:51+12:00","alt":"SCORPION Serket Taper Stainless","width":650,"height":650,"src":"\/\/motogear.co.nz\/cdn\/shop\/products\/a8b38b99fc5360c4f28fdbcff87d87da_e76361e5-3c9e-43e2-98a2-f56c603a8dd5.jpg?v=1689149451","variant_ids":[42564921491612,42564921589916,42564921688220,42564921884828,42564921950364,42564922048668,42564922278044,42564922376348,42564922474652,42564922572956,42564922671260,42564922769564,42564922867868,42564922966172,42564923064476,42564923162780,42564923392156,42564923490460,42564923588764,42564923687068,42564923785372,42564923883676,42624924254364,42624924352668]},"available":false,"name":"SCORPION SERKET TAPER Full System - Suzuki GSXR600\/750L1 11-18 Serket Taper Full Sys Stainles","public_title":"Suzuki GSXR600\/750L1 11-18 Serket Taper Full Sys Stainles","options":["Suzuki GSXR600\/750L1 11-18 Serket Taper Full Sys Stainles"],"price":285552,"weight":0,"compare_at_price":null,"inventory_management":"sprint3-fulfillment","barcode":"8486470312812","featured_media":{"alt":"SCORPION Serket Taper Stainless","id":28639238783132,"position":11,"preview_image":{"aspect_ratio":1.0,"height":650,"width":650,"src":"\/\/motogear.co.nz\/cdn\/shop\/products\/a8b38b99fc5360c4f28fdbcff87d87da_e76361e5-3c9e-43e2-98a2-f56c603a8dd5.jpg?v=1689149451"}}},{"id":42564922704028,"title":"Suzuki GSXR600\/750L1 11-19 Serket Taper Full Sys Titanium","option1":"Suzuki GSXR600\/750L1 11-19 Serket Taper Full Sys Titanium","option2":null,"option3":null,"sku":"RSI109SYSTEO","requires_shipping":true,"taxable":true,"featured_image":{"id":36262491750556,"product_id":7659320148124,"position":12,"created_at":"2023-07-12T20:10:51+12:00","updated_at":"2023-07-12T20:10:51+12:00","alt":"SCORPION Serket Taper Titanium","width":650,"height":650,"src":"\/\/motogear.co.nz\/cdn\/shop\/products\/fc45793f2539a3f008c7c1b2925e5846_6b2ef5e4-dc51-4f4c-9550-8b52adfe537d.jpg?v=1689149451","variant_ids":[42564921524380,42564921622684,42564921720988,42564921983132,42564922081436,42564922310812,42564922409116,42564922507420,42564922605724,42564922704028,42564922802332,42564922900636,42564922998940,42564923097244,42564923195548,42564923424924,42564923523228,42564923621532,42564923719836,42564923818140,42564923916444,42624924287132]},"available":false,"name":"SCORPION SERKET TAPER Full System - Suzuki GSXR600\/750L1 11-19 Serket Taper Full Sys Titanium","public_title":"Suzuki GSXR600\/750L1 11-19 Serket Taper Full Sys Titanium","options":["Suzuki GSXR600\/750L1 11-19 Serket Taper Full Sys Titanium"],"price":308396,"weight":0,"compare_at_price":null,"inventory_management":"sprint3-fulfillment","barcode":"8486470307658","featured_media":{"alt":"SCORPION Serket Taper Titanium","id":28639238815900,"position":12,"preview_image":{"aspect_ratio":1.0,"height":650,"width":650,"src":"\/\/motogear.co.nz\/cdn\/shop\/products\/fc45793f2539a3f008c7c1b2925e5846_6b2ef5e4-dc51-4f4c-9550-8b52adfe537d.jpg?v=1689149451"}}},{"id":42564922736796,"title":"Triumph Trident 660 Serket Taper Full System Carbon Fibre","option1":"Triumph Trident 660 Serket Taper Full System Carbon Fibre","option2":null,"option3":null,"sku":"RTR91SYSCEO","requires_shipping":true,"taxable":true,"featured_image":{"id":36262491685020,"product_id":7659320148124,"position":10,"created_at":"2023-07-12T20:10:51+12:00","updated_at":"2023-07-12T20:10:51+12:00","alt":"SCORPION Serket Taper Carbon","width":650,"height":650,"src":"\/\/motogear.co.nz\/cdn\/shop\/products\/603a042d2979c10a8e02f0872bccb8c0_d371127d-3b90-4c8a-bfe0-ba0c4fd719fb.jpg?v=1689149451","variant_ids":[42564921458844,42564921557148,42564921655452,42564921917596,42564922015900,42564922245276,42564922343580,42564922441884,42564922540188,42564922638492,42564922736796,42564922835100,42564922933404,42564923031708,42564923130012,42564923359388,42564923457692,42564923555996,42564923654300,42564923752604,42564923850908,42624924221596,42624924319900]},"available":false,"name":"SCORPION SERKET TAPER Full System - Triumph Trident 660 Serket Taper Full System Carbon Fibre","public_title":"Triumph Trident 660 Serket Taper Full System Carbon Fibre","options":["Triumph Trident 660 Serket Taper Full System Carbon Fibre"],"price":241879,"weight":0,"compare_at_price":null,"inventory_management":"sprint3-fulfillment","barcode":"8486470724370","featured_media":{"alt":"SCORPION Serket Taper Carbon","id":28639238750364,"position":10,"preview_image":{"aspect_ratio":1.0,"height":650,"width":650,"src":"\/\/motogear.co.nz\/cdn\/shop\/products\/603a042d2979c10a8e02f0872bccb8c0_d371127d-3b90-4c8a-bfe0-ba0c4fd719fb.jpg?v=1689149451"}}},{"id":42564922769564,"title":"Triumph Trident 660 Serket Taper Full System S\/Steel","option1":"Triumph Trident 660 Serket Taper Full System S\/Steel","option2":null,"option3":null,"sku":"RTR91SYSSEO","requires_shipping":true,"taxable":true,"featured_image":{"id":36262491717788,"product_id":7659320148124,"position":11,"created_at":"2023-07-12T20:10:51+12:00","updated_at":"2023-07-12T20:10:51+12:00","alt":"SCORPION Serket Taper Stainless","width":650,"height":650,"src":"\/\/motogear.co.nz\/cdn\/shop\/products\/a8b38b99fc5360c4f28fdbcff87d87da_e76361e5-3c9e-43e2-98a2-f56c603a8dd5.jpg?v=1689149451","variant_ids":[42564921491612,42564921589916,42564921688220,42564921884828,42564921950364,42564922048668,42564922278044,42564922376348,42564922474652,42564922572956,42564922671260,42564922769564,42564922867868,42564922966172,42564923064476,42564923162780,42564923392156,42564923490460,42564923588764,42564923687068,42564923785372,42564923883676,42624924254364,42624924352668]},"available":false,"name":"SCORPION SERKET TAPER Full System - Triumph Trident 660 Serket Taper Full System S\/Steel","public_title":"Triumph Trident 660 Serket Taper Full System S\/Steel","options":["Triumph Trident 660 Serket Taper Full System S\/Steel"],"price":226426,"weight":0,"compare_at_price":null,"inventory_management":"sprint3-fulfillment","barcode":"8486470724448","featured_media":{"alt":"SCORPION Serket Taper Stainless","id":28639238783132,"position":11,"preview_image":{"aspect_ratio":1.0,"height":650,"width":650,"src":"\/\/motogear.co.nz\/cdn\/shop\/products\/a8b38b99fc5360c4f28fdbcff87d87da_e76361e5-3c9e-43e2-98a2-f56c603a8dd5.jpg?v=1689149451"}}},{"id":42564922802332,"title":"Triumph Trident 660 Serket Taper Full System Titanium","option1":"Triumph Trident 660 Serket Taper Full System Titanium","option2":null,"option3":null,"sku":"RTR91SYSTEO","requires_shipping":true,"taxable":true,"featured_image":{"id":36262491750556,"product_id":7659320148124,"position":12,"created_at":"2023-07-12T20:10:51+12:00","updated_at":"2023-07-12T20:10:51+12:00","alt":"SCORPION Serket Taper Titanium","width":650,"height":650,"src":"\/\/motogear.co.nz\/cdn\/shop\/products\/fc45793f2539a3f008c7c1b2925e5846_6b2ef5e4-dc51-4f4c-9550-8b52adfe537d.jpg?v=1689149451","variant_ids":[42564921524380,42564921622684,42564921720988,42564921983132,42564922081436,42564922310812,42564922409116,42564922507420,42564922605724,42564922704028,42564922802332,42564922900636,42564922998940,42564923097244,42564923195548,42564923424924,42564923523228,42564923621532,42564923719836,42564923818140,42564923916444,42624924287132]},"available":false,"name":"SCORPION SERKET TAPER Full System - Triumph Trident 660 Serket Taper Full System Titanium","public_title":"Triumph Trident 660 Serket Taper Full System Titanium","options":["Triumph Trident 660 Serket Taper Full System Titanium"],"price":241879,"weight":0,"compare_at_price":null,"inventory_management":"sprint3-fulfillment","barcode":null,"featured_media":{"alt":"SCORPION Serket Taper Titanium","id":28639238815900,"position":12,"preview_image":{"aspect_ratio":1.0,"height":650,"width":650,"src":"\/\/motogear.co.nz\/cdn\/shop\/products\/fc45793f2539a3f008c7c1b2925e5846_6b2ef5e4-dc51-4f4c-9550-8b52adfe537d.jpg?v=1689149451"}}},{"id":42564922835100,"title":"Yamaha MT-09 Tracer 13-19 Serket Taper Full Sys Carbon","option1":"Yamaha MT-09 Tracer 13-19 Serket Taper Full Sys Carbon","option2":null,"option3":null,"sku":"RYA101SYSCEO","requires_shipping":true,"taxable":true,"featured_image":{"id":36262491685020,"product_id":7659320148124,"position":10,"created_at":"2023-07-12T20:10:51+12:00","updated_at":"2023-07-12T20:10:51+12:00","alt":"SCORPION Serket Taper Carbon","width":650,"height":650,"src":"\/\/motogear.co.nz\/cdn\/shop\/products\/603a042d2979c10a8e02f0872bccb8c0_d371127d-3b90-4c8a-bfe0-ba0c4fd719fb.jpg?v=1689149451","variant_ids":[42564921458844,42564921557148,42564921655452,42564921917596,42564922015900,42564922245276,42564922343580,42564922441884,42564922540188,42564922638492,42564922736796,42564922835100,42564922933404,42564923031708,42564923130012,42564923359388,42564923457692,42564923555996,42564923654300,42564923752604,42564923850908,42624924221596,42624924319900]},"available":false,"name":"SCORPION SERKET TAPER Full System - Yamaha MT-09 Tracer 13-19 Serket Taper Full Sys Carbon","public_title":"Yamaha MT-09 Tracer 13-19 Serket Taper Full Sys Carbon","options":["Yamaha MT-09 Tracer 13-19 Serket Taper Full Sys Carbon"],"price":201061,"weight":0,"compare_at_price":null,"inventory_management":"sprint3-fulfillment","barcode":"8486470339574","featured_media":{"alt":"SCORPION Serket Taper Carbon","id":28639238750364,"position":10,"preview_image":{"aspect_ratio":1.0,"height":650,"width":650,"src":"\/\/motogear.co.nz\/cdn\/shop\/products\/603a042d2979c10a8e02f0872bccb8c0_d371127d-3b90-4c8a-bfe0-ba0c4fd719fb.jpg?v=1689149451"}}},{"id":42564922867868,"title":"Yamaha MT-09 Tracer 13-19 Serket Taper Full Sys Stainles","option1":"Yamaha MT-09 Tracer 13-19 Serket Taper Full Sys Stainles","option2":null,"option3":null,"sku":"RYA101SYSSEO","requires_shipping":true,"taxable":true,"featured_image":{"id":36262491717788,"product_id":7659320148124,"position":11,"created_at":"2023-07-12T20:10:51+12:00","updated_at":"2023-07-12T20:10:51+12:00","alt":"SCORPION Serket Taper Stainless","width":650,"height":650,"src":"\/\/motogear.co.nz\/cdn\/shop\/products\/a8b38b99fc5360c4f28fdbcff87d87da_e76361e5-3c9e-43e2-98a2-f56c603a8dd5.jpg?v=1689149451","variant_ids":[42564921491612,42564921589916,42564921688220,42564921884828,42564921950364,42564922048668,42564922278044,42564922376348,42564922474652,42564922572956,42564922671260,42564922769564,42564922867868,42564922966172,42564923064476,42564923162780,42564923392156,42564923490460,42564923588764,42564923687068,42564923785372,42564923883676,42624924254364,42624924352668]},"available":false,"name":"SCORPION SERKET TAPER Full System - Yamaha MT-09 Tracer 13-19 Serket Taper Full Sys Stainles","public_title":"Yamaha MT-09 Tracer 13-19 Serket Taper Full Sys Stainles","options":["Yamaha MT-09 Tracer 13-19 Serket Taper Full Sys Stainles"],"price":179900,"weight":0,"compare_at_price":null,"inventory_management":"sprint3-fulfillment","barcode":"8486470339642","featured_media":{"alt":"SCORPION Serket Taper Stainless","id":28639238783132,"position":11,"preview_image":{"aspect_ratio":1.0,"height":650,"width":650,"src":"\/\/motogear.co.nz\/cdn\/shop\/products\/a8b38b99fc5360c4f28fdbcff87d87da_e76361e5-3c9e-43e2-98a2-f56c603a8dd5.jpg?v=1689149451"}}},{"id":42564922900636,"title":"Yamaha MT-09 Tracer 13-19 Serket Taper Full Sys Titanium","option1":"Yamaha MT-09 Tracer 13-19 Serket Taper Full Sys Titanium","option2":null,"option3":null,"sku":"RYA101SYSTEO","requires_shipping":true,"taxable":true,"featured_image":{"id":36262491750556,"product_id":7659320148124,"position":12,"created_at":"2023-07-12T20:10:51+12:00","updated_at":"2023-07-12T20:10:51+12:00","alt":"SCORPION Serket Taper Titanium","width":650,"height":650,"src":"\/\/motogear.co.nz\/cdn\/shop\/products\/fc45793f2539a3f008c7c1b2925e5846_6b2ef5e4-dc51-4f4c-9550-8b52adfe537d.jpg?v=1689149451","variant_ids":[42564921524380,42564921622684,42564921720988,42564921983132,42564922081436,42564922310812,42564922409116,42564922507420,42564922605724,42564922704028,42564922802332,42564922900636,42564922998940,42564923097244,42564923195548,42564923424924,42564923523228,42564923621532,42564923719836,42564923818140,42564923916444,42624924287132]},"available":false,"name":"SCORPION SERKET TAPER Full System - Yamaha MT-09 Tracer 13-19 Serket Taper Full Sys Titanium","public_title":"Yamaha MT-09 Tracer 13-19 Serket Taper Full Sys Titanium","options":["Yamaha MT-09 Tracer 13-19 Serket Taper Full Sys Titanium"],"price":201061,"weight":0,"compare_at_price":null,"inventory_management":"sprint3-fulfillment","barcode":"8486470339710","featured_media":{"alt":"SCORPION Serket Taper Titanium","id":28639238815900,"position":12,"preview_image":{"aspect_ratio":1.0,"height":650,"width":650,"src":"\/\/motogear.co.nz\/cdn\/shop\/products\/fc45793f2539a3f008c7c1b2925e5846_6b2ef5e4-dc51-4f4c-9550-8b52adfe537d.jpg?v=1689149451"}}},{"id":42564922933404,"title":"Yamaha XSR 700 16-18 Serket Taper Full Sys Carbon","option1":"Yamaha XSR 700 16-18 Serket Taper Full Sys Carbon","option2":null,"option3":null,"sku":"RYA103SYSCEO","requires_shipping":true,"taxable":true,"featured_image":{"id":36262491685020,"product_id":7659320148124,"position":10,"created_at":"2023-07-12T20:10:51+12:00","updated_at":"2023-07-12T20:10:51+12:00","alt":"SCORPION Serket Taper Carbon","width":650,"height":650,"src":"\/\/motogear.co.nz\/cdn\/shop\/products\/603a042d2979c10a8e02f0872bccb8c0_d371127d-3b90-4c8a-bfe0-ba0c4fd719fb.jpg?v=1689149451","variant_ids":[42564921458844,42564921557148,42564921655452,42564921917596,42564922015900,42564922245276,42564922343580,42564922441884,42564922540188,42564922638492,42564922736796,42564922835100,42564922933404,42564923031708,42564923130012,42564923359388,42564923457692,42564923555996,42564923654300,42564923752604,42564923850908,42624924221596,42624924319900]},"available":false,"name":"SCORPION SERKET TAPER Full System - Yamaha XSR 700 16-18 Serket Taper Full Sys Carbon","public_title":"Yamaha XSR 700 16-18 Serket Taper Full Sys Carbon","options":["Yamaha XSR 700 16-18 Serket Taper Full Sys Carbon"],"price":172842,"weight":0,"compare_at_price":null,"inventory_management":"sprint3-fulfillment","barcode":"8486470350050","featured_media":{"alt":"SCORPION Serket Taper Carbon","id":28639238750364,"position":10,"preview_image":{"aspect_ratio":1.0,"height":650,"width":650,"src":"\/\/motogear.co.nz\/cdn\/shop\/products\/603a042d2979c10a8e02f0872bccb8c0_d371127d-3b90-4c8a-bfe0-ba0c4fd719fb.jpg?v=1689149451"}}},{"id":42564922966172,"title":"Yamaha XSR 700 16-18 Serket Taper Full Sys Stainles","option1":"Yamaha XSR 700 16-18 Serket Taper Full Sys Stainles","option2":null,"option3":null,"sku":"RYA103SYSSEO","requires_shipping":true,"taxable":true,"featured_image":{"id":36262491717788,"product_id":7659320148124,"position":11,"created_at":"2023-07-12T20:10:51+12:00","updated_at":"2023-07-12T20:10:51+12:00","alt":"SCORPION Serket Taper Stainless","width":650,"height":650,"src":"\/\/motogear.co.nz\/cdn\/shop\/products\/a8b38b99fc5360c4f28fdbcff87d87da_e76361e5-3c9e-43e2-98a2-f56c603a8dd5.jpg?v=1689149451","variant_ids":[42564921491612,42564921589916,42564921688220,42564921884828,42564921950364,42564922048668,42564922278044,42564922376348,42564922474652,42564922572956,42564922671260,42564922769564,42564922867868,42564922966172,42564923064476,42564923162780,42564923392156,42564923490460,42564923588764,42564923687068,42564923785372,42564923883676,42624924254364,42624924352668]},"available":false,"name":"SCORPION SERKET TAPER Full System - Yamaha XSR 700 16-18 Serket Taper Full Sys Stainles","public_title":"Yamaha XSR 700 16-18 Serket Taper Full Sys Stainles","options":["Yamaha XSR 700 16-18 Serket Taper Full Sys Stainles"],"price":151680,"weight":0,"compare_at_price":null,"inventory_management":"sprint3-fulfillment","barcode":"8486470350128","featured_media":{"alt":"SCORPION Serket Taper Stainless","id":28639238783132,"position":11,"preview_image":{"aspect_ratio":1.0,"height":650,"width":650,"src":"\/\/motogear.co.nz\/cdn\/shop\/products\/a8b38b99fc5360c4f28fdbcff87d87da_e76361e5-3c9e-43e2-98a2-f56c603a8dd5.jpg?v=1689149451"}}},{"id":42564922998940,"title":"Yamaha XSR 700 16-18 Serket Taper Full Sys Titanium","option1":"Yamaha XSR 700 16-18 Serket Taper Full Sys Titanium","option2":null,"option3":null,"sku":"RYA103SYSTEO","requires_shipping":true,"taxable":true,"featured_image":{"id":36262491750556,"product_id":7659320148124,"position":12,"created_at":"2023-07-12T20:10:51+12:00","updated_at":"2023-07-12T20:10:51+12:00","alt":"SCORPION Serket Taper Titanium","width":650,"height":650,"src":"\/\/motogear.co.nz\/cdn\/shop\/products\/fc45793f2539a3f008c7c1b2925e5846_6b2ef5e4-dc51-4f4c-9550-8b52adfe537d.jpg?v=1689149451","variant_ids":[42564921524380,42564921622684,42564921720988,42564921983132,42564922081436,42564922310812,42564922409116,42564922507420,42564922605724,42564922704028,42564922802332,42564922900636,42564922998940,42564923097244,42564923195548,42564923424924,42564923523228,42564923621532,42564923719836,42564923818140,42564923916444,42624924287132]},"available":false,"name":"SCORPION SERKET TAPER Full System - Yamaha XSR 700 16-18 Serket Taper Full Sys Titanium","public_title":"Yamaha XSR 700 16-18 Serket Taper Full Sys Titanium","options":["Yamaha XSR 700 16-18 Serket Taper Full Sys Titanium"],"price":172842,"weight":0,"compare_at_price":null,"inventory_management":"sprint3-fulfillment","barcode":"8486470350296","featured_media":{"alt":"SCORPION Serket Taper Titanium","id":28639238815900,"position":12,"preview_image":{"aspect_ratio":1.0,"height":650,"width":650,"src":"\/\/motogear.co.nz\/cdn\/shop\/products\/fc45793f2539a3f008c7c1b2925e5846_6b2ef5e4-dc51-4f4c-9550-8b52adfe537d.jpg?v=1689149451"}}},{"id":42564923031708,"title":"Yamaha MT-07 Tracer 16-20 Serket Taper Full Sys Carbon","option1":"Yamaha MT-07 Tracer 16-20 Serket Taper Full Sys Carbon","option2":null,"option3":null,"sku":"RYA108SYSCEO","requires_shipping":true,"taxable":true,"featured_image":{"id":36262491685020,"product_id":7659320148124,"position":10,"created_at":"2023-07-12T20:10:51+12:00","updated_at":"2023-07-12T20:10:51+12:00","alt":"SCORPION Serket Taper Carbon","width":650,"height":650,"src":"\/\/motogear.co.nz\/cdn\/shop\/products\/603a042d2979c10a8e02f0872bccb8c0_d371127d-3b90-4c8a-bfe0-ba0c4fd719fb.jpg?v=1689149451","variant_ids":[42564921458844,42564921557148,42564921655452,42564921917596,42564922015900,42564922245276,42564922343580,42564922441884,42564922540188,42564922638492,42564922736796,42564922835100,42564922933404,42564923031708,42564923130012,42564923359388,42564923457692,42564923555996,42564923654300,42564923752604,42564923850908,42624924221596,42624924319900]},"available":false,"name":"SCORPION SERKET TAPER Full System - Yamaha MT-07 Tracer 16-20 Serket Taper Full Sys Carbon","public_title":"Yamaha MT-07 Tracer 16-20 Serket Taper Full Sys Carbon","options":["Yamaha MT-07 Tracer 16-20 Serket Taper Full Sys Carbon"],"price":172842,"weight":0,"compare_at_price":null,"inventory_management":"sprint3-fulfillment","barcode":"8486470363470","featured_media":{"alt":"SCORPION Serket Taper Carbon","id":28639238750364,"position":10,"preview_image":{"aspect_ratio":1.0,"height":650,"width":650,"src":"\/\/motogear.co.nz\/cdn\/shop\/products\/603a042d2979c10a8e02f0872bccb8c0_d371127d-3b90-4c8a-bfe0-ba0c4fd719fb.jpg?v=1689149451"}}},{"id":42564923064476,"title":"Yamaha MT-07 Tracer 16-17 Serket Taper Full Sys Stainles","option1":"Yamaha MT-07 Tracer 16-17 Serket Taper Full Sys Stainles","option2":null,"option3":null,"sku":"RYA108SYSSEO","requires_shipping":true,"taxable":true,"featured_image":{"id":36262491717788,"product_id":7659320148124,"position":11,"created_at":"2023-07-12T20:10:51+12:00","updated_at":"2023-07-12T20:10:51+12:00","alt":"SCORPION Serket Taper Stainless","width":650,"height":650,"src":"\/\/motogear.co.nz\/cdn\/shop\/products\/a8b38b99fc5360c4f28fdbcff87d87da_e76361e5-3c9e-43e2-98a2-f56c603a8dd5.jpg?v=1689149451","variant_ids":[42564921491612,42564921589916,42564921688220,42564921884828,42564921950364,42564922048668,42564922278044,42564922376348,42564922474652,42564922572956,42564922671260,42564922769564,42564922867868,42564922966172,42564923064476,42564923162780,42564923392156,42564923490460,42564923588764,42564923687068,42564923785372,42564923883676,42624924254364,42624924352668]},"available":false,"name":"SCORPION SERKET TAPER Full System - Yamaha MT-07 Tracer 16-17 Serket Taper Full Sys Stainles","public_title":"Yamaha MT-07 Tracer 16-17 Serket Taper Full Sys Stainles","options":["Yamaha MT-07 Tracer 16-17 Serket Taper Full Sys Stainles"],"price":151680,"weight":0,"compare_at_price":null,"inventory_management":"sprint3-fulfillment","barcode":"8486470363548","featured_media":{"alt":"SCORPION Serket Taper Stainless","id":28639238783132,"position":11,"preview_image":{"aspect_ratio":1.0,"height":650,"width":650,"src":"\/\/motogear.co.nz\/cdn\/shop\/products\/a8b38b99fc5360c4f28fdbcff87d87da_e76361e5-3c9e-43e2-98a2-f56c603a8dd5.jpg?v=1689149451"}}},{"id":42564923097244,"title":"Yamaha MT-07 Tracer 16-17 Serket Taper Full Sys Titanium","option1":"Yamaha MT-07 Tracer 16-17 Serket Taper Full Sys Titanium","option2":null,"option3":null,"sku":"RYA108SYSTEO","requires_shipping":true,"taxable":true,"featured_image":{"id":36262491750556,"product_id":7659320148124,"position":12,"created_at":"2023-07-12T20:10:51+12:00","updated_at":"2023-07-12T20:10:51+12:00","alt":"SCORPION Serket Taper Titanium","width":650,"height":650,"src":"\/\/motogear.co.nz\/cdn\/shop\/products\/fc45793f2539a3f008c7c1b2925e5846_6b2ef5e4-dc51-4f4c-9550-8b52adfe537d.jpg?v=1689149451","variant_ids":[42564921524380,42564921622684,42564921720988,42564921983132,42564922081436,42564922310812,42564922409116,42564922507420,42564922605724,42564922704028,42564922802332,42564922900636,42564922998940,42564923097244,42564923195548,42564923424924,42564923523228,42564923621532,42564923719836,42564923818140,42564923916444,42624924287132]},"available":false,"name":"SCORPION SERKET TAPER Full System - Yamaha MT-07 Tracer 16-17 Serket Taper Full Sys Titanium","public_title":"Yamaha MT-07 Tracer 16-17 Serket Taper Full Sys Titanium","options":["Yamaha MT-07 Tracer 16-17 Serket Taper Full Sys Titanium"],"price":172842,"weight":0,"compare_at_price":null,"inventory_management":"sprint3-fulfillment","barcode":"8486470363616","featured_media":{"alt":"SCORPION Serket Taper Titanium","id":28639238815900,"position":12,"preview_image":{"aspect_ratio":1.0,"height":650,"width":650,"src":"\/\/motogear.co.nz\/cdn\/shop\/products\/fc45793f2539a3f008c7c1b2925e5846_6b2ef5e4-dc51-4f4c-9550-8b52adfe537d.jpg?v=1689149451"}}},{"id":42564923130012,"title":"MT-07 14-19 Serket Taper De-cat Race Full C\/fibre","option1":"MT-07 14-19 Serket Taper De-cat Race Full C\/fibre","option2":null,"option3":null,"sku":"RYA112SYSCEO","requires_shipping":true,"taxable":true,"featured_image":{"id":36262491685020,"product_id":7659320148124,"position":10,"created_at":"2023-07-12T20:10:51+12:00","updated_at":"2023-07-12T20:10:51+12:00","alt":"SCORPION Serket Taper Carbon","width":650,"height":650,"src":"\/\/motogear.co.nz\/cdn\/shop\/products\/603a042d2979c10a8e02f0872bccb8c0_d371127d-3b90-4c8a-bfe0-ba0c4fd719fb.jpg?v=1689149451","variant_ids":[42564921458844,42564921557148,42564921655452,42564921917596,42564922015900,42564922245276,42564922343580,42564922441884,42564922540188,42564922638492,42564922736796,42564922835100,42564922933404,42564923031708,42564923130012,42564923359388,42564923457692,42564923555996,42564923654300,42564923752604,42564923850908,42624924221596,42624924319900]},"available":false,"name":"SCORPION SERKET TAPER Full System - MT-07 14-19 Serket Taper De-cat Race Full C\/fibre","public_title":"MT-07 14-19 Serket Taper De-cat Race Full C\/fibre","options":["MT-07 14-19 Serket Taper De-cat Race Full C\/fibre"],"price":172842,"weight":0,"compare_at_price":null,"inventory_management":"sprint3-fulfillment","barcode":"8486470391190","featured_media":{"alt":"SCORPION Serket Taper Carbon","id":28639238750364,"position":10,"preview_image":{"aspect_ratio":1.0,"height":650,"width":650,"src":"\/\/motogear.co.nz\/cdn\/shop\/products\/603a042d2979c10a8e02f0872bccb8c0_d371127d-3b90-4c8a-bfe0-ba0c4fd719fb.jpg?v=1689149451"}}},{"id":42564923162780,"title":"MT-07 14-19 Serket Taper De-cat Race Full S\/Steel","option1":"MT-07 14-19 Serket Taper De-cat Race Full S\/Steel","option2":null,"option3":null,"sku":"RYA112SYSSEO","requires_shipping":true,"taxable":true,"featured_image":{"id":36262491717788,"product_id":7659320148124,"position":11,"created_at":"2023-07-12T20:10:51+12:00","updated_at":"2023-07-12T20:10:51+12:00","alt":"SCORPION Serket Taper Stainless","width":650,"height":650,"src":"\/\/motogear.co.nz\/cdn\/shop\/products\/a8b38b99fc5360c4f28fdbcff87d87da_e76361e5-3c9e-43e2-98a2-f56c603a8dd5.jpg?v=1689149451","variant_ids":[42564921491612,42564921589916,42564921688220,42564921884828,42564921950364,42564922048668,42564922278044,42564922376348,42564922474652,42564922572956,42564922671260,42564922769564,42564922867868,42564922966172,42564923064476,42564923162780,42564923392156,42564923490460,42564923588764,42564923687068,42564923785372,42564923883676,42624924254364,42624924352668]},"available":false,"name":"SCORPION SERKET TAPER Full System - MT-07 14-19 Serket Taper De-cat Race Full S\/Steel","public_title":"MT-07 14-19 Serket Taper De-cat Race Full S\/Steel","options":["MT-07 14-19 Serket Taper De-cat Race Full S\/Steel"],"price":151680,"weight":0,"compare_at_price":null,"inventory_management":"sprint3-fulfillment","barcode":"8486470391268","featured_media":{"alt":"SCORPION Serket Taper Stainless","id":28639238783132,"position":11,"preview_image":{"aspect_ratio":1.0,"height":650,"width":650,"src":"\/\/motogear.co.nz\/cdn\/shop\/products\/a8b38b99fc5360c4f28fdbcff87d87da_e76361e5-3c9e-43e2-98a2-f56c603a8dd5.jpg?v=1689149451"}}},{"id":42564923195548,"title":"MT-07 14-19 Serket Taper De-cat Race Full Titanium","option1":"MT-07 14-19 Serket Taper De-cat Race Full Titanium","option2":null,"option3":null,"sku":"RYA112SYSTEO","requires_shipping":true,"taxable":true,"featured_image":{"id":36262491750556,"product_id":7659320148124,"position":12,"created_at":"2023-07-12T20:10:51+12:00","updated_at":"2023-07-12T20:10:51+12:00","alt":"SCORPION Serket Taper Titanium","width":650,"height":650,"src":"\/\/motogear.co.nz\/cdn\/shop\/products\/fc45793f2539a3f008c7c1b2925e5846_6b2ef5e4-dc51-4f4c-9550-8b52adfe537d.jpg?v=1689149451","variant_ids":[42564921524380,42564921622684,42564921720988,42564921983132,42564922081436,42564922310812,42564922409116,42564922507420,42564922605724,42564922704028,42564922802332,42564922900636,42564922998940,42564923097244,42564923195548,42564923424924,42564923523228,42564923621532,42564923719836,42564923818140,42564923916444,42624924287132]},"available":false,"name":"SCORPION SERKET TAPER Full System - MT-07 14-19 Serket Taper De-cat Race Full Titanium","public_title":"MT-07 14-19 Serket Taper De-cat Race Full Titanium","options":["MT-07 14-19 Serket Taper De-cat Race Full Titanium"],"price":172842,"weight":0,"compare_at_price":null,"inventory_management":"sprint3-fulfillment","barcode":"8486470391336","featured_media":{"alt":"SCORPION Serket Taper Titanium","id":28639238815900,"position":12,"preview_image":{"aspect_ratio":1.0,"height":650,"width":650,"src":"\/\/motogear.co.nz\/cdn\/shop\/products\/fc45793f2539a3f008c7c1b2925e5846_6b2ef5e4-dc51-4f4c-9550-8b52adfe537d.jpg?v=1689149451"}}},{"id":42564923228316,"title":"R7 21-22 Serket Taper Full System C\/fibre","option1":"R7 21-22 Serket Taper Full System C\/fibre","option2":null,"option3":null,"sku":"RYA120SYSCEO","requires_shipping":true,"taxable":true,"featured_image":{"id":36262492111004,"product_id":7659320148124,"position":21,"created_at":"2023-07-12T20:10:51+12:00","updated_at":"2023-07-12T20:10:51+12:00","alt":"Kawasaki Z 650 17-Current 2017 - 2018","width":650,"height":650,"src":"\/\/motogear.co.nz\/cdn\/shop\/products\/1304133eb7b26f2b6d8776ae4cfbfc51.jpg?v=1689149451","variant_ids":[42564923228316]},"available":false,"name":"SCORPION SERKET TAPER Full System - R7 21-22 Serket Taper Full System C\/fibre","public_title":"R7 21-22 Serket Taper Full System C\/fibre","options":["R7 21-22 Serket Taper Full System C\/fibre"],"price":180066,"weight":0,"compare_at_price":null,"inventory_management":"sprint3-fulfillment","barcode":"8486470748758","featured_media":{"alt":"Kawasaki Z 650 17-Current 2017 - 2018","id":28639239176348,"position":21,"preview_image":{"aspect_ratio":1.0,"height":650,"width":650,"src":"\/\/motogear.co.nz\/cdn\/shop\/products\/1304133eb7b26f2b6d8776ae4cfbfc51.jpg?v=1689149451"}}},{"id":42564923261084,"title":"R7 21-22 Serket Taper Full System Brushed Stainless","option1":"R7 21-22 Serket Taper Full System Brushed Stainless","option2":null,"option3":null,"sku":"RYA120SYSSEO","requires_shipping":true,"taxable":true,"featured_image":{"id":36262492143772,"product_id":7659320148124,"position":22,"created_at":"2023-07-12T20:10:51+12:00","updated_at":"2023-07-12T20:10:51+12:00","alt":"SCORPION Serket Parallel Stainless","width":650,"height":650,"src":"\/\/motogear.co.nz\/cdn\/shop\/products\/5aaaedc1a16a7d7081a555a5079f19ae_22aed1dd-1dec-4ea9-8d23-aaaf89b90fce.jpg?v=1689149451","variant_ids":[42564923261084]},"available":false,"name":"SCORPION SERKET TAPER Full System - R7 21-22 Serket Taper Full System Brushed Stainless","public_title":"R7 21-22 Serket Taper Full System Brushed Stainless","options":["R7 21-22 Serket Taper Full System Brushed Stainless"],"price":170660,"weight":0,"compare_at_price":null,"inventory_management":"sprint3-fulfillment","barcode":null,"featured_media":{"alt":"SCORPION Serket Parallel Stainless","id":28639239209116,"position":22,"preview_image":{"aspect_ratio":1.0,"height":650,"width":650,"src":"\/\/motogear.co.nz\/cdn\/shop\/products\/5aaaedc1a16a7d7081a555a5079f19ae_22aed1dd-1dec-4ea9-8d23-aaaf89b90fce.jpg?v=1689149451"}}},{"id":42564923293852,"title":"MT-07 22- Serket Taper De-cat Full System C\/fibre","option1":"MT-07 22- Serket Taper De-cat Full System C\/fibre","option2":null,"option3":null,"sku":"RYA121SYSCEO","requires_shipping":true,"taxable":true,"featured_image":{"id":36262492176540,"product_id":7659320148124,"position":23,"created_at":"2023-07-12T20:10:51+12:00","updated_at":"2023-07-12T20:10:51+12:00","alt":"SERKET TAPER FULL SYSTEM CARBON, YAMAHA MT 07 22 - CURRENT\n2022 - 2022","width":1000,"height":1000,"src":"\/\/motogear.co.nz\/cdn\/shop\/products\/0d37b68557853463a0e8ae0328ea738e_8c2d9590-b54e-4f32-8661-2fcdfa050412.jpg?v=1689149451","variant_ids":[42564923293852]},"available":false,"name":"SCORPION SERKET TAPER Full System - MT-07 22- Serket Taper De-cat Full System C\/fibre","public_title":"MT-07 22- Serket Taper De-cat Full System C\/fibre","options":["MT-07 22- Serket Taper De-cat Full System C\/fibre"],"price":180066,"weight":0,"compare_at_price":null,"inventory_management":"sprint3-fulfillment","barcode":"8486470750010","featured_media":{"alt":"SERKET TAPER FULL SYSTEM CARBON, YAMAHA MT 07 22 - CURRENT\n2022 - 2022","id":28639239241884,"position":23,"preview_image":{"aspect_ratio":1.0,"height":1000,"width":1000,"src":"\/\/motogear.co.nz\/cdn\/shop\/products\/0d37b68557853463a0e8ae0328ea738e_8c2d9590-b54e-4f32-8661-2fcdfa050412.jpg?v=1689149451"}}},{"id":42564923326620,"title":"MT-07 22- Serket Taper De-cat Full System Stainless","option1":"MT-07 22- Serket Taper De-cat Full System Stainless","option2":null,"option3":null,"sku":"RYA121SYSSEO","requires_shipping":true,"taxable":true,"featured_image":{"id":36262491488412,"product_id":7659320148124,"position":2,"created_at":"2023-07-12T20:10:51+12:00","updated_at":"2023-07-12T20:10:51+12:00","alt":"SERKET TAPER FULL SYSTEM STAINLESS STEEL, YAMAHA MT 07 22 - CURRENT\n2022 - 2022","width":1000,"height":1000,"src":"\/\/motogear.co.nz\/cdn\/shop\/products\/c295b0c5dc994d8e90a8404677edea78.jpg?v=1689149451","variant_ids":[42564923326620]},"available":false,"name":"SCORPION SERKET TAPER Full System - MT-07 22- Serket Taper De-cat Full System Stainless","public_title":"MT-07 22- Serket Taper De-cat Full System Stainless","options":["MT-07 22- Serket Taper De-cat Full System Stainless"],"price":170660,"weight":0,"compare_at_price":null,"inventory_management":"sprint3-fulfillment","barcode":null,"featured_media":{"alt":"SERKET TAPER FULL SYSTEM STAINLESS STEEL, YAMAHA MT 07 22 - CURRENT\n2022 - 2022","id":28639238553756,"position":2,"preview_image":{"aspect_ratio":1.0,"height":1000,"width":1000,"src":"\/\/motogear.co.nz\/cdn\/shop\/products\/c295b0c5dc994d8e90a8404677edea78.jpg?v=1689149451"}}},{"id":42564923359388,"title":"Yamaha YZF R 125 08-13 Serket Taper Full Sys Carbon","option1":"Yamaha YZF R 125 08-13 Serket Taper Full Sys Carbon","option2":null,"option3":null,"sku":"RYA90SYSCEO","requires_shipping":true,"taxable":true,"featured_image":{"id":36262491685020,"product_id":7659320148124,"position":10,"created_at":"2023-07-12T20:10:51+12:00","updated_at":"2023-07-12T20:10:51+12:00","alt":"SCORPION Serket Taper Carbon","width":650,"height":650,"src":"\/\/motogear.co.nz\/cdn\/shop\/products\/603a042d2979c10a8e02f0872bccb8c0_d371127d-3b90-4c8a-bfe0-ba0c4fd719fb.jpg?v=1689149451","variant_ids":[42564921458844,42564921557148,42564921655452,42564921917596,42564922015900,42564922245276,42564922343580,42564922441884,42564922540188,42564922638492,42564922736796,42564922835100,42564922933404,42564923031708,42564923130012,42564923359388,42564923457692,42564923555996,42564923654300,42564923752604,42564923850908,42624924221596,42624924319900]},"available":false,"name":"SCORPION SERKET TAPER Full System - Yamaha YZF R 125 08-13 Serket Taper Full Sys Carbon","public_title":"Yamaha YZF R 125 08-13 Serket Taper Full Sys Carbon","options":["Yamaha YZF R 125 08-13 Serket Taper Full Sys Carbon"],"price":119833,"weight":0,"compare_at_price":null,"inventory_management":"sprint3-fulfillment","barcode":"8486470245042","featured_media":{"alt":"SCORPION Serket Taper Carbon","id":28639238750364,"position":10,"preview_image":{"aspect_ratio":1.0,"height":650,"width":650,"src":"\/\/motogear.co.nz\/cdn\/shop\/products\/603a042d2979c10a8e02f0872bccb8c0_d371127d-3b90-4c8a-bfe0-ba0c4fd719fb.jpg?v=1689149451"}}},{"id":42564923392156,"title":"Yamaha YZF R 125 08-13 Serket Taper Full Sys S\/S","option1":"Yamaha YZF R 125 08-13 Serket Taper Full Sys S\/S","option2":null,"option3":null,"sku":"RYA90SYSSEO","requires_shipping":true,"taxable":true,"featured_image":{"id":36262491717788,"product_id":7659320148124,"position":11,"created_at":"2023-07-12T20:10:51+12:00","updated_at":"2023-07-12T20:10:51+12:00","alt":"SCORPION Serket Taper Stainless","width":650,"height":650,"src":"\/\/motogear.co.nz\/cdn\/shop\/products\/a8b38b99fc5360c4f28fdbcff87d87da_e76361e5-3c9e-43e2-98a2-f56c603a8dd5.jpg?v=1689149451","variant_ids":[42564921491612,42564921589916,42564921688220,42564921884828,42564921950364,42564922048668,42564922278044,42564922376348,42564922474652,42564922572956,42564922671260,42564922769564,42564922867868,42564922966172,42564923064476,42564923162780,42564923392156,42564923490460,42564923588764,42564923687068,42564923785372,42564923883676,42624924254364,42624924352668]},"available":false,"name":"SCORPION SERKET TAPER Full System - Yamaha YZF R 125 08-13 Serket Taper Full Sys S\/S","public_title":"Yamaha YZF R 125 08-13 Serket Taper Full Sys S\/S","options":["Yamaha YZF R 125 08-13 Serket Taper Full Sys S\/S"],"price":106005,"weight":0,"compare_at_price":null,"inventory_management":"sprint3-fulfillment","barcode":"8486470245110","featured_media":{"alt":"SCORPION Serket Taper Stainless","id":28639238783132,"position":11,"preview_image":{"aspect_ratio":1.0,"height":650,"width":650,"src":"\/\/motogear.co.nz\/cdn\/shop\/products\/a8b38b99fc5360c4f28fdbcff87d87da_e76361e5-3c9e-43e2-98a2-f56c603a8dd5.jpg?v=1689149451"}}},{"id":42564923424924,"title":"Yamaha YZF R 125 08-13 Serket Taper Full Sys Titanium","option1":"Yamaha YZF R 125 08-13 Serket Taper Full Sys Titanium","option2":null,"option3":null,"sku":"RYA90SYSTEO","requires_shipping":true,"taxable":true,"featured_image":{"id":36262491750556,"product_id":7659320148124,"position":12,"created_at":"2023-07-12T20:10:51+12:00","updated_at":"2023-07-12T20:10:51+12:00","alt":"SCORPION Serket Taper Titanium","width":650,"height":650,"src":"\/\/motogear.co.nz\/cdn\/shop\/products\/fc45793f2539a3f008c7c1b2925e5846_6b2ef5e4-dc51-4f4c-9550-8b52adfe537d.jpg?v=1689149451","variant_ids":[42564921524380,42564921622684,42564921720988,42564921983132,42564922081436,42564922310812,42564922409116,42564922507420,42564922605724,42564922704028,42564922802332,42564922900636,42564922998940,42564923097244,42564923195548,42564923424924,42564923523228,42564923621532,42564923719836,42564923818140,42564923916444,42624924287132]},"available":false,"name":"SCORPION SERKET TAPER Full System - Yamaha YZF R 125 08-13 Serket Taper Full Sys Titanium","public_title":"Yamaha YZF R 125 08-13 Serket Taper Full Sys Titanium","options":["Yamaha YZF R 125 08-13 Serket Taper Full Sys Titanium"],"price":119833,"weight":0,"compare_at_price":null,"inventory_management":"sprint3-fulfillment","barcode":"8486470245288","featured_media":{"alt":"SCORPION Serket Taper Titanium","id":28639238815900,"position":12,"preview_image":{"aspect_ratio":1.0,"height":650,"width":650,"src":"\/\/motogear.co.nz\/cdn\/shop\/products\/fc45793f2539a3f008c7c1b2925e5846_6b2ef5e4-dc51-4f4c-9550-8b52adfe537d.jpg?v=1689149451"}}},{"id":42564923457692,"title":"Yamaha MT-09 13-20 Serket Taper Full Sys Carbon","option1":"Yamaha MT-09 13-20 Serket Taper Full Sys Carbon","option2":null,"option3":null,"sku":"RYA93SYSCEO","requires_shipping":true,"taxable":true,"featured_image":{"id":36262491685020,"product_id":7659320148124,"position":10,"created_at":"2023-07-12T20:10:51+12:00","updated_at":"2023-07-12T20:10:51+12:00","alt":"SCORPION Serket Taper Carbon","width":650,"height":650,"src":"\/\/motogear.co.nz\/cdn\/shop\/products\/603a042d2979c10a8e02f0872bccb8c0_d371127d-3b90-4c8a-bfe0-ba0c4fd719fb.jpg?v=1689149451","variant_ids":[42564921458844,42564921557148,42564921655452,42564921917596,42564922015900,42564922245276,42564922343580,42564922441884,42564922540188,42564922638492,42564922736796,42564922835100,42564922933404,42564923031708,42564923130012,42564923359388,42564923457692,42564923555996,42564923654300,42564923752604,42564923850908,42624924221596,42624924319900]},"available":false,"name":"SCORPION SERKET TAPER Full System - Yamaha MT-09 13-20 Serket Taper Full Sys Carbon","public_title":"Yamaha MT-09 13-20 Serket Taper Full Sys Carbon","options":["Yamaha MT-09 13-20 Serket Taper Full Sys Carbon"],"price":201061,"weight":0,"compare_at_price":null,"inventory_management":"sprint3-fulfillment","barcode":"8486470245356","featured_media":{"alt":"SCORPION Serket Taper Carbon","id":28639238750364,"position":10,"preview_image":{"aspect_ratio":1.0,"height":650,"width":650,"src":"\/\/motogear.co.nz\/cdn\/shop\/products\/603a042d2979c10a8e02f0872bccb8c0_d371127d-3b90-4c8a-bfe0-ba0c4fd719fb.jpg?v=1689149451"}}},{"id":42564923490460,"title":"Yamaha MT-09 13-20 Serket Taper Full Sys Stainles","option1":"Yamaha MT-09 13-20 Serket Taper Full Sys Stainles","option2":null,"option3":null,"sku":"RYA93SYSSEO","requires_shipping":true,"taxable":true,"featured_image":{"id":36262491717788,"product_id":7659320148124,"position":11,"created_at":"2023-07-12T20:10:51+12:00","updated_at":"2023-07-12T20:10:51+12:00","alt":"SCORPION Serket Taper Stainless","width":650,"height":650,"src":"\/\/motogear.co.nz\/cdn\/shop\/products\/a8b38b99fc5360c4f28fdbcff87d87da_e76361e5-3c9e-43e2-98a2-f56c603a8dd5.jpg?v=1689149451","variant_ids":[42564921491612,42564921589916,42564921688220,42564921884828,42564921950364,42564922048668,42564922278044,42564922376348,42564922474652,42564922572956,42564922671260,42564922769564,42564922867868,42564922966172,42564923064476,42564923162780,42564923392156,42564923490460,42564923588764,42564923687068,42564923785372,42564923883676,42624924254364,42624924352668]},"available":false,"name":"SCORPION SERKET TAPER Full System - Yamaha MT-09 13-20 Serket Taper Full Sys Stainles","public_title":"Yamaha MT-09 13-20 Serket Taper Full Sys Stainles","options":["Yamaha MT-09 13-20 Serket Taper Full Sys Stainles"],"price":179900,"weight":0,"compare_at_price":null,"inventory_management":"sprint3-fulfillment","barcode":"8486470245424","featured_media":{"alt":"SCORPION Serket Taper Stainless","id":28639238783132,"position":11,"preview_image":{"aspect_ratio":1.0,"height":650,"width":650,"src":"\/\/motogear.co.nz\/cdn\/shop\/products\/a8b38b99fc5360c4f28fdbcff87d87da_e76361e5-3c9e-43e2-98a2-f56c603a8dd5.jpg?v=1689149451"}}},{"id":42564923523228,"title":"Yamaha MT-09 13-20 Serket Taper Full Sys Titanium","option1":"Yamaha MT-09 13-20 Serket Taper Full Sys Titanium","option2":null,"option3":null,"sku":"RYA93SYSTEO","requires_shipping":true,"taxable":true,"featured_image":{"id":36262491750556,"product_id":7659320148124,"position":12,"created_at":"2023-07-12T20:10:51+12:00","updated_at":"2023-07-12T20:10:51+12:00","alt":"SCORPION Serket Taper Titanium","width":650,"height":650,"src":"\/\/motogear.co.nz\/cdn\/shop\/products\/fc45793f2539a3f008c7c1b2925e5846_6b2ef5e4-dc51-4f4c-9550-8b52adfe537d.jpg?v=1689149451","variant_ids":[42564921524380,42564921622684,42564921720988,42564921983132,42564922081436,42564922310812,42564922409116,42564922507420,42564922605724,42564922704028,42564922802332,42564922900636,42564922998940,42564923097244,42564923195548,42564923424924,42564923523228,42564923621532,42564923719836,42564923818140,42564923916444,42624924287132]},"available":false,"name":"SCORPION SERKET TAPER Full System - Yamaha MT-09 13-20 Serket Taper Full Sys Titanium","public_title":"Yamaha MT-09 13-20 Serket Taper Full Sys Titanium","options":["Yamaha MT-09 13-20 Serket Taper Full Sys Titanium"],"price":201061,"weight":0,"compare_at_price":null,"inventory_management":"sprint3-fulfillment","barcode":"8486470245592","featured_media":{"alt":"SCORPION Serket Taper Titanium","id":28639238815900,"position":12,"preview_image":{"aspect_ratio":1.0,"height":650,"width":650,"src":"\/\/motogear.co.nz\/cdn\/shop\/products\/fc45793f2539a3f008c7c1b2925e5846_6b2ef5e4-dc51-4f4c-9550-8b52adfe537d.jpg?v=1689149451"}}},{"id":42564923555996,"title":"Yamaha MT-07 14-19 Serket Taper Full Sys Carbon","option1":"Yamaha MT-07 14-19 Serket Taper Full Sys Carbon","option2":null,"option3":null,"sku":"RYA94SYSCEO","requires_shipping":true,"taxable":true,"featured_image":{"id":36262491685020,"product_id":7659320148124,"position":10,"created_at":"2023-07-12T20:10:51+12:00","updated_at":"2023-07-12T20:10:51+12:00","alt":"SCORPION Serket Taper Carbon","width":650,"height":650,"src":"\/\/motogear.co.nz\/cdn\/shop\/products\/603a042d2979c10a8e02f0872bccb8c0_d371127d-3b90-4c8a-bfe0-ba0c4fd719fb.jpg?v=1689149451","variant_ids":[42564921458844,42564921557148,42564921655452,42564921917596,42564922015900,42564922245276,42564922343580,42564922441884,42564922540188,42564922638492,42564922736796,42564922835100,42564922933404,42564923031708,42564923130012,42564923359388,42564923457692,42564923555996,42564923654300,42564923752604,42564923850908,42624924221596,42624924319900]},"available":false,"name":"SCORPION SERKET TAPER Full System - Yamaha MT-07 14-19 Serket Taper Full Sys Carbon","public_title":"Yamaha MT-07 14-19 Serket Taper Full Sys Carbon","options":["Yamaha MT-07 14-19 Serket Taper Full Sys Carbon"],"price":166540,"weight":0,"compare_at_price":null,"inventory_management":"sprint3-fulfillment","barcode":"8486470245660","featured_media":{"alt":"SCORPION Serket Taper Carbon","id":28639238750364,"position":10,"preview_image":{"aspect_ratio":1.0,"height":650,"width":650,"src":"\/\/motogear.co.nz\/cdn\/shop\/products\/603a042d2979c10a8e02f0872bccb8c0_d371127d-3b90-4c8a-bfe0-ba0c4fd719fb.jpg?v=1689149451"}}},{"id":42564923588764,"title":"Yamaha MT-07 14-19 Serket Taper Full Sys Stainless","option1":"Yamaha MT-07 14-19 Serket Taper Full Sys Stainless","option2":null,"option3":null,"sku":"RYA94SYSSEO","requires_shipping":true,"taxable":true,"featured_image":{"id":36262491717788,"product_id":7659320148124,"position":11,"created_at":"2023-07-12T20:10:51+12:00","updated_at":"2023-07-12T20:10:51+12:00","alt":"SCORPION Serket Taper Stainless","width":650,"height":650,"src":"\/\/motogear.co.nz\/cdn\/shop\/products\/a8b38b99fc5360c4f28fdbcff87d87da_e76361e5-3c9e-43e2-98a2-f56c603a8dd5.jpg?v=1689149451","variant_ids":[42564921491612,42564921589916,42564921688220,42564921884828,42564921950364,42564922048668,42564922278044,42564922376348,42564922474652,42564922572956,42564922671260,42564922769564,42564922867868,42564922966172,42564923064476,42564923162780,42564923392156,42564923490460,42564923588764,42564923687068,42564923785372,42564923883676,42624924254364,42624924352668]},"available":false,"name":"SCORPION SERKET TAPER Full System - Yamaha MT-07 14-19 Serket Taper Full Sys Stainless","public_title":"Yamaha MT-07 14-19 Serket Taper Full Sys Stainless","options":["Yamaha MT-07 14-19 Serket Taper Full Sys Stainless"],"price":146150,"weight":0,"compare_at_price":null,"inventory_management":"sprint3-fulfillment","barcode":"8486470245738","featured_media":{"alt":"SCORPION Serket Taper Stainless","id":28639238783132,"position":11,"preview_image":{"aspect_ratio":1.0,"height":650,"width":650,"src":"\/\/motogear.co.nz\/cdn\/shop\/products\/a8b38b99fc5360c4f28fdbcff87d87da_e76361e5-3c9e-43e2-98a2-f56c603a8dd5.jpg?v=1689149451"}}},{"id":42564923621532,"title":"Yamaha MT-07 14-19 Serket Taper Full Sys Titanium","option1":"Yamaha MT-07 14-19 Serket Taper Full Sys Titanium","option2":null,"option3":null,"sku":"RYA94SYSTEO","requires_shipping":true,"taxable":true,"featured_image":{"id":36262491750556,"product_id":7659320148124,"position":12,"created_at":"2023-07-12T20:10:51+12:00","updated_at":"2023-07-12T20:10:51+12:00","alt":"SCORPION Serket Taper Titanium","width":650,"height":650,"src":"\/\/motogear.co.nz\/cdn\/shop\/products\/fc45793f2539a3f008c7c1b2925e5846_6b2ef5e4-dc51-4f4c-9550-8b52adfe537d.jpg?v=1689149451","variant_ids":[42564921524380,42564921622684,42564921720988,42564921983132,42564922081436,42564922310812,42564922409116,42564922507420,42564922605724,42564922704028,42564922802332,42564922900636,42564922998940,42564923097244,42564923195548,42564923424924,42564923523228,42564923621532,42564923719836,42564923818140,42564923916444,42624924287132]},"available":false,"name":"SCORPION SERKET TAPER Full System - Yamaha MT-07 14-19 Serket Taper Full Sys Titanium","public_title":"Yamaha MT-07 14-19 Serket Taper Full Sys Titanium","options":["Yamaha MT-07 14-19 Serket Taper Full Sys Titanium"],"price":166540,"weight":0,"compare_at_price":null,"inventory_management":"sprint3-fulfillment","barcode":"8486470245806","featured_media":{"alt":"SCORPION Serket Taper Titanium","id":28639238815900,"position":12,"preview_image":{"aspect_ratio":1.0,"height":650,"width":650,"src":"\/\/motogear.co.nz\/cdn\/shop\/products\/fc45793f2539a3f008c7c1b2925e5846_6b2ef5e4-dc51-4f4c-9550-8b52adfe537d.jpg?v=1689149451"}}},{"id":42564923654300,"title":"Yamaha YZF R 125 14-17 Serket Taper Full Sys Carbon","option1":"Yamaha YZF R 125 14-17 Serket Taper Full Sys Carbon","option2":null,"option3":null,"sku":"RYA95SYSCEO","requires_shipping":true,"taxable":true,"featured_image":{"id":36262491685020,"product_id":7659320148124,"position":10,"created_at":"2023-07-12T20:10:51+12:00","updated_at":"2023-07-12T20:10:51+12:00","alt":"SCORPION Serket Taper Carbon","width":650,"height":650,"src":"\/\/motogear.co.nz\/cdn\/shop\/products\/603a042d2979c10a8e02f0872bccb8c0_d371127d-3b90-4c8a-bfe0-ba0c4fd719fb.jpg?v=1689149451","variant_ids":[42564921458844,42564921557148,42564921655452,42564921917596,42564922015900,42564922245276,42564922343580,42564922441884,42564922540188,42564922638492,42564922736796,42564922835100,42564922933404,42564923031708,42564923130012,42564923359388,42564923457692,42564923555996,42564923654300,42564923752604,42564923850908,42624924221596,42624924319900]},"available":false,"name":"SCORPION SERKET TAPER Full System - Yamaha YZF R 125 14-17 Serket Taper Full Sys Carbon","public_title":"Yamaha YZF R 125 14-17 Serket Taper Full Sys Carbon","options":["Yamaha YZF R 125 14-17 Serket Taper Full Sys Carbon"],"price":119833,"weight":0,"compare_at_price":null,"inventory_management":"sprint3-fulfillment","barcode":"8486470245974","featured_media":{"alt":"SCORPION Serket Taper Carbon","id":28639238750364,"position":10,"preview_image":{"aspect_ratio":1.0,"height":650,"width":650,"src":"\/\/motogear.co.nz\/cdn\/shop\/products\/603a042d2979c10a8e02f0872bccb8c0_d371127d-3b90-4c8a-bfe0-ba0c4fd719fb.jpg?v=1689149451"}}},{"id":42564923687068,"title":"Yamaha YZF R 125 14-17 Serket Taper Full Sys S\/S","option1":"Yamaha YZF R 125 14-17 Serket Taper Full Sys S\/S","option2":null,"option3":null,"sku":"RYA95SYSSEO","requires_shipping":true,"taxable":true,"featured_image":{"id":36262491717788,"product_id":7659320148124,"position":11,"created_at":"2023-07-12T20:10:51+12:00","updated_at":"2023-07-12T20:10:51+12:00","alt":"SCORPION Serket Taper Stainless","width":650,"height":650,"src":"\/\/motogear.co.nz\/cdn\/shop\/products\/a8b38b99fc5360c4f28fdbcff87d87da_e76361e5-3c9e-43e2-98a2-f56c603a8dd5.jpg?v=1689149451","variant_ids":[42564921491612,42564921589916,42564921688220,42564921884828,42564921950364,42564922048668,42564922278044,42564922376348,42564922474652,42564922572956,42564922671260,42564922769564,42564922867868,42564922966172,42564923064476,42564923162780,42564923392156,42564923490460,42564923588764,42564923687068,42564923785372,42564923883676,42624924254364,42624924352668]},"available":false,"name":"SCORPION SERKET TAPER Full System - Yamaha YZF R 125 14-17 Serket Taper Full Sys S\/S","public_title":"Yamaha YZF R 125 14-17 Serket Taper Full Sys S\/S","options":["Yamaha YZF R 125 14-17 Serket Taper Full Sys S\/S"],"price":106005,"weight":0,"compare_at_price":null,"inventory_management":"sprint3-fulfillment","barcode":"8486470246032","featured_media":{"alt":"SCORPION Serket Taper Stainless","id":28639238783132,"position":11,"preview_image":{"aspect_ratio":1.0,"height":650,"width":650,"src":"\/\/motogear.co.nz\/cdn\/shop\/products\/a8b38b99fc5360c4f28fdbcff87d87da_e76361e5-3c9e-43e2-98a2-f56c603a8dd5.jpg?v=1689149451"}}},{"id":42564923719836,"title":"Yamaha YZF R 125 14-17 Serket Taper Full Sys Titanium","option1":"Yamaha YZF R 125 14-17 Serket Taper Full Sys Titanium","option2":null,"option3":null,"sku":"RYA95SYSTEO","requires_shipping":true,"taxable":true,"featured_image":{"id":36262491750556,"product_id":7659320148124,"position":12,"created_at":"2023-07-12T20:10:51+12:00","updated_at":"2023-07-12T20:10:51+12:00","alt":"SCORPION Serket Taper Titanium","width":650,"height":650,"src":"\/\/motogear.co.nz\/cdn\/shop\/products\/fc45793f2539a3f008c7c1b2925e5846_6b2ef5e4-dc51-4f4c-9550-8b52adfe537d.jpg?v=1689149451","variant_ids":[42564921524380,42564921622684,42564921720988,42564921983132,42564922081436,42564922310812,42564922409116,42564922507420,42564922605724,42564922704028,42564922802332,42564922900636,42564922998940,42564923097244,42564923195548,42564923424924,42564923523228,42564923621532,42564923719836,42564923818140,42564923916444,42624924287132]},"available":false,"name":"SCORPION SERKET TAPER Full System - Yamaha YZF R 125 14-17 Serket Taper Full Sys Titanium","public_title":"Yamaha YZF R 125 14-17 Serket Taper Full Sys Titanium","options":["Yamaha YZF R 125 14-17 Serket Taper Full Sys Titanium"],"price":119833,"weight":0,"compare_at_price":null,"inventory_management":"sprint3-fulfillment","barcode":"8486470246100","featured_media":{"alt":"SCORPION Serket Taper Titanium","id":28639238815900,"position":12,"preview_image":{"aspect_ratio":1.0,"height":650,"width":650,"src":"\/\/motogear.co.nz\/cdn\/shop\/products\/fc45793f2539a3f008c7c1b2925e5846_6b2ef5e4-dc51-4f4c-9550-8b52adfe537d.jpg?v=1689149451"}}},{"id":42564923752604,"title":"Yamaha MT-125 14-17 Serket Taper Full Sys Carbon","option1":"Yamaha MT-125 14-17 Serket Taper Full Sys Carbon","option2":null,"option3":null,"sku":"RYA97SYSCEO","requires_shipping":true,"taxable":true,"featured_image":{"id":36262491685020,"product_id":7659320148124,"position":10,"created_at":"2023-07-12T20:10:51+12:00","updated_at":"2023-07-12T20:10:51+12:00","alt":"SCORPION Serket Taper Carbon","width":650,"height":650,"src":"\/\/motogear.co.nz\/cdn\/shop\/products\/603a042d2979c10a8e02f0872bccb8c0_d371127d-3b90-4c8a-bfe0-ba0c4fd719fb.jpg?v=1689149451","variant_ids":[42564921458844,42564921557148,42564921655452,42564921917596,42564922015900,42564922245276,42564922343580,42564922441884,42564922540188,42564922638492,42564922736796,42564922835100,42564922933404,42564923031708,42564923130012,42564923359388,42564923457692,42564923555996,42564923654300,42564923752604,42564923850908,42624924221596,42624924319900]},"available":false,"name":"SCORPION SERKET TAPER Full System - Yamaha MT-125 14-17 Serket Taper Full Sys Carbon","public_title":"Yamaha MT-125 14-17 Serket Taper Full Sys Carbon","options":["Yamaha MT-125 14-17 Serket Taper Full Sys Carbon"],"price":127774,"weight":0,"compare_at_price":null,"inventory_management":"sprint3-fulfillment","barcode":"8486470246582","featured_media":{"alt":"SCORPION Serket Taper Carbon","id":28639238750364,"position":10,"preview_image":{"aspect_ratio":1.0,"height":650,"width":650,"src":"\/\/motogear.co.nz\/cdn\/shop\/products\/603a042d2979c10a8e02f0872bccb8c0_d371127d-3b90-4c8a-bfe0-ba0c4fd719fb.jpg?v=1689149451"}}},{"id":42564923785372,"title":"Yamaha MT-125 14-17 Serket Taper Full Sys Stainles","option1":"Yamaha MT-125 14-17 Serket Taper Full Sys Stainles","option2":null,"option3":null,"sku":"RYA97SYSSEO","requires_shipping":true,"taxable":true,"featured_image":{"id":36262491717788,"product_id":7659320148124,"position":11,"created_at":"2023-07-12T20:10:51+12:00","updated_at":"2023-07-12T20:10:51+12:00","alt":"SCORPION Serket Taper Stainless","width":650,"height":650,"src":"\/\/motogear.co.nz\/cdn\/shop\/products\/a8b38b99fc5360c4f28fdbcff87d87da_e76361e5-3c9e-43e2-98a2-f56c603a8dd5.jpg?v=1689149451","variant_ids":[42564921491612,42564921589916,42564921688220,42564921884828,42564921950364,42564922048668,42564922278044,42564922376348,42564922474652,42564922572956,42564922671260,42564922769564,42564922867868,42564922966172,42564923064476,42564923162780,42564923392156,42564923490460,42564923588764,42564923687068,42564923785372,42564923883676,42624924254364,42624924352668]},"available":false,"name":"SCORPION SERKET TAPER Full System - Yamaha MT-125 14-17 Serket Taper Full Sys Stainles","public_title":"Yamaha MT-125 14-17 Serket Taper Full Sys Stainles","options":["Yamaha MT-125 14-17 Serket Taper Full Sys Stainles"],"price":111418,"weight":0,"compare_at_price":null,"inventory_management":"sprint3-fulfillment","barcode":"8486470246650","featured_media":{"alt":"SCORPION Serket Taper Stainless","id":28639238783132,"position":11,"preview_image":{"aspect_ratio":1.0,"height":650,"width":650,"src":"\/\/motogear.co.nz\/cdn\/shop\/products\/a8b38b99fc5360c4f28fdbcff87d87da_e76361e5-3c9e-43e2-98a2-f56c603a8dd5.jpg?v=1689149451"}}},{"id":42564923818140,"title":"Yamaha MT-125 14-17 Serket Taper Full Sys Titanium","option1":"Yamaha MT-125 14-17 Serket Taper Full Sys Titanium","option2":null,"option3":null,"sku":"RYA97SYSTEO","requires_shipping":true,"taxable":true,"featured_image":{"id":36262491750556,"product_id":7659320148124,"position":12,"created_at":"2023-07-12T20:10:51+12:00","updated_at":"2023-07-12T20:10:51+12:00","alt":"SCORPION Serket Taper Titanium","width":650,"height":650,"src":"\/\/motogear.co.nz\/cdn\/shop\/products\/fc45793f2539a3f008c7c1b2925e5846_6b2ef5e4-dc51-4f4c-9550-8b52adfe537d.jpg?v=1689149451","variant_ids":[42564921524380,42564921622684,42564921720988,42564921983132,42564922081436,42564922310812,42564922409116,42564922507420,42564922605724,42564922704028,42564922802332,42564922900636,42564922998940,42564923097244,42564923195548,42564923424924,42564923523228,42564923621532,42564923719836,42564923818140,42564923916444,42624924287132]},"available":false,"name":"SCORPION SERKET TAPER Full System - Yamaha MT-125 14-17 Serket Taper Full Sys Titanium","public_title":"Yamaha MT-125 14-17 Serket Taper Full Sys Titanium","options":["Yamaha MT-125 14-17 Serket Taper Full Sys Titanium"],"price":136099,"weight":0,"compare_at_price":null,"inventory_management":"sprint3-fulfillment","barcode":"8486470246728","featured_media":{"alt":"SCORPION Serket Taper Titanium","id":28639238815900,"position":12,"preview_image":{"aspect_ratio":1.0,"height":650,"width":650,"src":"\/\/motogear.co.nz\/cdn\/shop\/products\/fc45793f2539a3f008c7c1b2925e5846_6b2ef5e4-dc51-4f4c-9550-8b52adfe537d.jpg?v=1689149451"}}},{"id":42564923850908,"title":"Yamaha YZF R3 2015-22 Serket Taper Full Sys Carbon","option1":"Yamaha YZF R3 2015-22 Serket Taper Full Sys Carbon","option2":null,"option3":null,"sku":"RYA98SYSCEO","requires_shipping":true,"taxable":true,"featured_image":{"id":36262491685020,"product_id":7659320148124,"position":10,"created_at":"2023-07-12T20:10:51+12:00","updated_at":"2023-07-12T20:10:51+12:00","alt":"SCORPION Serket Taper Carbon","width":650,"height":650,"src":"\/\/motogear.co.nz\/cdn\/shop\/products\/603a042d2979c10a8e02f0872bccb8c0_d371127d-3b90-4c8a-bfe0-ba0c4fd719fb.jpg?v=1689149451","variant_ids":[42564921458844,42564921557148,42564921655452,42564921917596,42564922015900,42564922245276,42564922343580,42564922441884,42564922540188,42564922638492,42564922736796,42564922835100,42564922933404,42564923031708,42564923130012,42564923359388,42564923457692,42564923555996,42564923654300,42564923752604,42564923850908,42624924221596,42624924319900]},"available":false,"name":"SCORPION SERKET TAPER Full System - Yamaha YZF R3 2015-22 Serket Taper Full Sys Carbon","public_title":"Yamaha YZF R3 2015-22 Serket Taper Full Sys Carbon","options":["Yamaha YZF R3 2015-22 Serket Taper Full Sys Carbon"],"price":189639,"weight":0,"compare_at_price":null,"inventory_management":"sprint3-fulfillment","barcode":"8486470314106","featured_media":{"alt":"SCORPION Serket Taper Carbon","id":28639238750364,"position":10,"preview_image":{"aspect_ratio":1.0,"height":650,"width":650,"src":"\/\/motogear.co.nz\/cdn\/shop\/products\/603a042d2979c10a8e02f0872bccb8c0_d371127d-3b90-4c8a-bfe0-ba0c4fd719fb.jpg?v=1689149451"}}},{"id":42564923883676,"title":"Yamaha YZF R3 2015-22 Serket Taper Full Sys S\/S","option1":"Yamaha YZF R3 2015-22 Serket Taper Full Sys S\/S","option2":null,"option3":null,"sku":"RYA98SYSSEO","requires_shipping":true,"taxable":true,"featured_image":{"id":36262491717788,"product_id":7659320148124,"position":11,"created_at":"2023-07-12T20:10:51+12:00","updated_at":"2023-07-12T20:10:51+12:00","alt":"SCORPION Serket Taper Stainless","width":650,"height":650,"src":"\/\/motogear.co.nz\/cdn\/shop\/products\/a8b38b99fc5360c4f28fdbcff87d87da_e76361e5-3c9e-43e2-98a2-f56c603a8dd5.jpg?v=1689149451","variant_ids":[42564921491612,42564921589916,42564921688220,42564921884828,42564921950364,42564922048668,42564922278044,42564922376348,42564922474652,42564922572956,42564922671260,42564922769564,42564922867868,42564922966172,42564923064476,42564923162780,42564923392156,42564923490460,42564923588764,42564923687068,42564923785372,42564923883676,42624924254364,42624924352668]},"available":false,"name":"SCORPION SERKET TAPER Full System - Yamaha YZF R3 2015-22 Serket Taper Full Sys S\/S","public_title":"Yamaha YZF R3 2015-22 Serket Taper Full Sys S\/S","options":["Yamaha YZF R3 2015-22 Serket Taper Full Sys S\/S"],"price":175529,"weight":0,"compare_at_price":null,"inventory_management":"sprint3-fulfillment","barcode":"8486470313970","featured_media":{"alt":"SCORPION Serket Taper Stainless","id":28639238783132,"position":11,"preview_image":{"aspect_ratio":1.0,"height":650,"width":650,"src":"\/\/motogear.co.nz\/cdn\/shop\/products\/a8b38b99fc5360c4f28fdbcff87d87da_e76361e5-3c9e-43e2-98a2-f56c603a8dd5.jpg?v=1689149451"}}},{"id":42564923916444,"title":"Yamaha YZF R3 2015-22 Serket Taper Full Sys Titanium","option1":"Yamaha YZF R3 2015-22 Serket Taper Full Sys Titanium","option2":null,"option3":null,"sku":"RYA98SYSTEO","requires_shipping":true,"taxable":true,"featured_image":{"id":36262491750556,"product_id":7659320148124,"position":12,"created_at":"2023-07-12T20:10:51+12:00","updated_at":"2023-07-12T20:10:51+12:00","alt":"SCORPION Serket Taper Titanium","width":650,"height":650,"src":"\/\/motogear.co.nz\/cdn\/shop\/products\/fc45793f2539a3f008c7c1b2925e5846_6b2ef5e4-dc51-4f4c-9550-8b52adfe537d.jpg?v=1689149451","variant_ids":[42564921524380,42564921622684,42564921720988,42564921983132,42564922081436,42564922310812,42564922409116,42564922507420,42564922605724,42564922704028,42564922802332,42564922900636,42564922998940,42564923097244,42564923195548,42564923424924,42564923523228,42564923621532,42564923719836,42564923818140,42564923916444,42624924287132]},"available":false,"name":"SCORPION SERKET TAPER Full System - Yamaha YZF R3 2015-22 Serket Taper Full Sys Titanium","public_title":"Yamaha YZF R3 2015-22 Serket Taper Full Sys Titanium","options":["Yamaha YZF R3 2015-22 Serket Taper Full Sys Titanium"],"price":189639,"weight":0,"compare_at_price":null,"inventory_management":"sprint3-fulfillment","barcode":"8486470314038","featured_media":{"alt":"SCORPION Serket Taper Titanium","id":28639238815900,"position":12,"preview_image":{"aspect_ratio":1.0,"height":650,"width":650,"src":"\/\/motogear.co.nz\/cdn\/shop\/products\/fc45793f2539a3f008c7c1b2925e5846_6b2ef5e4-dc51-4f4c-9550-8b52adfe537d.jpg?v=1689149451"}}},{"id":42624924221596,"title":"Ninja 400 Serket Taper Race System Carbon Fibre Sleeve 2018-2023","option1":"Ninja 400 Serket Taper Race System Carbon Fibre Sleeve 2018-2023","option2":null,"option3":null,"sku":"RKA143SYSCEO","requires_shipping":true,"taxable":true,"featured_image":{"id":36262491685020,"product_id":7659320148124,"position":10,"created_at":"2023-07-12T20:10:51+12:00","updated_at":"2023-07-12T20:10:51+12:00","alt":"SCORPION Serket Taper Carbon","width":650,"height":650,"src":"\/\/motogear.co.nz\/cdn\/shop\/products\/603a042d2979c10a8e02f0872bccb8c0_d371127d-3b90-4c8a-bfe0-ba0c4fd719fb.jpg?v=1689149451","variant_ids":[42564921458844,42564921557148,42564921655452,42564921917596,42564922015900,42564922245276,42564922343580,42564922441884,42564922540188,42564922638492,42564922736796,42564922835100,42564922933404,42564923031708,42564923130012,42564923359388,42564923457692,42564923555996,42564923654300,42564923752604,42564923850908,42624924221596,42624924319900]},"available":false,"name":"SCORPION SERKET TAPER Full System - Ninja 400 Serket Taper Race System Carbon Fibre Sleeve 2018-2023","public_title":"Ninja 400 Serket Taper Race System Carbon Fibre Sleeve 2018-2023","options":["Ninja 400 Serket Taper Race System Carbon Fibre Sleeve 2018-2023"],"price":184769,"weight":0,"compare_at_price":null,"inventory_management":"sprint3-fulfillment","barcode":null,"featured_media":{"alt":"SCORPION Serket Taper Carbon","id":28639238750364,"position":10,"preview_image":{"aspect_ratio":1.0,"height":650,"width":650,"src":"\/\/motogear.co.nz\/cdn\/shop\/products\/603a042d2979c10a8e02f0872bccb8c0_d371127d-3b90-4c8a-bfe0-ba0c4fd719fb.jpg?v=1689149451"}}},{"id":42624924254364,"title":"Ninja 400 Serket Taper Race System Brushed Stainless Steel Sleeve 2018-2023","option1":"Ninja 400 Serket Taper Race System Brushed Stainless Steel Sleeve 2018-2023","option2":null,"option3":null,"sku":"RKA143SYSSEO","requires_shipping":true,"taxable":true,"featured_image":{"id":36262491717788,"product_id":7659320148124,"position":11,"created_at":"2023-07-12T20:10:51+12:00","updated_at":"2023-07-12T20:10:51+12:00","alt":"SCORPION Serket Taper Stainless","width":650,"height":650,"src":"\/\/motogear.co.nz\/cdn\/shop\/products\/a8b38b99fc5360c4f28fdbcff87d87da_e76361e5-3c9e-43e2-98a2-f56c603a8dd5.jpg?v=1689149451","variant_ids":[42564921491612,42564921589916,42564921688220,42564921884828,42564921950364,42564922048668,42564922278044,42564922376348,42564922474652,42564922572956,42564922671260,42564922769564,42564922867868,42564922966172,42564923064476,42564923162780,42564923392156,42564923490460,42564923588764,42564923687068,42564923785372,42564923883676,42624924254364,42624924352668]},"available":false,"name":"SCORPION SERKET TAPER Full System - Ninja 400 Serket Taper Race System Brushed Stainless Steel Sleeve 2018-2023","public_title":"Ninja 400 Serket Taper Race System Brushed Stainless Steel Sleeve 2018-2023","options":["Ninja 400 Serket Taper Race System Brushed Stainless Steel Sleeve 2018-2023"],"price":174691,"weight":0,"compare_at_price":null,"inventory_management":"sprint3-fulfillment","barcode":null,"featured_media":{"alt":"SCORPION Serket Taper Stainless","id":28639238783132,"position":11,"preview_image":{"aspect_ratio":1.0,"height":650,"width":650,"src":"\/\/motogear.co.nz\/cdn\/shop\/products\/a8b38b99fc5360c4f28fdbcff87d87da_e76361e5-3c9e-43e2-98a2-f56c603a8dd5.jpg?v=1689149451"}}},{"id":42624924287132,"title":"Ninja 400 Serket Taper Race System Titanium Sleeve 2018-2023","option1":"Ninja 400 Serket Taper Race System Titanium Sleeve 2018-2023","option2":null,"option3":null,"sku":"RKA143SYSTEO","requires_shipping":true,"taxable":true,"featured_image":{"id":36262491750556,"product_id":7659320148124,"position":12,"created_at":"2023-07-12T20:10:51+12:00","updated_at":"2023-07-12T20:10:51+12:00","alt":"SCORPION Serket Taper Titanium","width":650,"height":650,"src":"\/\/motogear.co.nz\/cdn\/shop\/products\/fc45793f2539a3f008c7c1b2925e5846_6b2ef5e4-dc51-4f4c-9550-8b52adfe537d.jpg?v=1689149451","variant_ids":[42564921524380,42564921622684,42564921720988,42564921983132,42564922081436,42564922310812,42564922409116,42564922507420,42564922605724,42564922704028,42564922802332,42564922900636,42564922998940,42564923097244,42564923195548,42564923424924,42564923523228,42564923621532,42564923719836,42564923818140,42564923916444,42624924287132]},"available":false,"name":"SCORPION SERKET TAPER Full System - Ninja 400 Serket Taper Race System Titanium Sleeve 2018-2023","public_title":"Ninja 400 Serket Taper Race System Titanium Sleeve 2018-2023","options":["Ninja 400 Serket Taper Race System Titanium Sleeve 2018-2023"],"price":184769,"weight":0,"compare_at_price":null,"inventory_management":"sprint3-fulfillment","barcode":null,"featured_media":{"alt":"SCORPION Serket Taper Titanium","id":28639238815900,"position":12,"preview_image":{"aspect_ratio":1.0,"height":650,"width":650,"src":"\/\/motogear.co.nz\/cdn\/shop\/products\/fc45793f2539a3f008c7c1b2925e5846_6b2ef5e4-dc51-4f4c-9550-8b52adfe537d.jpg?v=1689149451"}}},{"id":42624924319900,"title":"Tracer 7 Serket Taper Full System Carbon Fibre Sleeve 2020-2023","option1":"Tracer 7 Serket Taper Full System Carbon Fibre Sleeve 2020-2023","option2":null,"option3":null,"sku":"RYA124SYSCEO","requires_shipping":true,"taxable":true,"featured_image":{"id":36262491685020,"product_id":7659320148124,"position":10,"created_at":"2023-07-12T20:10:51+12:00","updated_at":"2023-07-12T20:10:51+12:00","alt":"SCORPION Serket Taper Carbon","width":650,"height":650,"src":"\/\/motogear.co.nz\/cdn\/shop\/products\/603a042d2979c10a8e02f0872bccb8c0_d371127d-3b90-4c8a-bfe0-ba0c4fd719fb.jpg?v=1689149451","variant_ids":[42564921458844,42564921557148,42564921655452,42564921917596,42564922015900,42564922245276,42564922343580,42564922441884,42564922540188,42564922638492,42564922736796,42564922835100,42564922933404,42564923031708,42564923130012,42564923359388,42564923457692,42564923555996,42564923654300,42564923752604,42564923850908,42624924221596,42624924319900]},"available":false,"name":"SCORPION SERKET TAPER Full System - Tracer 7 Serket Taper Full System Carbon Fibre Sleeve 2020-2023","public_title":"Tracer 7 Serket Taper Full System Carbon Fibre Sleeve 2020-2023","options":["Tracer 7 Serket Taper Full System Carbon Fibre Sleeve 2020-2023"],"price":180066,"weight":0,"compare_at_price":null,"inventory_management":"sprint3-fulfillment","barcode":null,"featured_media":{"alt":"SCORPION Serket Taper Carbon","id":28639238750364,"position":10,"preview_image":{"aspect_ratio":1.0,"height":650,"width":650,"src":"\/\/motogear.co.nz\/cdn\/shop\/products\/603a042d2979c10a8e02f0872bccb8c0_d371127d-3b90-4c8a-bfe0-ba0c4fd719fb.jpg?v=1689149451"}}},{"id":42624924352668,"title":"Tracer 7 Serket Taper Full System Brushed Stainless Steel Sleeve 2020-2023","option1":"Tracer 7 Serket Taper Full System Brushed Stainless Steel Sleeve 2020-2023","option2":null,"option3":null,"sku":"RYA124SYSSEO","requires_shipping":true,"taxable":true,"featured_image":{"id":36262491717788,"product_id":7659320148124,"position":11,"created_at":"2023-07-12T20:10:51+12:00","updated_at":"2023-07-12T20:10:51+12:00","alt":"SCORPION Serket Taper Stainless","width":650,"height":650,"src":"\/\/motogear.co.nz\/cdn\/shop\/products\/a8b38b99fc5360c4f28fdbcff87d87da_e76361e5-3c9e-43e2-98a2-f56c603a8dd5.jpg?v=1689149451","variant_ids":[42564921491612,42564921589916,42564921688220,42564921884828,42564921950364,42564922048668,42564922278044,42564922376348,42564922474652,42564922572956,42564922671260,42564922769564,42564922867868,42564922966172,42564923064476,42564923162780,42564923392156,42564923490460,42564923588764,42564923687068,42564923785372,42564923883676,42624924254364,42624924352668]},"available":false,"name":"SCORPION SERKET TAPER Full System - Tracer 7 Serket Taper Full System Brushed Stainless Steel Sleeve 2020-2023","public_title":"Tracer 7 Serket Taper Full System Brushed Stainless Steel Sleeve 2020-2023","options":["Tracer 7 Serket Taper Full System Brushed Stainless Steel Sleeve 2020-2023"],"price":170660,"weight":0,"compare_at_price":null,"inventory_management":"sprint3-fulfillment","barcode":null,"featured_media":{"alt":"SCORPION Serket Taper Stainless","id":28639238783132,"position":11,"preview_image":{"aspect_ratio":1.0,"height":650,"width":650,"src":"\/\/motogear.co.nz\/cdn\/shop\/products\/a8b38b99fc5360c4f28fdbcff87d87da_e76361e5-3c9e-43e2-98a2-f56c603a8dd5.jpg?v=1689149451"}}},{"id":42637462044828,"title":"Ninja ZX-25R Serket Taper Full System Carbon Fibre Sleeve 2020-2022","option1":"Ninja ZX-25R Serket Taper Full System Carbon Fibre Sleeve 2020-2022","option2":null,"option3":null,"sku":"RKA141SYSCEO","requires_shipping":true,"taxable":true,"featured_image":{"id":36461836796060,"product_id":7659320148124,"position":24,"created_at":"2023-08-30T19:26:22+12:00","updated_at":"2023-08-30T19:26:22+12:00","alt":"Ninja ZX-25R Serket Taper Full System Carbon Fibre Sleeve 2020-2022","width":800,"height":800,"src":"\/\/motogear.co.nz\/cdn\/shop\/products\/73fd8b39a9b18a209e71d18fa721f32d.jpg?v=1693380382","variant_ids":[42637462044828]},"available":false,"name":"SCORPION SERKET TAPER Full System - Ninja ZX-25R Serket Taper Full System Carbon Fibre Sleeve 2020-2022","public_title":"Ninja ZX-25R Serket Taper Full System Carbon Fibre Sleeve 2020-2022","options":["Ninja ZX-25R Serket Taper Full System Carbon Fibre Sleeve 2020-2022"],"price":331912,"weight":0,"compare_at_price":null,"inventory_management":"sprint3-fulfillment","barcode":null,"featured_media":{"alt":"Ninja ZX-25R Serket Taper Full System Carbon Fibre Sleeve 2020-2022","id":28841253601436,"position":24,"preview_image":{"aspect_ratio":1.0,"height":800,"width":800,"src":"\/\/motogear.co.nz\/cdn\/shop\/products\/73fd8b39a9b18a209e71d18fa721f32d.jpg?v=1693380382"}}},{"id":42637462077596,"title":"Ninja ZX-25R Serket Taper Full System Brushed Stainless Steel 2020-2022","option1":"Ninja ZX-25R Serket Taper Full System Brushed Stainless Steel 2020-2022","option2":null,"option3":null,"sku":"RKA141SYSSEO","requires_shipping":true,"taxable":true,"featured_image":{"id":36461836828828,"product_id":7659320148124,"position":25,"created_at":"2023-08-30T19:26:22+12:00","updated_at":"2023-08-30T19:26:22+12:00","alt":"Ninja ZX-25R Serket Taper Full System Brushed Stainless Steel 2020-2022","width":800,"height":800,"src":"\/\/motogear.co.nz\/cdn\/shop\/products\/e6fab64f72598ca681457ba666e2ee95.jpg?v=1693380382","variant_ids":[42637462077596]},"available":false,"name":"SCORPION SERKET TAPER Full System - Ninja ZX-25R Serket Taper Full System Brushed Stainless Steel 2020-2022","public_title":"Ninja ZX-25R Serket Taper Full System Brushed Stainless Steel 2020-2022","options":["Ninja ZX-25R Serket Taper Full System Brushed Stainless Steel 2020-2022"],"price":317131,"weight":0,"compare_at_price":null,"inventory_management":"sprint3-fulfillment","barcode":null,"featured_media":{"alt":"Ninja ZX-25R Serket Taper Full System Brushed Stainless Steel 2020-2022","id":28841253634204,"position":25,"preview_image":{"aspect_ratio":1.0,"height":800,"width":800,"src":"\/\/motogear.co.nz\/cdn\/shop\/products\/e6fab64f72598ca681457ba666e2ee95.jpg?v=1693380382"}}},{"id":42637462110364,"title":"Ninja ZX-25R Serket Taper Full System Titanium Sleeve 2020-2022","option1":"Ninja ZX-25R Serket Taper Full System Titanium Sleeve 2020-2022","option2":null,"option3":null,"sku":"RKA141SYSTEO","requires_shipping":true,"taxable":true,"featured_image":{"id":36461836861596,"product_id":7659320148124,"position":26,"created_at":"2023-08-30T19:26:22+12:00","updated_at":"2023-08-30T19:26:22+12:00","alt":"Ninja ZX-25R Serket Taper Full System Titanium Sleeve 2020-2022","width":800,"height":800,"src":"\/\/motogear.co.nz\/cdn\/shop\/products\/bb50f0c923a0aab1fd1d7c5fc147f3a2.jpg?v=1693380382","variant_ids":[42637462110364]},"available":false,"name":"SCORPION SERKET TAPER Full System - Ninja ZX-25R Serket Taper Full System Titanium Sleeve 2020-2022","public_title":"Ninja ZX-25R Serket Taper Full System Titanium Sleeve 2020-2022","options":["Ninja ZX-25R Serket Taper Full System Titanium Sleeve 2020-2022"],"price":329225,"weight":0,"compare_at_price":null,"inventory_management":"sprint3-fulfillment","barcode":null,"featured_media":{"alt":"Ninja ZX-25R Serket Taper Full System Titanium Sleeve 2020-2022","id":28841253666972,"position":26,"preview_image":{"aspect_ratio":1.0,"height":800,"width":800,"src":"\/\/motogear.co.nz\/cdn\/shop\/products\/bb50f0c923a0aab1fd1d7c5fc147f3a2.jpg?v=1693380382"}}},{"id":42637462175900,"title":"GSX-R 125 \/ GSX-R 150 Serket Taper Full System Carbon Fibre Sleeve 2017-2020","option1":"GSX-R 125 \/ GSX-R 150 Serket Taper Full System Carbon Fibre Sleeve 2017-2020","option2":null,"option3":null,"sku":"RSI121CEO","requires_shipping":true,"taxable":true,"featured_image":{"id":36461836894364,"product_id":7659320148124,"position":27,"created_at":"2023-08-30T19:26:22+12:00","updated_at":"2023-08-30T19:26:22+12:00","alt":"SUZUKI GSX-R 125\/150 17-21\n2017 - 2020","width":800,"height":800,"src":"\/\/motogear.co.nz\/cdn\/shop\/products\/6e64bf8a95f1d7488dfe29b9f1b1258f.jpg?v=1693380382","variant_ids":[42637462175900]},"available":false,"name":"SCORPION SERKET TAPER Full System - GSX-R 125 \/ GSX-R 150 Serket Taper Full System Carbon Fibre Sleeve 2017-2020","public_title":"GSX-R 125 \/ GSX-R 150 Serket Taper Full System Carbon Fibre Sleeve 2017-2020","options":["GSX-R 125 \/ GSX-R 150 Serket Taper Full System Carbon Fibre Sleeve 2017-2020"],"price":145128,"weight":0,"compare_at_price":null,"inventory_management":"sprint3-fulfillment","barcode":null,"featured_media":{"alt":"SUZUKI GSX-R 125\/150 17-21\n2017 - 2020","id":28841253699740,"position":27,"preview_image":{"aspect_ratio":1.0,"height":800,"width":800,"src":"\/\/motogear.co.nz\/cdn\/shop\/products\/6e64bf8a95f1d7488dfe29b9f1b1258f.jpg?v=1693380382"}}},{"id":42637462208668,"title":"GSX-R 125 \/ GSX-R 150 Serket Taper Full System Brushed Stainless Steel 17-20","option1":"GSX-R 125 \/ GSX-R 150 Serket Taper Full System Brushed Stainless Steel 17-20","option2":null,"option3":null,"sku":"RSI121SEO","requires_shipping":true,"taxable":true,"featured_image":{"id":36461836927132,"product_id":7659320148124,"position":28,"created_at":"2023-08-30T19:26:22+12:00","updated_at":"2023-08-30T19:26:22+12:00","alt":"SUZUKI GSX-R 125\/150 17-21\n2017 - 2020","width":800,"height":800,"src":"\/\/motogear.co.nz\/cdn\/shop\/products\/1e18f65a135eea2f1305c5ea0649a3be.jpg?v=1693380382","variant_ids":[42637462208668]},"available":false,"name":"SCORPION SERKET TAPER Full System - GSX-R 125 \/ GSX-R 150 Serket Taper Full System Brushed Stainless Steel 17-20","public_title":"GSX-R 125 \/ GSX-R 150 Serket Taper Full System Brushed Stainless Steel 17-20","options":["GSX-R 125 \/ GSX-R 150 Serket Taper Full System Brushed Stainless Steel 17-20"],"price":131018,"weight":0,"compare_at_price":null,"inventory_management":"sprint3-fulfillment","barcode":null,"featured_media":{"alt":"SUZUKI GSX-R 125\/150 17-21\n2017 - 2020","id":28841253732508,"position":28,"preview_image":{"aspect_ratio":1.0,"height":800,"width":800,"src":"\/\/motogear.co.nz\/cdn\/shop\/products\/1e18f65a135eea2f1305c5ea0649a3be.jpg?v=1693380382"}}},{"id":42637462241436,"title":"GSX-R 125 \/ GSX-R 150 Serket Taper Full System Titanium Sleeve 2017-2021","option1":"GSX-R 125 \/ GSX-R 150 Serket Taper Full System Titanium Sleeve 2017-2021","option2":null,"option3":null,"sku":"RSI121TEO","requires_shipping":true,"taxable":true,"featured_image":{"id":36461836959900,"product_id":7659320148124,"position":29,"created_at":"2023-08-30T19:26:22+12:00","updated_at":"2023-08-30T19:26:22+12:00","alt":"SUZUKI GSX-R 125\/150 17-21\n2017 - 2020","width":800,"height":800,"src":"\/\/motogear.co.nz\/cdn\/shop\/products\/312cfd0a28e8007e7e22b912cb59392e.jpg?v=1693380382","variant_ids":[42637462241436]},"available":false,"name":"SCORPION SERKET TAPER Full System - GSX-R 125 \/ GSX-R 150 Serket Taper Full System Titanium Sleeve 2017-2021","public_title":"GSX-R 125 \/ GSX-R 150 Serket Taper Full System Titanium Sleeve 2017-2021","options":["GSX-R 125 \/ GSX-R 150 Serket Taper Full System Titanium Sleeve 2017-2021"],"price":142440,"weight":0,"compare_at_price":null,"inventory_management":"sprint3-fulfillment","barcode":null,"featured_media":{"alt":"SUZUKI GSX-R 125\/150 17-21\n2017 - 2020","id":28841253765276,"position":29,"preview_image":{"aspect_ratio":1.0,"height":800,"width":800,"src":"\/\/motogear.co.nz\/cdn\/shop\/products\/312cfd0a28e8007e7e22b912cb59392e.jpg?v=1693380382"}}},{"id":42637462274204,"title":"GSX-S 125 \/ GSX-S 150 Serket Taper Full System Carbon Fibre Sleeve 2017-2021","option1":"GSX-S 125 \/ GSX-S 150 Serket Taper Full System Carbon Fibre Sleeve 2017-2021","option2":null,"option3":null,"sku":"RSI124CEO","requires_shipping":true,"taxable":true,"featured_image":{"id":36461836992668,"product_id":7659320148124,"position":30,"created_at":"2023-08-30T19:26:22+12:00","updated_at":"2023-08-30T19:26:22+12:00","alt":"SUZUKI GSX-S 125\/150 17-21\n2017 - 2021","width":800,"height":800,"src":"\/\/motogear.co.nz\/cdn\/shop\/products\/887d28db71c16673b50535b23905b8d3.jpg?v=1693380382","variant_ids":[42637462274204]},"available":false,"name":"SCORPION SERKET TAPER Full System - GSX-S 125 \/ GSX-S 150 Serket Taper Full System Carbon Fibre Sleeve 2017-2021","public_title":"GSX-S 125 \/ GSX-S 150 Serket Taper Full System Carbon Fibre Sleeve 2017-2021","options":["GSX-S 125 \/ GSX-S 150 Serket Taper Full System Carbon Fibre Sleeve 2017-2021"],"price":145128,"weight":0,"compare_at_price":null,"inventory_management":"sprint3-fulfillment","barcode":null,"featured_media":{"alt":"SUZUKI GSX-S 125\/150 17-21\n2017 - 2021","id":28841253798044,"position":30,"preview_image":{"aspect_ratio":1.0,"height":800,"width":800,"src":"\/\/motogear.co.nz\/cdn\/shop\/products\/887d28db71c16673b50535b23905b8d3.jpg?v=1693380382"}}},{"id":42637462306972,"title":"GSX-S 125 \/ GSX-S 150 Serket Taper Full System Brushed Stainless Steel 17-21","option1":"GSX-S 125 \/ GSX-S 150 Serket Taper Full System Brushed Stainless Steel 17-21","option2":null,"option3":null,"sku":"RSI124SEO","requires_shipping":true,"taxable":true,"featured_image":{"id":36461837025436,"product_id":7659320148124,"position":31,"created_at":"2023-08-30T19:26:22+12:00","updated_at":"2023-08-30T19:26:22+12:00","alt":"SUZUKI GSX-S 125\/150 17-21\n2017 - 2021","width":800,"height":800,"src":"\/\/motogear.co.nz\/cdn\/shop\/products\/19edb21a42b3a2e171978e3e9f3283e4.jpg?v=1693380382","variant_ids":[42637462306972]},"available":false,"name":"SCORPION SERKET TAPER Full System - GSX-S 125 \/ GSX-S 150 Serket Taper Full System Brushed Stainless Steel 17-21","public_title":"GSX-S 125 \/ GSX-S 150 Serket Taper Full System Brushed Stainless Steel 17-21","options":["GSX-S 125 \/ GSX-S 150 Serket Taper Full System Brushed Stainless Steel 17-21"],"price":131018,"weight":0,"compare_at_price":null,"inventory_management":"sprint3-fulfillment","barcode":null,"featured_media":{"alt":"SUZUKI GSX-S 125\/150 17-21\n2017 - 2021","id":28841253830812,"position":31,"preview_image":{"aspect_ratio":1.0,"height":800,"width":800,"src":"\/\/motogear.co.nz\/cdn\/shop\/products\/19edb21a42b3a2e171978e3e9f3283e4.jpg?v=1693380382"}}},{"id":42637462339740,"title":"GSX-S 125 \/ GSX-S 150 Serket Taper Full System Titanium Sleeve 2017-2021","option1":"GSX-S 125 \/ GSX-S 150 Serket Taper Full System Titanium Sleeve 2017-2021","option2":null,"option3":null,"sku":"RSI124TEO","requires_shipping":true,"taxable":true,"featured_image":{"id":36461837058204,"product_id":7659320148124,"position":32,"created_at":"2023-08-30T19:26:22+12:00","updated_at":"2023-08-30T19:26:22+12:00","alt":"SUZUKI GSX-S 125\/150 17-21\n2017 - 2021","width":800,"height":800,"src":"\/\/motogear.co.nz\/cdn\/shop\/products\/fa3b780a06ac1dd2108df5e531811f10.jpg?v=1693380382","variant_ids":[42637462339740]},"available":false,"name":"SCORPION SERKET TAPER Full System - GSX-S 125 \/ GSX-S 150 Serket Taper Full System Titanium Sleeve 2017-2021","public_title":"GSX-S 125 \/ GSX-S 150 Serket Taper Full System Titanium Sleeve 2017-2021","options":["GSX-S 125 \/ GSX-S 150 Serket Taper Full System Titanium Sleeve 2017-2021"],"price":142440,"weight":0,"compare_at_price":null,"inventory_management":"sprint3-fulfillment","barcode":null,"featured_media":{"alt":"SUZUKI GSX-S 125\/150 17-21\n2017 - 2021","id":28841253863580,"position":32,"preview_image":{"aspect_ratio":1.0,"height":800,"width":800,"src":"\/\/motogear.co.nz\/cdn\/shop\/products\/fa3b780a06ac1dd2108df5e531811f10.jpg?v=1693380382"}}},{"id":42637462372508,"title":"YZF-R125 Serket Taper Full System Carbon Fibre Sleeve 2019-2020","option1":"YZF-R125 Serket Taper Full System Carbon Fibre Sleeve 2019-2020","option2":null,"option3":null,"sku":"RYA113SYSCEO","requires_shipping":true,"taxable":true,"featured_image":{"id":36461837090972,"product_id":7659320148124,"position":33,"created_at":"2023-08-30T19:26:22+12:00","updated_at":"2023-08-30T19:26:22+12:00","alt":"YAMAHA YZF R 125 \/ R15 19-20\n2019 - 2020","width":800,"height":800,"src":"\/\/motogear.co.nz\/cdn\/shop\/products\/d6066620dae156624415bc5494f9e772.jpg?v=1693380382","variant_ids":[42637462372508]},"available":false,"name":"SCORPION SERKET TAPER Full System - YZF-R125 Serket Taper Full System Carbon Fibre Sleeve 2019-2020","public_title":"YZF-R125 Serket Taper Full System Carbon Fibre Sleeve 2019-2020","options":["YZF-R125 Serket Taper Full System Carbon Fibre Sleeve 2019-2020"],"price":129003,"weight":0,"compare_at_price":null,"inventory_management":"sprint3-fulfillment","barcode":null,"featured_media":{"alt":"YAMAHA YZF R 125 \/ R15 19-20\n2019 - 2020","id":28841253896348,"position":33,"preview_image":{"aspect_ratio":1.0,"height":800,"width":800,"src":"\/\/motogear.co.nz\/cdn\/shop\/products\/d6066620dae156624415bc5494f9e772.jpg?v=1693380382"}}},{"id":42637462405276,"title":"YZF-R125 Serket Taper Full System Brushed Stainless Steel Sleeve 2019-2020","option1":"YZF-R125 Serket Taper Full System Brushed Stainless Steel Sleeve 2019-2020","option2":null,"option3":null,"sku":"RYA113SYSSEO","requires_shipping":true,"taxable":true,"featured_image":{"id":36461837123740,"product_id":7659320148124,"position":34,"created_at":"2023-08-30T19:26:22+12:00","updated_at":"2023-08-30T19:26:22+12:00","alt":"YAMAHA YZF R 125 \/ R15 19-20\n2019 - 2020","width":800,"height":800,"src":"\/\/motogear.co.nz\/cdn\/shop\/products\/b01b040fcbcf282740459cd929659cce.jpg?v=1693380382","variant_ids":[42637462405276]},"available":false,"name":"SCORPION SERKET TAPER Full System - YZF-R125 Serket Taper Full System Brushed Stainless Steel Sleeve 2019-2020","public_title":"YZF-R125 Serket Taper Full System Brushed Stainless Steel Sleeve 2019-2020","options":["YZF-R125 Serket Taper Full System Brushed Stainless Steel Sleeve 2019-2020"],"price":115565,"weight":0,"compare_at_price":null,"inventory_management":"sprint3-fulfillment","barcode":null,"featured_media":{"alt":"YAMAHA YZF R 125 \/ R15 19-20\n2019 - 2020","id":28841253929116,"position":34,"preview_image":{"aspect_ratio":1.0,"height":800,"width":800,"src":"\/\/motogear.co.nz\/cdn\/shop\/products\/b01b040fcbcf282740459cd929659cce.jpg?v=1693380382"}}},{"id":42637462438044,"title":"YZF-R125 Serket Taper Full System Titanium Sleeve 2019-2020","option1":"YZF-R125 Serket Taper Full System Titanium Sleeve 2019-2020","option2":null,"option3":null,"sku":"RYA113SYSTEO","requires_shipping":true,"taxable":true,"featured_image":{"id":36461837156508,"product_id":7659320148124,"position":35,"created_at":"2023-08-30T19:26:22+12:00","updated_at":"2023-08-30T19:26:22+12:00","alt":"YAMAHA YZF R 125 \/ R15 19-20\n2019 - 2020","width":800,"height":800,"src":"\/\/motogear.co.nz\/cdn\/shop\/products\/db29307a549f7d133d1dd86c18fd5c36.jpg?v=1693380382","variant_ids":[42637462438044]},"available":false,"name":"SCORPION SERKET TAPER Full System - YZF-R125 Serket Taper Full System Titanium Sleeve 2019-2020","public_title":"YZF-R125 Serket Taper Full System Titanium Sleeve 2019-2020","options":["YZF-R125 Serket Taper Full System Titanium Sleeve 2019-2020"],"price":126315,"weight":0,"compare_at_price":null,"inventory_management":"sprint3-fulfillment","barcode":null,"featured_media":{"alt":"YAMAHA YZF R 125 \/ R15 19-20\n2019 - 2020","id":28841253961884,"position":35,"preview_image":{"aspect_ratio":1.0,"height":800,"width":800,"src":"\/\/motogear.co.nz\/cdn\/shop\/products\/db29307a549f7d133d1dd86c18fd5c36.jpg?v=1693380382"}}},{"id":42637462470812,"title":"YZF-R125 Serket Taper Full System Carbon Fibre Sleeve 2021-2023","option1":"YZF-R125 Serket Taper Full System Carbon Fibre Sleeve 2021-2023","option2":null,"option3":null,"sku":"RYA115SYSCEO","requires_shipping":true,"taxable":true,"featured_image":{"id":36461837189276,"product_id":7659320148124,"position":36,"created_at":"2023-08-30T19:26:22+12:00","updated_at":"2023-08-30T19:26:22+12:00","alt":"YAMAHA YZF R 125 21 - CURRENT\n2021 - 2023","width":800,"height":800,"src":"\/\/motogear.co.nz\/cdn\/shop\/products\/e63153f97fea65c54871834c9a3e4934.jpg?v=1693380382","variant_ids":[42637462470812]},"available":false,"name":"SCORPION SERKET TAPER Full System - YZF-R125 Serket Taper Full System Carbon Fibre Sleeve 2021-2023","public_title":"YZF-R125 Serket Taper Full System Carbon Fibre Sleeve 2021-2023","options":["YZF-R125 Serket Taper Full System Carbon Fibre Sleeve 2021-2023"],"price":135721,"weight":0,"compare_at_price":null,"inventory_management":"sprint3-fulfillment","barcode":null,"featured_media":{"alt":"YAMAHA YZF R 125 21 - CURRENT\n2021 - 2023","id":28841253994652,"position":36,"preview_image":{"aspect_ratio":1.0,"height":800,"width":800,"src":"\/\/motogear.co.nz\/cdn\/shop\/products\/e63153f97fea65c54871834c9a3e4934.jpg?v=1693380382"}}}],"images":["\/\/motogear.co.nz\/cdn\/shop\/products\/2fa7a92fe2fde97f3720d03722473b2d.jpg?v=1689149451","\/\/motogear.co.nz\/cdn\/shop\/products\/c295b0c5dc994d8e90a8404677edea78.jpg?v=1689149451","\/\/motogear.co.nz\/cdn\/shop\/products\/455dbe7c54608a7d4de23ae5b4e43c3a.jpg?v=1689149451","\/\/motogear.co.nz\/cdn\/shop\/products\/abe8f6ef6b3a4ecec6cd84b03fb5c229.jpg?v=1692689643","\/\/motogear.co.nz\/cdn\/shop\/products\/73ee5564466bfc6f45cf38695911b043.jpg?v=1692689643","\/\/motogear.co.nz\/cdn\/shop\/products\/6df78d91425a566743ade4fdf5df87a8.jpg?v=1692689643","\/\/motogear.co.nz\/cdn\/shop\/products\/a13ec48dc297af153b98649dedae383f_2e6442d9-2e07-4c69-850d-ab80ac78ebe3.jpg?v=1689149451","\/\/motogear.co.nz\/cdn\/shop\/products\/71456fdc4a4f675ff69bfe8bd160583e_e0192a8b-f4d7-4aee-b46b-f9f8dbb22ca6.jpg?v=1689149451","\/\/motogear.co.nz\/cdn\/shop\/products\/a316cfb4b2d08ca076f840a396320b2a_efa83bd0-e936-43da-b6ff-6c3f0fd83833.jpg?v=1689149451","\/\/motogear.co.nz\/cdn\/shop\/products\/603a042d2979c10a8e02f0872bccb8c0_d371127d-3b90-4c8a-bfe0-ba0c4fd719fb.jpg?v=1689149451","\/\/motogear.co.nz\/cdn\/shop\/products\/a8b38b99fc5360c4f28fdbcff87d87da_e76361e5-3c9e-43e2-98a2-f56c603a8dd5.jpg?v=1689149451","\/\/motogear.co.nz\/cdn\/shop\/products\/fc45793f2539a3f008c7c1b2925e5846_6b2ef5e4-dc51-4f4c-9550-8b52adfe537d.jpg?v=1689149451","\/\/motogear.co.nz\/cdn\/shop\/products\/86dd84948a5767120c1dfdc81fe3f22f_e8c2b736-62dd-4b2b-92d7-d6ede516a95c.jpg?v=1689149451","\/\/motogear.co.nz\/cdn\/shop\/products\/5a542ec2280f770da9140d502472b09d_52a8e3cf-bb60-4463-9a7f-55a41066dbd2.jpg?v=1689149451","\/\/motogear.co.nz\/cdn\/shop\/products\/a064c8af2fbf9b2c8a8be325145e0c43_2fb6a2e1-ebbc-4e67-a5dd-f692c5a999ba.jpg?v=1689149451","\/\/motogear.co.nz\/cdn\/shop\/products\/18d548f77b19ebe6b3dd867d7fbdb2b2_b5149168-fc62-44af-b97f-73451ab20649.jpg?v=1689149451","\/\/motogear.co.nz\/cdn\/shop\/products\/2317d988260e6e790f0c84bd90f29ded.jpg?v=1689149451","\/\/motogear.co.nz\/cdn\/shop\/products\/02cf7af478023391e90436f2778bda08_093181db-0868-4c32-8e57-851d2482fd1a.jpg?v=1689149451","\/\/motogear.co.nz\/cdn\/shop\/products\/ab69dddcbab0ab01818e44eefcde1c8d_60c23c85-ad48-4814-8af8-607f77685d2d.jpg?v=1689149451","\/\/motogear.co.nz\/cdn\/shop\/products\/06867593367b528554f9cd6fe437df11_e9d07fbb-9e4f-404f-9d7a-ae147b8882ff.jpg?v=1689149451","\/\/motogear.co.nz\/cdn\/shop\/products\/1304133eb7b26f2b6d8776ae4cfbfc51.jpg?v=1689149451","\/\/motogear.co.nz\/cdn\/shop\/products\/5aaaedc1a16a7d7081a555a5079f19ae_22aed1dd-1dec-4ea9-8d23-aaaf89b90fce.jpg?v=1689149451","\/\/motogear.co.nz\/cdn\/shop\/products\/0d37b68557853463a0e8ae0328ea738e_8c2d9590-b54e-4f32-8661-2fcdfa050412.jpg?v=1689149451","\/\/motogear.co.nz\/cdn\/shop\/products\/73fd8b39a9b18a209e71d18fa721f32d.jpg?v=1693380382","\/\/motogear.co.nz\/cdn\/shop\/products\/e6fab64f72598ca681457ba666e2ee95.jpg?v=1693380382","\/\/motogear.co.nz\/cdn\/shop\/products\/bb50f0c923a0aab1fd1d7c5fc147f3a2.jpg?v=1693380382","\/\/motogear.co.nz\/cdn\/shop\/products\/6e64bf8a95f1d7488dfe29b9f1b1258f.jpg?v=1693380382","\/\/motogear.co.nz\/cdn\/shop\/products\/1e18f65a135eea2f1305c5ea0649a3be.jpg?v=1693380382","\/\/motogear.co.nz\/cdn\/shop\/products\/312cfd0a28e8007e7e22b912cb59392e.jpg?v=1693380382","\/\/motogear.co.nz\/cdn\/shop\/products\/887d28db71c16673b50535b23905b8d3.jpg?v=1693380382","\/\/motogear.co.nz\/cdn\/shop\/products\/19edb21a42b3a2e171978e3e9f3283e4.jpg?v=1693380382","\/\/motogear.co.nz\/cdn\/shop\/products\/fa3b780a06ac1dd2108df5e531811f10.jpg?v=1693380382","\/\/motogear.co.nz\/cdn\/shop\/products\/d6066620dae156624415bc5494f9e772.jpg?v=1693380382","\/\/motogear.co.nz\/cdn\/shop\/products\/b01b040fcbcf282740459cd929659cce.jpg?v=1693380382","\/\/motogear.co.nz\/cdn\/shop\/products\/db29307a549f7d133d1dd86c18fd5c36.jpg?v=1693380382","\/\/motogear.co.nz\/cdn\/shop\/products\/e63153f97fea65c54871834c9a3e4934.jpg?v=1693380382","\/\/motogear.co.nz\/cdn\/shop\/products\/09a34156fc83aa94cceea60b806c1d8e.jpg?v=1693380382","\/\/motogear.co.nz\/cdn\/shop\/products\/79611d860390ceab7722789a5e2f83e6.jpg?v=1693380382","\/\/motogear.co.nz\/cdn\/shop\/products\/b0c8908139982f2639e7920d73296c7b.jpg?v=1693380382","\/\/motogear.co.nz\/cdn\/shop\/products\/83911e629de4e53d31b713ff84e43e65.jpg?v=1693380383"],"featured_image":"\/\/motogear.co.nz\/cdn\/shop\/products\/2fa7a92fe2fde97f3720d03722473b2d.jpg?v=1689149451","options":["Stock Item"],"media":[{"alt":"SERKET TAPER FULL SYSTEM CARBON, TRIUMPH TIGER 660 22-CURRENT\n2022 - 2022","id":28639238520988,"position":1,"preview_image":{"aspect_ratio":1.0,"height":1000,"width":1000,"src":"\/\/motogear.co.nz\/cdn\/shop\/products\/2fa7a92fe2fde97f3720d03722473b2d.jpg?v=1689149451"},"aspect_ratio":1.0,"height":1000,"media_type":"image","src":"\/\/motogear.co.nz\/cdn\/shop\/products\/2fa7a92fe2fde97f3720d03722473b2d.jpg?v=1689149451","width":1000},{"alt":"SERKET TAPER FULL SYSTEM STAINLESS STEEL, YAMAHA MT 07 22 - CURRENT\n2022 - 2022","id":28639238553756,"position":2,"preview_image":{"aspect_ratio":1.0,"height":1000,"width":1000,"src":"\/\/motogear.co.nz\/cdn\/shop\/products\/c295b0c5dc994d8e90a8404677edea78.jpg?v=1689149451"},"aspect_ratio":1.0,"height":1000,"media_type":"image","src":"\/\/motogear.co.nz\/cdn\/shop\/products\/c295b0c5dc994d8e90a8404677edea78.jpg?v=1689149451","width":1000},{"alt":"SERKET TAPER FULL SYSTEM TITANIUM, TRIUMPH TIGER 660 22-CURRENT\n2022 - 2022","id":28639238586524,"position":3,"preview_image":{"aspect_ratio":1.0,"height":1000,"width":1000,"src":"\/\/motogear.co.nz\/cdn\/shop\/products\/455dbe7c54608a7d4de23ae5b4e43c3a.jpg?v=1689149451"},"aspect_ratio":1.0,"height":1000,"media_type":"image","src":"\/\/motogear.co.nz\/cdn\/shop\/products\/455dbe7c54608a7d4de23ae5b4e43c3a.jpg?v=1689149451","width":1000},{"alt":"Triumph Tiger Sport 660 Carbon","id":28809457238172,"position":4,"preview_image":{"aspect_ratio":1.5,"height":800,"width":1200,"src":"\/\/motogear.co.nz\/cdn\/shop\/products\/abe8f6ef6b3a4ecec6cd84b03fb5c229.jpg?v=1692689643"},"aspect_ratio":1.5,"height":800,"media_type":"image","src":"\/\/motogear.co.nz\/cdn\/shop\/products\/abe8f6ef6b3a4ecec6cd84b03fb5c229.jpg?v=1692689643","width":1200},{"alt":"Triumph Tiger Sport 660 ST Stainless","id":28809457270940,"position":5,"preview_image":{"aspect_ratio":1.5,"height":800,"width":1200,"src":"\/\/motogear.co.nz\/cdn\/shop\/products\/73ee5564466bfc6f45cf38695911b043.jpg?v=1692689643"},"aspect_ratio":1.5,"height":800,"media_type":"image","src":"\/\/motogear.co.nz\/cdn\/shop\/products\/73ee5564466bfc6f45cf38695911b043.jpg?v=1692689643","width":1200},{"alt":"Triumph Tiger Sport 660 ST Titanium","id":28809457303708,"position":6,"preview_image":{"aspect_ratio":1.5,"height":800,"width":1200,"src":"\/\/motogear.co.nz\/cdn\/shop\/products\/6df78d91425a566743ade4fdf5df87a8.jpg?v=1692689643"},"aspect_ratio":1.5,"height":800,"media_type":"image","src":"\/\/motogear.co.nz\/cdn\/shop\/products\/6df78d91425a566743ade4fdf5df87a8.jpg?v=1692689643","width":1200},{"alt":"SERKET TAPER FULL SYSTEM CARBON, HONDA CBR 650 R 21-CURRENT\n2021 - 2022","id":28639238652060,"position":7,"preview_image":{"aspect_ratio":1.0,"height":1000,"width":1000,"src":"\/\/motogear.co.nz\/cdn\/shop\/products\/a13ec48dc297af153b98649dedae383f_2e6442d9-2e07-4c69-850d-ab80ac78ebe3.jpg?v=1689149451"},"aspect_ratio":1.0,"height":1000,"media_type":"image","src":"\/\/motogear.co.nz\/cdn\/shop\/products\/a13ec48dc297af153b98649dedae383f_2e6442d9-2e07-4c69-850d-ab80ac78ebe3.jpg?v=1689149451","width":1000},{"alt":"SERKET TAPER FULL SYSTEM STAINLEES STEEL, HONDA CBR 650 R 21-CURRENT\n2021 - 2022","id":28639238684828,"position":8,"preview_image":{"aspect_ratio":1.0,"height":1000,"width":1000,"src":"\/\/motogear.co.nz\/cdn\/shop\/products\/71456fdc4a4f675ff69bfe8bd160583e_e0192a8b-f4d7-4aee-b46b-f9f8dbb22ca6.jpg?v=1689149451"},"aspect_ratio":1.0,"height":1000,"media_type":"image","src":"\/\/motogear.co.nz\/cdn\/shop\/products\/71456fdc4a4f675ff69bfe8bd160583e_e0192a8b-f4d7-4aee-b46b-f9f8dbb22ca6.jpg?v=1689149451","width":1000},{"alt":"SERKET TAPER FULL SYSTEM TITANIUM, HONDA CBR 650 R 21-CURRENT\n2021 - 2022","id":28639238717596,"position":9,"preview_image":{"aspect_ratio":1.0,"height":1000,"width":1000,"src":"\/\/motogear.co.nz\/cdn\/shop\/products\/a316cfb4b2d08ca076f840a396320b2a_efa83bd0-e936-43da-b6ff-6c3f0fd83833.jpg?v=1689149451"},"aspect_ratio":1.0,"height":1000,"media_type":"image","src":"\/\/motogear.co.nz\/cdn\/shop\/products\/a316cfb4b2d08ca076f840a396320b2a_efa83bd0-e936-43da-b6ff-6c3f0fd83833.jpg?v=1689149451","width":1000},{"alt":"SCORPION Serket Taper Carbon","id":28639238750364,"position":10,"preview_image":{"aspect_ratio":1.0,"height":650,"width":650,"src":"\/\/motogear.co.nz\/cdn\/shop\/products\/603a042d2979c10a8e02f0872bccb8c0_d371127d-3b90-4c8a-bfe0-ba0c4fd719fb.jpg?v=1689149451"},"aspect_ratio":1.0,"height":650,"media_type":"image","src":"\/\/motogear.co.nz\/cdn\/shop\/products\/603a042d2979c10a8e02f0872bccb8c0_d371127d-3b90-4c8a-bfe0-ba0c4fd719fb.jpg?v=1689149451","width":650},{"alt":"SCORPION Serket Taper Stainless","id":28639238783132,"position":11,"preview_image":{"aspect_ratio":1.0,"height":650,"width":650,"src":"\/\/motogear.co.nz\/cdn\/shop\/products\/a8b38b99fc5360c4f28fdbcff87d87da_e76361e5-3c9e-43e2-98a2-f56c603a8dd5.jpg?v=1689149451"},"aspect_ratio":1.0,"height":650,"media_type":"image","src":"\/\/motogear.co.nz\/cdn\/shop\/products\/a8b38b99fc5360c4f28fdbcff87d87da_e76361e5-3c9e-43e2-98a2-f56c603a8dd5.jpg?v=1689149451","width":650},{"alt":"SCORPION Serket Taper Titanium","id":28639238815900,"position":12,"preview_image":{"aspect_ratio":1.0,"height":650,"width":650,"src":"\/\/motogear.co.nz\/cdn\/shop\/products\/fc45793f2539a3f008c7c1b2925e5846_6b2ef5e4-dc51-4f4c-9550-8b52adfe537d.jpg?v=1689149451"},"aspect_ratio":1.0,"height":650,"media_type":"image","src":"\/\/motogear.co.nz\/cdn\/shop\/products\/fc45793f2539a3f008c7c1b2925e5846_6b2ef5e4-dc51-4f4c-9550-8b52adfe537d.jpg?v=1689149451","width":650},{"alt":"SERKET TAPER FULL SYSTEM CARBON, HONDA CBR 650 R\n2019 - 2020","id":28639238848668,"position":13,"preview_image":{"aspect_ratio":1.0,"height":1000,"width":1000,"src":"\/\/motogear.co.nz\/cdn\/shop\/products\/86dd84948a5767120c1dfdc81fe3f22f_e8c2b736-62dd-4b2b-92d7-d6ede516a95c.jpg?v=1689149451"},"aspect_ratio":1.0,"height":1000,"media_type":"image","src":"\/\/motogear.co.nz\/cdn\/shop\/products\/86dd84948a5767120c1dfdc81fe3f22f_e8c2b736-62dd-4b2b-92d7-d6ede516a95c.jpg?v=1689149451","width":1000},{"alt":"SERKET TAPER FULL SYSTEM STAINLESS STEEL, HONDA CBR 650 R\n2019 - 2020","id":28639238881436,"position":14,"preview_image":{"aspect_ratio":1.0,"height":1000,"width":1000,"src":"\/\/motogear.co.nz\/cdn\/shop\/products\/5a542ec2280f770da9140d502472b09d_52a8e3cf-bb60-4463-9a7f-55a41066dbd2.jpg?v=1689149451"},"aspect_ratio":1.0,"height":1000,"media_type":"image","src":"\/\/motogear.co.nz\/cdn\/shop\/products\/5a542ec2280f770da9140d502472b09d_52a8e3cf-bb60-4463-9a7f-55a41066dbd2.jpg?v=1689149451","width":1000},{"alt":"SERKET TAPER FULL SYSTEM TITANIUM, HONDA CBR 650 R 2019 - 2020","id":28639238914204,"position":15,"preview_image":{"aspect_ratio":1.0,"height":1000,"width":1000,"src":"\/\/motogear.co.nz\/cdn\/shop\/products\/a064c8af2fbf9b2c8a8be325145e0c43_2fb6a2e1-ebbc-4e67-a5dd-f692c5a999ba.jpg?v=1689149451"},"aspect_ratio":1.0,"height":1000,"media_type":"image","src":"\/\/motogear.co.nz\/cdn\/shop\/products\/a064c8af2fbf9b2c8a8be325145e0c43_2fb6a2e1-ebbc-4e67-a5dd-f692c5a999ba.jpg?v=1689149451","width":1000},{"alt":"SERKET TAPER FULL SYSTEM CARBON, HONDA CB 650 R 19-CURRENT\n2019 - 2022","id":28639238979740,"position":16,"preview_image":{"aspect_ratio":1.0,"height":1000,"width":1000,"src":"\/\/motogear.co.nz\/cdn\/shop\/products\/18d548f77b19ebe6b3dd867d7fbdb2b2_b5149168-fc62-44af-b97f-73451ab20649.jpg?v=1689149451"},"aspect_ratio":1.0,"height":1000,"media_type":"image","src":"\/\/motogear.co.nz\/cdn\/shop\/products\/18d548f77b19ebe6b3dd867d7fbdb2b2_b5149168-fc62-44af-b97f-73451ab20649.jpg?v=1689149451","width":1000},{"alt":"SERKET TAPER FULL SYSTEM STAINLESS STEEL, KAWASAKI Z 650 17-CURRENT\n2017 - 2022","id":28639239012508,"position":17,"preview_image":{"aspect_ratio":1.0,"height":1000,"width":1000,"src":"\/\/motogear.co.nz\/cdn\/shop\/products\/2317d988260e6e790f0c84bd90f29ded.jpg?v=1689149451"},"aspect_ratio":1.0,"height":1000,"media_type":"image","src":"\/\/motogear.co.nz\/cdn\/shop\/products\/2317d988260e6e790f0c84bd90f29ded.jpg?v=1689149451","width":1000},{"alt":"SERKET TAPER FULL SYSTEM CARBON, KAWASAKI NINJA 650 17-CURRENT\n2017 - 2022","id":28639239045276,"position":18,"preview_image":{"aspect_ratio":1.0,"height":1000,"width":1000,"src":"\/\/motogear.co.nz\/cdn\/shop\/products\/02cf7af478023391e90436f2778bda08_093181db-0868-4c32-8e57-851d2482fd1a.jpg?v=1689149451"},"aspect_ratio":1.0,"height":1000,"media_type":"image","src":"\/\/motogear.co.nz\/cdn\/shop\/products\/02cf7af478023391e90436f2778bda08_093181db-0868-4c32-8e57-851d2482fd1a.jpg?v=1689149451","width":1000},{"alt":"SERKET TAPER FULL SYSTEM STAINLESS STEEL, KAWASAKI NINJA 650 17-CURRENT\n2017 - 2022","id":28639239110812,"position":19,"preview_image":{"aspect_ratio":1.0,"height":1000,"width":1000,"src":"\/\/motogear.co.nz\/cdn\/shop\/products\/ab69dddcbab0ab01818e44eefcde1c8d_60c23c85-ad48-4814-8af8-607f77685d2d.jpg?v=1689149451"},"aspect_ratio":1.0,"height":1000,"media_type":"image","src":"\/\/motogear.co.nz\/cdn\/shop\/products\/ab69dddcbab0ab01818e44eefcde1c8d_60c23c85-ad48-4814-8af8-607f77685d2d.jpg?v=1689149451","width":1000},{"alt":"SERKET TAPER FULL SYSTEM TITANIUM, KAWASAKI NINJA 650 17-CURRENT\n2017 - 2022","id":28639239143580,"position":20,"preview_image":{"aspect_ratio":1.0,"height":1000,"width":1000,"src":"\/\/motogear.co.nz\/cdn\/shop\/products\/06867593367b528554f9cd6fe437df11_e9d07fbb-9e4f-404f-9d7a-ae147b8882ff.jpg?v=1689149451"},"aspect_ratio":1.0,"height":1000,"media_type":"image","src":"\/\/motogear.co.nz\/cdn\/shop\/products\/06867593367b528554f9cd6fe437df11_e9d07fbb-9e4f-404f-9d7a-ae147b8882ff.jpg?v=1689149451","width":1000},{"alt":"Kawasaki Z 650 17-Current 2017 - 2018","id":28639239176348,"position":21,"preview_image":{"aspect_ratio":1.0,"height":650,"width":650,"src":"\/\/motogear.co.nz\/cdn\/shop\/products\/1304133eb7b26f2b6d8776ae4cfbfc51.jpg?v=1689149451"},"aspect_ratio":1.0,"height":650,"media_type":"image","src":"\/\/motogear.co.nz\/cdn\/shop\/products\/1304133eb7b26f2b6d8776ae4cfbfc51.jpg?v=1689149451","width":650},{"alt":"SCORPION Serket Parallel Stainless","id":28639239209116,"position":22,"preview_image":{"aspect_ratio":1.0,"height":650,"width":650,"src":"\/\/motogear.co.nz\/cdn\/shop\/products\/5aaaedc1a16a7d7081a555a5079f19ae_22aed1dd-1dec-4ea9-8d23-aaaf89b90fce.jpg?v=1689149451"},"aspect_ratio":1.0,"height":650,"media_type":"image","src":"\/\/motogear.co.nz\/cdn\/shop\/products\/5aaaedc1a16a7d7081a555a5079f19ae_22aed1dd-1dec-4ea9-8d23-aaaf89b90fce.jpg?v=1689149451","width":650},{"alt":"SERKET TAPER FULL SYSTEM CARBON, YAMAHA MT 07 22 - CURRENT\n2022 - 2022","id":28639239241884,"position":23,"preview_image":{"aspect_ratio":1.0,"height":1000,"width":1000,"src":"\/\/motogear.co.nz\/cdn\/shop\/products\/0d37b68557853463a0e8ae0328ea738e_8c2d9590-b54e-4f32-8661-2fcdfa050412.jpg?v=1689149451"},"aspect_ratio":1.0,"height":1000,"media_type":"image","src":"\/\/motogear.co.nz\/cdn\/shop\/products\/0d37b68557853463a0e8ae0328ea738e_8c2d9590-b54e-4f32-8661-2fcdfa050412.jpg?v=1689149451","width":1000},{"alt":"Ninja ZX-25R Serket Taper Full System Carbon Fibre Sleeve 2020-2022","id":28841253601436,"position":24,"preview_image":{"aspect_ratio":1.0,"height":800,"width":800,"src":"\/\/motogear.co.nz\/cdn\/shop\/products\/73fd8b39a9b18a209e71d18fa721f32d.jpg?v=1693380382"},"aspect_ratio":1.0,"height":800,"media_type":"image","src":"\/\/motogear.co.nz\/cdn\/shop\/products\/73fd8b39a9b18a209e71d18fa721f32d.jpg?v=1693380382","width":800},{"alt":"Ninja ZX-25R Serket Taper Full System Brushed Stainless Steel 2020-2022","id":28841253634204,"position":25,"preview_image":{"aspect_ratio":1.0,"height":800,"width":800,"src":"\/\/motogear.co.nz\/cdn\/shop\/products\/e6fab64f72598ca681457ba666e2ee95.jpg?v=1693380382"},"aspect_ratio":1.0,"height":800,"media_type":"image","src":"\/\/motogear.co.nz\/cdn\/shop\/products\/e6fab64f72598ca681457ba666e2ee95.jpg?v=1693380382","width":800},{"alt":"Ninja ZX-25R Serket Taper Full System Titanium Sleeve 2020-2022","id":28841253666972,"position":26,"preview_image":{"aspect_ratio":1.0,"height":800,"width":800,"src":"\/\/motogear.co.nz\/cdn\/shop\/products\/bb50f0c923a0aab1fd1d7c5fc147f3a2.jpg?v=1693380382"},"aspect_ratio":1.0,"height":800,"media_type":"image","src":"\/\/motogear.co.nz\/cdn\/shop\/products\/bb50f0c923a0aab1fd1d7c5fc147f3a2.jpg?v=1693380382","width":800},{"alt":"SUZUKI GSX-R 125\/150 17-21\n2017 - 2020","id":28841253699740,"position":27,"preview_image":{"aspect_ratio":1.0,"height":800,"width":800,"src":"\/\/motogear.co.nz\/cdn\/shop\/products\/6e64bf8a95f1d7488dfe29b9f1b1258f.jpg?v=1693380382"},"aspect_ratio":1.0,"height":800,"media_type":"image","src":"\/\/motogear.co.nz\/cdn\/shop\/products\/6e64bf8a95f1d7488dfe29b9f1b1258f.jpg?v=1693380382","width":800},{"alt":"SUZUKI GSX-R 125\/150 17-21\n2017 - 2020","id":28841253732508,"position":28,"preview_image":{"aspect_ratio":1.0,"height":800,"width":800,"src":"\/\/motogear.co.nz\/cdn\/shop\/products\/1e18f65a135eea2f1305c5ea0649a3be.jpg?v=1693380382"},"aspect_ratio":1.0,"height":800,"media_type":"image","src":"\/\/motogear.co.nz\/cdn\/shop\/products\/1e18f65a135eea2f1305c5ea0649a3be.jpg?v=1693380382","width":800},{"alt":"SUZUKI GSX-R 125\/150 17-21\n2017 - 2020","id":28841253765276,"position":29,"preview_image":{"aspect_ratio":1.0,"height":800,"width":800,"src":"\/\/motogear.co.nz\/cdn\/shop\/products\/312cfd0a28e8007e7e22b912cb59392e.jpg?v=1693380382"},"aspect_ratio":1.0,"height":800,"media_type":"image","src":"\/\/motogear.co.nz\/cdn\/shop\/products\/312cfd0a28e8007e7e22b912cb59392e.jpg?v=1693380382","width":800},{"alt":"SUZUKI GSX-S 125\/150 17-21\n2017 - 2021","id":28841253798044,"position":30,"preview_image":{"aspect_ratio":1.0,"height":800,"width":800,"src":"\/\/motogear.co.nz\/cdn\/shop\/products\/887d28db71c16673b50535b23905b8d3.jpg?v=1693380382"},"aspect_ratio":1.0,"height":800,"media_type":"image","src":"\/\/motogear.co.nz\/cdn\/shop\/products\/887d28db71c16673b50535b23905b8d3.jpg?v=1693380382","width":800},{"alt":"SUZUKI GSX-S 125\/150 17-21\n2017 - 2021","id":28841253830812,"position":31,"preview_image":{"aspect_ratio":1.0,"height":800,"width":800,"src":"\/\/motogear.co.nz\/cdn\/shop\/products\/19edb21a42b3a2e171978e3e9f3283e4.jpg?v=1693380382"},"aspect_ratio":1.0,"height":800,"media_type":"image","src":"\/\/motogear.co.nz\/cdn\/shop\/products\/19edb21a42b3a2e171978e3e9f3283e4.jpg?v=1693380382","width":800},{"alt":"SUZUKI GSX-S 125\/150 17-21\n2017 - 2021","id":28841253863580,"position":32,"preview_image":{"aspect_ratio":1.0,"height":800,"width":800,"src":"\/\/motogear.co.nz\/cdn\/shop\/products\/fa3b780a06ac1dd2108df5e531811f10.jpg?v=1693380382"},"aspect_ratio":1.0,"height":800,"media_type":"image","src":"\/\/motogear.co.nz\/cdn\/shop\/products\/fa3b780a06ac1dd2108df5e531811f10.jpg?v=1693380382","width":800},{"alt":"YAMAHA YZF R 125 \/ R15 19-20\n2019 - 2020","id":28841253896348,"position":33,"preview_image":{"aspect_ratio":1.0,"height":800,"width":800,"src":"\/\/motogear.co.nz\/cdn\/shop\/products\/d6066620dae156624415bc5494f9e772.jpg?v=1693380382"},"aspect_ratio":1.0,"height":800,"media_type":"image","src":"\/\/motogear.co.nz\/cdn\/shop\/products\/d6066620dae156624415bc5494f9e772.jpg?v=1693380382","width":800},{"alt":"YAMAHA YZF R 125 \/ R15 19-20\n2019 - 2020","id":28841253929116,"position":34,"preview_image":{"aspect_ratio":1.0,"height":800,"width":800,"src":"\/\/motogear.co.nz\/cdn\/shop\/products\/b01b040fcbcf282740459cd929659cce.jpg?v=1693380382"},"aspect_ratio":1.0,"height":800,"media_type":"image","src":"\/\/motogear.co.nz\/cdn\/shop\/products\/b01b040fcbcf282740459cd929659cce.jpg?v=1693380382","width":800},{"alt":"YAMAHA YZF R 125 \/ R15 19-20\n2019 - 2020","id":28841253961884,"position":35,"preview_image":{"aspect_ratio":1.0,"height":800,"width":800,"src":"\/\/motogear.co.nz\/cdn\/shop\/products\/db29307a549f7d133d1dd86c18fd5c36.jpg?v=1693380382"},"aspect_ratio":1.0,"height":800,"media_type":"image","src":"\/\/motogear.co.nz\/cdn\/shop\/products\/db29307a549f7d133d1dd86c18fd5c36.jpg?v=1693380382","width":800},{"alt":"YAMAHA YZF R 125 21 - CURRENT\n2021 - 2023","id":28841253994652,"position":36,"preview_image":{"aspect_ratio":1.0,"height":800,"width":800,"src":"\/\/motogear.co.nz\/cdn\/shop\/products\/e63153f97fea65c54871834c9a3e4934.jpg?v=1693380382"},"aspect_ratio":1.0,"height":800,"media_type":"image","src":"\/\/motogear.co.nz\/cdn\/shop\/products\/e63153f97fea65c54871834c9a3e4934.jpg?v=1693380382","width":800},{"alt":"YAMAHA YZF R 125 21 - CURRENT\n2021 - 2023","id":28841254027420,"position":37,"preview_image":{"aspect_ratio":1.0,"height":800,"width":800,"src":"\/\/motogear.co.nz\/cdn\/shop\/products\/09a34156fc83aa94cceea60b806c1d8e.jpg?v=1693380382"},"aspect_ratio":1.0,"height":800,"media_type":"image","src":"\/\/motogear.co.nz\/cdn\/shop\/products\/09a34156fc83aa94cceea60b806c1d8e.jpg?v=1693380382","width":800},{"alt":"YAMAHA YZF R 125 21 - CURRENT\n2021 - 2023","id":28841254060188,"position":38,"preview_image":{"aspect_ratio":1.0,"height":800,"width":800,"src":"\/\/motogear.co.nz\/cdn\/shop\/products\/79611d860390ceab7722789a5e2f83e6.jpg?v=1693380382"},"aspect_ratio":1.0,"height":800,"media_type":"image","src":"\/\/motogear.co.nz\/cdn\/shop\/products\/79611d860390ceab7722789a5e2f83e6.jpg?v=1693380382","width":800},{"alt":"YAMAHA XSR 700 21-CURRENT\n2021 - 2023","id":28841254092956,"position":39,"preview_image":{"aspect_ratio":1.0,"height":800,"width":800,"src":"\/\/motogear.co.nz\/cdn\/shop\/products\/b0c8908139982f2639e7920d73296c7b.jpg?v=1693380382"},"aspect_ratio":1.0,"height":800,"media_type":"image","src":"\/\/motogear.co.nz\/cdn\/shop\/products\/b0c8908139982f2639e7920d73296c7b.jpg?v=1693380382","width":800},{"alt":"YAMAHA XSR 700 21-CURRENT\n2021 - 2023","id":28841254125724,"position":40,"preview_image":{"aspect_ratio":1.0,"height":800,"width":800,"src":"\/\/motogear.co.nz\/cdn\/shop\/products\/83911e629de4e53d31b713ff84e43e65.jpg?v=1693380383"},"aspect_ratio":1.0,"height":800,"media_type":"image","src":"\/\/motogear.co.nz\/cdn\/shop\/products\/83911e629de4e53d31b713ff84e43e65.jpg?v=1693380383","width":800}],"content":"\u003cp\u003e\u003cstrong\u003eHand Crafted Performance Exhausts\u003c\/strong\u003e\u003c\/p\u003e\n\n\u003cp\u003eScorpion offers an extensive and exciting range of motorcycle exhausts...And the 'Serket Taper' exhaust is one of Scorpions 'Headline Acts'. Its design includes a unique precision formed 6 facet profile and an Aerospace derived multi composite 'Claw Contoured' outlet. Additionally the 'Serket' features a tempered \/ fused sleeve seam with compression coined ends and a GP Style double spring mount - Oh yeah...and as the name may suggest a nice tapered design for a more extreme race look.\u003c\/p\u003e\n\n\u003cp\u003eYou only have to hold a Scorpion exhaust to appreciate the premium design and construction qualities, which translate into tangible gains in both performance and reliability. Hand crafted in England and widely regarded as the best bike exhaust on the market today, Scorpion has become one of the most popular upgrades a rider can make.\u003c\/p\u003e\n\n\u003cul\u003e\n\t\u003cli\u003eBike specific fitment means this simple 'plug and play' exhaust can be fitted with ease with no mapping or re-jetting required.\u003c\/li\u003e\n\t\u003cli\u003eWeight saving alternative to the standard OE fitted can .\u003c\/li\u003e\n\t\u003cli\u003eAvailable in Carbon Fibre or Titanium sleeved options depending on the style you are looking to create.\u003c\/li\u003e\n\u003c\/ul\u003e\n\n\u003cp\u003eSee fitments for your model specific bike\u003c\/p\u003e\n"}