Scorpion EXO-HX1 - Solid Colours
Regular price
Sale price
$599.00
Unit price
/
per
or 4 payments of
Regular price
$0.00
Sale price
$149.75
Unit price
/
per
with
---
---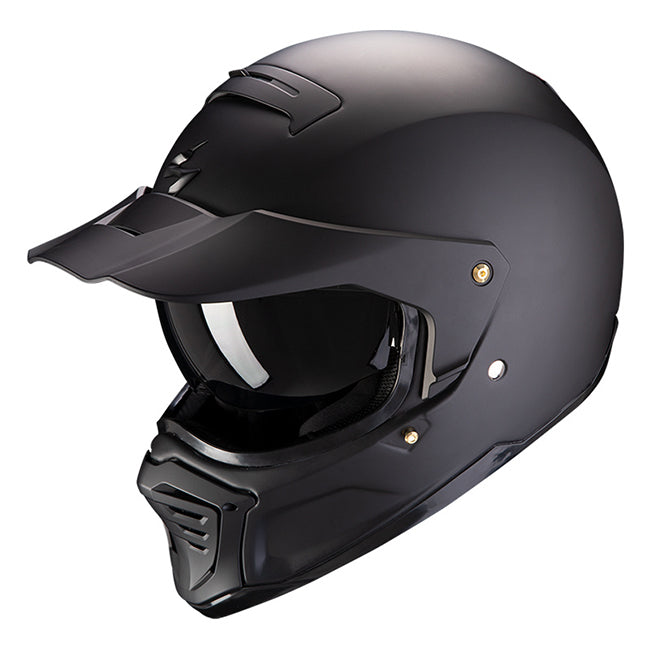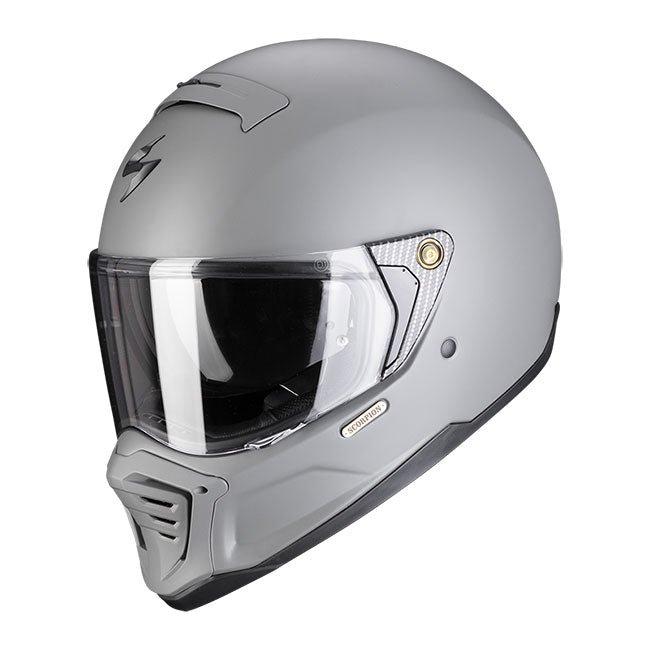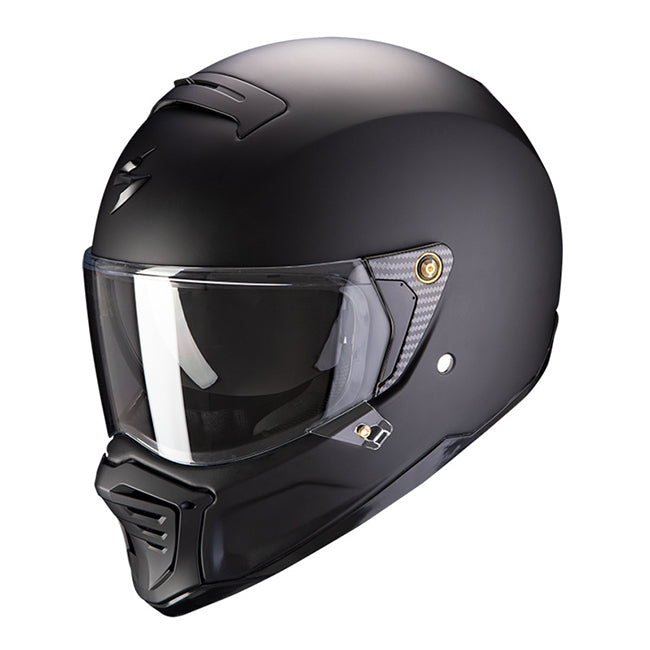 "Ships with clear visor"
EXO HX1
The real HX1 full face comes here at last. Scorpion's "neo-retro" philosophy presents various innovative functions and brings sleek and stylish shell design while keeping classic streetfighter look.
The patented, slim and small magnetic mechanism used for face shield movement offers smooth shield opening, and helps to realize slender shell line.
The helmet can be changed to an off-road style helmet with peak visor installed and the face shield removed.
It can be changed its look as classic street fighter full face also with peak visor removed and side covers installed.
The eyeport is large enough to accept most goggles. In addition, the interchangeable mouth vent bundled in the package provides different look.
This full face helmet can be made as another transformer thanks to Scorpion's innovative spirit.
{"id":7304322973852,"title":"Scorpion EXO-HX1 - Solid Colours","handle":"scorpion-exo-hx1-solid-colours","description":"\u003cp\u003e\u003cstrong\u003e\"Ships with clear visor\"\u003c\/strong\u003e\u003c\/p\u003e\n\n\u003cp\u003e\u003cstrong\u003eEXO HX1\u003c\/strong\u003e\u003c\/p\u003e\n\n\u003cp\u003eThe real HX1 full face comes here at last. Scorpion's "neo-retro" philosophy presents various innovative functions and brings sleek and stylish shell design while keeping classic streetfighter look.\u003cbr\u003e\nThe patented, slim and small magnetic mechanism used for face shield movement offers smooth shield opening, and helps to realize slender shell line.\u003cbr\u003e\nThe helmet can be changed to an off-road style helmet with peak visor installed and the face shield removed.\u003cbr\u003e\nIt can be changed its look as classic street fighter full face also with peak visor removed and side covers installed.\u003cbr\u003e\nThe eyeport is large enough to accept most goggles. In addition, the interchangeable mouth vent bundled in the package provides different look.\u003cbr\u003e\nThis full face helmet can be made as another transformer thanks to Scorpion's innovative spirit.\u003c\/p\u003e\n\n\u003cp\u003e\u003ciframe frameborder=\"0\" height=\"450\" scrolling=\"no\" src=\"https:\/\/www.youtube.com\/embed\/ln4QB21Pkuw\" width=\"650\"\u003e\u003c\/iframe\u003e\u003c\/p\u003e\n","published_at":"2022-06-20T13:59:24+12:00","created_at":"2022-05-26T22:31:05+12:00","vendor":"Scorpion Helmets","type":"Helmets-Road-FullFace","tags":["S3-Cat-Helmets","S3-Cat-Helmets-Road","S3-Cat-Helmets-Road-FullFace","Sprint3","Sprint3-New"],"price":59900,"price_min":59900,"price_max":59900,"available":true,"price_varies":false,"compare_at_price":null,"compare_at_price_min":0,"compare_at_price_max":0,"compare_at_price_varies":false,"variants":[{"id":41661138403484,"title":"S EXO-HX1 Matte Black Helmet Scorpion [A]","option1":"S EXO-HX1 Matte Black Helmet Scorpion [A]","option2":null,"option3":null,"sku":"SHX1SMB","requires_shipping":true,"taxable":true,"featured_image":{"id":33930666279068,"product_id":7304322973852,"position":1,"created_at":"2022-05-26T22:31:12+12:00","updated_at":"2022-05-26T22:31:12+12:00","alt":"SCORPION EXO-HX1 Matte Black","width":650,"height":650,"src":"\/\/motogear.co.nz\/cdn\/shop\/products\/d1d753e212c5808c332b8534f4ee6626_21c1e33f-d227-446a-8423-9ba7ca7f2f4d.jpg?v=1653561072","variant_ids":[41661138403484,41661138436252]},"available":true,"name":"Scorpion EXO-HX1 - Solid Colours - S EXO-HX1 Matte Black Helmet Scorpion [A]","public_title":"S EXO-HX1 Matte Black Helmet Scorpion [A]","options":["S EXO-HX1 Matte Black Helmet Scorpion [A]"],"price":59900,"weight":0,"compare_at_price":null,"inventory_management":"sprint3-fulfillment","barcode":"3399990079460","featured_media":{"alt":"SCORPION EXO-HX1 Matte Black","id":26282362372252,"position":1,"preview_image":{"aspect_ratio":1.0,"height":650,"width":650,"src":"\/\/motogear.co.nz\/cdn\/shop\/products\/d1d753e212c5808c332b8534f4ee6626_21c1e33f-d227-446a-8423-9ba7ca7f2f4d.jpg?v=1653561072"}}},{"id":41661138436252,"title":"M EXO-HX1 Matte Black Helmet Scorpion [A]","option1":"M EXO-HX1 Matte Black Helmet Scorpion [A]","option2":null,"option3":null,"sku":"SHX1MMB","requires_shipping":true,"taxable":true,"featured_image":{"id":33930666279068,"product_id":7304322973852,"position":1,"created_at":"2022-05-26T22:31:12+12:00","updated_at":"2022-05-26T22:31:12+12:00","alt":"SCORPION EXO-HX1 Matte Black","width":650,"height":650,"src":"\/\/motogear.co.nz\/cdn\/shop\/products\/d1d753e212c5808c332b8534f4ee6626_21c1e33f-d227-446a-8423-9ba7ca7f2f4d.jpg?v=1653561072","variant_ids":[41661138403484,41661138436252]},"available":true,"name":"Scorpion EXO-HX1 - Solid Colours - M EXO-HX1 Matte Black Helmet Scorpion [A]","public_title":"M EXO-HX1 Matte Black Helmet Scorpion [A]","options":["M EXO-HX1 Matte Black Helmet Scorpion [A]"],"price":59900,"weight":0,"compare_at_price":null,"inventory_management":"sprint3-fulfillment","barcode":"3399990079477","featured_media":{"alt":"SCORPION EXO-HX1 Matte Black","id":26282362372252,"position":1,"preview_image":{"aspect_ratio":1.0,"height":650,"width":650,"src":"\/\/motogear.co.nz\/cdn\/shop\/products\/d1d753e212c5808c332b8534f4ee6626_21c1e33f-d227-446a-8423-9ba7ca7f2f4d.jpg?v=1653561072"}}},{"id":41661138632860,"title":"S EXO-HX1 Matt Cement Grey Helmet Scorpion [A]","option1":"S EXO-HX1 Matt Cement Grey Helmet Scorpion [A]","option2":null,"option3":null,"sku":"SHX1SCG","requires_shipping":true,"taxable":true,"featured_image":{"id":33930666311836,"product_id":7304322973852,"position":2,"created_at":"2022-05-26T22:31:12+12:00","updated_at":"2022-05-26T22:31:12+12:00","alt":"Scorpion EXO-HX1 Matt Cement Grey","width":650,"height":650,"src":"\/\/motogear.co.nz\/cdn\/shop\/products\/00fd5d528f932fec8946554f1c79b6cb_c113526a-4dd5-49c4-bea7-64a0dd7e352c.jpg?v=1653561072","variant_ids":[41661138600092,41661138632860]},"available":true,"name":"Scorpion EXO-HX1 - Solid Colours - S EXO-HX1 Matt Cement Grey Helmet Scorpion [A]","public_title":"S EXO-HX1 Matt Cement Grey Helmet Scorpion [A]","options":["S EXO-HX1 Matt Cement Grey Helmet Scorpion [A]"],"price":59900,"weight":0,"compare_at_price":null,"inventory_management":"sprint3-fulfillment","barcode":"3399990079521","featured_media":{"alt":"Scorpion EXO-HX1 Matt Cement Grey","id":26282362405020,"position":2,"preview_image":{"aspect_ratio":1.0,"height":650,"width":650,"src":"\/\/motogear.co.nz\/cdn\/shop\/products\/00fd5d528f932fec8946554f1c79b6cb_c113526a-4dd5-49c4-bea7-64a0dd7e352c.jpg?v=1653561072"}}},{"id":41661138600092,"title":"M EXO-HX1 Matt Cement Grey Helmet Scorpion [AC]","option1":"M EXO-HX1 Matt Cement Grey Helmet Scorpion [AC]","option2":null,"option3":null,"sku":"SHX1MCG","requires_shipping":true,"taxable":true,"featured_image":{"id":33930666311836,"product_id":7304322973852,"position":2,"created_at":"2022-05-26T22:31:12+12:00","updated_at":"2022-05-26T22:31:12+12:00","alt":"Scorpion EXO-HX1 Matt Cement Grey","width":650,"height":650,"src":"\/\/motogear.co.nz\/cdn\/shop\/products\/00fd5d528f932fec8946554f1c79b6cb_c113526a-4dd5-49c4-bea7-64a0dd7e352c.jpg?v=1653561072","variant_ids":[41661138600092,41661138632860]},"available":true,"name":"Scorpion EXO-HX1 - Solid Colours - M EXO-HX1 Matt Cement Grey Helmet Scorpion [AC]","public_title":"M EXO-HX1 Matt Cement Grey Helmet Scorpion [AC]","options":["M EXO-HX1 Matt Cement Grey Helmet Scorpion [AC]"],"price":59900,"weight":0,"compare_at_price":null,"inventory_management":"sprint3-fulfillment","barcode":"3399990079538","featured_media":{"alt":"Scorpion EXO-HX1 Matt Cement Grey","id":26282362405020,"position":2,"preview_image":{"aspect_ratio":1.0,"height":650,"width":650,"src":"\/\/motogear.co.nz\/cdn\/shop\/products\/00fd5d528f932fec8946554f1c79b6cb_c113526a-4dd5-49c4-bea7-64a0dd7e352c.jpg?v=1653561072"}}}],"images":["\/\/motogear.co.nz\/cdn\/shop\/products\/d1d753e212c5808c332b8534f4ee6626_21c1e33f-d227-446a-8423-9ba7ca7f2f4d.jpg?v=1653561072","\/\/motogear.co.nz\/cdn\/shop\/products\/00fd5d528f932fec8946554f1c79b6cb_c113526a-4dd5-49c4-bea7-64a0dd7e352c.jpg?v=1653561072","\/\/motogear.co.nz\/cdn\/shop\/products\/1f9043f98d94558b433c5aa1b63d7a08_947697be-246b-41e8-9bcd-1da68b4934a4.jpg?v=1663829030","\/\/motogear.co.nz\/cdn\/shop\/products\/bed618b32ee4d4ccfe318101a2f1a2a2_3f564f7e-72c0-42ad-a97b-fbde1542e4d0.jpg?v=1653561072"],"featured_image":"\/\/motogear.co.nz\/cdn\/shop\/products\/d1d753e212c5808c332b8534f4ee6626_21c1e33f-d227-446a-8423-9ba7ca7f2f4d.jpg?v=1653561072","options":["Stock Item"],"media":[{"alt":"SCORPION EXO-HX1 Matte Black","id":26282362372252,"position":1,"preview_image":{"aspect_ratio":1.0,"height":650,"width":650,"src":"\/\/motogear.co.nz\/cdn\/shop\/products\/d1d753e212c5808c332b8534f4ee6626_21c1e33f-d227-446a-8423-9ba7ca7f2f4d.jpg?v=1653561072"},"aspect_ratio":1.0,"height":650,"media_type":"image","src":"\/\/motogear.co.nz\/cdn\/shop\/products\/d1d753e212c5808c332b8534f4ee6626_21c1e33f-d227-446a-8423-9ba7ca7f2f4d.jpg?v=1653561072","width":650},{"alt":"Scorpion EXO-HX1 Matt Cement Grey","id":26282362405020,"position":2,"preview_image":{"aspect_ratio":1.0,"height":650,"width":650,"src":"\/\/motogear.co.nz\/cdn\/shop\/products\/00fd5d528f932fec8946554f1c79b6cb_c113526a-4dd5-49c4-bea7-64a0dd7e352c.jpg?v=1653561072"},"aspect_ratio":1.0,"height":650,"media_type":"image","src":"\/\/motogear.co.nz\/cdn\/shop\/products\/00fd5d528f932fec8946554f1c79b6cb_c113526a-4dd5-49c4-bea7-64a0dd7e352c.jpg?v=1653561072","width":650},{"alt":"SCORPION EXO SIZING","id":27146796826780,"position":3,"preview_image":{"aspect_ratio":1.0,"height":650,"width":650,"src":"\/\/motogear.co.nz\/cdn\/shop\/products\/1f9043f98d94558b433c5aa1b63d7a08_947697be-246b-41e8-9bcd-1da68b4934a4.jpg?v=1663829030"},"aspect_ratio":1.0,"height":650,"media_type":"image","src":"\/\/motogear.co.nz\/cdn\/shop\/products\/1f9043f98d94558b433c5aa1b63d7a08_947697be-246b-41e8-9bcd-1da68b4934a4.jpg?v=1663829030","width":650},{"alt":"SCORPION EXO-HX1 Matte Black with out peak","id":26282362437788,"position":4,"preview_image":{"aspect_ratio":1.0,"height":650,"width":650,"src":"\/\/motogear.co.nz\/cdn\/shop\/products\/bed618b32ee4d4ccfe318101a2f1a2a2_3f564f7e-72c0-42ad-a97b-fbde1542e4d0.jpg?v=1653561072"},"aspect_ratio":1.0,"height":650,"media_type":"image","src":"\/\/motogear.co.nz\/cdn\/shop\/products\/bed618b32ee4d4ccfe318101a2f1a2a2_3f564f7e-72c0-42ad-a97b-fbde1542e4d0.jpg?v=1653561072","width":650}],"content":"\u003cp\u003e\u003cstrong\u003e\"Ships with clear visor\"\u003c\/strong\u003e\u003c\/p\u003e\n\n\u003cp\u003e\u003cstrong\u003eEXO HX1\u003c\/strong\u003e\u003c\/p\u003e\n\n\u003cp\u003eThe real HX1 full face comes here at last. Scorpion's "neo-retro" philosophy presents various innovative functions and brings sleek and stylish shell design while keeping classic streetfighter look.\u003cbr\u003e\nThe patented, slim and small magnetic mechanism used for face shield movement offers smooth shield opening, and helps to realize slender shell line.\u003cbr\u003e\nThe helmet can be changed to an off-road style helmet with peak visor installed and the face shield removed.\u003cbr\u003e\nIt can be changed its look as classic street fighter full face also with peak visor removed and side covers installed.\u003cbr\u003e\nThe eyeport is large enough to accept most goggles. In addition, the interchangeable mouth vent bundled in the package provides different look.\u003cbr\u003e\nThis full face helmet can be made as another transformer thanks to Scorpion's innovative spirit.\u003c\/p\u003e\n\n\u003cp\u003e\u003ciframe frameborder=\"0\" height=\"450\" scrolling=\"no\" src=\"https:\/\/www.youtube.com\/embed\/ln4QB21Pkuw\" width=\"650\"\u003e\u003c\/iframe\u003e\u003c\/p\u003e\n"}