SCORPION CARBINE Slip On
Regular price
Sale price
$819.58
Unit price
/
per
or 4 payments of
Regular price
$0.00
Sale price
$204.89
Unit price
/
per
with
---
---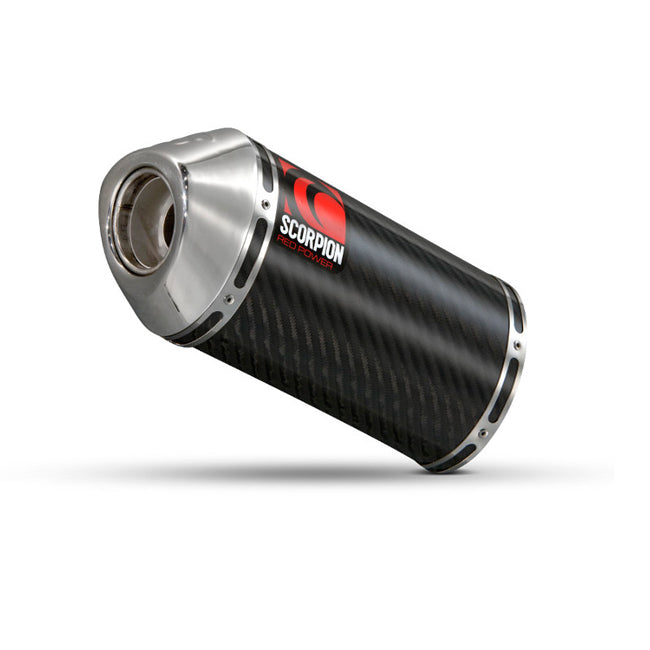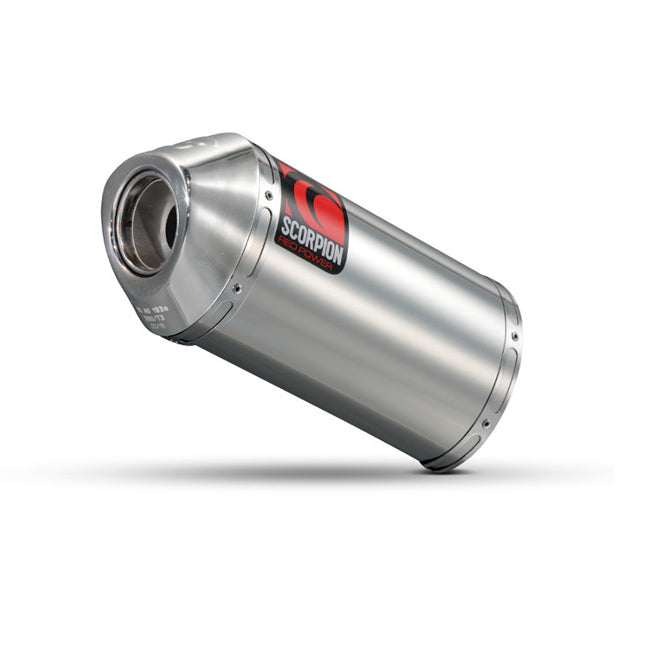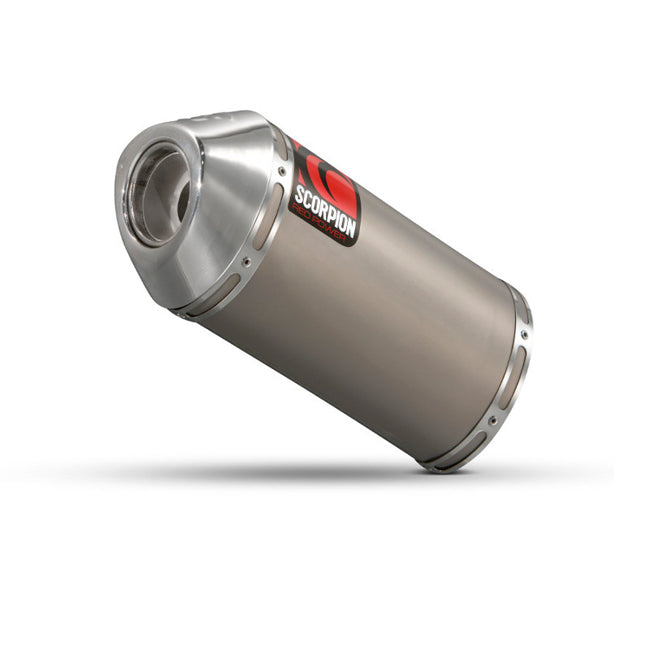 Hand Crafted Performance Exhausts
Scorpion offers an extensive and exciting range of motorcycle exhausts...The 'Carbine Oval Silencer' is one of them...This is the 'Extreme' version of the 'Factory Oval silencer - essentially a shorter more compact version. Definitely not one for the faint hearted, the Carbine Oval is the 'sawn-off shotgun' of the silencer world! Shorter, Lighter and extremely potent! Unlike the standard 'Factory Oval' the 'Carbine' is aimed at the more radical rider who likes to be the friendly Sunday morning wake-up call... for the whole street!
You only have to hold a Scorpion exhaust to appreciate the premium design and construction qualities, which translate into tangible gains in both performance and reliability. Hand crafted in England and widely regarded as the best bike exhaust on the market today, Scorpion has become one of the most popular upgrades a rider can make.
Bike specific fitment means this simple 'plug and play' exhaust can be fitted with ease with no mapping or re-jetting required.
Weight saving alternative to the standard OE fitted can .
Available in Carbon Fibre or Titanium sleeved options depending on the style you are looking to create.
See fitments for your model specific bike
{"id":7384310775964,"title":"SCORPION CARBINE Slip On","handle":"scorpion-carbine-slip-on","description":"\u003cp\u003e\u003cstrong\u003eHand Crafted Performance Exhausts\u003c\/strong\u003e\u003c\/p\u003e\n\n\u003cp\u003eScorpion offers an extensive and exciting range of motorcycle exhausts...The 'Carbine Oval Silencer' is one of them...This is the 'Extreme' version of the 'Factory Oval silencer - essentially a shorter more compact version. Definitely not one for the faint hearted, the Carbine Oval is the 'sawn-off shotgun' of the silencer world! Shorter, Lighter and extremely potent! Unlike the standard 'Factory Oval' the 'Carbine' is aimed at the more radical rider who likes to be the friendly Sunday morning wake-up call... for the whole street!\u003c\/p\u003e\n\n\u003cp\u003eYou only have to hold a Scorpion exhaust to appreciate the premium design and construction qualities, which translate into tangible gains in both performance and reliability. Hand crafted in England and widely regarded as the best bike exhaust on the market today, Scorpion has become one of the most popular upgrades a rider can make.\u003c\/p\u003e\n\n\u003cul\u003e\n\t\u003cli\u003eBike specific fitment means this simple 'plug and play' exhaust can be fitted with ease with no mapping or re-jetting required.\u003c\/li\u003e\n\t\u003cli\u003eWeight saving alternative to the standard OE fitted can .\u003c\/li\u003e\n\t\u003cli\u003eAvailable in Carbon Fibre or Titanium sleeved options depending on the style you are looking to create.\u003c\/li\u003e\n\u003c\/ul\u003e\n\n\u003cp\u003eSee fitments for your model specific bike\u003c\/p\u003e\n","published_at":"2022-08-30T09:09:46+12:00","created_at":"2022-08-29T19:33:38+12:00","vendor":"Scorpion Exhausts","type":"Accessories-Road-Exhaust-SlipOn","tags":["S3-Cat-Accessories","S3-Cat-Accessories-Road","S3-Cat-Accessories-Road-Exhaust","S3-Cat-Accessories-Road-Exhaust-SlipOn","Sprint3","Sprint3-New"],"price":73920,"price_min":73920,"price_max":163915,"available":false,"price_varies":true,"compare_at_price":null,"compare_at_price_min":0,"compare_at_price_max":0,"compare_at_price_varies":false,"variants":[{"id":41886153244828,"title":"Honda CBR 600 Fi F4i 01-08 Carbine Slip-on Carbon Fibre []","option1":"Honda CBR 600 Fi F4i 01-08 Carbine Slip-on Carbon Fibre []","option2":null,"option3":null,"sku":"EHA91CFO","requires_shipping":true,"taxable":true,"featured_image":{"id":34593117995164,"product_id":7384310775964,"position":1,"created_at":"2022-08-29T19:33:46+12:00","updated_at":"2022-08-29T19:33:46+12:00","alt":"SCORPION Carbine Carbon","width":650,"height":650,"src":"\/\/motogear.co.nz\/cdn\/shop\/products\/4a892a559b51ca7b134a1c697b537b95_553a20ab-7345-4e87-b57f-b4d4550a35c4.jpg?v=1661758426","variant_ids":[41886153244828,41886153343132,41886153408668,41886153474204,41886153539740,41886153605276,41886153670812,41886153736348,41886153801884,41886153867420,41886153932956,41886153998492]},"available":false,"name":"SCORPION CARBINE Slip On - Honda CBR 600 Fi F4i 01-08 Carbine Slip-on Carbon Fibre []","public_title":"Honda CBR 600 Fi F4i 01-08 Carbine Slip-on Carbon Fibre []","options":["Honda CBR 600 Fi F4i 01-08 Carbine Slip-on Carbon Fibre []"],"price":81958,"weight":0,"compare_at_price":null,"inventory_management":"sprint3-fulfillment","barcode":"8486470074222","featured_media":{"alt":"SCORPION Carbine Carbon","id":26950969884828,"position":1,"preview_image":{"aspect_ratio":1.0,"height":650,"width":650,"src":"\/\/motogear.co.nz\/cdn\/shop\/products\/4a892a559b51ca7b134a1c697b537b95_553a20ab-7345-4e87-b57f-b4d4550a35c4.jpg?v=1661758426"}}},{"id":41886153277596,"title":"Honda CBR 600 Fi F4i 01-08 Carbine Slip-on S\/Steel []","option1":"Honda CBR 600 Fi F4i 01-08 Carbine Slip-on S\/Steel []","option2":null,"option3":null,"sku":"EHA91SSO","requires_shipping":true,"taxable":true,"featured_image":{"id":34593118027932,"product_id":7384310775964,"position":2,"created_at":"2022-08-29T19:33:46+12:00","updated_at":"2022-08-29T19:33:46+12:00","alt":"SCORPION Carbine Stainless","width":650,"height":650,"src":"\/\/motogear.co.nz\/cdn\/shop\/products\/f2c83f21bfbe34a7ebec7cc99d84aa5c.jpg?v=1661758426","variant_ids":[41886153277596,41886153375900,41886153441436,41886153506972,41886153572508,41886153638044,41886153703580,41886153769116,41886153834652,41886153900188,41886153965724,41886154031260]},"available":false,"name":"SCORPION CARBINE Slip On - Honda CBR 600 Fi F4i 01-08 Carbine Slip-on S\/Steel []","public_title":"Honda CBR 600 Fi F4i 01-08 Carbine Slip-on S\/Steel []","options":["Honda CBR 600 Fi F4i 01-08 Carbine Slip-on S\/Steel []"],"price":76717,"weight":0,"compare_at_price":null,"inventory_management":"sprint3-fulfillment","barcode":"8486470074468","featured_media":{"alt":"SCORPION Carbine Stainless","id":26950969917596,"position":2,"preview_image":{"aspect_ratio":1.0,"height":650,"width":650,"src":"\/\/motogear.co.nz\/cdn\/shop\/products\/f2c83f21bfbe34a7ebec7cc99d84aa5c.jpg?v=1661758426"}}},{"id":41886153310364,"title":"Honda CBR 600 Fi F4i 01-08 Carbine Slip-on Titanium []","option1":"Honda CBR 600 Fi F4i 01-08 Carbine Slip-on Titanium []","option2":null,"option3":null,"sku":"EHA91TIO","requires_shipping":true,"taxable":true,"featured_image":{"id":34593118060700,"product_id":7384310775964,"position":3,"created_at":"2022-08-29T19:33:47+12:00","updated_at":"2022-08-29T19:33:47+12:00","alt":"SCORPION Carbine Titanium","width":650,"height":650,"src":"\/\/motogear.co.nz\/cdn\/shop\/products\/4a1ef3bdca3c5b5fbf38df2283c7f14a.jpg?v=1661758427","variant_ids":[41886153310364]},"available":false,"name":"SCORPION CARBINE Slip On - Honda CBR 600 Fi F4i 01-08 Carbine Slip-on Titanium []","public_title":"Honda CBR 600 Fi F4i 01-08 Carbine Slip-on Titanium []","options":["Honda CBR 600 Fi F4i 01-08 Carbine Slip-on Titanium []"],"price":81958,"weight":0,"compare_at_price":null,"inventory_management":"sprint3-fulfillment","barcode":"8486470074604","featured_media":{"alt":"SCORPION Carbine Titanium","id":26950969950364,"position":3,"preview_image":{"aspect_ratio":1.0,"height":650,"width":650,"src":"\/\/motogear.co.nz\/cdn\/shop\/products\/4a1ef3bdca3c5b5fbf38df2283c7f14a.jpg?v=1661758427"}}},{"id":41886153343132,"title":"Kawasaki ZZR 1400 06-07 Pair Carbine Slip-on Carbon Fibre []","option1":"Kawasaki ZZR 1400 06-07 Pair Carbine Slip-on Carbon Fibre []","option2":null,"option3":null,"sku":"EKA82CFO","requires_shipping":true,"taxable":true,"featured_image":{"id":34593117995164,"product_id":7384310775964,"position":1,"created_at":"2022-08-29T19:33:46+12:00","updated_at":"2022-08-29T19:33:46+12:00","alt":"SCORPION Carbine Carbon","width":650,"height":650,"src":"\/\/motogear.co.nz\/cdn\/shop\/products\/4a892a559b51ca7b134a1c697b537b95_553a20ab-7345-4e87-b57f-b4d4550a35c4.jpg?v=1661758426","variant_ids":[41886153244828,41886153343132,41886153408668,41886153474204,41886153539740,41886153605276,41886153670812,41886153736348,41886153801884,41886153867420,41886153932956,41886153998492]},"available":false,"name":"SCORPION CARBINE Slip On - Kawasaki ZZR 1400 06-07 Pair Carbine Slip-on Carbon Fibre []","public_title":"Kawasaki ZZR 1400 06-07 Pair Carbine Slip-on Carbon Fibre []","options":["Kawasaki ZZR 1400 06-07 Pair Carbine Slip-on Carbon Fibre []"],"price":163915,"weight":0,"compare_at_price":null,"inventory_management":"sprint3-fulfillment","barcode":"8486470309638","featured_media":{"alt":"SCORPION Carbine Carbon","id":26950969884828,"position":1,"preview_image":{"aspect_ratio":1.0,"height":650,"width":650,"src":"\/\/motogear.co.nz\/cdn\/shop\/products\/4a892a559b51ca7b134a1c697b537b95_553a20ab-7345-4e87-b57f-b4d4550a35c4.jpg?v=1661758426"}}},{"id":41886153375900,"title":"Kawasaki ZZR 1400 06-07 Pair Carbine Slip-on S\/Steel []","option1":"Kawasaki ZZR 1400 06-07 Pair Carbine Slip-on S\/Steel []","option2":null,"option3":null,"sku":"EKA82SSO","requires_shipping":true,"taxable":true,"featured_image":{"id":34593118027932,"product_id":7384310775964,"position":2,"created_at":"2022-08-29T19:33:46+12:00","updated_at":"2022-08-29T19:33:46+12:00","alt":"SCORPION Carbine Stainless","width":650,"height":650,"src":"\/\/motogear.co.nz\/cdn\/shop\/products\/f2c83f21bfbe34a7ebec7cc99d84aa5c.jpg?v=1661758426","variant_ids":[41886153277596,41886153375900,41886153441436,41886153506972,41886153572508,41886153638044,41886153703580,41886153769116,41886153834652,41886153900188,41886153965724,41886154031260]},"available":false,"name":"SCORPION CARBINE Slip On - Kawasaki ZZR 1400 06-07 Pair Carbine Slip-on S\/Steel []","public_title":"Kawasaki ZZR 1400 06-07 Pair Carbine Slip-on S\/Steel []","options":["Kawasaki ZZR 1400 06-07 Pair Carbine Slip-on S\/Steel []"],"price":153421,"weight":0,"compare_at_price":null,"inventory_management":"sprint3-fulfillment","barcode":"8486470309706","featured_media":{"alt":"SCORPION Carbine Stainless","id":26950969917596,"position":2,"preview_image":{"aspect_ratio":1.0,"height":650,"width":650,"src":"\/\/motogear.co.nz\/cdn\/shop\/products\/f2c83f21bfbe34a7ebec7cc99d84aa5c.jpg?v=1661758426"}}},{"id":41886153408668,"title":"Kawasaki ZZR 1400 08-11 Carbine Slip-on Pair Carbon []","option1":"Kawasaki ZZR 1400 08-11 Carbine Slip-on Pair Carbon []","option2":null,"option3":null,"sku":"EKA83CFO","requires_shipping":true,"taxable":true,"featured_image":{"id":34593117995164,"product_id":7384310775964,"position":1,"created_at":"2022-08-29T19:33:46+12:00","updated_at":"2022-08-29T19:33:46+12:00","alt":"SCORPION Carbine Carbon","width":650,"height":650,"src":"\/\/motogear.co.nz\/cdn\/shop\/products\/4a892a559b51ca7b134a1c697b537b95_553a20ab-7345-4e87-b57f-b4d4550a35c4.jpg?v=1661758426","variant_ids":[41886153244828,41886153343132,41886153408668,41886153474204,41886153539740,41886153605276,41886153670812,41886153736348,41886153801884,41886153867420,41886153932956,41886153998492]},"available":false,"name":"SCORPION CARBINE Slip On - Kawasaki ZZR 1400 08-11 Carbine Slip-on Pair Carbon []","public_title":"Kawasaki ZZR 1400 08-11 Carbine Slip-on Pair Carbon []","options":["Kawasaki ZZR 1400 08-11 Carbine Slip-on Pair Carbon []"],"price":163915,"weight":0,"compare_at_price":null,"inventory_management":"sprint3-fulfillment","barcode":"8486470306040","featured_media":{"alt":"SCORPION Carbine Carbon","id":26950969884828,"position":1,"preview_image":{"aspect_ratio":1.0,"height":650,"width":650,"src":"\/\/motogear.co.nz\/cdn\/shop\/products\/4a892a559b51ca7b134a1c697b537b95_553a20ab-7345-4e87-b57f-b4d4550a35c4.jpg?v=1661758426"}}},{"id":41886153441436,"title":"Kawasaki ZZR 1400 08-11 Carbine Slip-on Pair S\/S []","option1":"Kawasaki ZZR 1400 08-11 Carbine Slip-on Pair S\/S []","option2":null,"option3":null,"sku":"EKA83SSO","requires_shipping":true,"taxable":true,"featured_image":{"id":34593118027932,"product_id":7384310775964,"position":2,"created_at":"2022-08-29T19:33:46+12:00","updated_at":"2022-08-29T19:33:46+12:00","alt":"SCORPION Carbine Stainless","width":650,"height":650,"src":"\/\/motogear.co.nz\/cdn\/shop\/products\/f2c83f21bfbe34a7ebec7cc99d84aa5c.jpg?v=1661758426","variant_ids":[41886153277596,41886153375900,41886153441436,41886153506972,41886153572508,41886153638044,41886153703580,41886153769116,41886153834652,41886153900188,41886153965724,41886154031260]},"available":false,"name":"SCORPION CARBINE Slip On - Kawasaki ZZR 1400 08-11 Carbine Slip-on Pair S\/S []","public_title":"Kawasaki ZZR 1400 08-11 Carbine Slip-on Pair S\/S []","options":["Kawasaki ZZR 1400 08-11 Carbine Slip-on Pair S\/S []"],"price":153421,"weight":0,"compare_at_price":null,"inventory_management":"sprint3-fulfillment","barcode":"8486470110548","featured_media":{"alt":"SCORPION Carbine Stainless","id":26950969917596,"position":2,"preview_image":{"aspect_ratio":1.0,"height":650,"width":650,"src":"\/\/motogear.co.nz\/cdn\/shop\/products\/f2c83f21bfbe34a7ebec7cc99d84aa5c.jpg?v=1661758426"}}},{"id":41886153474204,"title":"GSX1300R Hayabusa 08-17 Carbine Slip-on Pair Carbon []","option1":"GSX1300R Hayabusa 08-17 Carbine Slip-on Pair Carbon []","option2":null,"option3":null,"sku":"ESI104CFO","requires_shipping":true,"taxable":true,"featured_image":{"id":34593117995164,"product_id":7384310775964,"position":1,"created_at":"2022-08-29T19:33:46+12:00","updated_at":"2022-08-29T19:33:46+12:00","alt":"SCORPION Carbine Carbon","width":650,"height":650,"src":"\/\/motogear.co.nz\/cdn\/shop\/products\/4a892a559b51ca7b134a1c697b537b95_553a20ab-7345-4e87-b57f-b4d4550a35c4.jpg?v=1661758426","variant_ids":[41886153244828,41886153343132,41886153408668,41886153474204,41886153539740,41886153605276,41886153670812,41886153736348,41886153801884,41886153867420,41886153932956,41886153998492]},"available":false,"name":"SCORPION CARBINE Slip On - GSX1300R Hayabusa 08-17 Carbine Slip-on Pair Carbon []","public_title":"GSX1300R Hayabusa 08-17 Carbine Slip-on Pair Carbon []","options":["GSX1300R Hayabusa 08-17 Carbine Slip-on Pair Carbon []"],"price":163915,"weight":0,"compare_at_price":null,"inventory_management":"sprint3-fulfillment","barcode":"8486470337730","featured_media":{"alt":"SCORPION Carbine Carbon","id":26950969884828,"position":1,"preview_image":{"aspect_ratio":1.0,"height":650,"width":650,"src":"\/\/motogear.co.nz\/cdn\/shop\/products\/4a892a559b51ca7b134a1c697b537b95_553a20ab-7345-4e87-b57f-b4d4550a35c4.jpg?v=1661758426"}}},{"id":41886153506972,"title":"GSX1300R Hayabusa 08-17 Carbine Slip-on Pair S\/Steel []","option1":"GSX1300R Hayabusa 08-17 Carbine Slip-on Pair S\/Steel []","option2":null,"option3":null,"sku":"ESI104SSO","requires_shipping":true,"taxable":true,"featured_image":{"id":34593118027932,"product_id":7384310775964,"position":2,"created_at":"2022-08-29T19:33:46+12:00","updated_at":"2022-08-29T19:33:46+12:00","alt":"SCORPION Carbine Stainless","width":650,"height":650,"src":"\/\/motogear.co.nz\/cdn\/shop\/products\/f2c83f21bfbe34a7ebec7cc99d84aa5c.jpg?v=1661758426","variant_ids":[41886153277596,41886153375900,41886153441436,41886153506972,41886153572508,41886153638044,41886153703580,41886153769116,41886153834652,41886153900188,41886153965724,41886154031260]},"available":false,"name":"SCORPION CARBINE Slip On - GSX1300R Hayabusa 08-17 Carbine Slip-on Pair S\/Steel []","public_title":"GSX1300R Hayabusa 08-17 Carbine Slip-on Pair S\/Steel []","options":["GSX1300R Hayabusa 08-17 Carbine Slip-on Pair S\/Steel []"],"price":153421,"weight":0,"compare_at_price":null,"inventory_management":"sprint3-fulfillment","barcode":"8486470337808","featured_media":{"alt":"SCORPION Carbine Stainless","id":26950969917596,"position":2,"preview_image":{"aspect_ratio":1.0,"height":650,"width":650,"src":"\/\/motogear.co.nz\/cdn\/shop\/products\/f2c83f21bfbe34a7ebec7cc99d84aa5c.jpg?v=1661758426"}}},{"id":41886153539740,"title":"Suzuki SV 650 04-15 Carbine Slip-on Carbon Fibre []","option1":"Suzuki SV 650 04-15 Carbine Slip-on Carbon Fibre []","option2":null,"option3":null,"sku":"ESI88CFO","requires_shipping":true,"taxable":true,"featured_image":{"id":34593117995164,"product_id":7384310775964,"position":1,"created_at":"2022-08-29T19:33:46+12:00","updated_at":"2022-08-29T19:33:46+12:00","alt":"SCORPION Carbine Carbon","width":650,"height":650,"src":"\/\/motogear.co.nz\/cdn\/shop\/products\/4a892a559b51ca7b134a1c697b537b95_553a20ab-7345-4e87-b57f-b4d4550a35c4.jpg?v=1661758426","variant_ids":[41886153244828,41886153343132,41886153408668,41886153474204,41886153539740,41886153605276,41886153670812,41886153736348,41886153801884,41886153867420,41886153932956,41886153998492]},"available":false,"name":"SCORPION CARBINE Slip On - Suzuki SV 650 04-15 Carbine Slip-on Carbon Fibre []","public_title":"Suzuki SV 650 04-15 Carbine Slip-on Carbon Fibre []","options":["Suzuki SV 650 04-15 Carbine Slip-on Carbon Fibre []"],"price":81958,"weight":0,"compare_at_price":null,"inventory_management":"sprint3-fulfillment","barcode":"8486470155334","featured_media":{"alt":"SCORPION Carbine Carbon","id":26950969884828,"position":1,"preview_image":{"aspect_ratio":1.0,"height":650,"width":650,"src":"\/\/motogear.co.nz\/cdn\/shop\/products\/4a892a559b51ca7b134a1c697b537b95_553a20ab-7345-4e87-b57f-b4d4550a35c4.jpg?v=1661758426"}}},{"id":41886153572508,"title":"Suzuki SV 650 04-15 Carbine Slip-on S\/Steel []","option1":"Suzuki SV 650 04-15 Carbine Slip-on S\/Steel []","option2":null,"option3":null,"sku":"ESI88SSO","requires_shipping":true,"taxable":true,"featured_image":{"id":34593118027932,"product_id":7384310775964,"position":2,"created_at":"2022-08-29T19:33:46+12:00","updated_at":"2022-08-29T19:33:46+12:00","alt":"SCORPION Carbine Stainless","width":650,"height":650,"src":"\/\/motogear.co.nz\/cdn\/shop\/products\/f2c83f21bfbe34a7ebec7cc99d84aa5c.jpg?v=1661758426","variant_ids":[41886153277596,41886153375900,41886153441436,41886153506972,41886153572508,41886153638044,41886153703580,41886153769116,41886153834652,41886153900188,41886153965724,41886154031260]},"available":false,"name":"SCORPION CARBINE Slip On - Suzuki SV 650 04-15 Carbine Slip-on S\/Steel []","public_title":"Suzuki SV 650 04-15 Carbine Slip-on S\/Steel []","options":["Suzuki SV 650 04-15 Carbine Slip-on S\/Steel []"],"price":76717,"weight":0,"compare_at_price":null,"inventory_management":"sprint3-fulfillment","barcode":"8486470155570","featured_media":{"alt":"SCORPION Carbine Stainless","id":26950969917596,"position":2,"preview_image":{"aspect_ratio":1.0,"height":650,"width":650,"src":"\/\/motogear.co.nz\/cdn\/shop\/products\/f2c83f21bfbe34a7ebec7cc99d84aa5c.jpg?v=1661758426"}}},{"id":41886153605276,"title":"GSF600\/650\/1200 Bandit 01-06 Carbine Slip-on Carbon Fibre []","option1":"GSF600\/650\/1200 Bandit 01-06 Carbine Slip-on Carbon Fibre []","option2":null,"option3":null,"sku":"ESI90CFO","requires_shipping":true,"taxable":true,"featured_image":{"id":34593117995164,"product_id":7384310775964,"position":1,"created_at":"2022-08-29T19:33:46+12:00","updated_at":"2022-08-29T19:33:46+12:00","alt":"SCORPION Carbine Carbon","width":650,"height":650,"src":"\/\/motogear.co.nz\/cdn\/shop\/products\/4a892a559b51ca7b134a1c697b537b95_553a20ab-7345-4e87-b57f-b4d4550a35c4.jpg?v=1661758426","variant_ids":[41886153244828,41886153343132,41886153408668,41886153474204,41886153539740,41886153605276,41886153670812,41886153736348,41886153801884,41886153867420,41886153932956,41886153998492]},"available":false,"name":"SCORPION CARBINE Slip On - GSF600\/650\/1200 Bandit 01-06 Carbine Slip-on Carbon Fibre []","public_title":"GSF600\/650\/1200 Bandit 01-06 Carbine Slip-on Carbon Fibre []","options":["GSF600\/650\/1200 Bandit 01-06 Carbine Slip-on Carbon Fibre []"],"price":81958,"weight":0,"compare_at_price":null,"inventory_management":"sprint3-fulfillment","barcode":"8486470155952","featured_media":{"alt":"SCORPION Carbine Carbon","id":26950969884828,"position":1,"preview_image":{"aspect_ratio":1.0,"height":650,"width":650,"src":"\/\/motogear.co.nz\/cdn\/shop\/products\/4a892a559b51ca7b134a1c697b537b95_553a20ab-7345-4e87-b57f-b4d4550a35c4.jpg?v=1661758426"}}},{"id":41886153638044,"title":"GSF600\/650\/1200 Bandit 01-06 Carbine Slip-on S\/Steel []","option1":"GSF600\/650\/1200 Bandit 01-06 Carbine Slip-on S\/Steel []","option2":null,"option3":null,"sku":"ESI90SSO","requires_shipping":true,"taxable":true,"featured_image":{"id":34593118027932,"product_id":7384310775964,"position":2,"created_at":"2022-08-29T19:33:46+12:00","updated_at":"2022-08-29T19:33:46+12:00","alt":"SCORPION Carbine Stainless","width":650,"height":650,"src":"\/\/motogear.co.nz\/cdn\/shop\/products\/f2c83f21bfbe34a7ebec7cc99d84aa5c.jpg?v=1661758426","variant_ids":[41886153277596,41886153375900,41886153441436,41886153506972,41886153572508,41886153638044,41886153703580,41886153769116,41886153834652,41886153900188,41886153965724,41886154031260]},"available":false,"name":"SCORPION CARBINE Slip On - GSF600\/650\/1200 Bandit 01-06 Carbine Slip-on S\/Steel []","public_title":"GSF600\/650\/1200 Bandit 01-06 Carbine Slip-on S\/Steel []","options":["GSF600\/650\/1200 Bandit 01-06 Carbine Slip-on S\/Steel []"],"price":76717,"weight":0,"compare_at_price":null,"inventory_management":"sprint3-fulfillment","barcode":"8486470156188","featured_media":{"alt":"SCORPION Carbine Stainless","id":26950969917596,"position":2,"preview_image":{"aspect_ratio":1.0,"height":650,"width":650,"src":"\/\/motogear.co.nz\/cdn\/shop\/products\/f2c83f21bfbe34a7ebec7cc99d84aa5c.jpg?v=1661758426"}}},{"id":41886153670812,"title":"GSXR600Y-K 00-05\/750Y-K 99-05 Carbine Slip-on Carbon Fibre []","option1":"GSXR600Y-K 00-05\/750Y-K 99-05 Carbine Slip-on Carbon Fibre []","option2":null,"option3":null,"sku":"ESI91CFO","requires_shipping":true,"taxable":true,"featured_image":{"id":34593117995164,"product_id":7384310775964,"position":1,"created_at":"2022-08-29T19:33:46+12:00","updated_at":"2022-08-29T19:33:46+12:00","alt":"SCORPION Carbine Carbon","width":650,"height":650,"src":"\/\/motogear.co.nz\/cdn\/shop\/products\/4a892a559b51ca7b134a1c697b537b95_553a20ab-7345-4e87-b57f-b4d4550a35c4.jpg?v=1661758426","variant_ids":[41886153244828,41886153343132,41886153408668,41886153474204,41886153539740,41886153605276,41886153670812,41886153736348,41886153801884,41886153867420,41886153932956,41886153998492]},"available":false,"name":"SCORPION CARBINE Slip On - GSXR600Y-K 00-05\/750Y-K 99-05 Carbine Slip-on Carbon Fibre []","public_title":"GSXR600Y-K 00-05\/750Y-K 99-05 Carbine Slip-on Carbon Fibre []","options":["GSXR600Y-K 00-05\/750Y-K 99-05 Carbine Slip-on Carbon Fibre []"],"price":78970,"weight":0,"compare_at_price":null,"inventory_management":"sprint3-fulfillment","barcode":"8486470156560","featured_media":{"alt":"SCORPION Carbine Carbon","id":26950969884828,"position":1,"preview_image":{"aspect_ratio":1.0,"height":650,"width":650,"src":"\/\/motogear.co.nz\/cdn\/shop\/products\/4a892a559b51ca7b134a1c697b537b95_553a20ab-7345-4e87-b57f-b4d4550a35c4.jpg?v=1661758426"}}},{"id":41886153703580,"title":"GSXR600Y-K 00-05\/750Y-K 99-05 Carbine Slip-on S\/Steel []","option1":"GSXR600Y-K 00-05\/750Y-K 99-05 Carbine Slip-on S\/Steel []","option2":null,"option3":null,"sku":"ESI91SSO","requires_shipping":true,"taxable":true,"featured_image":{"id":34593118027932,"product_id":7384310775964,"position":2,"created_at":"2022-08-29T19:33:46+12:00","updated_at":"2022-08-29T19:33:46+12:00","alt":"SCORPION Carbine Stainless","width":650,"height":650,"src":"\/\/motogear.co.nz\/cdn\/shop\/products\/f2c83f21bfbe34a7ebec7cc99d84aa5c.jpg?v=1661758426","variant_ids":[41886153277596,41886153375900,41886153441436,41886153506972,41886153572508,41886153638044,41886153703580,41886153769116,41886153834652,41886153900188,41886153965724,41886154031260]},"available":false,"name":"SCORPION CARBINE Slip On - GSXR600Y-K 00-05\/750Y-K 99-05 Carbine Slip-on S\/Steel []","public_title":"GSXR600Y-K 00-05\/750Y-K 99-05 Carbine Slip-on S\/Steel []","options":["GSXR600Y-K 00-05\/750Y-K 99-05 Carbine Slip-on S\/Steel []"],"price":73920,"weight":0,"compare_at_price":null,"inventory_management":"sprint3-fulfillment","barcode":"8486470156706","featured_media":{"alt":"SCORPION Carbine Stainless","id":26950969917596,"position":2,"preview_image":{"aspect_ratio":1.0,"height":650,"width":650,"src":"\/\/motogear.co.nz\/cdn\/shop\/products\/f2c83f21bfbe34a7ebec7cc99d84aa5c.jpg?v=1661758426"}}},{"id":41886153736348,"title":"Suzuki GSXR 1000 01-04 Carbine Slip-on Carbon Fibre []","option1":"Suzuki GSXR 1000 01-04 Carbine Slip-on Carbon Fibre []","option2":null,"option3":null,"sku":"ESI92CFO","requires_shipping":true,"taxable":true,"featured_image":{"id":34593117995164,"product_id":7384310775964,"position":1,"created_at":"2022-08-29T19:33:46+12:00","updated_at":"2022-08-29T19:33:46+12:00","alt":"SCORPION Carbine Carbon","width":650,"height":650,"src":"\/\/motogear.co.nz\/cdn\/shop\/products\/4a892a559b51ca7b134a1c697b537b95_553a20ab-7345-4e87-b57f-b4d4550a35c4.jpg?v=1661758426","variant_ids":[41886153244828,41886153343132,41886153408668,41886153474204,41886153539740,41886153605276,41886153670812,41886153736348,41886153801884,41886153867420,41886153932956,41886153998492]},"available":false,"name":"SCORPION CARBINE Slip On - Suzuki GSXR 1000 01-04 Carbine Slip-on Carbon Fibre []","public_title":"Suzuki GSXR 1000 01-04 Carbine Slip-on Carbon Fibre []","options":["Suzuki GSXR 1000 01-04 Carbine Slip-on Carbon Fibre []"],"price":78970,"weight":0,"compare_at_price":null,"inventory_management":"sprint3-fulfillment","barcode":"8486470157178","featured_media":{"alt":"SCORPION Carbine Carbon","id":26950969884828,"position":1,"preview_image":{"aspect_ratio":1.0,"height":650,"width":650,"src":"\/\/motogear.co.nz\/cdn\/shop\/products\/4a892a559b51ca7b134a1c697b537b95_553a20ab-7345-4e87-b57f-b4d4550a35c4.jpg?v=1661758426"}}},{"id":41886153769116,"title":"Suzuki GSXR 1000 01-04 Carbine Slip-on S\/Steel []","option1":"Suzuki GSXR 1000 01-04 Carbine Slip-on S\/Steel []","option2":null,"option3":null,"sku":"ESI92SSO","requires_shipping":true,"taxable":true,"featured_image":{"id":34593118027932,"product_id":7384310775964,"position":2,"created_at":"2022-08-29T19:33:46+12:00","updated_at":"2022-08-29T19:33:46+12:00","alt":"SCORPION Carbine Stainless","width":650,"height":650,"src":"\/\/motogear.co.nz\/cdn\/shop\/products\/f2c83f21bfbe34a7ebec7cc99d84aa5c.jpg?v=1661758426","variant_ids":[41886153277596,41886153375900,41886153441436,41886153506972,41886153572508,41886153638044,41886153703580,41886153769116,41886153834652,41886153900188,41886153965724,41886154031260]},"available":false,"name":"SCORPION CARBINE Slip On - Suzuki GSXR 1000 01-04 Carbine Slip-on S\/Steel []","public_title":"Suzuki GSXR 1000 01-04 Carbine Slip-on S\/Steel []","options":["Suzuki GSXR 1000 01-04 Carbine Slip-on S\/Steel []"],"price":73920,"weight":0,"compare_at_price":null,"inventory_management":"sprint3-fulfillment","barcode":"8486470157314","featured_media":{"alt":"SCORPION Carbine Stainless","id":26950969917596,"position":2,"preview_image":{"aspect_ratio":1.0,"height":650,"width":650,"src":"\/\/motogear.co.nz\/cdn\/shop\/products\/f2c83f21bfbe34a7ebec7cc99d84aa5c.jpg?v=1661758426"}}},{"id":41886153801884,"title":"GSF650 07-11 GSF1250 07-15 Carbine Slip-on Carbon Fibre []","option1":"GSF650 07-11 GSF1250 07-15 Carbine Slip-on Carbon Fibre []","option2":null,"option3":null,"sku":"ESI99CFO","requires_shipping":true,"taxable":true,"featured_image":{"id":34593117995164,"product_id":7384310775964,"position":1,"created_at":"2022-08-29T19:33:46+12:00","updated_at":"2022-08-29T19:33:46+12:00","alt":"SCORPION Carbine Carbon","width":650,"height":650,"src":"\/\/motogear.co.nz\/cdn\/shop\/products\/4a892a559b51ca7b134a1c697b537b95_553a20ab-7345-4e87-b57f-b4d4550a35c4.jpg?v=1661758426","variant_ids":[41886153244828,41886153343132,41886153408668,41886153474204,41886153539740,41886153605276,41886153670812,41886153736348,41886153801884,41886153867420,41886153932956,41886153998492]},"available":false,"name":"SCORPION CARBINE Slip On - GSF650 07-11 GSF1250 07-15 Carbine Slip-on Carbon Fibre []","public_title":"GSF650 07-11 GSF1250 07-15 Carbine Slip-on Carbon Fibre []","options":["GSF650 07-11 GSF1250 07-15 Carbine Slip-on Carbon Fibre []"],"price":81958,"weight":0,"compare_at_price":null,"inventory_management":"sprint3-fulfillment","barcode":"8486470161588","featured_media":{"alt":"SCORPION Carbine Carbon","id":26950969884828,"position":1,"preview_image":{"aspect_ratio":1.0,"height":650,"width":650,"src":"\/\/motogear.co.nz\/cdn\/shop\/products\/4a892a559b51ca7b134a1c697b537b95_553a20ab-7345-4e87-b57f-b4d4550a35c4.jpg?v=1661758426"}}},{"id":41886153834652,"title":"GSF650 07-11 GSF1250 07-15 Carbine Slip-on S\/Steel []","option1":"GSF650 07-11 GSF1250 07-15 Carbine Slip-on S\/Steel []","option2":null,"option3":null,"sku":"ESI99SSO","requires_shipping":true,"taxable":true,"featured_image":{"id":34593118027932,"product_id":7384310775964,"position":2,"created_at":"2022-08-29T19:33:46+12:00","updated_at":"2022-08-29T19:33:46+12:00","alt":"SCORPION Carbine Stainless","width":650,"height":650,"src":"\/\/motogear.co.nz\/cdn\/shop\/products\/f2c83f21bfbe34a7ebec7cc99d84aa5c.jpg?v=1661758426","variant_ids":[41886153277596,41886153375900,41886153441436,41886153506972,41886153572508,41886153638044,41886153703580,41886153769116,41886153834652,41886153900188,41886153965724,41886154031260]},"available":false,"name":"SCORPION CARBINE Slip On - GSF650 07-11 GSF1250 07-15 Carbine Slip-on S\/Steel []","public_title":"GSF650 07-11 GSF1250 07-15 Carbine Slip-on S\/Steel []","options":["GSF650 07-11 GSF1250 07-15 Carbine Slip-on S\/Steel []"],"price":76717,"weight":0,"compare_at_price":null,"inventory_management":"sprint3-fulfillment","barcode":"8486470161724","featured_media":{"alt":"SCORPION Carbine Stainless","id":26950969917596,"position":2,"preview_image":{"aspect_ratio":1.0,"height":650,"width":650,"src":"\/\/motogear.co.nz\/cdn\/shop\/products\/f2c83f21bfbe34a7ebec7cc99d84aa5c.jpg?v=1661758426"}}},{"id":41886153867420,"title":"Yamaha YZF 1000 R1 02-03 Carbine Slip-on Carbon Fibre []","option1":"Yamaha YZF 1000 R1 02-03 Carbine Slip-on Carbon Fibre []","option2":null,"option3":null,"sku":"EYA75CFO","requires_shipping":true,"taxable":true,"featured_image":{"id":34593117995164,"product_id":7384310775964,"position":1,"created_at":"2022-08-29T19:33:46+12:00","updated_at":"2022-08-29T19:33:46+12:00","alt":"SCORPION Carbine Carbon","width":650,"height":650,"src":"\/\/motogear.co.nz\/cdn\/shop\/products\/4a892a559b51ca7b134a1c697b537b95_553a20ab-7345-4e87-b57f-b4d4550a35c4.jpg?v=1661758426","variant_ids":[41886153244828,41886153343132,41886153408668,41886153474204,41886153539740,41886153605276,41886153670812,41886153736348,41886153801884,41886153867420,41886153932956,41886153998492]},"available":false,"name":"SCORPION CARBINE Slip On - Yamaha YZF 1000 R1 02-03 Carbine Slip-on Carbon Fibre []","public_title":"Yamaha YZF 1000 R1 02-03 Carbine Slip-on Carbon Fibre []","options":["Yamaha YZF 1000 R1 02-03 Carbine Slip-on Carbon Fibre []"],"price":81958,"weight":0,"compare_at_price":null,"inventory_management":"sprint3-fulfillment","barcode":"8486470310528","featured_media":{"alt":"SCORPION Carbine Carbon","id":26950969884828,"position":1,"preview_image":{"aspect_ratio":1.0,"height":650,"width":650,"src":"\/\/motogear.co.nz\/cdn\/shop\/products\/4a892a559b51ca7b134a1c697b537b95_553a20ab-7345-4e87-b57f-b4d4550a35c4.jpg?v=1661758426"}}},{"id":41886153900188,"title":"Yamaha YZF 1000 R1 02-03 Carbine Slip-on S\/Steel []","option1":"Yamaha YZF 1000 R1 02-03 Carbine Slip-on S\/Steel []","option2":null,"option3":null,"sku":"EYA75SSO","requires_shipping":true,"taxable":true,"featured_image":{"id":34593118027932,"product_id":7384310775964,"position":2,"created_at":"2022-08-29T19:33:46+12:00","updated_at":"2022-08-29T19:33:46+12:00","alt":"SCORPION Carbine Stainless","width":650,"height":650,"src":"\/\/motogear.co.nz\/cdn\/shop\/products\/f2c83f21bfbe34a7ebec7cc99d84aa5c.jpg?v=1661758426","variant_ids":[41886153277596,41886153375900,41886153441436,41886153506972,41886153572508,41886153638044,41886153703580,41886153769116,41886153834652,41886153900188,41886153965724,41886154031260]},"available":false,"name":"SCORPION CARBINE Slip On - Yamaha YZF 1000 R1 02-03 Carbine Slip-on S\/Steel []","public_title":"Yamaha YZF 1000 R1 02-03 Carbine Slip-on S\/Steel []","options":["Yamaha YZF 1000 R1 02-03 Carbine Slip-on S\/Steel []"],"price":76717,"weight":0,"compare_at_price":null,"inventory_management":"sprint3-fulfillment","barcode":"8486470310764","featured_media":{"alt":"SCORPION Carbine Stainless","id":26950969917596,"position":2,"preview_image":{"aspect_ratio":1.0,"height":650,"width":650,"src":"\/\/motogear.co.nz\/cdn\/shop\/products\/f2c83f21bfbe34a7ebec7cc99d84aa5c.jpg?v=1661758426"}}},{"id":41886153932956,"title":"Yamaha YZF 600 R6 03-05 Carbine Slip-on Carbon Fibre []","option1":"Yamaha YZF 600 R6 03-05 Carbine Slip-on Carbon Fibre []","option2":null,"option3":null,"sku":"EYA76CFO","requires_shipping":true,"taxable":true,"featured_image":{"id":34593117995164,"product_id":7384310775964,"position":1,"created_at":"2022-08-29T19:33:46+12:00","updated_at":"2022-08-29T19:33:46+12:00","alt":"SCORPION Carbine Carbon","width":650,"height":650,"src":"\/\/motogear.co.nz\/cdn\/shop\/products\/4a892a559b51ca7b134a1c697b537b95_553a20ab-7345-4e87-b57f-b4d4550a35c4.jpg?v=1661758426","variant_ids":[41886153244828,41886153343132,41886153408668,41886153474204,41886153539740,41886153605276,41886153670812,41886153736348,41886153801884,41886153867420,41886153932956,41886153998492]},"available":false,"name":"SCORPION CARBINE Slip On - Yamaha YZF 600 R6 03-05 Carbine Slip-on Carbon Fibre []","public_title":"Yamaha YZF 600 R6 03-05 Carbine Slip-on Carbon Fibre []","options":["Yamaha YZF 600 R6 03-05 Carbine Slip-on Carbon Fibre []"],"price":81958,"weight":0,"compare_at_price":null,"inventory_management":"sprint3-fulfillment","barcode":"8486470311136","featured_media":{"alt":"SCORPION Carbine Carbon","id":26950969884828,"position":1,"preview_image":{"aspect_ratio":1.0,"height":650,"width":650,"src":"\/\/motogear.co.nz\/cdn\/shop\/products\/4a892a559b51ca7b134a1c697b537b95_553a20ab-7345-4e87-b57f-b4d4550a35c4.jpg?v=1661758426"}}},{"id":41886153965724,"title":"Yamaha YZF 600 R6 03-05 Carbine Slip-on S\/Steel []","option1":"Yamaha YZF 600 R6 03-05 Carbine Slip-on S\/Steel []","option2":null,"option3":null,"sku":"EYA76SSO","requires_shipping":true,"taxable":true,"featured_image":{"id":34593118027932,"product_id":7384310775964,"position":2,"created_at":"2022-08-29T19:33:46+12:00","updated_at":"2022-08-29T19:33:46+12:00","alt":"SCORPION Carbine Stainless","width":650,"height":650,"src":"\/\/motogear.co.nz\/cdn\/shop\/products\/f2c83f21bfbe34a7ebec7cc99d84aa5c.jpg?v=1661758426","variant_ids":[41886153277596,41886153375900,41886153441436,41886153506972,41886153572508,41886153638044,41886153703580,41886153769116,41886153834652,41886153900188,41886153965724,41886154031260]},"available":false,"name":"SCORPION CARBINE Slip On - Yamaha YZF 600 R6 03-05 Carbine Slip-on S\/Steel []","public_title":"Yamaha YZF 600 R6 03-05 Carbine Slip-on S\/Steel []","options":["Yamaha YZF 600 R6 03-05 Carbine Slip-on S\/Steel []"],"price":76717,"weight":0,"compare_at_price":null,"inventory_management":"sprint3-fulfillment","barcode":"8486470311204","featured_media":{"alt":"SCORPION Carbine Stainless","id":26950969917596,"position":2,"preview_image":{"aspect_ratio":1.0,"height":650,"width":650,"src":"\/\/motogear.co.nz\/cdn\/shop\/products\/f2c83f21bfbe34a7ebec7cc99d84aa5c.jpg?v=1661758426"}}},{"id":41886153998492,"title":"Yamaha XJR 1300 07-17 Carbine Slip-on Carbon Fibre []","option1":"Yamaha XJR 1300 07-17 Carbine Slip-on Carbon Fibre []","option2":null,"option3":null,"sku":"EYA82CFO","requires_shipping":true,"taxable":true,"featured_image":{"id":34593117995164,"product_id":7384310775964,"position":1,"created_at":"2022-08-29T19:33:46+12:00","updated_at":"2022-08-29T19:33:46+12:00","alt":"SCORPION Carbine Carbon","width":650,"height":650,"src":"\/\/motogear.co.nz\/cdn\/shop\/products\/4a892a559b51ca7b134a1c697b537b95_553a20ab-7345-4e87-b57f-b4d4550a35c4.jpg?v=1661758426","variant_ids":[41886153244828,41886153343132,41886153408668,41886153474204,41886153539740,41886153605276,41886153670812,41886153736348,41886153801884,41886153867420,41886153932956,41886153998492]},"available":false,"name":"SCORPION CARBINE Slip On - Yamaha XJR 1300 07-17 Carbine Slip-on Carbon Fibre []","public_title":"Yamaha XJR 1300 07-17 Carbine Slip-on Carbon Fibre []","options":["Yamaha XJR 1300 07-17 Carbine Slip-on Carbon Fibre []"],"price":81958,"weight":0,"compare_at_price":null,"inventory_management":"sprint3-fulfillment","barcode":"8486470311518","featured_media":{"alt":"SCORPION Carbine Carbon","id":26950969884828,"position":1,"preview_image":{"aspect_ratio":1.0,"height":650,"width":650,"src":"\/\/motogear.co.nz\/cdn\/shop\/products\/4a892a559b51ca7b134a1c697b537b95_553a20ab-7345-4e87-b57f-b4d4550a35c4.jpg?v=1661758426"}}},{"id":41886154031260,"title":"Yamaha XJR 1300 07-17 Carbine Slip-on S\/Steel []","option1":"Yamaha XJR 1300 07-17 Carbine Slip-on S\/Steel []","option2":null,"option3":null,"sku":"EYA82SSO","requires_shipping":true,"taxable":true,"featured_image":{"id":34593118027932,"product_id":7384310775964,"position":2,"created_at":"2022-08-29T19:33:46+12:00","updated_at":"2022-08-29T19:33:46+12:00","alt":"SCORPION Carbine Stainless","width":650,"height":650,"src":"\/\/motogear.co.nz\/cdn\/shop\/products\/f2c83f21bfbe34a7ebec7cc99d84aa5c.jpg?v=1661758426","variant_ids":[41886153277596,41886153375900,41886153441436,41886153506972,41886153572508,41886153638044,41886153703580,41886153769116,41886153834652,41886153900188,41886153965724,41886154031260]},"available":false,"name":"SCORPION CARBINE Slip On - Yamaha XJR 1300 07-17 Carbine Slip-on S\/Steel []","public_title":"Yamaha XJR 1300 07-17 Carbine Slip-on S\/Steel []","options":["Yamaha XJR 1300 07-17 Carbine Slip-on S\/Steel []"],"price":76717,"weight":0,"compare_at_price":null,"inventory_management":"sprint3-fulfillment","barcode":"8486470311754","featured_media":{"alt":"SCORPION Carbine Stainless","id":26950969917596,"position":2,"preview_image":{"aspect_ratio":1.0,"height":650,"width":650,"src":"\/\/motogear.co.nz\/cdn\/shop\/products\/f2c83f21bfbe34a7ebec7cc99d84aa5c.jpg?v=1661758426"}}}],"images":["\/\/motogear.co.nz\/cdn\/shop\/products\/4a892a559b51ca7b134a1c697b537b95_553a20ab-7345-4e87-b57f-b4d4550a35c4.jpg?v=1661758426","\/\/motogear.co.nz\/cdn\/shop\/products\/f2c83f21bfbe34a7ebec7cc99d84aa5c.jpg?v=1661758426","\/\/motogear.co.nz\/cdn\/shop\/products\/4a1ef3bdca3c5b5fbf38df2283c7f14a.jpg?v=1661758427"],"featured_image":"\/\/motogear.co.nz\/cdn\/shop\/products\/4a892a559b51ca7b134a1c697b537b95_553a20ab-7345-4e87-b57f-b4d4550a35c4.jpg?v=1661758426","options":["Stock Item"],"media":[{"alt":"SCORPION Carbine Carbon","id":26950969884828,"position":1,"preview_image":{"aspect_ratio":1.0,"height":650,"width":650,"src":"\/\/motogear.co.nz\/cdn\/shop\/products\/4a892a559b51ca7b134a1c697b537b95_553a20ab-7345-4e87-b57f-b4d4550a35c4.jpg?v=1661758426"},"aspect_ratio":1.0,"height":650,"media_type":"image","src":"\/\/motogear.co.nz\/cdn\/shop\/products\/4a892a559b51ca7b134a1c697b537b95_553a20ab-7345-4e87-b57f-b4d4550a35c4.jpg?v=1661758426","width":650},{"alt":"SCORPION Carbine Stainless","id":26950969917596,"position":2,"preview_image":{"aspect_ratio":1.0,"height":650,"width":650,"src":"\/\/motogear.co.nz\/cdn\/shop\/products\/f2c83f21bfbe34a7ebec7cc99d84aa5c.jpg?v=1661758426"},"aspect_ratio":1.0,"height":650,"media_type":"image","src":"\/\/motogear.co.nz\/cdn\/shop\/products\/f2c83f21bfbe34a7ebec7cc99d84aa5c.jpg?v=1661758426","width":650},{"alt":"SCORPION Carbine Titanium","id":26950969950364,"position":3,"preview_image":{"aspect_ratio":1.0,"height":650,"width":650,"src":"\/\/motogear.co.nz\/cdn\/shop\/products\/4a1ef3bdca3c5b5fbf38df2283c7f14a.jpg?v=1661758427"},"aspect_ratio":1.0,"height":650,"media_type":"image","src":"\/\/motogear.co.nz\/cdn\/shop\/products\/4a1ef3bdca3c5b5fbf38df2283c7f14a.jpg?v=1661758427","width":650}],"content":"\u003cp\u003e\u003cstrong\u003eHand Crafted Performance Exhausts\u003c\/strong\u003e\u003c\/p\u003e\n\n\u003cp\u003eScorpion offers an extensive and exciting range of motorcycle exhausts...The 'Carbine Oval Silencer' is one of them...This is the 'Extreme' version of the 'Factory Oval silencer - essentially a shorter more compact version. Definitely not one for the faint hearted, the Carbine Oval is the 'sawn-off shotgun' of the silencer world! Shorter, Lighter and extremely potent! Unlike the standard 'Factory Oval' the 'Carbine' is aimed at the more radical rider who likes to be the friendly Sunday morning wake-up call... for the whole street!\u003c\/p\u003e\n\n\u003cp\u003eYou only have to hold a Scorpion exhaust to appreciate the premium design and construction qualities, which translate into tangible gains in both performance and reliability. Hand crafted in England and widely regarded as the best bike exhaust on the market today, Scorpion has become one of the most popular upgrades a rider can make.\u003c\/p\u003e\n\n\u003cul\u003e\n\t\u003cli\u003eBike specific fitment means this simple 'plug and play' exhaust can be fitted with ease with no mapping or re-jetting required.\u003c\/li\u003e\n\t\u003cli\u003eWeight saving alternative to the standard OE fitted can .\u003c\/li\u003e\n\t\u003cli\u003eAvailable in Carbon Fibre or Titanium sleeved options depending on the style you are looking to create.\u003c\/li\u003e\n\u003c\/ul\u003e\n\n\u003cp\u003eSee fitments for your model specific bike\u003c\/p\u003e\n"}