HJC V10 - Solid
Regular price
Sale price
$649.50
Unit price
/
per
or 4 payments of
Regular price
$0.00
Sale price
$162.37
Unit price
/
per
with
---
---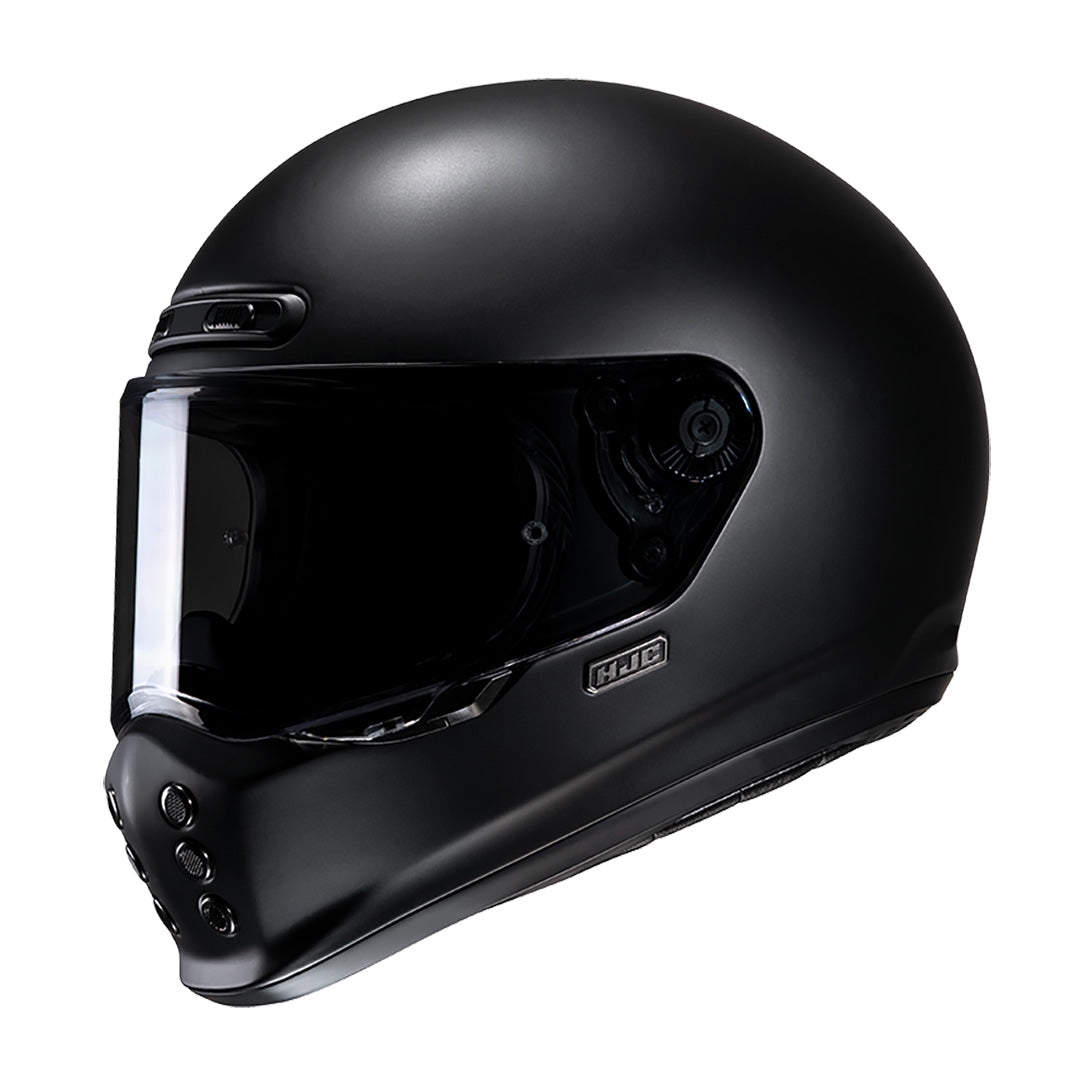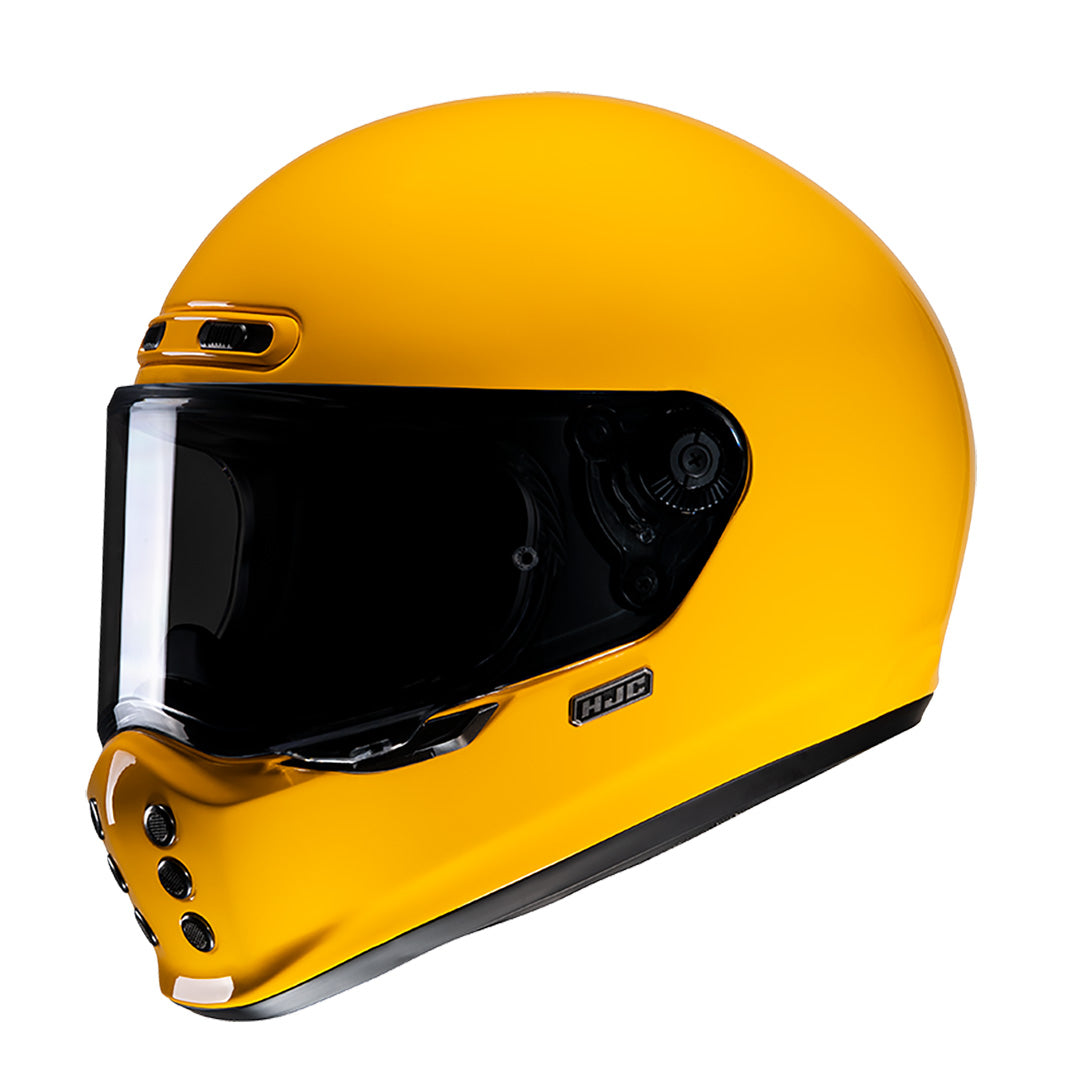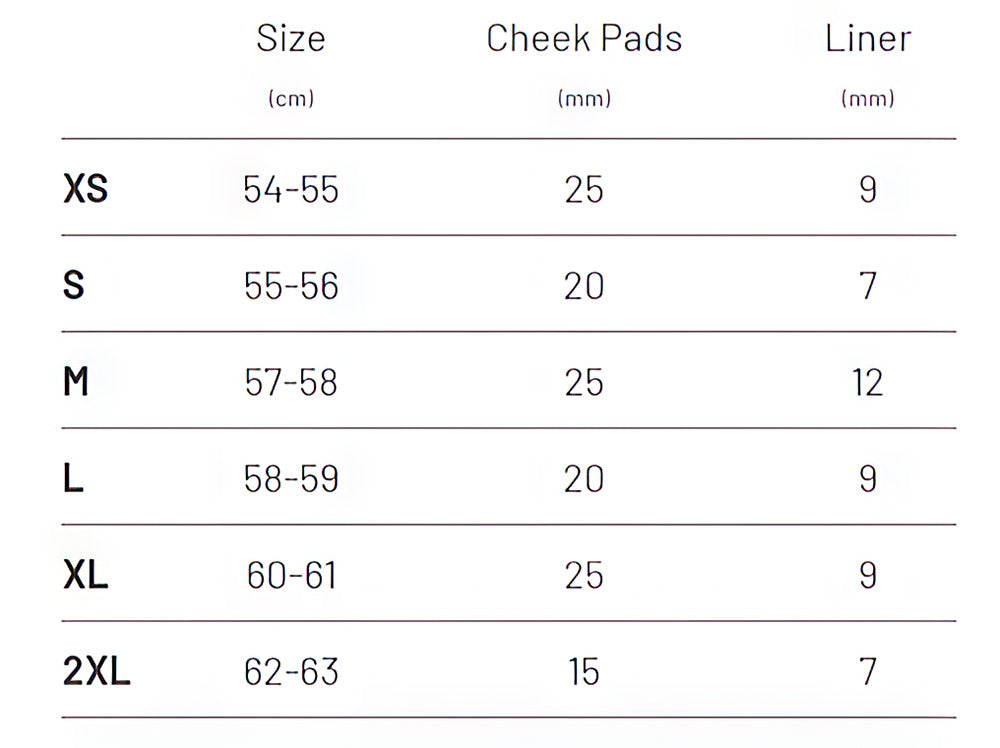 The HJC V10 Helmet is a perfect fusion of timeless appeal and contemporary innovation. This exceptional helmet pays homage to the past while seamlessly integrating cutting-edge elements. Experience the best of both worlds with its vintage charm, complemented by state-of-the-art features such as the advanced channelling ventilation system and a remarkably lightweight fiberglass composite shell. Embrace the thrill of the ride with a helmet that embodies the essence of simplicity and sophistication, without compromising on modern-day necessities. The HJC V10 Helmet promises a ride like no other, where classic meets innovation for an unparalleled journey.
Features:
Advanced Fiberglass Composite Shell: Lightweight, superior fit and comfort across 3 shell sizes
"ACS" Advanced Channelling Ventilation System: Full front-to-back airflow flushes heat and humidity up and out
Pinlock Ready HJ-41 Visor: Provides 99% UV protection, Anti-Scratch coated
All-New EASY Attachment System allows simple and secure tool-less Visor(Shield) replacement
Pinlock® Antifog insert included
Interior provides enhanced moisture wicking and quick drying function
Crown and Cheek pads: Removable and washable
Emergency Kit (Cheek Pads) for safe and quick rescue in emergency situation
D-Ring closure
Ready for SMART HJC 10B & 20B Bluetooth (Bluetooth sold separately)
Note: Helmet ships with a clear visor.
{"id":7711305269404,"title":"HJC V10 - Solid","handle":"hjc-v10-solid","description":"\u003cp\u003eThe HJC V10 Helmet is a perfect fusion of timeless appeal and contemporary innovation. This exceptional helmet pays homage to the past while seamlessly integrating cutting-edge elements. Experience the best of both worlds with its vintage charm, complemented by state-of-the-art features such as the advanced channelling ventilation system and a remarkably lightweight fiberglass composite shell. Embrace the thrill of the ride with a helmet that embodies the essence of simplicity and sophistication, without compromising on modern-day necessities. The HJC V10 Helmet promises a ride like no other, where classic meets innovation for an unparalleled journey.\u003c\/p\u003e\n\n\u003cp\u003eFeatures:\u003c\/p\u003e\n\n\u003cul\u003e\n\t\u003cli\u003eAdvanced Fiberglass Composite Shell: Lightweight, superior fit and comfort across 3 shell sizes\u003c\/li\u003e\n\t\u003cli\u003e"ACS" Advanced Channelling Ventilation System: Full front-to-back airflow flushes heat and humidity up and out\u003c\/li\u003e\n\t\u003cli\u003ePinlock Ready HJ-41 Visor: Provides 99% UV protection, Anti-Scratch coated\u003c\/li\u003e\n\t\u003cli\u003eAll-New EASY Attachment System allows simple and secure tool-less Visor(Shield) replacement\u003c\/li\u003e\n\t\u003cli\u003ePinlock® Antifog insert included\u003c\/li\u003e\n\t\u003cli\u003eInterior provides enhanced moisture wicking and quick drying function\u003c\/li\u003e\n\t\u003cli\u003eCrown and Cheek pads: Removable and washable\u003c\/li\u003e\n\t\u003cli\u003eEmergency Kit (Cheek Pads) for safe and quick rescue in emergency situation\u003c\/li\u003e\n\t\u003cli\u003eD-Ring closure\u003c\/li\u003e\n\t\u003cli\u003eReady for SMART HJC 10B \u0026amp; 20B Bluetooth (Bluetooth sold separately)\u003c\/li\u003e\n\u003c\/ul\u003e\n\n\u003cp\u003eNote: Helmet ships with a clear visor.\u003c\/p\u003e\n\n\u003cp\u003e\u003ciframe align=\"left\" frameborder=\"0\" height=\"400\" scrolling=\"no\" src=\"https:\/\/www.youtube.com\/embed\/cFyf71M19V8\" width=\"650\"\u003e\u003c\/iframe\u003e\u003c\/p\u003e\n\n\u003cdiv\u003e \u003c\/div\u003e\n\u003cul class=\"s3-links\"\u003e\r\n\u003cli class=\"s3-link-pdf\"\u003e\u003ca href=\"http:\/\/darbi.sprint3.com\/package\/webservice\/kernel_resources_render.asp?intKernel_resource_PK=750\" target=\"_blank\"\u003e2023 HJC Visor \u0026amp; Pinlock\u003c\/a\u003e\u003c\/li\u003e\r\n\u003c\/ul\u003e\r\n","published_at":"2023-10-19T09:03:58+13:00","created_at":"2023-09-13T20:14:49+12:00","vendor":"Motogear New Zealand","type":"Helmets-Road-FullFace","tags":["S3-Cat-Helmets","S3-Cat-Helmets-Road","S3-Cat-Helmets-Road-FullFace","Sprint3","Sprint3-New"],"price":64950,"price_min":64950,"price_max":64950,"available":true,"price_varies":false,"compare_at_price":null,"compare_at_price_min":0,"compare_at_price_max":0,"compare_at_price_varies":false,"variants":[{"id":42655168856220,"title":"V10 S Semi Flat Black Helmet Road HJC","option1":"V10 S Semi Flat Black Helmet Road HJC","option2":null,"option3":null,"sku":"V10SMB","requires_shipping":true,"taxable":true,"featured_image":{"id":36506665123996,"product_id":7711305269404,"position":2,"created_at":"2023-09-13T20:14:57+12:00","updated_at":"2023-09-13T20:14:57+12:00","alt":"HJC V10 Semi Flat Black","width":1080,"height":1080,"src":"\/\/motogear.co.nz\/cdn\/shop\/products\/be5d02839b6fdf7848953fd4a75c98b6.jpg?v=1694592897","variant_ids":[42655168856220,42655168888988,42655168921756,42655168954524,42655168987292]},"available":true,"name":"HJC V10 - Solid - V10 S Semi Flat Black Helmet Road HJC","public_title":"V10 S Semi Flat Black Helmet Road HJC","options":["V10 S Semi Flat Black Helmet Road HJC"],"price":64950,"weight":0,"compare_at_price":null,"inventory_management":"sprint3-fulfillment","barcode":"8804269411315","featured_media":{"alt":"HJC V10 Semi Flat Black","id":28886666903708,"position":2,"preview_image":{"aspect_ratio":1.0,"height":1080,"width":1080,"src":"\/\/motogear.co.nz\/cdn\/shop\/products\/be5d02839b6fdf7848953fd4a75c98b6.jpg?v=1694592897"}}},{"id":42655168888988,"title":"V10 M Semi Flat Black Helmet Road HJC","option1":"V10 M Semi Flat Black Helmet Road HJC","option2":null,"option3":null,"sku":"V10MMB","requires_shipping":true,"taxable":true,"featured_image":{"id":36506665123996,"product_id":7711305269404,"position":2,"created_at":"2023-09-13T20:14:57+12:00","updated_at":"2023-09-13T20:14:57+12:00","alt":"HJC V10 Semi Flat Black","width":1080,"height":1080,"src":"\/\/motogear.co.nz\/cdn\/shop\/products\/be5d02839b6fdf7848953fd4a75c98b6.jpg?v=1694592897","variant_ids":[42655168856220,42655168888988,42655168921756,42655168954524,42655168987292]},"available":true,"name":"HJC V10 - Solid - V10 M Semi Flat Black Helmet Road HJC","public_title":"V10 M Semi Flat Black Helmet Road HJC","options":["V10 M Semi Flat Black Helmet Road HJC"],"price":64950,"weight":0,"compare_at_price":null,"inventory_management":"sprint3-fulfillment","barcode":"8804269411353","featured_media":{"alt":"HJC V10 Semi Flat Black","id":28886666903708,"position":2,"preview_image":{"aspect_ratio":1.0,"height":1080,"width":1080,"src":"\/\/motogear.co.nz\/cdn\/shop\/products\/be5d02839b6fdf7848953fd4a75c98b6.jpg?v=1694592897"}}},{"id":42655168921756,"title":"V10 L Semi Flat Black Helmet Road HJC","option1":"V10 L Semi Flat Black Helmet Road HJC","option2":null,"option3":null,"sku":"V10LMB","requires_shipping":true,"taxable":true,"featured_image":{"id":36506665123996,"product_id":7711305269404,"position":2,"created_at":"2023-09-13T20:14:57+12:00","updated_at":"2023-09-13T20:14:57+12:00","alt":"HJC V10 Semi Flat Black","width":1080,"height":1080,"src":"\/\/motogear.co.nz\/cdn\/shop\/products\/be5d02839b6fdf7848953fd4a75c98b6.jpg?v=1694592897","variant_ids":[42655168856220,42655168888988,42655168921756,42655168954524,42655168987292]},"available":true,"name":"HJC V10 - Solid - V10 L Semi Flat Black Helmet Road HJC","public_title":"V10 L Semi Flat Black Helmet Road HJC","options":["V10 L Semi Flat Black Helmet Road HJC"],"price":64950,"weight":0,"compare_at_price":null,"inventory_management":"sprint3-fulfillment","barcode":"8804269411391","featured_media":{"alt":"HJC V10 Semi Flat Black","id":28886666903708,"position":2,"preview_image":{"aspect_ratio":1.0,"height":1080,"width":1080,"src":"\/\/motogear.co.nz\/cdn\/shop\/products\/be5d02839b6fdf7848953fd4a75c98b6.jpg?v=1694592897"}}},{"id":42655168954524,"title":"V10 XL Semi Flat Black Helmet Road HJC","option1":"V10 XL Semi Flat Black Helmet Road HJC","option2":null,"option3":null,"sku":"V10XLMB","requires_shipping":true,"taxable":true,"featured_image":{"id":36506665123996,"product_id":7711305269404,"position":2,"created_at":"2023-09-13T20:14:57+12:00","updated_at":"2023-09-13T20:14:57+12:00","alt":"HJC V10 Semi Flat Black","width":1080,"height":1080,"src":"\/\/motogear.co.nz\/cdn\/shop\/products\/be5d02839b6fdf7848953fd4a75c98b6.jpg?v=1694592897","variant_ids":[42655168856220,42655168888988,42655168921756,42655168954524,42655168987292]},"available":true,"name":"HJC V10 - Solid - V10 XL Semi Flat Black Helmet Road HJC","public_title":"V10 XL Semi Flat Black Helmet Road HJC","options":["V10 XL Semi Flat Black Helmet Road HJC"],"price":64950,"weight":0,"compare_at_price":null,"inventory_management":"sprint3-fulfillment","barcode":"8804269411438","featured_media":{"alt":"HJC V10 Semi Flat Black","id":28886666903708,"position":2,"preview_image":{"aspect_ratio":1.0,"height":1080,"width":1080,"src":"\/\/motogear.co.nz\/cdn\/shop\/products\/be5d02839b6fdf7848953fd4a75c98b6.jpg?v=1694592897"}}},{"id":42655168987292,"title":"V10 2XL Semi Flat Black Helmet Road HJC","option1":"V10 2XL Semi Flat Black Helmet Road HJC","option2":null,"option3":null,"sku":"V102XLMB","requires_shipping":true,"taxable":true,"featured_image":{"id":36506665123996,"product_id":7711305269404,"position":2,"created_at":"2023-09-13T20:14:57+12:00","updated_at":"2023-09-13T20:14:57+12:00","alt":"HJC V10 Semi Flat Black","width":1080,"height":1080,"src":"\/\/motogear.co.nz\/cdn\/shop\/products\/be5d02839b6fdf7848953fd4a75c98b6.jpg?v=1694592897","variant_ids":[42655168856220,42655168888988,42655168921756,42655168954524,42655168987292]},"available":true,"name":"HJC V10 - Solid - V10 2XL Semi Flat Black Helmet Road HJC","public_title":"V10 2XL Semi Flat Black Helmet Road HJC","options":["V10 2XL Semi Flat Black Helmet Road HJC"],"price":64950,"weight":0,"compare_at_price":null,"inventory_management":"sprint3-fulfillment","barcode":"8804269411476","featured_media":{"alt":"HJC V10 Semi Flat Black","id":28886666903708,"position":2,"preview_image":{"aspect_ratio":1.0,"height":1080,"width":1080,"src":"\/\/motogear.co.nz\/cdn\/shop\/products\/be5d02839b6fdf7848953fd4a75c98b6.jpg?v=1694592897"}}},{"id":42655169020060,"title":"V10 S Deep Yellow Helmet Road HJC","option1":"V10 S Deep Yellow Helmet Road HJC","option2":null,"option3":null,"sku":"V10SY","requires_shipping":true,"taxable":true,"featured_image":{"id":36506665091228,"product_id":7711305269404,"position":1,"created_at":"2023-09-13T20:14:57+12:00","updated_at":"2023-09-13T20:14:57+12:00","alt":"HJC V10 Deep Yellow","width":1080,"height":1080,"src":"\/\/motogear.co.nz\/cdn\/shop\/products\/e10a8edd5f8891162a7c6b3515babbba.jpg?v=1694592897","variant_ids":[42655169020060,42655169052828,42655169085596,42655169118364]},"available":true,"name":"HJC V10 - Solid - V10 S Deep Yellow Helmet Road HJC","public_title":"V10 S Deep Yellow Helmet Road HJC","options":["V10 S Deep Yellow Helmet Road HJC"],"price":64950,"weight":0,"compare_at_price":null,"inventory_management":"sprint3-fulfillment","barcode":"8804269412282","featured_media":{"alt":"HJC V10 Deep Yellow","id":28886666870940,"position":1,"preview_image":{"aspect_ratio":1.0,"height":1080,"width":1080,"src":"\/\/motogear.co.nz\/cdn\/shop\/products\/e10a8edd5f8891162a7c6b3515babbba.jpg?v=1694592897"}}},{"id":42655169052828,"title":"V10 M Deep Yellow Helmet Road HJC","option1":"V10 M Deep Yellow Helmet Road HJC","option2":null,"option3":null,"sku":"V10MY","requires_shipping":true,"taxable":true,"featured_image":{"id":36506665091228,"product_id":7711305269404,"position":1,"created_at":"2023-09-13T20:14:57+12:00","updated_at":"2023-09-13T20:14:57+12:00","alt":"HJC V10 Deep Yellow","width":1080,"height":1080,"src":"\/\/motogear.co.nz\/cdn\/shop\/products\/e10a8edd5f8891162a7c6b3515babbba.jpg?v=1694592897","variant_ids":[42655169020060,42655169052828,42655169085596,42655169118364]},"available":true,"name":"HJC V10 - Solid - V10 M Deep Yellow Helmet Road HJC","public_title":"V10 M Deep Yellow Helmet Road HJC","options":["V10 M Deep Yellow Helmet Road HJC"],"price":64950,"weight":0,"compare_at_price":null,"inventory_management":"sprint3-fulfillment","barcode":"8804269412299","featured_media":{"alt":"HJC V10 Deep Yellow","id":28886666870940,"position":1,"preview_image":{"aspect_ratio":1.0,"height":1080,"width":1080,"src":"\/\/motogear.co.nz\/cdn\/shop\/products\/e10a8edd5f8891162a7c6b3515babbba.jpg?v=1694592897"}}},{"id":42655169085596,"title":"V10 L Deep Yellow Helmet Road HJC","option1":"V10 L Deep Yellow Helmet Road HJC","option2":null,"option3":null,"sku":"V10LY","requires_shipping":true,"taxable":true,"featured_image":{"id":36506665091228,"product_id":7711305269404,"position":1,"created_at":"2023-09-13T20:14:57+12:00","updated_at":"2023-09-13T20:14:57+12:00","alt":"HJC V10 Deep Yellow","width":1080,"height":1080,"src":"\/\/motogear.co.nz\/cdn\/shop\/products\/e10a8edd5f8891162a7c6b3515babbba.jpg?v=1694592897","variant_ids":[42655169020060,42655169052828,42655169085596,42655169118364]},"available":true,"name":"HJC V10 - Solid - V10 L Deep Yellow Helmet Road HJC","public_title":"V10 L Deep Yellow Helmet Road HJC","options":["V10 L Deep Yellow Helmet Road HJC"],"price":64950,"weight":0,"compare_at_price":null,"inventory_management":"sprint3-fulfillment","barcode":"8804269412305","featured_media":{"alt":"HJC V10 Deep Yellow","id":28886666870940,"position":1,"preview_image":{"aspect_ratio":1.0,"height":1080,"width":1080,"src":"\/\/motogear.co.nz\/cdn\/shop\/products\/e10a8edd5f8891162a7c6b3515babbba.jpg?v=1694592897"}}},{"id":42655169118364,"title":"V10 XL Deep Yellow Helmet Road HJC","option1":"V10 XL Deep Yellow Helmet Road HJC","option2":null,"option3":null,"sku":"V10XLY","requires_shipping":true,"taxable":true,"featured_image":{"id":36506665091228,"product_id":7711305269404,"position":1,"created_at":"2023-09-13T20:14:57+12:00","updated_at":"2023-09-13T20:14:57+12:00","alt":"HJC V10 Deep Yellow","width":1080,"height":1080,"src":"\/\/motogear.co.nz\/cdn\/shop\/products\/e10a8edd5f8891162a7c6b3515babbba.jpg?v=1694592897","variant_ids":[42655169020060,42655169052828,42655169085596,42655169118364]},"available":true,"name":"HJC V10 - Solid - V10 XL Deep Yellow Helmet Road HJC","public_title":"V10 XL Deep Yellow Helmet Road HJC","options":["V10 XL Deep Yellow Helmet Road HJC"],"price":64950,"weight":0,"compare_at_price":null,"inventory_management":"sprint3-fulfillment","barcode":"8804269412312","featured_media":{"alt":"HJC V10 Deep Yellow","id":28886666870940,"position":1,"preview_image":{"aspect_ratio":1.0,"height":1080,"width":1080,"src":"\/\/motogear.co.nz\/cdn\/shop\/products\/e10a8edd5f8891162a7c6b3515babbba.jpg?v=1694592897"}}}],"images":["\/\/motogear.co.nz\/cdn\/shop\/products\/e10a8edd5f8891162a7c6b3515babbba.jpg?v=1694592897","\/\/motogear.co.nz\/cdn\/shop\/products\/be5d02839b6fdf7848953fd4a75c98b6.jpg?v=1694592897","\/\/motogear.co.nz\/cdn\/shop\/products\/c86ac1d7bdd0834c660a04af125e7aee.jpg?v=1694592897"],"featured_image":"\/\/motogear.co.nz\/cdn\/shop\/products\/e10a8edd5f8891162a7c6b3515babbba.jpg?v=1694592897","options":["Stock Item"],"media":[{"alt":"HJC V10 Deep Yellow","id":28886666870940,"position":1,"preview_image":{"aspect_ratio":1.0,"height":1080,"width":1080,"src":"\/\/motogear.co.nz\/cdn\/shop\/products\/e10a8edd5f8891162a7c6b3515babbba.jpg?v=1694592897"},"aspect_ratio":1.0,"height":1080,"media_type":"image","src":"\/\/motogear.co.nz\/cdn\/shop\/products\/e10a8edd5f8891162a7c6b3515babbba.jpg?v=1694592897","width":1080},{"alt":"HJC V10 Semi Flat Black","id":28886666903708,"position":2,"preview_image":{"aspect_ratio":1.0,"height":1080,"width":1080,"src":"\/\/motogear.co.nz\/cdn\/shop\/products\/be5d02839b6fdf7848953fd4a75c98b6.jpg?v=1694592897"},"aspect_ratio":1.0,"height":1080,"media_type":"image","src":"\/\/motogear.co.nz\/cdn\/shop\/products\/be5d02839b6fdf7848953fd4a75c98b6.jpg?v=1694592897","width":1080},{"alt":"V10 Sizing","id":28886666936476,"position":3,"preview_image":{"aspect_ratio":1.337,"height":748,"width":1000,"src":"\/\/motogear.co.nz\/cdn\/shop\/products\/c86ac1d7bdd0834c660a04af125e7aee.jpg?v=1694592897"},"aspect_ratio":1.337,"height":748,"media_type":"image","src":"\/\/motogear.co.nz\/cdn\/shop\/products\/c86ac1d7bdd0834c660a04af125e7aee.jpg?v=1694592897","width":1000}],"content":"\u003cp\u003eThe HJC V10 Helmet is a perfect fusion of timeless appeal and contemporary innovation. This exceptional helmet pays homage to the past while seamlessly integrating cutting-edge elements. Experience the best of both worlds with its vintage charm, complemented by state-of-the-art features such as the advanced channelling ventilation system and a remarkably lightweight fiberglass composite shell. Embrace the thrill of the ride with a helmet that embodies the essence of simplicity and sophistication, without compromising on modern-day necessities. The HJC V10 Helmet promises a ride like no other, where classic meets innovation for an unparalleled journey.\u003c\/p\u003e\n\n\u003cp\u003eFeatures:\u003c\/p\u003e\n\n\u003cul\u003e\n\t\u003cli\u003eAdvanced Fiberglass Composite Shell: Lightweight, superior fit and comfort across 3 shell sizes\u003c\/li\u003e\n\t\u003cli\u003e"ACS" Advanced Channelling Ventilation System: Full front-to-back airflow flushes heat and humidity up and out\u003c\/li\u003e\n\t\u003cli\u003ePinlock Ready HJ-41 Visor: Provides 99% UV protection, Anti-Scratch coated\u003c\/li\u003e\n\t\u003cli\u003eAll-New EASY Attachment System allows simple and secure tool-less Visor(Shield) replacement\u003c\/li\u003e\n\t\u003cli\u003ePinlock® Antifog insert included\u003c\/li\u003e\n\t\u003cli\u003eInterior provides enhanced moisture wicking and quick drying function\u003c\/li\u003e\n\t\u003cli\u003eCrown and Cheek pads: Removable and washable\u003c\/li\u003e\n\t\u003cli\u003eEmergency Kit (Cheek Pads) for safe and quick rescue in emergency situation\u003c\/li\u003e\n\t\u003cli\u003eD-Ring closure\u003c\/li\u003e\n\t\u003cli\u003eReady for SMART HJC 10B \u0026amp; 20B Bluetooth (Bluetooth sold separately)\u003c\/li\u003e\n\u003c\/ul\u003e\n\n\u003cp\u003eNote: Helmet ships with a clear visor.\u003c\/p\u003e\n\n\u003cp\u003e\u003ciframe align=\"left\" frameborder=\"0\" height=\"400\" scrolling=\"no\" src=\"https:\/\/www.youtube.com\/embed\/cFyf71M19V8\" width=\"650\"\u003e\u003c\/iframe\u003e\u003c\/p\u003e\n\n\u003cdiv\u003e \u003c\/div\u003e\n\u003cul class=\"s3-links\"\u003e\r\n\u003cli class=\"s3-link-pdf\"\u003e\u003ca href=\"http:\/\/darbi.sprint3.com\/package\/webservice\/kernel_resources_render.asp?intKernel_resource_PK=750\" target=\"_blank\"\u003e2023 HJC Visor \u0026amp; Pinlock\u003c\/a\u003e\u003c\/li\u003e\r\n\u003c\/ul\u003e\r\n"}