HJC i71 - Solid Colours
Regular price
Sale price
$430.00
Unit price
/
per
or 4 payments of
Regular price
$0.00
Sale price
$107.50
Unit price
/
per
with
---
---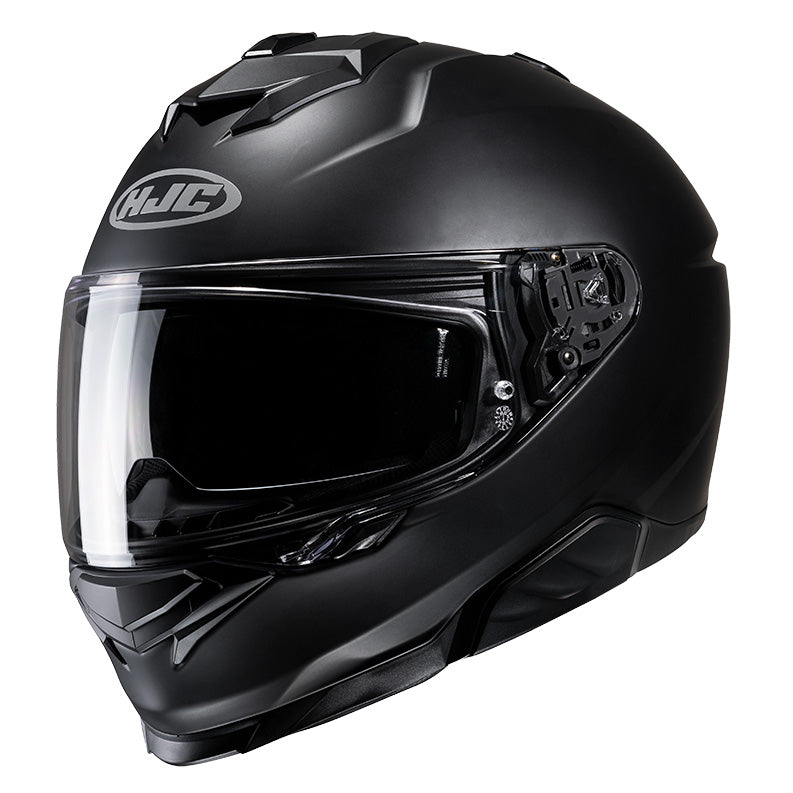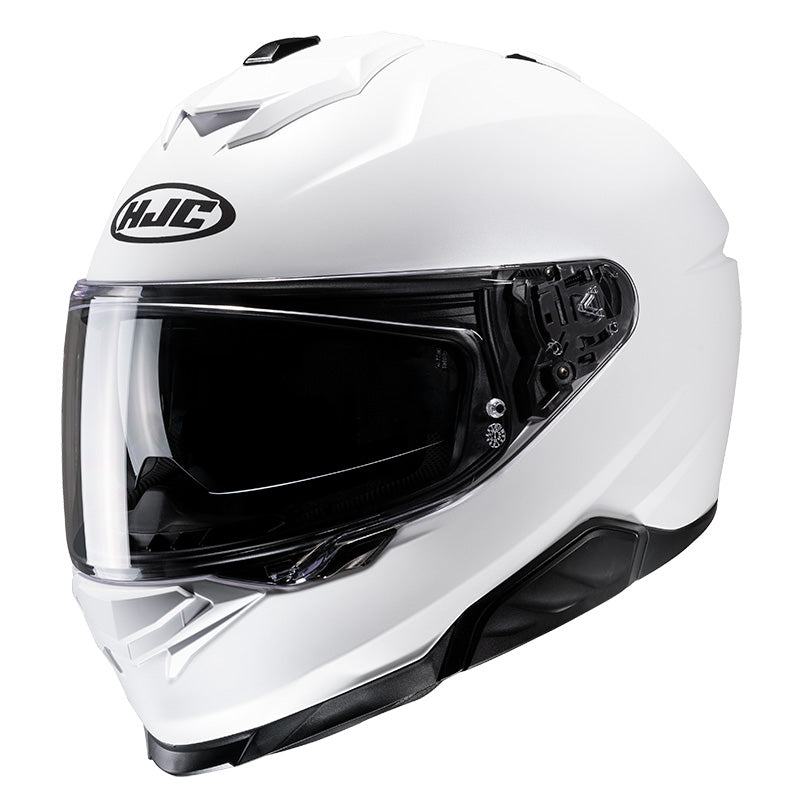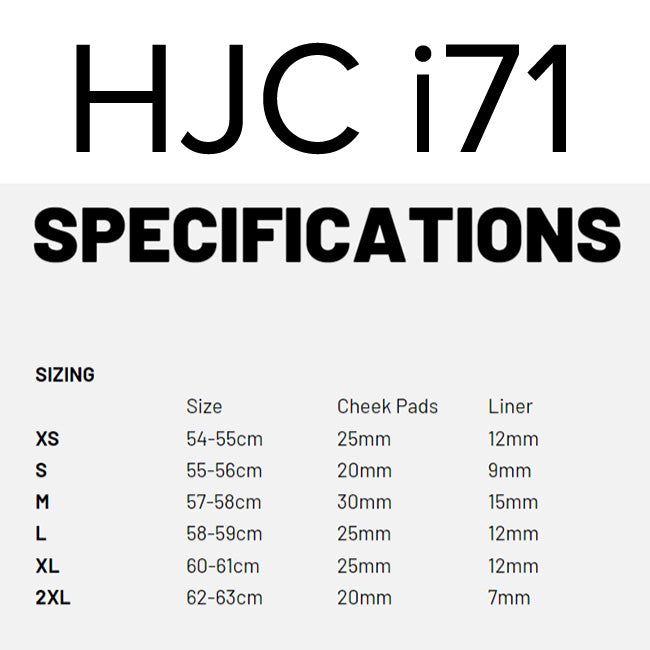 Full face motorcycle helmet i71
Advanced Polycarbonate Shell: Lightweight, superior fit and comfort using CAD technology. 
The i71 pushes the boundaries for a Sport-Touring model with its new sleek shell design. The Advanced Polycarbonate helmet now has 3 shells throughout the 6 available sizes to help optimize weight and comfort for the rider. The rearranged top vent with enlarged mouth vents allows increased air intake and ventilation. Also new with the i71 are both face shield and sun visor. The HJ-38 Pinlock ready face shield comes with a new PE (Push/Eject) locking system for improved safety, yet still easy to use with gloves. The new sun visor (HJ-V12) provides a new 3-position option for the rider to adjust the sun shield forward (up to 10mm) delivering ideal sun visor protection. The i71 will also accept the second-generation Smart HJC Bluetooth systems.
Advanced Polycarbonate Shell 

featuring an enlarged eye port for greater visibility
ACS advanced air channeling system, flushes heat up and out of the helmet
Quickfire rapid shield replacement system, no tools required
New integrated internal sunvisor with 3 adjustable positions to fit every face
Visor lock, push and release system, easier and safet to open while riding
Glasses groove for prescription eyewear
Micro buckle chin strap closure
ECE 22.06 Approved
Includes: a Pinlock 100% Max vision Anti-fog insert.
Replacement visor reference: HJ-38
{"id":7584958251164,"title":"HJC i71 - Solid Colours","handle":"hjc-i71-solid-colours","description":"\u003cp\u003e\u003cstrong\u003eFull face motorcycle helmet i71\u003c\/strong\u003e\u003c\/p\u003e\n\n\u003cp\u003eAdvanced Polycarbonate Shell: Lightweight, superior fit and comfort using CAD technology. \u003c\/p\u003e\n\n\u003cp\u003eThe i71 pushes the boundaries for a Sport-Touring model with its new sleek shell design. The Advanced Polycarbonate helmet now has 3 shells throughout the 6 available sizes to help optimize weight and comfort for the rider. The rearranged top vent with enlarged mouth vents allows increased air intake and ventilation. Also new with the i71 are both face shield and sun visor. The HJ-38 Pinlock ready face shield comes with a new PE (Push\/Eject) locking system for improved safety, yet still easy to use with gloves. The new sun visor (HJ-V12) provides a new 3-position option for the rider to adjust the sun shield forward (up to 10mm) delivering ideal sun visor protection. The i71 will also accept the second-generation Smart HJC Bluetooth systems.\u003c\/p\u003e\n\n\u003cul\u003e\n\t\u003cli\u003e\n\u003cspan style=\"color:rgb(51, 51, 51); font-family:sans-serif,arial,verdana,trebuchet ms; font-size:13px\"\u003eAdvanced Polycarbonate Shell \u003c\/span\u003efeaturing an enlarged eye port for greater visibility\u003c\/li\u003e\n\t\u003cli\u003eACS advanced air channeling system, flushes heat up and out of the helmet\u003c\/li\u003e\n\t\u003cli\u003eQuickfire rapid shield replacement system, no tools required\u003c\/li\u003e\n\t\u003cli\u003eNew integrated internal sunvisor with 3 adjustable positions to fit every face\u003c\/li\u003e\n\t\u003cli\u003eVisor lock, push and release system, easier and safet to open while riding\u003c\/li\u003e\n\t\u003cli\u003eGlasses groove for prescription eyewear\u003c\/li\u003e\n\t\u003cli\u003eMicro buckle chin strap closure\u003c\/li\u003e\n\t\u003cli\u003eECE 22.06 Approved\u003c\/li\u003e\n\u003c\/ul\u003e\n\n\u003cp\u003e\u003cstrong\u003eIncludes:\u003c\/strong\u003e a Pinlock 100% Max vision Anti-fog insert.\u003c\/p\u003e\n\n\u003cp\u003eReplacement visor reference: HJ-38\u003c\/p\u003e\n\n\u003cp\u003e\u003ciframe align=\"left\" frameborder=\"0\" height=\"400\" scrolling=\"no\" src=\"https:\/\/www.youtube.com\/embed\/HEdcExNzP5w\" width=\"650\"\u003e\u003c\/iframe\u003e\u003c\/p\u003e\n\n\u003cp\u003e \u003c\/p\u003e\n\u003cul class=\"s3-links\"\u003e\r\n\u003cli class=\"s3-link-pdf\"\u003e\u003ca href=\"http:\/\/darbi.sprint3.com\/package\/webservice\/kernel_resources_render.asp?intKernel_resource_PK=750\" target=\"_blank\"\u003e2023 HJC Visor \u0026amp; Pinlock\u003c\/a\u003e\u003c\/li\u003e\r\n\u003c\/ul\u003e\r\n","published_at":"2023-07-20T15:27:20+12:00","created_at":"2023-03-09T19:33:39+13:00","vendor":"HJC","type":"Helmets-Road-FullFace","tags":["S3-Cat-Helmets","S3-Cat-Helmets-Road","S3-Cat-Helmets-Road-FullFace","Sprint3","Sprint3-New"],"price":43000,"price_min":43000,"price_max":43000,"available":true,"price_varies":false,"compare_at_price":null,"compare_at_price_min":0,"compare_at_price_max":0,"compare_at_price_varies":false,"variants":[{"id":42391061987484,"title":"i71 XS Semi Flat Black Helmet Road HJC [A]","option1":"i71 XS Semi Flat Black Helmet Road HJC [A]","option2":null,"option3":null,"sku":"I71XSSFB","requires_shipping":true,"taxable":true,"featured_image":{"id":35836498018460,"product_id":7584958251164,"position":1,"created_at":"2023-03-09T19:33:46+13:00","updated_at":"2023-03-09T19:33:46+13:00","alt":"HJC I71 SOLID FLAT BLACK","width":793,"height":793,"src":"\/\/motogear.co.nz\/cdn\/shop\/products\/9f723e40d36076139fcbd89b236ddcbe.jpg?v=1678343626","variant_ids":[42391061987484,42391062020252,42391062053020,42391062085788,42391062118556,42391062151324]},"available":true,"name":"HJC i71 - Solid Colours - i71 XS Semi Flat Black Helmet Road HJC [A]","public_title":"i71 XS Semi Flat Black Helmet Road HJC [A]","options":["i71 XS Semi Flat Black Helmet Road HJC [A]"],"price":43000,"weight":0,"compare_at_price":null,"inventory_management":"sprint3-fulfillment","barcode":"8804269364574","featured_media":{"alt":"HJC I71 SOLID FLAT BLACK","id":28207723741340,"position":1,"preview_image":{"aspect_ratio":1.0,"height":793,"width":793,"src":"\/\/motogear.co.nz\/cdn\/shop\/products\/9f723e40d36076139fcbd89b236ddcbe.jpg?v=1678343626"}}},{"id":42391062020252,"title":"i71 S Semi Flat Black Helmet Road HJC [A]","option1":"i71 S Semi Flat Black Helmet Road HJC [A]","option2":null,"option3":null,"sku":"I71SSFB","requires_shipping":true,"taxable":true,"featured_image":{"id":35836498018460,"product_id":7584958251164,"position":1,"created_at":"2023-03-09T19:33:46+13:00","updated_at":"2023-03-09T19:33:46+13:00","alt":"HJC I71 SOLID FLAT BLACK","width":793,"height":793,"src":"\/\/motogear.co.nz\/cdn\/shop\/products\/9f723e40d36076139fcbd89b236ddcbe.jpg?v=1678343626","variant_ids":[42391061987484,42391062020252,42391062053020,42391062085788,42391062118556,42391062151324]},"available":true,"name":"HJC i71 - Solid Colours - i71 S Semi Flat Black Helmet Road HJC [A]","public_title":"i71 S Semi Flat Black Helmet Road HJC [A]","options":["i71 S Semi Flat Black Helmet Road HJC [A]"],"price":43000,"weight":0,"compare_at_price":null,"inventory_management":"sprint3-fulfillment","barcode":"8804269364581","featured_media":{"alt":"HJC I71 SOLID FLAT BLACK","id":28207723741340,"position":1,"preview_image":{"aspect_ratio":1.0,"height":793,"width":793,"src":"\/\/motogear.co.nz\/cdn\/shop\/products\/9f723e40d36076139fcbd89b236ddcbe.jpg?v=1678343626"}}},{"id":42391062053020,"title":"i71 M Semi Flat Black Helmet Road HJC [A]","option1":"i71 M Semi Flat Black Helmet Road HJC [A]","option2":null,"option3":null,"sku":"I71MSFB","requires_shipping":true,"taxable":true,"featured_image":{"id":35836498018460,"product_id":7584958251164,"position":1,"created_at":"2023-03-09T19:33:46+13:00","updated_at":"2023-03-09T19:33:46+13:00","alt":"HJC I71 SOLID FLAT BLACK","width":793,"height":793,"src":"\/\/motogear.co.nz\/cdn\/shop\/products\/9f723e40d36076139fcbd89b236ddcbe.jpg?v=1678343626","variant_ids":[42391061987484,42391062020252,42391062053020,42391062085788,42391062118556,42391062151324]},"available":true,"name":"HJC i71 - Solid Colours - i71 M Semi Flat Black Helmet Road HJC [A]","public_title":"i71 M Semi Flat Black Helmet Road HJC [A]","options":["i71 M Semi Flat Black Helmet Road HJC [A]"],"price":43000,"weight":0,"compare_at_price":null,"inventory_management":"sprint3-fulfillment","barcode":"8804269364598","featured_media":{"alt":"HJC I71 SOLID FLAT BLACK","id":28207723741340,"position":1,"preview_image":{"aspect_ratio":1.0,"height":793,"width":793,"src":"\/\/motogear.co.nz\/cdn\/shop\/products\/9f723e40d36076139fcbd89b236ddcbe.jpg?v=1678343626"}}},{"id":42391062085788,"title":"i71 L Semi Flat Black Helmet Road HJC [A]","option1":"i71 L Semi Flat Black Helmet Road HJC [A]","option2":null,"option3":null,"sku":"I71LSFB","requires_shipping":true,"taxable":true,"featured_image":{"id":35836498018460,"product_id":7584958251164,"position":1,"created_at":"2023-03-09T19:33:46+13:00","updated_at":"2023-03-09T19:33:46+13:00","alt":"HJC I71 SOLID FLAT BLACK","width":793,"height":793,"src":"\/\/motogear.co.nz\/cdn\/shop\/products\/9f723e40d36076139fcbd89b236ddcbe.jpg?v=1678343626","variant_ids":[42391061987484,42391062020252,42391062053020,42391062085788,42391062118556,42391062151324]},"available":true,"name":"HJC i71 - Solid Colours - i71 L Semi Flat Black Helmet Road HJC [A]","public_title":"i71 L Semi Flat Black Helmet Road HJC [A]","options":["i71 L Semi Flat Black Helmet Road HJC [A]"],"price":43000,"weight":0,"compare_at_price":null,"inventory_management":"sprint3-fulfillment","barcode":"8804269364604","featured_media":{"alt":"HJC I71 SOLID FLAT BLACK","id":28207723741340,"position":1,"preview_image":{"aspect_ratio":1.0,"height":793,"width":793,"src":"\/\/motogear.co.nz\/cdn\/shop\/products\/9f723e40d36076139fcbd89b236ddcbe.jpg?v=1678343626"}}},{"id":42391062118556,"title":"i71 XL Semi Flat Black Helmet Road HJC [A]","option1":"i71 XL Semi Flat Black Helmet Road HJC [A]","option2":null,"option3":null,"sku":"I71XLSFB","requires_shipping":true,"taxable":true,"featured_image":{"id":35836498018460,"product_id":7584958251164,"position":1,"created_at":"2023-03-09T19:33:46+13:00","updated_at":"2023-03-09T19:33:46+13:00","alt":"HJC I71 SOLID FLAT BLACK","width":793,"height":793,"src":"\/\/motogear.co.nz\/cdn\/shop\/products\/9f723e40d36076139fcbd89b236ddcbe.jpg?v=1678343626","variant_ids":[42391061987484,42391062020252,42391062053020,42391062085788,42391062118556,42391062151324]},"available":true,"name":"HJC i71 - Solid Colours - i71 XL Semi Flat Black Helmet Road HJC [A]","public_title":"i71 XL Semi Flat Black Helmet Road HJC [A]","options":["i71 XL Semi Flat Black Helmet Road HJC [A]"],"price":43000,"weight":0,"compare_at_price":null,"inventory_management":"sprint3-fulfillment","barcode":"8804269364611","featured_media":{"alt":"HJC I71 SOLID FLAT BLACK","id":28207723741340,"position":1,"preview_image":{"aspect_ratio":1.0,"height":793,"width":793,"src":"\/\/motogear.co.nz\/cdn\/shop\/products\/9f723e40d36076139fcbd89b236ddcbe.jpg?v=1678343626"}}},{"id":42391062151324,"title":"i71 2XL Semi Flat Black Helmet Road HJC XXL [A]","option1":"i71 2XL Semi Flat Black Helmet Road HJC XXL [A]","option2":null,"option3":null,"sku":"I712XLSFB","requires_shipping":true,"taxable":true,"featured_image":{"id":35836498018460,"product_id":7584958251164,"position":1,"created_at":"2023-03-09T19:33:46+13:00","updated_at":"2023-03-09T19:33:46+13:00","alt":"HJC I71 SOLID FLAT BLACK","width":793,"height":793,"src":"\/\/motogear.co.nz\/cdn\/shop\/products\/9f723e40d36076139fcbd89b236ddcbe.jpg?v=1678343626","variant_ids":[42391061987484,42391062020252,42391062053020,42391062085788,42391062118556,42391062151324]},"available":true,"name":"HJC i71 - Solid Colours - i71 2XL Semi Flat Black Helmet Road HJC XXL [A]","public_title":"i71 2XL Semi Flat Black Helmet Road HJC XXL [A]","options":["i71 2XL Semi Flat Black Helmet Road HJC XXL [A]"],"price":43000,"weight":0,"compare_at_price":null,"inventory_management":"sprint3-fulfillment","barcode":"8804269364628","featured_media":{"alt":"HJC I71 SOLID FLAT BLACK","id":28207723741340,"position":1,"preview_image":{"aspect_ratio":1.0,"height":793,"width":793,"src":"\/\/motogear.co.nz\/cdn\/shop\/products\/9f723e40d36076139fcbd89b236ddcbe.jpg?v=1678343626"}}},{"id":42391062184092,"title":"i71 XS Semi Flat Pearl White Helmet Road HJC [A]","option1":"i71 XS Semi Flat Pearl White Helmet Road HJC [A]","option2":null,"option3":null,"sku":"I71XSSFW","requires_shipping":true,"taxable":true,"featured_image":{"id":35836498083996,"product_id":7584958251164,"position":2,"created_at":"2023-03-09T19:33:46+13:00","updated_at":"2023-03-09T19:33:46+13:00","alt":"HJC I71 SOLID FLAT PEARL WHITE","width":804,"height":804,"src":"\/\/motogear.co.nz\/cdn\/shop\/products\/56437a130b9620db62dc391a62a5ec48.jpg?v=1678343626","variant_ids":[42391062184092,42391062216860,42391062249628,42391062282396,42391062315164,42391062347932]},"available":true,"name":"HJC i71 - Solid Colours - i71 XS Semi Flat Pearl White Helmet Road HJC [A]","public_title":"i71 XS Semi Flat Pearl White Helmet Road HJC [A]","options":["i71 XS Semi Flat Pearl White Helmet Road HJC [A]"],"price":43000,"weight":0,"compare_at_price":null,"inventory_management":"sprint3-fulfillment","barcode":"8804269364758","featured_media":{"alt":"HJC I71 SOLID FLAT PEARL WHITE","id":28207723806876,"position":2,"preview_image":{"aspect_ratio":1.0,"height":804,"width":804,"src":"\/\/motogear.co.nz\/cdn\/shop\/products\/56437a130b9620db62dc391a62a5ec48.jpg?v=1678343626"}}},{"id":42391062216860,"title":"i71 S Semi Flat Pearl White Helmet Road HJC [A]","option1":"i71 S Semi Flat Pearl White Helmet Road HJC [A]","option2":null,"option3":null,"sku":"I71SSFW","requires_shipping":true,"taxable":true,"featured_image":{"id":35836498083996,"product_id":7584958251164,"position":2,"created_at":"2023-03-09T19:33:46+13:00","updated_at":"2023-03-09T19:33:46+13:00","alt":"HJC I71 SOLID FLAT PEARL WHITE","width":804,"height":804,"src":"\/\/motogear.co.nz\/cdn\/shop\/products\/56437a130b9620db62dc391a62a5ec48.jpg?v=1678343626","variant_ids":[42391062184092,42391062216860,42391062249628,42391062282396,42391062315164,42391062347932]},"available":false,"name":"HJC i71 - Solid Colours - i71 S Semi Flat Pearl White Helmet Road HJC [A]","public_title":"i71 S Semi Flat Pearl White Helmet Road HJC [A]","options":["i71 S Semi Flat Pearl White Helmet Road HJC [A]"],"price":43000,"weight":0,"compare_at_price":null,"inventory_management":"sprint3-fulfillment","barcode":"8804269364765","featured_media":{"alt":"HJC I71 SOLID FLAT PEARL WHITE","id":28207723806876,"position":2,"preview_image":{"aspect_ratio":1.0,"height":804,"width":804,"src":"\/\/motogear.co.nz\/cdn\/shop\/products\/56437a130b9620db62dc391a62a5ec48.jpg?v=1678343626"}}},{"id":42391062249628,"title":"i71 M Semi Flat Pearl White Helmet Road HJC [A]","option1":"i71 M Semi Flat Pearl White Helmet Road HJC [A]","option2":null,"option3":null,"sku":"I71MSFW","requires_shipping":true,"taxable":true,"featured_image":{"id":35836498083996,"product_id":7584958251164,"position":2,"created_at":"2023-03-09T19:33:46+13:00","updated_at":"2023-03-09T19:33:46+13:00","alt":"HJC I71 SOLID FLAT PEARL WHITE","width":804,"height":804,"src":"\/\/motogear.co.nz\/cdn\/shop\/products\/56437a130b9620db62dc391a62a5ec48.jpg?v=1678343626","variant_ids":[42391062184092,42391062216860,42391062249628,42391062282396,42391062315164,42391062347932]},"available":true,"name":"HJC i71 - Solid Colours - i71 M Semi Flat Pearl White Helmet Road HJC [A]","public_title":"i71 M Semi Flat Pearl White Helmet Road HJC [A]","options":["i71 M Semi Flat Pearl White Helmet Road HJC [A]"],"price":43000,"weight":0,"compare_at_price":null,"inventory_management":"sprint3-fulfillment","barcode":"8804269364772","featured_media":{"alt":"HJC I71 SOLID FLAT PEARL WHITE","id":28207723806876,"position":2,"preview_image":{"aspect_ratio":1.0,"height":804,"width":804,"src":"\/\/motogear.co.nz\/cdn\/shop\/products\/56437a130b9620db62dc391a62a5ec48.jpg?v=1678343626"}}},{"id":42391062282396,"title":"i71 L Semi Flat Pearl White Helmet Road HJC [A]","option1":"i71 L Semi Flat Pearl White Helmet Road HJC [A]","option2":null,"option3":null,"sku":"I71LSFW","requires_shipping":true,"taxable":true,"featured_image":{"id":35836498083996,"product_id":7584958251164,"position":2,"created_at":"2023-03-09T19:33:46+13:00","updated_at":"2023-03-09T19:33:46+13:00","alt":"HJC I71 SOLID FLAT PEARL WHITE","width":804,"height":804,"src":"\/\/motogear.co.nz\/cdn\/shop\/products\/56437a130b9620db62dc391a62a5ec48.jpg?v=1678343626","variant_ids":[42391062184092,42391062216860,42391062249628,42391062282396,42391062315164,42391062347932]},"available":true,"name":"HJC i71 - Solid Colours - i71 L Semi Flat Pearl White Helmet Road HJC [A]","public_title":"i71 L Semi Flat Pearl White Helmet Road HJC [A]","options":["i71 L Semi Flat Pearl White Helmet Road HJC [A]"],"price":43000,"weight":0,"compare_at_price":null,"inventory_management":"sprint3-fulfillment","barcode":"8804269364789","featured_media":{"alt":"HJC I71 SOLID FLAT PEARL WHITE","id":28207723806876,"position":2,"preview_image":{"aspect_ratio":1.0,"height":804,"width":804,"src":"\/\/motogear.co.nz\/cdn\/shop\/products\/56437a130b9620db62dc391a62a5ec48.jpg?v=1678343626"}}},{"id":42391062315164,"title":"i71 XL Semi Flat Pearl White Helmet Road HJC [A]","option1":"i71 XL Semi Flat Pearl White Helmet Road HJC [A]","option2":null,"option3":null,"sku":"I71XLSFW","requires_shipping":true,"taxable":true,"featured_image":{"id":35836498083996,"product_id":7584958251164,"position":2,"created_at":"2023-03-09T19:33:46+13:00","updated_at":"2023-03-09T19:33:46+13:00","alt":"HJC I71 SOLID FLAT PEARL WHITE","width":804,"height":804,"src":"\/\/motogear.co.nz\/cdn\/shop\/products\/56437a130b9620db62dc391a62a5ec48.jpg?v=1678343626","variant_ids":[42391062184092,42391062216860,42391062249628,42391062282396,42391062315164,42391062347932]},"available":true,"name":"HJC i71 - Solid Colours - i71 XL Semi Flat Pearl White Helmet Road HJC [A]","public_title":"i71 XL Semi Flat Pearl White Helmet Road HJC [A]","options":["i71 XL Semi Flat Pearl White Helmet Road HJC [A]"],"price":43000,"weight":0,"compare_at_price":null,"inventory_management":"sprint3-fulfillment","barcode":"8804269364796","featured_media":{"alt":"HJC I71 SOLID FLAT PEARL WHITE","id":28207723806876,"position":2,"preview_image":{"aspect_ratio":1.0,"height":804,"width":804,"src":"\/\/motogear.co.nz\/cdn\/shop\/products\/56437a130b9620db62dc391a62a5ec48.jpg?v=1678343626"}}},{"id":42391062347932,"title":"i71 2XL Semi Flat Pearl White Helmet Road HJC XXL [A]","option1":"i71 2XL Semi Flat Pearl White Helmet Road HJC XXL [A]","option2":null,"option3":null,"sku":"I712XLSFW","requires_shipping":true,"taxable":true,"featured_image":{"id":35836498083996,"product_id":7584958251164,"position":2,"created_at":"2023-03-09T19:33:46+13:00","updated_at":"2023-03-09T19:33:46+13:00","alt":"HJC I71 SOLID FLAT PEARL WHITE","width":804,"height":804,"src":"\/\/motogear.co.nz\/cdn\/shop\/products\/56437a130b9620db62dc391a62a5ec48.jpg?v=1678343626","variant_ids":[42391062184092,42391062216860,42391062249628,42391062282396,42391062315164,42391062347932]},"available":true,"name":"HJC i71 - Solid Colours - i71 2XL Semi Flat Pearl White Helmet Road HJC XXL [A]","public_title":"i71 2XL Semi Flat Pearl White Helmet Road HJC XXL [A]","options":["i71 2XL Semi Flat Pearl White Helmet Road HJC XXL [A]"],"price":43000,"weight":0,"compare_at_price":null,"inventory_management":"sprint3-fulfillment","barcode":"8804269364802","featured_media":{"alt":"HJC I71 SOLID FLAT PEARL WHITE","id":28207723806876,"position":2,"preview_image":{"aspect_ratio":1.0,"height":804,"width":804,"src":"\/\/motogear.co.nz\/cdn\/shop\/products\/56437a130b9620db62dc391a62a5ec48.jpg?v=1678343626"}}}],"images":["\/\/motogear.co.nz\/cdn\/shop\/products\/9f723e40d36076139fcbd89b236ddcbe.jpg?v=1678343626","\/\/motogear.co.nz\/cdn\/shop\/products\/56437a130b9620db62dc391a62a5ec48.jpg?v=1678343626","\/\/motogear.co.nz\/cdn\/shop\/products\/4d144d660589627389660240207e086a.jpg?v=1678343626"],"featured_image":"\/\/motogear.co.nz\/cdn\/shop\/products\/9f723e40d36076139fcbd89b236ddcbe.jpg?v=1678343626","options":["Stock Item"],"media":[{"alt":"HJC I71 SOLID FLAT BLACK","id":28207723741340,"position":1,"preview_image":{"aspect_ratio":1.0,"height":793,"width":793,"src":"\/\/motogear.co.nz\/cdn\/shop\/products\/9f723e40d36076139fcbd89b236ddcbe.jpg?v=1678343626"},"aspect_ratio":1.0,"height":793,"media_type":"image","src":"\/\/motogear.co.nz\/cdn\/shop\/products\/9f723e40d36076139fcbd89b236ddcbe.jpg?v=1678343626","width":793},{"alt":"HJC I71 SOLID FLAT PEARL WHITE","id":28207723806876,"position":2,"preview_image":{"aspect_ratio":1.0,"height":804,"width":804,"src":"\/\/motogear.co.nz\/cdn\/shop\/products\/56437a130b9620db62dc391a62a5ec48.jpg?v=1678343626"},"aspect_ratio":1.0,"height":804,"media_type":"image","src":"\/\/motogear.co.nz\/cdn\/shop\/products\/56437a130b9620db62dc391a62a5ec48.jpg?v=1678343626","width":804},{"alt":"I71 SIZING","id":28207723937948,"position":3,"preview_image":{"aspect_ratio":1.0,"height":650,"width":650,"src":"\/\/motogear.co.nz\/cdn\/shop\/products\/4d144d660589627389660240207e086a.jpg?v=1678343626"},"aspect_ratio":1.0,"height":650,"media_type":"image","src":"\/\/motogear.co.nz\/cdn\/shop\/products\/4d144d660589627389660240207e086a.jpg?v=1678343626","width":650}],"content":"\u003cp\u003e\u003cstrong\u003eFull face motorcycle helmet i71\u003c\/strong\u003e\u003c\/p\u003e\n\n\u003cp\u003eAdvanced Polycarbonate Shell: Lightweight, superior fit and comfort using CAD technology. \u003c\/p\u003e\n\n\u003cp\u003eThe i71 pushes the boundaries for a Sport-Touring model with its new sleek shell design. The Advanced Polycarbonate helmet now has 3 shells throughout the 6 available sizes to help optimize weight and comfort for the rider. The rearranged top vent with enlarged mouth vents allows increased air intake and ventilation. Also new with the i71 are both face shield and sun visor. The HJ-38 Pinlock ready face shield comes with a new PE (Push\/Eject) locking system for improved safety, yet still easy to use with gloves. The new sun visor (HJ-V12) provides a new 3-position option for the rider to adjust the sun shield forward (up to 10mm) delivering ideal sun visor protection. The i71 will also accept the second-generation Smart HJC Bluetooth systems.\u003c\/p\u003e\n\n\u003cul\u003e\n\t\u003cli\u003e\n\u003cspan style=\"color:rgb(51, 51, 51); font-family:sans-serif,arial,verdana,trebuchet ms; font-size:13px\"\u003eAdvanced Polycarbonate Shell \u003c\/span\u003efeaturing an enlarged eye port for greater visibility\u003c\/li\u003e\n\t\u003cli\u003eACS advanced air channeling system, flushes heat up and out of the helmet\u003c\/li\u003e\n\t\u003cli\u003eQuickfire rapid shield replacement system, no tools required\u003c\/li\u003e\n\t\u003cli\u003eNew integrated internal sunvisor with 3 adjustable positions to fit every face\u003c\/li\u003e\n\t\u003cli\u003eVisor lock, push and release system, easier and safet to open while riding\u003c\/li\u003e\n\t\u003cli\u003eGlasses groove for prescription eyewear\u003c\/li\u003e\n\t\u003cli\u003eMicro buckle chin strap closure\u003c\/li\u003e\n\t\u003cli\u003eECE 22.06 Approved\u003c\/li\u003e\n\u003c\/ul\u003e\n\n\u003cp\u003e\u003cstrong\u003eIncludes:\u003c\/strong\u003e a Pinlock 100% Max vision Anti-fog insert.\u003c\/p\u003e\n\n\u003cp\u003eReplacement visor reference: HJ-38\u003c\/p\u003e\n\n\u003cp\u003e\u003ciframe align=\"left\" frameborder=\"0\" height=\"400\" scrolling=\"no\" src=\"https:\/\/www.youtube.com\/embed\/HEdcExNzP5w\" width=\"650\"\u003e\u003c\/iframe\u003e\u003c\/p\u003e\n\n\u003cp\u003e \u003c\/p\u003e\n\u003cul class=\"s3-links\"\u003e\r\n\u003cli class=\"s3-link-pdf\"\u003e\u003ca href=\"http:\/\/darbi.sprint3.com\/package\/webservice\/kernel_resources_render.asp?intKernel_resource_PK=750\" target=\"_blank\"\u003e2023 HJC Visor \u0026amp; Pinlock\u003c\/a\u003e\u003c\/li\u003e\r\n\u003c\/ul\u003e\r\n"}