FIVE HG PRIME GTX Heated Gloves
Regular price
Sale price
$599.00
Unit price
/
per
or 4 payments of
Regular price
$0.00
Sale price
$149.75
Unit price
/
per
with
---
---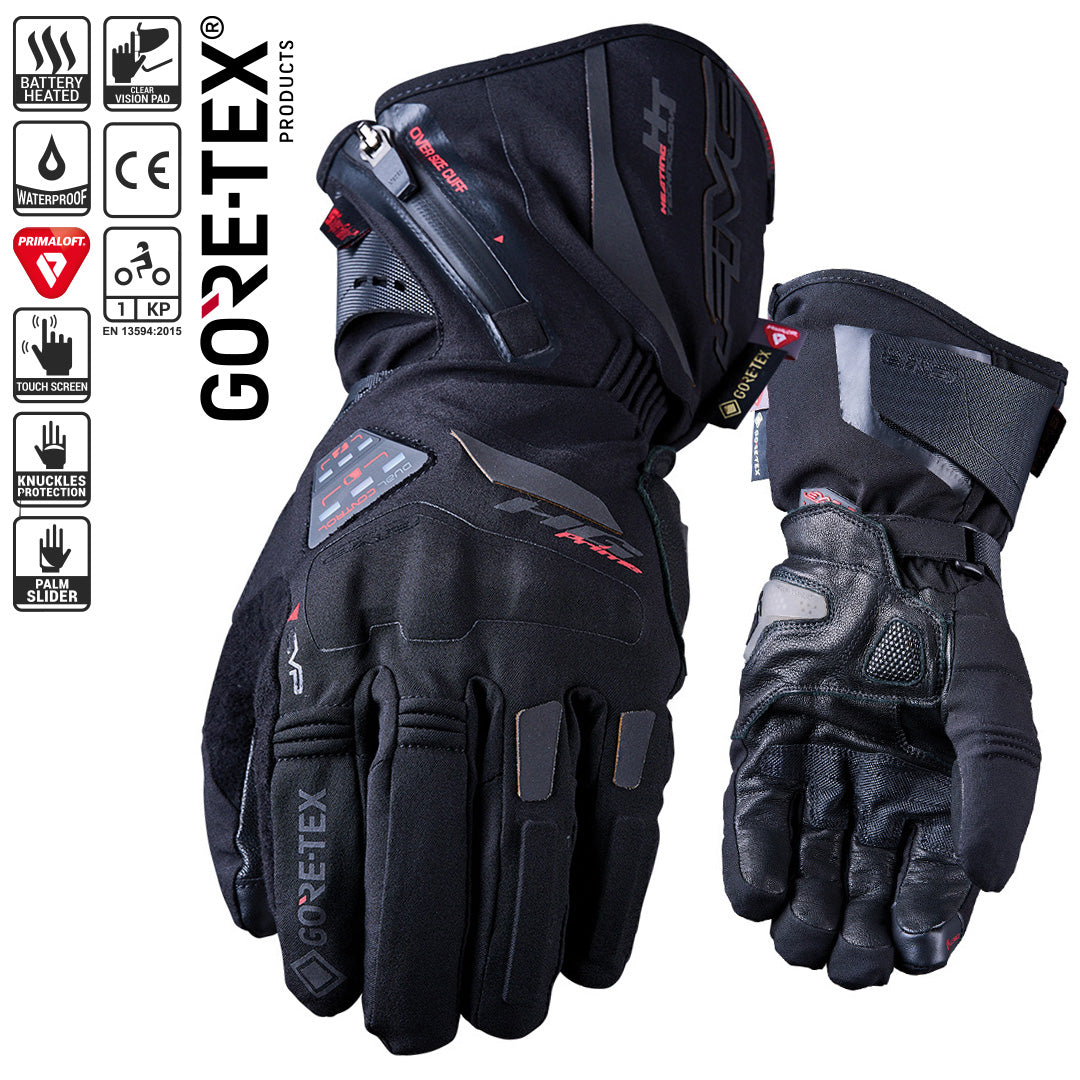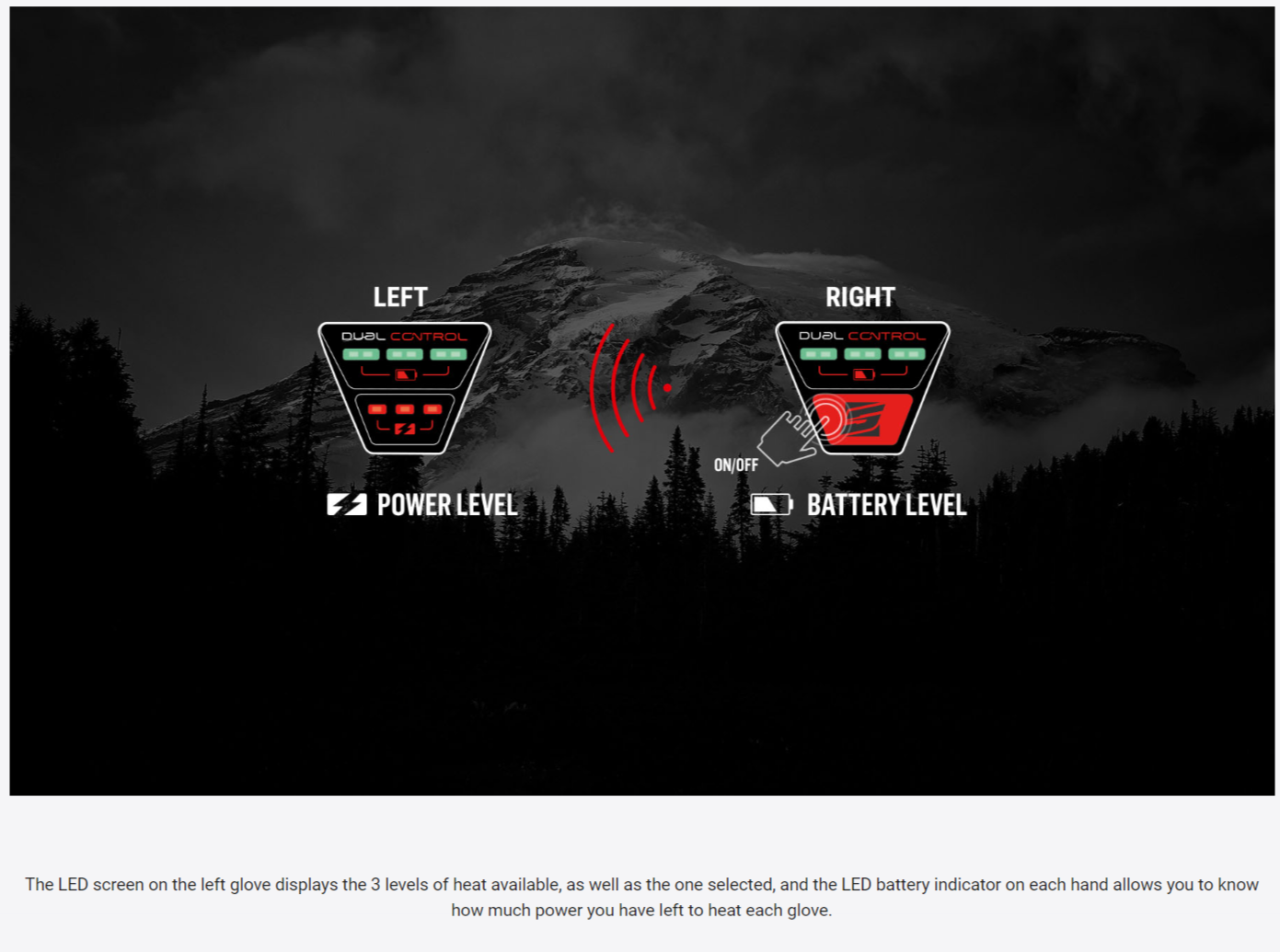 Battery-heated winter motorcycle gloves with GORE-TEX® waterproof and breathable membrane to keep your hands warm and dry even on the coldest winter days.
FIVE's HG PRIME GTX Heated Gloves technology uses 1.3 mm-thick resistors strategically placed on the back of the hand and the fingers, all the way down to the very tip. This construction offers uniform heat without compromising on palm sensitivity. On the palm there is a thin layer of thermal insulation which will complement heated grips if fitted. FIVE's HG Technology will warm up the zones that are most exposed to the cold: the back of the hand and the fingertips. The FIVE Dual Control Heating system uses 3 independently controlled levels of heat: Eco, Regular, and Boost, either at 45°C, 50°C, or 60°C, to suit the conditions. Battery life can last up to 6 hours depending on the level selected.
Regardless of the heating element, the FIVE HG Prime GTX is a warm glove from the beginning. A GORE-TEX® membrane keeps out the water and is semi bonded in the palm area for a better grip on the controls. PrimaLoft® Gold Grip Control 60g thermal lining works to trap the heat in on the palm side of the glove, while a PrimaLoft Gold® 200g thermal lining and an aluminum foil insert on the back of the hand works to stop heat escaping. New FIVE designed ERGO PROTECH® knuckle and palm protectors help to protect your hands from impacts. The glove is reinforced with Superfabric® panels and a full-grain goat leather palm. With its ultra-modern design, FIVE's HG PRIME GTX motorcycle glove is the ultimate heated glove for cold winter riding.
Seamless Softshell heat-sealed topside construction with aluminum foil insert to trap the heat
Full-grain goat leather palm
Dual Control™ Heating Technology
GORE-TEX® weatherproof, breathable membrane, partly bonded with Grip Technology
PrimaLoft® Gold 200g thermal insulation on the topside
PrimaLoft® Grip Control 60g thermal insulation on the palm
ERGO PROTECH® metacarpal-knuckle protector
ERGO PROTECH® honeycombed palm slider
SuperFabric® reinforcement
OverSizeCuff™ adjustable cuff with Anti-Drip lining
Water-resistant Battery pocket
Dual Closure System
Clear Vision Pad™ on the left hand
Touch Screen™ system on the index finger and thumb
CE Certification: KP1
Battery Details:
2 x re-chargeable Lithium Polymer Batteries and 1 x smart battery charger that can charge 2 batteries at once are provided.
One battery is installed into a small internal pocket in each glove.
Battery on Maximum setting: approximately 2 hour battery life
Battery on Middle setting: approximately 2.5-hour battery life
Battery on Lowest setting: approximately 3.5 hour battery life
Sizing note:  As the FIVE motorcycle glove range is based around European sizing we suggest you purchase ONE size bigger than you normally would eg: if you normally fit a size large then order an XL.
{"id":7584958120092,"title":"FIVE HG PRIME GTX Heated Gloves","handle":"five-hg-prime-gtx-heated-gloves","description":"\u003cp\u003eBattery-heated winter motorcycle gloves with GORE-TEX® waterproof and breathable membrane to keep your hands warm and dry even on the coldest winter days.\u003c\/p\u003e\n\n\u003cp\u003eFIVE's HG PRIME GTX Heated Gloves technology uses 1.3 mm-thick resistors strategically placed on the back of the hand and the fingers, all the way down to the very tip. This construction offers uniform heat without compromising on palm sensitivity. On the palm there is a thin layer of thermal insulation which will complement heated grips if fitted. FIVE's HG Technology will warm up the zones that are most exposed to the cold: the back of the hand and the fingertips. The FIVE Dual Control Heating system uses 3 independently controlled levels of heat: Eco, Regular, and Boost, either at 45°C, 50°C, or 60°C, to suit the conditions. Battery life can last up to 6 hours depending on the level selected.\u003c\/p\u003e\n\n\u003cp\u003eRegardless of the heating element, the FIVE HG Prime GTX is a warm glove from the beginning. A GORE-TEX® membrane keeps out the water and is semi bonded in the palm area for a better grip on the controls. PrimaLoft® Gold Grip Control 60g thermal lining works to trap the heat in on the palm side of the glove, while a PrimaLoft Gold® 200g thermal lining and an aluminum foil insert on the back of the hand works to stop heat escaping. New FIVE designed ERGO PROTECH® knuckle and palm protectors help to protect your hands from impacts. The glove is reinforced with Superfabric® panels and a full-grain goat leather palm. With its ultra-modern design, FIVE's HG PRIME GTX motorcycle glove is the ultimate heated glove for cold winter riding.\u003c\/p\u003e\n\n\u003cul\u003e\n\t\u003cli\u003eSeamless Softshell heat-sealed topside construction with aluminum foil insert to trap the heat\u003c\/li\u003e\n\t\u003cli\u003eFull-grain goat leather palm\u003c\/li\u003e\n\t\u003cli\u003eDual Control™ Heating Technology\u003c\/li\u003e\n\t\u003cli\u003eGORE-TEX® weatherproof, breathable membrane, partly bonded with Grip Technology\u003c\/li\u003e\n\t\u003cli\u003ePrimaLoft® Gold 200g thermal insulation on the topside\u003c\/li\u003e\n\t\u003cli\u003ePrimaLoft® Grip Control 60g thermal insulation on the palm\u003c\/li\u003e\n\t\u003cli\u003eERGO PROTECH® metacarpal-knuckle protector\u003c\/li\u003e\n\t\u003cli\u003eERGO PROTECH® honeycombed palm slider\u003c\/li\u003e\n\t\u003cli\u003eSuperFabric® reinforcement\u003c\/li\u003e\n\t\u003cli\u003eOverSizeCuff™ adjustable cuff with Anti-Drip lining\u003c\/li\u003e\n\t\u003cli\u003eWater-resistant Battery pocket\u003c\/li\u003e\n\t\u003cli\u003eDual Closure System\u003c\/li\u003e\n\t\u003cli\u003eClear Vision Pad™ on the left hand\u003c\/li\u003e\n\t\u003cli\u003eTouch Screen™ system on the index finger and thumb\u003c\/li\u003e\n\t\u003cli\u003eCE Certification: KP1\u003c\/li\u003e\n\u003c\/ul\u003e\n\n\u003cp\u003eBattery Details:\u003c\/p\u003e\n\n\u003cp\u003e2 x re-chargeable Lithium Polymer Batteries and 1 x smart battery charger that can charge 2 batteries at once are provided.\u003cbr\u003e\nOne battery is installed into a small internal pocket in each glove.\u003c\/p\u003e\n\n\u003cp\u003eBattery on Maximum setting: approximately 2 hour battery life\u003cbr\u003e\nBattery on Middle setting: approximately 2.5-hour battery life\u003cbr\u003e\nBattery on Lowest setting: approximately 3.5 hour battery life\u003c\/p\u003e\n\n\u003cp\u003e \u003c\/p\u003e\n\n\u003cp\u003eSizing note:  As the FIVE motorcycle glove range is based around European sizing we suggest you purchase ONE size bigger than you normally would eg: if you normally fit a size large then order an XL.\u003c\/p\u003e\n\n\u003cp\u003e \u003c\/p\u003e\n\n\u003cp\u003e\u003ciframe align=\"left\" frameborder=\"0\" height=\"400\" scrolling=\"no\" src=\"https:\/\/www.youtube.com\/embed\/mDY1Ieinv2w\" width=\"650\"\u003e\u003c\/iframe\u003e\u003c\/p\u003e\n","published_at":"2023-04-26T09:32:16+12:00","created_at":"2023-03-09T19:32:54+13:00","vendor":"Five Gloves","type":"Apparel-Road-Gloves-Mens-Winter","tags":["S3-Cat-Apparel","S3-Cat-Apparel-Road","S3-Cat-Apparel-Road-Gloves","S3-Cat-Apparel-Road-Gloves-Mens","S3-Cat-Apparel-Road-Gloves-Mens-Winter","Sprint3","Sprint3-New"],"price":59900,"price_min":59900,"price_max":59900,"available":true,"price_varies":false,"compare_at_price":null,"compare_at_price_min":0,"compare_at_price_max":0,"compare_at_price_varies":false,"variants":[{"id":42391061201052,"title":"!12\/2XL HG Prime GTX Heated Glove Black waterproof FIVE []","option1":"!12\/2XL HG Prime GTX Heated Glove Black waterproof FIVE []","option2":null,"option3":null,"sku":"FGHGPGTX2XLB","requires_shipping":true,"taxable":true,"featured_image":{"id":36217536643228,"product_id":7584958120092,"position":1,"created_at":"2023-06-26T19:25:52+12:00","updated_at":"2023-06-26T19:25:52+12:00","alt":"HG PRIME GTX Black\n","width":1080,"height":1080,"src":"\/\/motogear.co.nz\/cdn\/shop\/products\/b34f21612dd1cb97ea1ed85ee4625941.jpg?v=1687764352","variant_ids":[42391061201052,42391061233820,42391061266588,42391061299356,42391061332124,42391061364892]},"available":false,"name":"FIVE HG PRIME GTX Heated Gloves - !12\/2XL HG Prime GTX Heated Glove Black waterproof FIVE []","public_title":"!12\/2XL HG Prime GTX Heated Glove Black waterproof FIVE []","options":["!12\/2XL HG Prime GTX Heated Glove Black waterproof FIVE []"],"price":59900,"weight":0,"compare_at_price":null,"inventory_management":"sprint3-fulfillment","barcode":"3841300102493","featured_media":{"alt":"HG PRIME GTX Black\n","id":28593577525404,"position":1,"preview_image":{"aspect_ratio":1.0,"height":1080,"width":1080,"src":"\/\/motogear.co.nz\/cdn\/shop\/products\/b34f21612dd1cb97ea1ed85ee4625941.jpg?v=1687764352"}}},{"id":42391061233820,"title":"!13\/3XL HG Prime GTX Heated Glove Black waterproof FIVE []","option1":"!13\/3XL HG Prime GTX Heated Glove Black waterproof FIVE []","option2":null,"option3":null,"sku":"FGHGPGTX3XLB","requires_shipping":true,"taxable":true,"featured_image":{"id":36217536643228,"product_id":7584958120092,"position":1,"created_at":"2023-06-26T19:25:52+12:00","updated_at":"2023-06-26T19:25:52+12:00","alt":"HG PRIME GTX Black\n","width":1080,"height":1080,"src":"\/\/motogear.co.nz\/cdn\/shop\/products\/b34f21612dd1cb97ea1ed85ee4625941.jpg?v=1687764352","variant_ids":[42391061201052,42391061233820,42391061266588,42391061299356,42391061332124,42391061364892]},"available":false,"name":"FIVE HG PRIME GTX Heated Gloves - !13\/3XL HG Prime GTX Heated Glove Black waterproof FIVE []","public_title":"!13\/3XL HG Prime GTX Heated Glove Black waterproof FIVE []","options":["!13\/3XL HG Prime GTX Heated Glove Black waterproof FIVE []"],"price":59900,"weight":0,"compare_at_price":null,"inventory_management":"sprint3-fulfillment","barcode":"3841300102509","featured_media":{"alt":"HG PRIME GTX Black\n","id":28593577525404,"position":1,"preview_image":{"aspect_ratio":1.0,"height":1080,"width":1080,"src":"\/\/motogear.co.nz\/cdn\/shop\/products\/b34f21612dd1cb97ea1ed85ee4625941.jpg?v=1687764352"}}},{"id":42391061266588,"title":"!10\/L HG Prime GTX Heated Glove Black waterproof FIVE []","option1":"!10\/L HG Prime GTX Heated Glove Black waterproof FIVE []","option2":null,"option3":null,"sku":"FGHGPGTXLB","requires_shipping":true,"taxable":true,"featured_image":{"id":36217536643228,"product_id":7584958120092,"position":1,"created_at":"2023-06-26T19:25:52+12:00","updated_at":"2023-06-26T19:25:52+12:00","alt":"HG PRIME GTX Black\n","width":1080,"height":1080,"src":"\/\/motogear.co.nz\/cdn\/shop\/products\/b34f21612dd1cb97ea1ed85ee4625941.jpg?v=1687764352","variant_ids":[42391061201052,42391061233820,42391061266588,42391061299356,42391061332124,42391061364892]},"available":true,"name":"FIVE HG PRIME GTX Heated Gloves - !10\/L HG Prime GTX Heated Glove Black waterproof FIVE []","public_title":"!10\/L HG Prime GTX Heated Glove Black waterproof FIVE []","options":["!10\/L HG Prime GTX Heated Glove Black waterproof FIVE []"],"price":59900,"weight":0,"compare_at_price":null,"inventory_management":"sprint3-fulfillment","barcode":"3841300102479","featured_media":{"alt":"HG PRIME GTX Black\n","id":28593577525404,"position":1,"preview_image":{"aspect_ratio":1.0,"height":1080,"width":1080,"src":"\/\/motogear.co.nz\/cdn\/shop\/products\/b34f21612dd1cb97ea1ed85ee4625941.jpg?v=1687764352"}}},{"id":42391061299356,"title":"!9\/M HG Prime GTX Heated Glove Black waterproof FIVE []","option1":"!9\/M HG Prime GTX Heated Glove Black waterproof FIVE []","option2":null,"option3":null,"sku":"FGHGPGTXMB","requires_shipping":true,"taxable":true,"featured_image":{"id":36217536643228,"product_id":7584958120092,"position":1,"created_at":"2023-06-26T19:25:52+12:00","updated_at":"2023-06-26T19:25:52+12:00","alt":"HG PRIME GTX Black\n","width":1080,"height":1080,"src":"\/\/motogear.co.nz\/cdn\/shop\/products\/b34f21612dd1cb97ea1ed85ee4625941.jpg?v=1687764352","variant_ids":[42391061201052,42391061233820,42391061266588,42391061299356,42391061332124,42391061364892]},"available":true,"name":"FIVE HG PRIME GTX Heated Gloves - !9\/M HG Prime GTX Heated Glove Black waterproof FIVE []","public_title":"!9\/M HG Prime GTX Heated Glove Black waterproof FIVE []","options":["!9\/M HG Prime GTX Heated Glove Black waterproof FIVE []"],"price":59900,"weight":0,"compare_at_price":null,"inventory_management":"sprint3-fulfillment","barcode":"3841300102462","featured_media":{"alt":"HG PRIME GTX Black\n","id":28593577525404,"position":1,"preview_image":{"aspect_ratio":1.0,"height":1080,"width":1080,"src":"\/\/motogear.co.nz\/cdn\/shop\/products\/b34f21612dd1cb97ea1ed85ee4625941.jpg?v=1687764352"}}},{"id":42391061332124,"title":"!8\/S HG Prime GTX Heated Glove Black waterproof FIVE []","option1":"!8\/S HG Prime GTX Heated Glove Black waterproof FIVE []","option2":null,"option3":null,"sku":"FGHGPGTXSB","requires_shipping":true,"taxable":true,"featured_image":{"id":36217536643228,"product_id":7584958120092,"position":1,"created_at":"2023-06-26T19:25:52+12:00","updated_at":"2023-06-26T19:25:52+12:00","alt":"HG PRIME GTX Black\n","width":1080,"height":1080,"src":"\/\/motogear.co.nz\/cdn\/shop\/products\/b34f21612dd1cb97ea1ed85ee4625941.jpg?v=1687764352","variant_ids":[42391061201052,42391061233820,42391061266588,42391061299356,42391061332124,42391061364892]},"available":true,"name":"FIVE HG PRIME GTX Heated Gloves - !8\/S HG Prime GTX Heated Glove Black waterproof FIVE []","public_title":"!8\/S HG Prime GTX Heated Glove Black waterproof FIVE []","options":["!8\/S HG Prime GTX Heated Glove Black waterproof FIVE []"],"price":59900,"weight":0,"compare_at_price":null,"inventory_management":"sprint3-fulfillment","barcode":"3841300102455","featured_media":{"alt":"HG PRIME GTX Black\n","id":28593577525404,"position":1,"preview_image":{"aspect_ratio":1.0,"height":1080,"width":1080,"src":"\/\/motogear.co.nz\/cdn\/shop\/products\/b34f21612dd1cb97ea1ed85ee4625941.jpg?v=1687764352"}}},{"id":42391061364892,"title":"!11\/XL HG Prime GTX Heated Glove Black waterproof FIVE []","option1":"!11\/XL HG Prime GTX Heated Glove Black waterproof FIVE []","option2":null,"option3":null,"sku":"FGHGPGTXXLB","requires_shipping":true,"taxable":true,"featured_image":{"id":36217536643228,"product_id":7584958120092,"position":1,"created_at":"2023-06-26T19:25:52+12:00","updated_at":"2023-06-26T19:25:52+12:00","alt":"HG PRIME GTX Black\n","width":1080,"height":1080,"src":"\/\/motogear.co.nz\/cdn\/shop\/products\/b34f21612dd1cb97ea1ed85ee4625941.jpg?v=1687764352","variant_ids":[42391061201052,42391061233820,42391061266588,42391061299356,42391061332124,42391061364892]},"available":false,"name":"FIVE HG PRIME GTX Heated Gloves - !11\/XL HG Prime GTX Heated Glove Black waterproof FIVE []","public_title":"!11\/XL HG Prime GTX Heated Glove Black waterproof FIVE []","options":["!11\/XL HG Prime GTX Heated Glove Black waterproof FIVE []"],"price":59900,"weight":0,"compare_at_price":null,"inventory_management":"sprint3-fulfillment","barcode":"3841300102486","featured_media":{"alt":"HG PRIME GTX Black\n","id":28593577525404,"position":1,"preview_image":{"aspect_ratio":1.0,"height":1080,"width":1080,"src":"\/\/motogear.co.nz\/cdn\/shop\/products\/b34f21612dd1cb97ea1ed85ee4625941.jpg?v=1687764352"}}}],"images":["\/\/motogear.co.nz\/cdn\/shop\/products\/b34f21612dd1cb97ea1ed85ee4625941.jpg?v=1687764352","\/\/motogear.co.nz\/cdn\/shop\/products\/be72b1438d8372220e7fc2d6baaa398f.png?v=1678775681","\/\/motogear.co.nz\/cdn\/shop\/products\/b0fb78e1096a15c4ea88f7b8f7b3be03_08245f30-72af-4110-983c-56400a7feede.jpg?v=1678343579"],"featured_image":"\/\/motogear.co.nz\/cdn\/shop\/products\/b34f21612dd1cb97ea1ed85ee4625941.jpg?v=1687764352","options":["Stock Item"],"media":[{"alt":"HG PRIME GTX Black\n","id":28593577525404,"position":1,"preview_image":{"aspect_ratio":1.0,"height":1080,"width":1080,"src":"\/\/motogear.co.nz\/cdn\/shop\/products\/b34f21612dd1cb97ea1ed85ee4625941.jpg?v=1687764352"},"aspect_ratio":1.0,"height":1080,"media_type":"image","src":"\/\/motogear.co.nz\/cdn\/shop\/products\/b34f21612dd1cb97ea1ed85ee4625941.jpg?v=1687764352","width":1080},{"alt":"FIVE DUAL CONTROL","id":28230042976412,"position":2,"preview_image":{"aspect_ratio":1.344,"height":1035,"width":1391,"src":"\/\/motogear.co.nz\/cdn\/shop\/products\/be72b1438d8372220e7fc2d6baaa398f.png?v=1678775681"},"aspect_ratio":1.344,"height":1035,"media_type":"image","src":"\/\/motogear.co.nz\/cdn\/shop\/products\/be72b1438d8372220e7fc2d6baaa398f.png?v=1678775681","width":1391},{"alt":"Five_Gloves_Size_Chart","id":28207722135708,"position":3,"preview_image":{"aspect_ratio":1.0,"height":700,"width":700,"src":"\/\/motogear.co.nz\/cdn\/shop\/products\/b0fb78e1096a15c4ea88f7b8f7b3be03_08245f30-72af-4110-983c-56400a7feede.jpg?v=1678343579"},"aspect_ratio":1.0,"height":700,"media_type":"image","src":"\/\/motogear.co.nz\/cdn\/shop\/products\/b0fb78e1096a15c4ea88f7b8f7b3be03_08245f30-72af-4110-983c-56400a7feede.jpg?v=1678343579","width":700}],"content":"\u003cp\u003eBattery-heated winter motorcycle gloves with GORE-TEX® waterproof and breathable membrane to keep your hands warm and dry even on the coldest winter days.\u003c\/p\u003e\n\n\u003cp\u003eFIVE's HG PRIME GTX Heated Gloves technology uses 1.3 mm-thick resistors strategically placed on the back of the hand and the fingers, all the way down to the very tip. This construction offers uniform heat without compromising on palm sensitivity. On the palm there is a thin layer of thermal insulation which will complement heated grips if fitted. FIVE's HG Technology will warm up the zones that are most exposed to the cold: the back of the hand and the fingertips. The FIVE Dual Control Heating system uses 3 independently controlled levels of heat: Eco, Regular, and Boost, either at 45°C, 50°C, or 60°C, to suit the conditions. Battery life can last up to 6 hours depending on the level selected.\u003c\/p\u003e\n\n\u003cp\u003eRegardless of the heating element, the FIVE HG Prime GTX is a warm glove from the beginning. A GORE-TEX® membrane keeps out the water and is semi bonded in the palm area for a better grip on the controls. PrimaLoft® Gold Grip Control 60g thermal lining works to trap the heat in on the palm side of the glove, while a PrimaLoft Gold® 200g thermal lining and an aluminum foil insert on the back of the hand works to stop heat escaping. New FIVE designed ERGO PROTECH® knuckle and palm protectors help to protect your hands from impacts. The glove is reinforced with Superfabric® panels and a full-grain goat leather palm. With its ultra-modern design, FIVE's HG PRIME GTX motorcycle glove is the ultimate heated glove for cold winter riding.\u003c\/p\u003e\n\n\u003cul\u003e\n\t\u003cli\u003eSeamless Softshell heat-sealed topside construction with aluminum foil insert to trap the heat\u003c\/li\u003e\n\t\u003cli\u003eFull-grain goat leather palm\u003c\/li\u003e\n\t\u003cli\u003eDual Control™ Heating Technology\u003c\/li\u003e\n\t\u003cli\u003eGORE-TEX® weatherproof, breathable membrane, partly bonded with Grip Technology\u003c\/li\u003e\n\t\u003cli\u003ePrimaLoft® Gold 200g thermal insulation on the topside\u003c\/li\u003e\n\t\u003cli\u003ePrimaLoft® Grip Control 60g thermal insulation on the palm\u003c\/li\u003e\n\t\u003cli\u003eERGO PROTECH® metacarpal-knuckle protector\u003c\/li\u003e\n\t\u003cli\u003eERGO PROTECH® honeycombed palm slider\u003c\/li\u003e\n\t\u003cli\u003eSuperFabric® reinforcement\u003c\/li\u003e\n\t\u003cli\u003eOverSizeCuff™ adjustable cuff with Anti-Drip lining\u003c\/li\u003e\n\t\u003cli\u003eWater-resistant Battery pocket\u003c\/li\u003e\n\t\u003cli\u003eDual Closure System\u003c\/li\u003e\n\t\u003cli\u003eClear Vision Pad™ on the left hand\u003c\/li\u003e\n\t\u003cli\u003eTouch Screen™ system on the index finger and thumb\u003c\/li\u003e\n\t\u003cli\u003eCE Certification: KP1\u003c\/li\u003e\n\u003c\/ul\u003e\n\n\u003cp\u003eBattery Details:\u003c\/p\u003e\n\n\u003cp\u003e2 x re-chargeable Lithium Polymer Batteries and 1 x smart battery charger that can charge 2 batteries at once are provided.\u003cbr\u003e\nOne battery is installed into a small internal pocket in each glove.\u003c\/p\u003e\n\n\u003cp\u003eBattery on Maximum setting: approximately 2 hour battery life\u003cbr\u003e\nBattery on Middle setting: approximately 2.5-hour battery life\u003cbr\u003e\nBattery on Lowest setting: approximately 3.5 hour battery life\u003c\/p\u003e\n\n\u003cp\u003e \u003c\/p\u003e\n\n\u003cp\u003eSizing note:  As the FIVE motorcycle glove range is based around European sizing we suggest you purchase ONE size bigger than you normally would eg: if you normally fit a size large then order an XL.\u003c\/p\u003e\n\n\u003cp\u003e \u003c\/p\u003e\n\n\u003cp\u003e\u003ciframe align=\"left\" frameborder=\"0\" height=\"400\" scrolling=\"no\" src=\"https:\/\/www.youtube.com\/embed\/mDY1Ieinv2w\" width=\"650\"\u003e\u003c\/iframe\u003e\u003c\/p\u003e\n"}