FIVE E2 Gloves
Regular price
Sale price
$99.00
Unit price
/
per
or 4 payments of
Regular price
$0.00
Sale price
$24.75
Unit price
/
per
with
---
---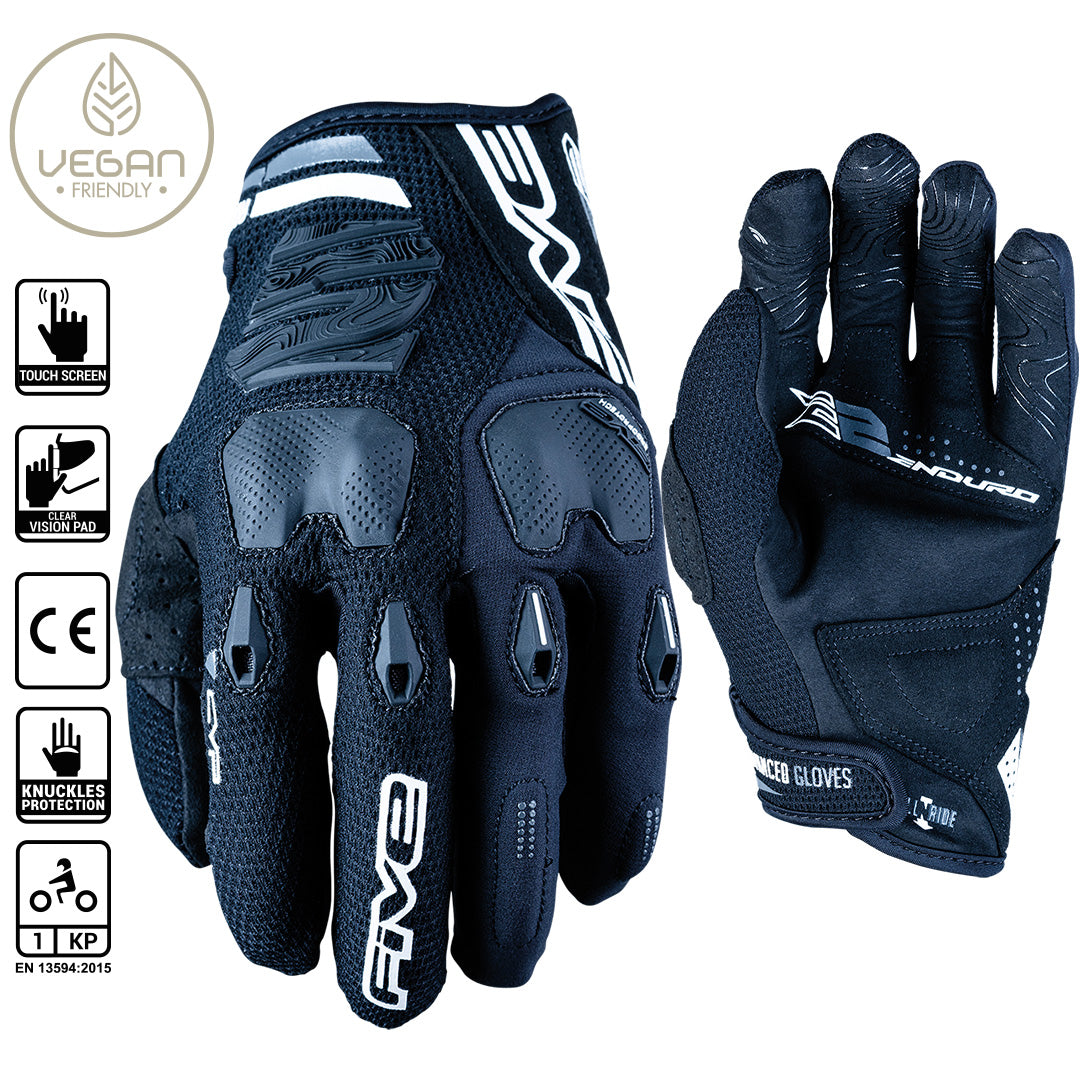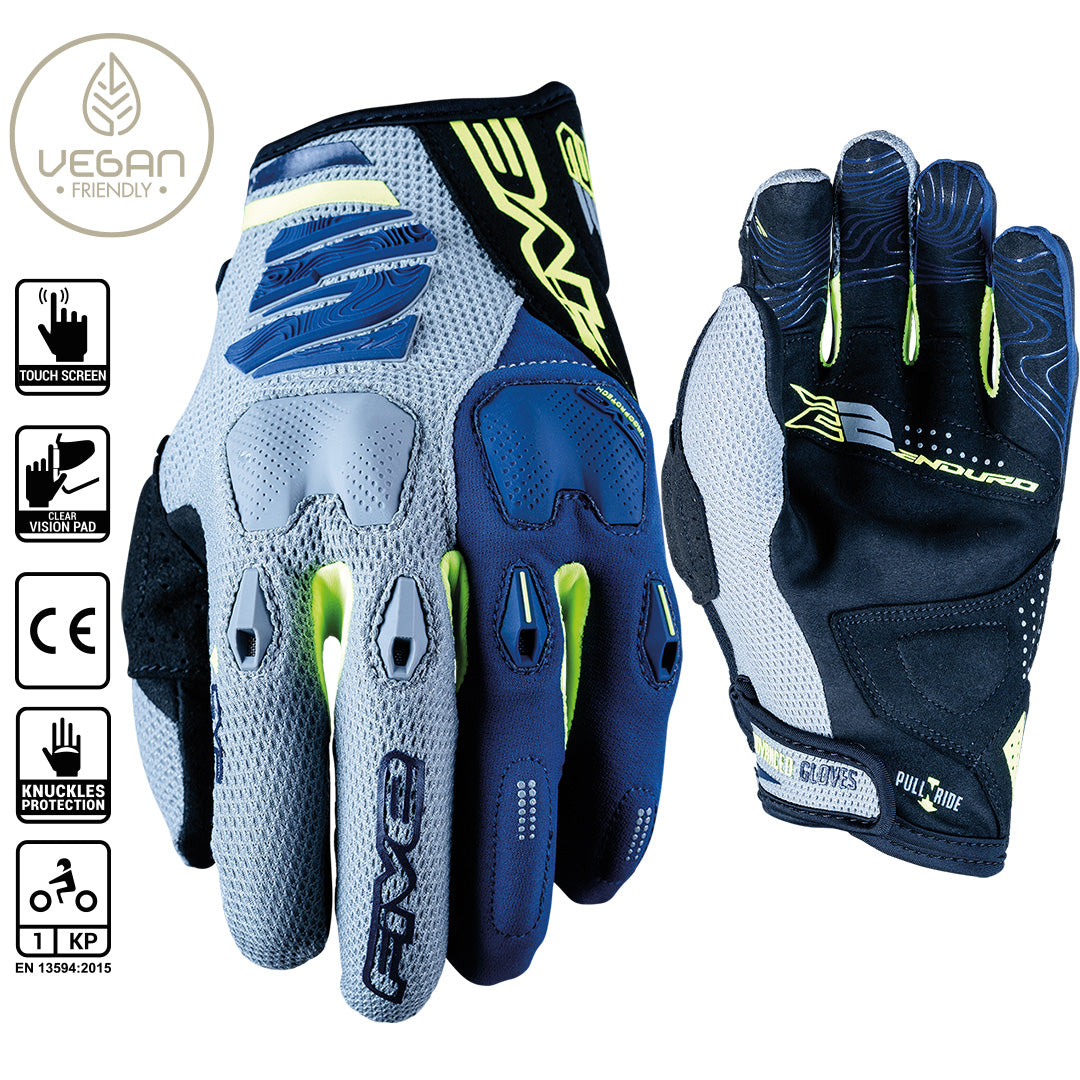 E2 Enduro Gloves
"The gloves specifically designed for recreational and competitive " Enduro. CE certified  
We proudly present the result of our collaboration with five-time Enduro World Champion Steve Holcombe, and 2019 E2 World Champion Loïc Larrieu, after many months in development: the E2, a glove designed specifically for Enduro, both recreational and competitive. It offers all the performance of a motocross glove, combined with a superior level of protection that's essential in the great outdoors. This includes branches and rocks that can sometimes be tough on riders…because you're not always protected by handguards, particularly if you take a spill. So, we've included just the amount of reinforcements and protection you need at strategic points, so you maintain total freedom of movement. This is what we're talking about with the dual-shell FIVE Ergo Protech in soft TPR, which'll protect you from tree trunks or rocks, but is also nearly undetectable when you're at the controls. We've really focused on ventilation, with mesh fabric on the inner half of the hand, while we've kept the tougher materials on the outer half that's more exposed to all kinds of contact (with trees, thorns, rocks, etc.). And since Enduro means you spend long hours at the controls, navigational contact has to be comfortable. The E2 is thus equipped with a palm in AX Suede Durango™, a material that provides excellent grip and is both durable and comfortable, along with 2 mm foam rubber pads on the palms and 3 mm on the thumbs. You get the picture: with the E2, FIVE offers an Enduro-specific glove that's bound to set the standard…while we eagerly await the E1, currently in development with Steve Holcombe and expected to come out in 2022.  
Topside: Mixed construction, with ventilated mesh on the inner side/extra-tough 4-way-stretch polyester on the outside. 
Palm: AX Suede Durango™/hypothenar and control contact-point reinforcement in synthetic leather/2 mm foam rubber reinforcements on the palms/3 mm foam rubber pads on the thumbs. 
Dual FIVE Ergo Protech protective shells in soft TPR, virtually undetectable.
Mini-protective shells in TPR on the fingers + 3 mm foam rubber reinforcements on the ring and little fingers.
5 TPR Sonic heat-sealed protective logo. 
FIVE ErgoFit construction for optimal fit and freedom of movement. 
Synthetic leather reinforcement on the edge of the hand, up to the radius. 
Silicone print on the inside of the fingers for optimal grip.
Clear Vision Pad™ visor cleaning system on the left-hand side.
TouchScreen™ system (index finger) for handling electronic devices.
Adjustable tab closure integrated into the mesh and Velcro fabric structure of the glove.
{"id":7304345616540,"title":"FIVE E2 Gloves","handle":"five-e2-gloves","description":"\u003cp\u003e\u003cstrong\u003eE2 Enduro Gloves\u003c\/strong\u003e\u003c\/p\u003e\n\n\u003cp\u003e\"The gloves specifically designed for recreational and competitive \" Enduro. CE certified  \u003c\/p\u003e\n\n\u003cp\u003eWe proudly present the result of our collaboration with five-time Enduro World Champion Steve Holcombe, and 2019 E2 World Champion Loïc Larrieu, after many months in development: the E2, a glove designed specifically for Enduro, both recreational and competitive. It offers all the performance of a motocross glove, combined with a superior level of protection that's essential in the great outdoors. This includes branches and rocks that can sometimes be tough on riders…because you're not always protected by handguards, particularly if you take a spill. So, we've included just the amount of reinforcements and protection you need at strategic points, so you maintain total freedom of movement. This is what we're talking about with the dual-shell FIVE Ergo Protech in soft TPR, which'll protect you from tree trunks or rocks, but is also nearly undetectable when you're at the controls. We've really focused on ventilation, with mesh fabric on the inner half of the hand, while we've kept the tougher materials on the outer half that's more exposed to all kinds of contact (with trees, thorns, rocks, etc.). And since Enduro means you spend long hours at the controls, navigational contact has to be comfortable. The E2 is thus equipped with a palm in AX Suede Durango™, a material that provides excellent grip and is both durable and comfortable, along with 2 mm foam rubber pads on the palms and 3 mm on the thumbs. You get the picture: with the E2, FIVE offers an Enduro-specific glove that's bound to set the standard…while we eagerly await the E1, currently in development with Steve Holcombe and expected to come out in 2022.  \u003c\/p\u003e\n\n\u003cul\u003e\n\t\u003cli\u003eTopside: Mixed construction, with ventilated mesh on the inner side\/extra-tough 4-way-stretch polyester on the outside. \u003c\/li\u003e\n\t\u003cli\u003ePalm: AX Suede Durango™\/hypothenar and control contact-point reinforcement in synthetic leather\/2 mm foam rubber reinforcements on the palms\/3 mm foam rubber pads on the thumbs. \u003c\/li\u003e\n\t\u003cli\u003eDual FIVE Ergo Protech protective shells in soft TPR, virtually undetectable.\u003c\/li\u003e\n\t\u003cli\u003eMini-protective shells in TPR on the fingers + 3 mm foam rubber reinforcements on the ring and little fingers.\u003c\/li\u003e\n\t\u003cli\u003e5 TPR Sonic heat-sealed protective logo. \u003c\/li\u003e\n\t\u003cli\u003eFIVE ErgoFit construction for optimal fit and freedom of movement. \u003c\/li\u003e\n\t\u003cli\u003eSynthetic leather reinforcement on the edge of the hand, up to the radius. \u003c\/li\u003e\n\t\u003cli\u003eSilicone print on the inside of the fingers for optimal grip.\u003c\/li\u003e\n\t\u003cli\u003eClear Vision Pad™ visor cleaning system on the left-hand side.\u003c\/li\u003e\n\t\u003cli\u003eTouchScreen™ system (index finger) for handling electronic devices.\u003c\/li\u003e\n\t\u003cli\u003eAdjustable tab closure integrated into the mesh and Velcro fabric structure of the glove.\u003c\/li\u003e\n\u003c\/ul\u003e\n","published_at":"2022-06-20T14:08:37+12:00","created_at":"2022-05-26T23:10:53+12:00","vendor":"Five Gloves","type":"Apparel-Offroad-Gloves-Mens","tags":["S3-Cat-Apparel","S3-Cat-Apparel-Offroad","S3-Cat-Apparel-Offroad-Gloves","S3-Cat-Apparel-Offroad-Gloves-Mens","Sprint3","Sprint3-New"],"price":9900,"price_min":9900,"price_max":9900,"available":true,"price_varies":false,"compare_at_price":null,"compare_at_price_min":0,"compare_at_price_max":0,"compare_at_price_varies":false,"variants":[{"id":41661222912156,"title":"08\/S E2 Black Glove FIVE [A]","option1":"08\/S E2 Black Glove FIVE [A]","option2":null,"option3":null,"sku":"FGE2SB","requires_shipping":true,"taxable":true,"featured_image":{"id":36224028442780,"product_id":7304345616540,"position":2,"created_at":"2023-06-28T18:42:25+12:00","updated_at":"2023-06-28T18:42:25+12:00","alt":"FIVE E2 Enduro Gloves Black","width":1080,"height":1080,"src":"\/\/motogear.co.nz\/cdn\/shop\/products\/4f6f63c17bf0c7844206ca21410d9fb5.jpg?v=1687934545","variant_ids":[41661222912156,41661222944924,41661222977692,41661223010460,41661223043228,41661223075996]},"available":true,"name":"FIVE E2 Gloves - 08\/S E2 Black Glove FIVE [A]","public_title":"08\/S E2 Black Glove FIVE [A]","options":["08\/S E2 Black Glove FIVE [A]"],"price":9900,"weight":0,"compare_at_price":null,"inventory_management":"sprint3-fulfillment","barcode":"3882020010514","featured_media":{"alt":"FIVE E2 Enduro Gloves Black","id":28600154620060,"position":2,"preview_image":{"aspect_ratio":1.0,"height":1080,"width":1080,"src":"\/\/motogear.co.nz\/cdn\/shop\/products\/4f6f63c17bf0c7844206ca21410d9fb5.jpg?v=1687934545"}}},{"id":41661222944924,"title":"09\/M E2 Black Glove FIVE [A]","option1":"09\/M E2 Black Glove FIVE [A]","option2":null,"option3":null,"sku":"FGE2MB","requires_shipping":true,"taxable":true,"featured_image":{"id":36224028442780,"product_id":7304345616540,"position":2,"created_at":"2023-06-28T18:42:25+12:00","updated_at":"2023-06-28T18:42:25+12:00","alt":"FIVE E2 Enduro Gloves Black","width":1080,"height":1080,"src":"\/\/motogear.co.nz\/cdn\/shop\/products\/4f6f63c17bf0c7844206ca21410d9fb5.jpg?v=1687934545","variant_ids":[41661222912156,41661222944924,41661222977692,41661223010460,41661223043228,41661223075996]},"available":true,"name":"FIVE E2 Gloves - 09\/M E2 Black Glove FIVE [A]","public_title":"09\/M E2 Black Glove FIVE [A]","options":["09\/M E2 Black Glove FIVE [A]"],"price":9900,"weight":0,"compare_at_price":null,"inventory_management":"sprint3-fulfillment","barcode":"3882020010521","featured_media":{"alt":"FIVE E2 Enduro Gloves Black","id":28600154620060,"position":2,"preview_image":{"aspect_ratio":1.0,"height":1080,"width":1080,"src":"\/\/motogear.co.nz\/cdn\/shop\/products\/4f6f63c17bf0c7844206ca21410d9fb5.jpg?v=1687934545"}}},{"id":41661222977692,"title":"10\/L E2 Black Glove FIVE [AC]","option1":"10\/L E2 Black Glove FIVE [AC]","option2":null,"option3":null,"sku":"FGE2LB","requires_shipping":true,"taxable":true,"featured_image":{"id":36224028442780,"product_id":7304345616540,"position":2,"created_at":"2023-06-28T18:42:25+12:00","updated_at":"2023-06-28T18:42:25+12:00","alt":"FIVE E2 Enduro Gloves Black","width":1080,"height":1080,"src":"\/\/motogear.co.nz\/cdn\/shop\/products\/4f6f63c17bf0c7844206ca21410d9fb5.jpg?v=1687934545","variant_ids":[41661222912156,41661222944924,41661222977692,41661223010460,41661223043228,41661223075996]},"available":true,"name":"FIVE E2 Gloves - 10\/L E2 Black Glove FIVE [AC]","public_title":"10\/L E2 Black Glove FIVE [AC]","options":["10\/L E2 Black Glove FIVE [AC]"],"price":9900,"weight":0,"compare_at_price":null,"inventory_management":"sprint3-fulfillment","barcode":"3882020010538","featured_media":{"alt":"FIVE E2 Enduro Gloves Black","id":28600154620060,"position":2,"preview_image":{"aspect_ratio":1.0,"height":1080,"width":1080,"src":"\/\/motogear.co.nz\/cdn\/shop\/products\/4f6f63c17bf0c7844206ca21410d9fb5.jpg?v=1687934545"}}},{"id":41661223010460,"title":"11\/XL E2 Black Glove FIVE [C]","option1":"11\/XL E2 Black Glove FIVE [C]","option2":null,"option3":null,"sku":"FGE2XLB","requires_shipping":true,"taxable":true,"featured_image":{"id":36224028442780,"product_id":7304345616540,"position":2,"created_at":"2023-06-28T18:42:25+12:00","updated_at":"2023-06-28T18:42:25+12:00","alt":"FIVE E2 Enduro Gloves Black","width":1080,"height":1080,"src":"\/\/motogear.co.nz\/cdn\/shop\/products\/4f6f63c17bf0c7844206ca21410d9fb5.jpg?v=1687934545","variant_ids":[41661222912156,41661222944924,41661222977692,41661223010460,41661223043228,41661223075996]},"available":true,"name":"FIVE E2 Gloves - 11\/XL E2 Black Glove FIVE [C]","public_title":"11\/XL E2 Black Glove FIVE [C]","options":["11\/XL E2 Black Glove FIVE [C]"],"price":9900,"weight":0,"compare_at_price":null,"inventory_management":"sprint3-fulfillment","barcode":"3882020010545","featured_media":{"alt":"FIVE E2 Enduro Gloves Black","id":28600154620060,"position":2,"preview_image":{"aspect_ratio":1.0,"height":1080,"width":1080,"src":"\/\/motogear.co.nz\/cdn\/shop\/products\/4f6f63c17bf0c7844206ca21410d9fb5.jpg?v=1687934545"}}},{"id":41661223043228,"title":"12\/2XL E2 Black Glove FIVE XXL []","option1":"12\/2XL E2 Black Glove FIVE XXL []","option2":null,"option3":null,"sku":"FGE22XLB","requires_shipping":true,"taxable":true,"featured_image":{"id":36224028442780,"product_id":7304345616540,"position":2,"created_at":"2023-06-28T18:42:25+12:00","updated_at":"2023-06-28T18:42:25+12:00","alt":"FIVE E2 Enduro Gloves Black","width":1080,"height":1080,"src":"\/\/motogear.co.nz\/cdn\/shop\/products\/4f6f63c17bf0c7844206ca21410d9fb5.jpg?v=1687934545","variant_ids":[41661222912156,41661222944924,41661222977692,41661223010460,41661223043228,41661223075996]},"available":true,"name":"FIVE E2 Gloves - 12\/2XL E2 Black Glove FIVE XXL []","public_title":"12\/2XL E2 Black Glove FIVE XXL []","options":["12\/2XL E2 Black Glove FIVE XXL []"],"price":9900,"weight":0,"compare_at_price":null,"inventory_management":"sprint3-fulfillment","barcode":"3882020010552","featured_media":{"alt":"FIVE E2 Enduro Gloves Black","id":28600154620060,"position":2,"preview_image":{"aspect_ratio":1.0,"height":1080,"width":1080,"src":"\/\/motogear.co.nz\/cdn\/shop\/products\/4f6f63c17bf0c7844206ca21410d9fb5.jpg?v=1687934545"}}},{"id":41661223075996,"title":"13\/3XL E2 Black Glove FIVE XXXL [AC]","option1":"13\/3XL E2 Black Glove FIVE XXXL [AC]","option2":null,"option3":null,"sku":"FGE23XLB","requires_shipping":true,"taxable":true,"featured_image":{"id":36224028442780,"product_id":7304345616540,"position":2,"created_at":"2023-06-28T18:42:25+12:00","updated_at":"2023-06-28T18:42:25+12:00","alt":"FIVE E2 Enduro Gloves Black","width":1080,"height":1080,"src":"\/\/motogear.co.nz\/cdn\/shop\/products\/4f6f63c17bf0c7844206ca21410d9fb5.jpg?v=1687934545","variant_ids":[41661222912156,41661222944924,41661222977692,41661223010460,41661223043228,41661223075996]},"available":true,"name":"FIVE E2 Gloves - 13\/3XL E2 Black Glove FIVE XXXL [AC]","public_title":"13\/3XL E2 Black Glove FIVE XXXL [AC]","options":["13\/3XL E2 Black Glove FIVE XXXL [AC]"],"price":9900,"weight":0,"compare_at_price":null,"inventory_management":"sprint3-fulfillment","barcode":"3882020010569","featured_media":{"alt":"FIVE E2 Enduro Gloves Black","id":28600154620060,"position":2,"preview_image":{"aspect_ratio":1.0,"height":1080,"width":1080,"src":"\/\/motogear.co.nz\/cdn\/shop\/products\/4f6f63c17bf0c7844206ca21410d9fb5.jpg?v=1687934545"}}},{"id":41661223207068,"title":"08\/S E2 Grey\/Fluo Yellow\/Navy Glove FIVE [A]","option1":"08\/S E2 Grey\/Fluo Yellow\/Navy Glove FIVE [A]","option2":null,"option3":null,"sku":"FGE2SGYN","requires_shipping":true,"taxable":true,"featured_image":{"id":36224028410012,"product_id":7304345616540,"position":1,"created_at":"2023-06-28T18:42:25+12:00","updated_at":"2023-06-28T18:42:25+12:00","alt":"FIVE E2 Enduro Gloves Grey Yellow Navy","width":1080,"height":1080,"src":"\/\/motogear.co.nz\/cdn\/shop\/products\/b8219929f5666b917e4e80363003cf68.jpg?v=1687934545","variant_ids":[41661223108764,41661223141532,41661223174300,41661223207068,41661223239836]},"available":false,"name":"FIVE E2 Gloves - 08\/S E2 Grey\/Fluo Yellow\/Navy Glove FIVE [A]","public_title":"08\/S E2 Grey\/Fluo Yellow\/Navy Glove FIVE [A]","options":["08\/S E2 Grey\/Fluo Yellow\/Navy Glove FIVE [A]"],"price":9900,"weight":0,"compare_at_price":null,"inventory_management":"sprint3-fulfillment","barcode":"3882020010712","featured_media":{"alt":"FIVE E2 Enduro Gloves Grey Yellow Navy","id":28600154587292,"position":1,"preview_image":{"aspect_ratio":1.0,"height":1080,"width":1080,"src":"\/\/motogear.co.nz\/cdn\/shop\/products\/b8219929f5666b917e4e80363003cf68.jpg?v=1687934545"}}},{"id":41661223174300,"title":"09\/M E2 Grey\/Fluo Yellow\/Navy Glove FIVE [A]","option1":"09\/M E2 Grey\/Fluo Yellow\/Navy Glove FIVE [A]","option2":null,"option3":null,"sku":"FGE2MGYN","requires_shipping":true,"taxable":true,"featured_image":{"id":36224028410012,"product_id":7304345616540,"position":1,"created_at":"2023-06-28T18:42:25+12:00","updated_at":"2023-06-28T18:42:25+12:00","alt":"FIVE E2 Enduro Gloves Grey Yellow Navy","width":1080,"height":1080,"src":"\/\/motogear.co.nz\/cdn\/shop\/products\/b8219929f5666b917e4e80363003cf68.jpg?v=1687934545","variant_ids":[41661223108764,41661223141532,41661223174300,41661223207068,41661223239836]},"available":true,"name":"FIVE E2 Gloves - 09\/M E2 Grey\/Fluo Yellow\/Navy Glove FIVE [A]","public_title":"09\/M E2 Grey\/Fluo Yellow\/Navy Glove FIVE [A]","options":["09\/M E2 Grey\/Fluo Yellow\/Navy Glove FIVE [A]"],"price":9900,"weight":0,"compare_at_price":null,"inventory_management":"sprint3-fulfillment","barcode":"3882020010729","featured_media":{"alt":"FIVE E2 Enduro Gloves Grey Yellow Navy","id":28600154587292,"position":1,"preview_image":{"aspect_ratio":1.0,"height":1080,"width":1080,"src":"\/\/motogear.co.nz\/cdn\/shop\/products\/b8219929f5666b917e4e80363003cf68.jpg?v=1687934545"}}},{"id":41661223141532,"title":"10\/L E2 Grey\/Fluo Yellow\/Navy Glove FIVE [AC]","option1":"10\/L E2 Grey\/Fluo Yellow\/Navy Glove FIVE [AC]","option2":null,"option3":null,"sku":"FGE2LGYN","requires_shipping":true,"taxable":true,"featured_image":{"id":36224028410012,"product_id":7304345616540,"position":1,"created_at":"2023-06-28T18:42:25+12:00","updated_at":"2023-06-28T18:42:25+12:00","alt":"FIVE E2 Enduro Gloves Grey Yellow Navy","width":1080,"height":1080,"src":"\/\/motogear.co.nz\/cdn\/shop\/products\/b8219929f5666b917e4e80363003cf68.jpg?v=1687934545","variant_ids":[41661223108764,41661223141532,41661223174300,41661223207068,41661223239836]},"available":true,"name":"FIVE E2 Gloves - 10\/L E2 Grey\/Fluo Yellow\/Navy Glove FIVE [AC]","public_title":"10\/L E2 Grey\/Fluo Yellow\/Navy Glove FIVE [AC]","options":["10\/L E2 Grey\/Fluo Yellow\/Navy Glove FIVE [AC]"],"price":9900,"weight":0,"compare_at_price":null,"inventory_management":"sprint3-fulfillment","barcode":"3882020010736","featured_media":{"alt":"FIVE E2 Enduro Gloves Grey Yellow Navy","id":28600154587292,"position":1,"preview_image":{"aspect_ratio":1.0,"height":1080,"width":1080,"src":"\/\/motogear.co.nz\/cdn\/shop\/products\/b8219929f5666b917e4e80363003cf68.jpg?v=1687934545"}}},{"id":41661223239836,"title":"11\/XL E2 Grey\/Fluo Yellow\/Navy Glove FIVE [A]","option1":"11\/XL E2 Grey\/Fluo Yellow\/Navy Glove FIVE [A]","option2":null,"option3":null,"sku":"FGE2XLGYN","requires_shipping":true,"taxable":true,"featured_image":{"id":36224028410012,"product_id":7304345616540,"position":1,"created_at":"2023-06-28T18:42:25+12:00","updated_at":"2023-06-28T18:42:25+12:00","alt":"FIVE E2 Enduro Gloves Grey Yellow Navy","width":1080,"height":1080,"src":"\/\/motogear.co.nz\/cdn\/shop\/products\/b8219929f5666b917e4e80363003cf68.jpg?v=1687934545","variant_ids":[41661223108764,41661223141532,41661223174300,41661223207068,41661223239836]},"available":false,"name":"FIVE E2 Gloves - 11\/XL E2 Grey\/Fluo Yellow\/Navy Glove FIVE [A]","public_title":"11\/XL E2 Grey\/Fluo Yellow\/Navy Glove FIVE [A]","options":["11\/XL E2 Grey\/Fluo Yellow\/Navy Glove FIVE [A]"],"price":9900,"weight":0,"compare_at_price":null,"inventory_management":"sprint3-fulfillment","barcode":"3882020010743","featured_media":{"alt":"FIVE E2 Enduro Gloves Grey Yellow Navy","id":28600154587292,"position":1,"preview_image":{"aspect_ratio":1.0,"height":1080,"width":1080,"src":"\/\/motogear.co.nz\/cdn\/shop\/products\/b8219929f5666b917e4e80363003cf68.jpg?v=1687934545"}}},{"id":41661223108764,"title":"12\/2XL E2 Grey\/Fluo Yell\/Navy Glove FIVE XXL [A]","option1":"12\/2XL E2 Grey\/Fluo Yell\/Navy Glove FIVE XXL [A]","option2":null,"option3":null,"sku":"FGE22XLGYN","requires_shipping":true,"taxable":true,"featured_image":{"id":36224028410012,"product_id":7304345616540,"position":1,"created_at":"2023-06-28T18:42:25+12:00","updated_at":"2023-06-28T18:42:25+12:00","alt":"FIVE E2 Enduro Gloves Grey Yellow Navy","width":1080,"height":1080,"src":"\/\/motogear.co.nz\/cdn\/shop\/products\/b8219929f5666b917e4e80363003cf68.jpg?v=1687934545","variant_ids":[41661223108764,41661223141532,41661223174300,41661223207068,41661223239836]},"available":true,"name":"FIVE E2 Gloves - 12\/2XL E2 Grey\/Fluo Yell\/Navy Glove FIVE XXL [A]","public_title":"12\/2XL E2 Grey\/Fluo Yell\/Navy Glove FIVE XXL [A]","options":["12\/2XL E2 Grey\/Fluo Yell\/Navy Glove FIVE XXL [A]"],"price":9900,"weight":0,"compare_at_price":null,"inventory_management":"sprint3-fulfillment","barcode":"3882020010750","featured_media":{"alt":"FIVE E2 Enduro Gloves Grey Yellow Navy","id":28600154587292,"position":1,"preview_image":{"aspect_ratio":1.0,"height":1080,"width":1080,"src":"\/\/motogear.co.nz\/cdn\/shop\/products\/b8219929f5666b917e4e80363003cf68.jpg?v=1687934545"}}}],"images":["\/\/motogear.co.nz\/cdn\/shop\/products\/b8219929f5666b917e4e80363003cf68.jpg?v=1687934545","\/\/motogear.co.nz\/cdn\/shop\/products\/4f6f63c17bf0c7844206ca21410d9fb5.jpg?v=1687934545","\/\/motogear.co.nz\/cdn\/shop\/products\/b0fb78e1096a15c4ea88f7b8f7b3be03_f6d8645b-56dc-41ff-9ace-43d578669b66.jpg?v=1653563460"],"featured_image":"\/\/motogear.co.nz\/cdn\/shop\/products\/b8219929f5666b917e4e80363003cf68.jpg?v=1687934545","options":["Stock Item"],"media":[{"alt":"FIVE E2 Enduro Gloves Grey Yellow Navy","id":28600154587292,"position":1,"preview_image":{"aspect_ratio":1.0,"height":1080,"width":1080,"src":"\/\/motogear.co.nz\/cdn\/shop\/products\/b8219929f5666b917e4e80363003cf68.jpg?v=1687934545"},"aspect_ratio":1.0,"height":1080,"media_type":"image","src":"\/\/motogear.co.nz\/cdn\/shop\/products\/b8219929f5666b917e4e80363003cf68.jpg?v=1687934545","width":1080},{"alt":"FIVE E2 Enduro Gloves Black","id":28600154620060,"position":2,"preview_image":{"aspect_ratio":1.0,"height":1080,"width":1080,"src":"\/\/motogear.co.nz\/cdn\/shop\/products\/4f6f63c17bf0c7844206ca21410d9fb5.jpg?v=1687934545"},"aspect_ratio":1.0,"height":1080,"media_type":"image","src":"\/\/motogear.co.nz\/cdn\/shop\/products\/4f6f63c17bf0c7844206ca21410d9fb5.jpg?v=1687934545","width":1080},{"alt":"Five_Gloves_Size_Chart","id":26282552656028,"position":3,"preview_image":{"aspect_ratio":1.0,"height":700,"width":700,"src":"\/\/motogear.co.nz\/cdn\/shop\/products\/b0fb78e1096a15c4ea88f7b8f7b3be03_f6d8645b-56dc-41ff-9ace-43d578669b66.jpg?v=1653563460"},"aspect_ratio":1.0,"height":700,"media_type":"image","src":"\/\/motogear.co.nz\/cdn\/shop\/products\/b0fb78e1096a15c4ea88f7b8f7b3be03_f6d8645b-56dc-41ff-9ace-43d578669b66.jpg?v=1653563460","width":700}],"content":"\u003cp\u003e\u003cstrong\u003eE2 Enduro Gloves\u003c\/strong\u003e\u003c\/p\u003e\n\n\u003cp\u003e\"The gloves specifically designed for recreational and competitive \" Enduro. CE certified  \u003c\/p\u003e\n\n\u003cp\u003eWe proudly present the result of our collaboration with five-time Enduro World Champion Steve Holcombe, and 2019 E2 World Champion Loïc Larrieu, after many months in development: the E2, a glove designed specifically for Enduro, both recreational and competitive. It offers all the performance of a motocross glove, combined with a superior level of protection that's essential in the great outdoors. This includes branches and rocks that can sometimes be tough on riders…because you're not always protected by handguards, particularly if you take a spill. So, we've included just the amount of reinforcements and protection you need at strategic points, so you maintain total freedom of movement. This is what we're talking about with the dual-shell FIVE Ergo Protech in soft TPR, which'll protect you from tree trunks or rocks, but is also nearly undetectable when you're at the controls. We've really focused on ventilation, with mesh fabric on the inner half of the hand, while we've kept the tougher materials on the outer half that's more exposed to all kinds of contact (with trees, thorns, rocks, etc.). And since Enduro means you spend long hours at the controls, navigational contact has to be comfortable. The E2 is thus equipped with a palm in AX Suede Durango™, a material that provides excellent grip and is both durable and comfortable, along with 2 mm foam rubber pads on the palms and 3 mm on the thumbs. You get the picture: with the E2, FIVE offers an Enduro-specific glove that's bound to set the standard…while we eagerly await the E1, currently in development with Steve Holcombe and expected to come out in 2022.  \u003c\/p\u003e\n\n\u003cul\u003e\n\t\u003cli\u003eTopside: Mixed construction, with ventilated mesh on the inner side\/extra-tough 4-way-stretch polyester on the outside. \u003c\/li\u003e\n\t\u003cli\u003ePalm: AX Suede Durango™\/hypothenar and control contact-point reinforcement in synthetic leather\/2 mm foam rubber reinforcements on the palms\/3 mm foam rubber pads on the thumbs. \u003c\/li\u003e\n\t\u003cli\u003eDual FIVE Ergo Protech protective shells in soft TPR, virtually undetectable.\u003c\/li\u003e\n\t\u003cli\u003eMini-protective shells in TPR on the fingers + 3 mm foam rubber reinforcements on the ring and little fingers.\u003c\/li\u003e\n\t\u003cli\u003e5 TPR Sonic heat-sealed protective logo. \u003c\/li\u003e\n\t\u003cli\u003eFIVE ErgoFit construction for optimal fit and freedom of movement. \u003c\/li\u003e\n\t\u003cli\u003eSynthetic leather reinforcement on the edge of the hand, up to the radius. \u003c\/li\u003e\n\t\u003cli\u003eSilicone print on the inside of the fingers for optimal grip.\u003c\/li\u003e\n\t\u003cli\u003eClear Vision Pad™ visor cleaning system on the left-hand side.\u003c\/li\u003e\n\t\u003cli\u003eTouchScreen™ system (index finger) for handling electronic devices.\u003c\/li\u003e\n\t\u003cli\u003eAdjustable tab closure integrated into the mesh and Velcro fabric structure of the glove.\u003c\/li\u003e\n\u003c\/ul\u003e\n"}