ATLAS Prodigy Young Teen/Women Neck Brace
Regular price
Sale price
$359.00
Unit price
/
per
or 4 payments of
Regular price
$0.00
Sale price
$89.75
Unit price
/
per
with
---
---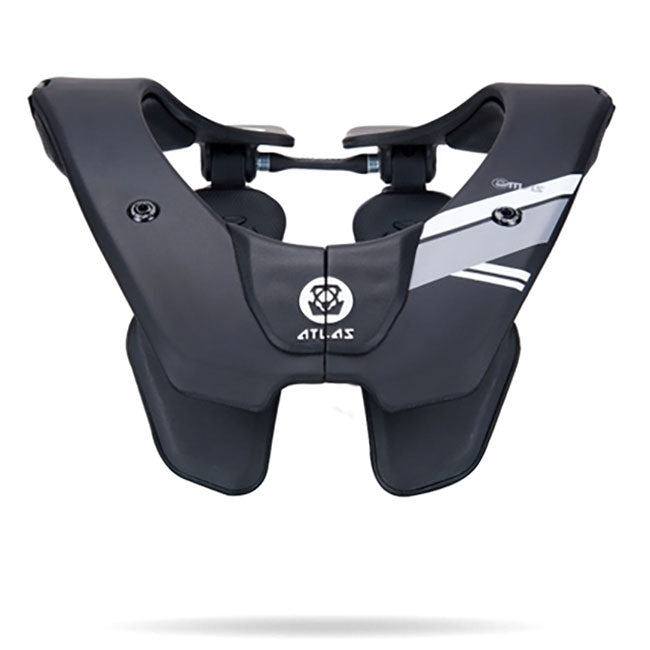 Prodigy Young Teen/ Women Neck Brace
Engineered to flex using our high impact polymer, but designed to fit the smaller bodies of young teens and small women.
The Atlas Prodigy brace is designed to fit a smaller rider, while performing the same as its bigger counterpart. For the first time, young teens and smaller women finally have safety equipment that will fit properly, and more importantly, function properly. The newly introduced Atlas Prodigy weighs in at a very light 590g.
The entry and exit system used on the Prodigy also doubles as the Emergency Release System. With the push of a button, a user can enter, or exit the brace very easily, with no loose parts to fall away. This quick release system can be performed in a matter of seconds by people of nearly any age.
We went to great lengths to create a perfect fit for smaller riders, and simply modifying an existing part wasn't up to our standards. Instead, we decided to start from scratch. The Atlas Prodigy brace uses its own unique frame design, specifically engineered to truly fit smaller riders properly, while allowing them the range of motion they need to perform extreme sports.
Introducing dual pivoting back supports on the Original brace changed the way people looked at neck protection. Less than one year later, we were able to not only cut the weight of our back supports in half, but add a flex-tip feature to the bottom of each back support making hese the most technologically advanced, and largest surface area back supports in existence.
In addition to new back supports, our new reversible rear mounts offer adjustment without the need for an additional set of mounts. Simply loosen the mounts assembled on the brace, rotate them 180 degrees, tighten, and an adjustment has been made. Two sizes built into one mount allows our amazingly simplistic design to become even more user friendly.
Sizing:- 29 -33" / 74-84 cm
{"id":7304344993948,"title":"ATLAS Prodigy Young Teen\/Women Neck Brace","handle":"atlas-prodigy-young-teen-women-neck-brace","description":"\u003cp\u003e\u003cstrong\u003eProdigy Young Teen\/ Women Neck Brace\u003c\/strong\u003e\u003c\/p\u003e\n\n\u003cul\u003e\n\t\u003cli\u003eEngineered to flex using our high impact polymer, but designed to fit the smaller bodies of young teens and small women.\u003c\/li\u003e\n\t\u003cli\u003eThe Atlas Prodigy brace is designed to fit a smaller rider, while performing the same as its bigger counterpart. For the first time, young teens and smaller women finally have safety equipment that will fit properly, and more importantly, function properly. The newly introduced Atlas Prodigy weighs in at a very light 590g.\u003c\/li\u003e\n\t\u003cli\u003eThe entry and exit system used on the Prodigy also doubles as the Emergency Release System. With the push of a button, a user can enter, or exit the brace very easily, with no loose parts to fall away. This quick release system can be performed in a matter of seconds by people of nearly any age.\u003c\/li\u003e\n\t\u003cli\u003eWe went to great lengths to create a perfect fit for smaller riders, and simply modifying an existing part wasn't up to our standards. Instead, we decided to start from scratch. The Atlas Prodigy brace uses its own unique frame design, specifically engineered to truly fit smaller riders properly, while allowing them the range of motion they need to perform extreme sports.\u003c\/li\u003e\n\t\u003cli\u003eIntroducing dual pivoting back supports on the Original brace changed the way people looked at neck protection. Less than one year later, we were able to not only cut the weight of our back supports in half, but add a flex-tip feature to the bottom of each back support making hese the most technologically advanced, and largest surface area back supports in existence.\u003c\/li\u003e\n\t\u003cli\u003eIn addition to new back supports, our new reversible rear mounts offer adjustment without the need for an additional set of mounts. Simply loosen the mounts assembled on the brace, rotate them 180 degrees, tighten, and an adjustment has been made. Two sizes built into one mount allows our amazingly simplistic design to become even more user friendly.\u003c\/li\u003e\n\u003c\/ul\u003e\n\n\u003cp\u003e \u003c\/p\u003e\n\n\u003cp\u003eSizing:- 29 -33\" \/ 74-84 cm\u003c\/p\u003e\n\n\u003cp\u003e\u003ciframe frameborder=\"0\" height=\"350\" id=\"The Prodigy Neck Brace\" longdesc=\"The Prodigy Neck Brace\" name=\"The Prodigy Neck Brace\" scrolling=\"yes\" src=\"https:\/\/www.youtube-nocookie.com\/embed\/-eIveFJD6pg?rel=0\" width=\"600\"\u003e\u003c\/iframe\u003e\u003c\/p\u003e\n\u003cul class=\"s3-links\"\u003e\r\n\u003cli class=\"s3-link-pdf\"\u003e\u003ca href=\"http:\/\/darbi.sprint3.com\/package\/webservice\/kernel_resources_render.asp?intKernel_resource_PK=623\" target=\"_blank\"\u003eAtlas-brace-sizing-tape-measure\u003c\/a\u003e\u003c\/li\u003e\r\n\u003c\/ul\u003e\r\n","published_at":"2022-06-20T13:57:22+12:00","created_at":"2022-05-26T23:09:36+12:00","vendor":"Atlas Braces","type":"Apparel-Offroad-Armour\u0026Protection-Youth","tags":["S3-Cat-Apparel","S3-Cat-Apparel-Offroad","S3-Cat-Apparel-Offroad-Armour\u0026Protection","S3-Cat-Apparel-Offroad-Armour\u0026Protection-Youth","Sprint3","Sprint3-New"],"price":35900,"price_min":35900,"price_max":35900,"available":true,"price_varies":false,"compare_at_price":null,"compare_at_price_min":0,"compare_at_price_max":0,"compare_at_price_varies":false,"variants":[{"id":41661220421788,"title":"Neck Brace Prodigy Black Atlas Youth (74-84cm) [AC]","option1":"Neck Brace Prodigy Black Atlas Youth (74-84cm) [AC]","option2":null,"option3":null,"sku":"AY4-01-000","requires_shipping":true,"taxable":true,"featured_image":{"id":33930849255580,"product_id":7304344993948,"position":2,"created_at":"2022-05-26T23:09:40+12:00","updated_at":"2022-05-26T23:09:40+12:00","alt":"ATLAS Prodigy Black","width":650,"height":650,"src":"\/\/motogear.co.nz\/cdn\/shop\/products\/6c9c976fd9fce6deae11da6c01798856_ea9c6870-d8f2-45e6-8cd2-6f44b2f0a3ec.jpg?v=1653563380","variant_ids":[41661220421788]},"available":true,"name":"ATLAS Prodigy Young Teen\/Women Neck Brace - Neck Brace Prodigy Black Atlas Youth (74-84cm) [AC]","public_title":"Neck Brace Prodigy Black Atlas Youth (74-84cm) [AC]","options":["Neck Brace Prodigy Black Atlas Youth (74-84cm) [AC]"],"price":35900,"weight":0,"compare_at_price":null,"inventory_management":"sprint3-fulfillment","barcode":"663941010509","featured_media":{"alt":"ATLAS Prodigy Black","id":26282546528412,"position":2,"preview_image":{"aspect_ratio":1.0,"height":650,"width":650,"src":"\/\/motogear.co.nz\/cdn\/shop\/products\/6c9c976fd9fce6deae11da6c01798856_ea9c6870-d8f2-45e6-8cd2-6f44b2f0a3ec.jpg?v=1653563380"}}},{"id":41661220454556,"title":"Neck Brace Prodigy Ruck Atlas Youth (74-84cm) [AC]","option1":"Neck Brace Prodigy Ruck Atlas Youth (74-84cm) [AC]","option2":null,"option3":null,"sku":"AY3-05-000","requires_shipping":true,"taxable":true,"featured_image":{"id":33930849288348,"product_id":7304344993948,"position":1,"created_at":"2022-05-26T23:09:40+12:00","updated_at":"2022-05-26T23:09:40+12:00","alt":"ATLAS Prodigy, Orange Ruck 2018","width":650,"height":650,"src":"\/\/motogear.co.nz\/cdn\/shop\/products\/e33232398f8f468acc03bd7a940ccf77_86df8acf-fbfc-4cd5-b381-5d03444920d8.jpg?v=1653563380","variant_ids":[41661220454556]},"available":true,"name":"ATLAS Prodigy Young Teen\/Women Neck Brace - Neck Brace Prodigy Ruck Atlas Youth (74-84cm) [AC]","public_title":"Neck Brace Prodigy Ruck Atlas Youth (74-84cm) [AC]","options":["Neck Brace Prodigy Ruck Atlas Youth (74-84cm) [AC]"],"price":35900,"weight":0,"compare_at_price":null,"inventory_management":"sprint3-fulfillment","barcode":"814206034741","featured_media":{"alt":"ATLAS Prodigy, Orange Ruck 2018","id":26282546561180,"position":1,"preview_image":{"aspect_ratio":1.0,"height":650,"width":650,"src":"\/\/motogear.co.nz\/cdn\/shop\/products\/e33232398f8f468acc03bd7a940ccf77_86df8acf-fbfc-4cd5-b381-5d03444920d8.jpg?v=1653563380"}}}],"images":["\/\/motogear.co.nz\/cdn\/shop\/products\/e33232398f8f468acc03bd7a940ccf77_86df8acf-fbfc-4cd5-b381-5d03444920d8.jpg?v=1653563380","\/\/motogear.co.nz\/cdn\/shop\/products\/6c9c976fd9fce6deae11da6c01798856_ea9c6870-d8f2-45e6-8cd2-6f44b2f0a3ec.jpg?v=1653563380"],"featured_image":"\/\/motogear.co.nz\/cdn\/shop\/products\/e33232398f8f468acc03bd7a940ccf77_86df8acf-fbfc-4cd5-b381-5d03444920d8.jpg?v=1653563380","options":["Stock Item"],"media":[{"alt":"ATLAS Prodigy, Orange Ruck 2018","id":26282546561180,"position":1,"preview_image":{"aspect_ratio":1.0,"height":650,"width":650,"src":"\/\/motogear.co.nz\/cdn\/shop\/products\/e33232398f8f468acc03bd7a940ccf77_86df8acf-fbfc-4cd5-b381-5d03444920d8.jpg?v=1653563380"},"aspect_ratio":1.0,"height":650,"media_type":"image","src":"\/\/motogear.co.nz\/cdn\/shop\/products\/e33232398f8f468acc03bd7a940ccf77_86df8acf-fbfc-4cd5-b381-5d03444920d8.jpg?v=1653563380","width":650},{"alt":"ATLAS Prodigy Black","id":26282546528412,"position":2,"preview_image":{"aspect_ratio":1.0,"height":650,"width":650,"src":"\/\/motogear.co.nz\/cdn\/shop\/products\/6c9c976fd9fce6deae11da6c01798856_ea9c6870-d8f2-45e6-8cd2-6f44b2f0a3ec.jpg?v=1653563380"},"aspect_ratio":1.0,"height":650,"media_type":"image","src":"\/\/motogear.co.nz\/cdn\/shop\/products\/6c9c976fd9fce6deae11da6c01798856_ea9c6870-d8f2-45e6-8cd2-6f44b2f0a3ec.jpg?v=1653563380","width":650}],"content":"\u003cp\u003e\u003cstrong\u003eProdigy Young Teen\/ Women Neck Brace\u003c\/strong\u003e\u003c\/p\u003e\n\n\u003cul\u003e\n\t\u003cli\u003eEngineered to flex using our high impact polymer, but designed to fit the smaller bodies of young teens and small women.\u003c\/li\u003e\n\t\u003cli\u003eThe Atlas Prodigy brace is designed to fit a smaller rider, while performing the same as its bigger counterpart. For the first time, young teens and smaller women finally have safety equipment that will fit properly, and more importantly, function properly. The newly introduced Atlas Prodigy weighs in at a very light 590g.\u003c\/li\u003e\n\t\u003cli\u003eThe entry and exit system used on the Prodigy also doubles as the Emergency Release System. With the push of a button, a user can enter, or exit the brace very easily, with no loose parts to fall away. This quick release system can be performed in a matter of seconds by people of nearly any age.\u003c\/li\u003e\n\t\u003cli\u003eWe went to great lengths to create a perfect fit for smaller riders, and simply modifying an existing part wasn't up to our standards. Instead, we decided to start from scratch. The Atlas Prodigy brace uses its own unique frame design, specifically engineered to truly fit smaller riders properly, while allowing them the range of motion they need to perform extreme sports.\u003c\/li\u003e\n\t\u003cli\u003eIntroducing dual pivoting back supports on the Original brace changed the way people looked at neck protection. Less than one year later, we were able to not only cut the weight of our back supports in half, but add a flex-tip feature to the bottom of each back support making hese the most technologically advanced, and largest surface area back supports in existence.\u003c\/li\u003e\n\t\u003cli\u003eIn addition to new back supports, our new reversible rear mounts offer adjustment without the need for an additional set of mounts. Simply loosen the mounts assembled on the brace, rotate them 180 degrees, tighten, and an adjustment has been made. Two sizes built into one mount allows our amazingly simplistic design to become even more user friendly.\u003c\/li\u003e\n\u003c\/ul\u003e\n\n\u003cp\u003e \u003c\/p\u003e\n\n\u003cp\u003eSizing:- 29 -33\" \/ 74-84 cm\u003c\/p\u003e\n\n\u003cp\u003e\u003ciframe frameborder=\"0\" height=\"350\" id=\"The Prodigy Neck Brace\" longdesc=\"The Prodigy Neck Brace\" name=\"The Prodigy Neck Brace\" scrolling=\"yes\" src=\"https:\/\/www.youtube-nocookie.com\/embed\/-eIveFJD6pg?rel=0\" width=\"600\"\u003e\u003c\/iframe\u003e\u003c\/p\u003e\n\u003cul class=\"s3-links\"\u003e\r\n\u003cli class=\"s3-link-pdf\"\u003e\u003ca href=\"http:\/\/darbi.sprint3.com\/package\/webservice\/kernel_resources_render.asp?intKernel_resource_PK=623\" target=\"_blank\"\u003eAtlas-brace-sizing-tape-measure\u003c\/a\u003e\u003c\/li\u003e\r\n\u003c\/ul\u003e\r\n"}