ATLAS Defender
Regular price
Sale price
$249.00
Unit price
/
per
or 4 payments of
Regular price
$0.00
Sale price
$62.25
Unit price
/
per
with
---
---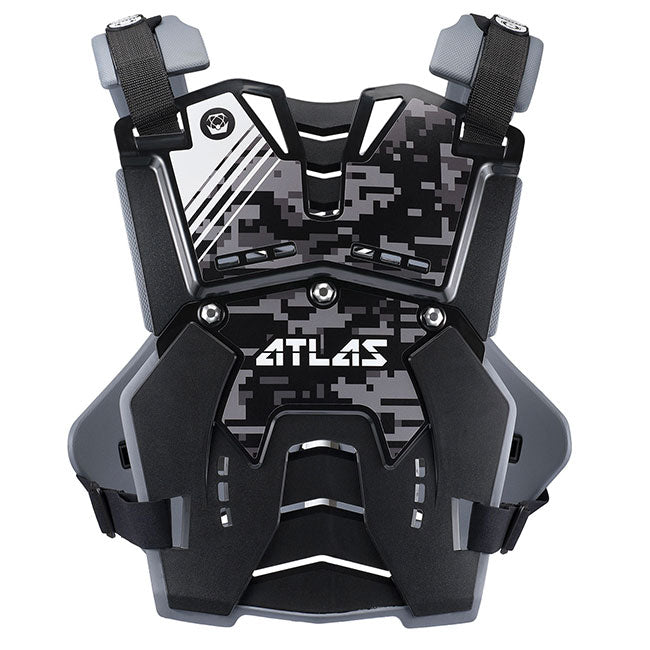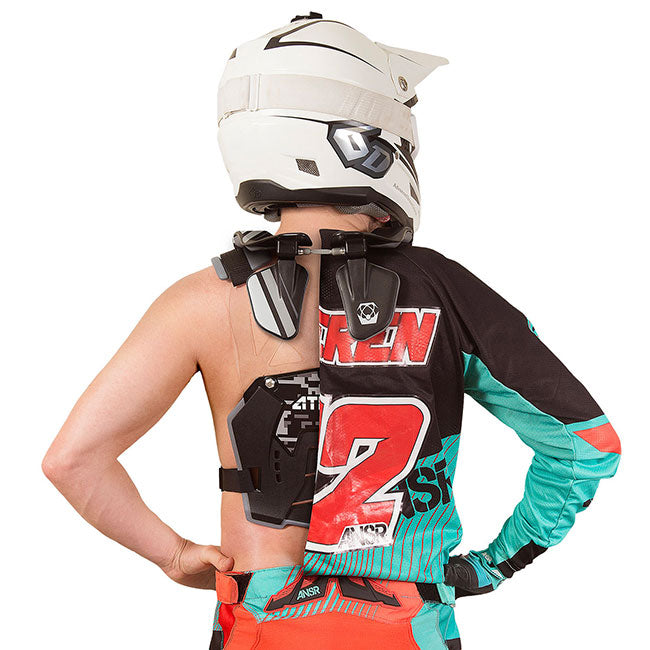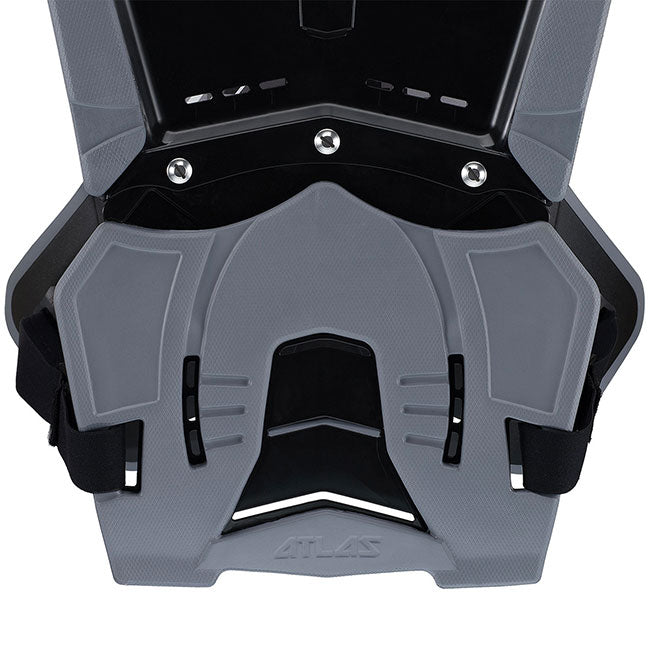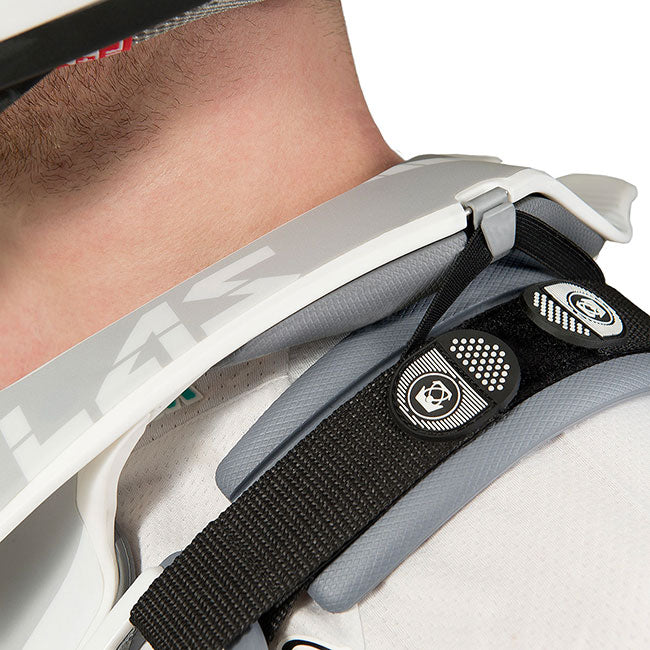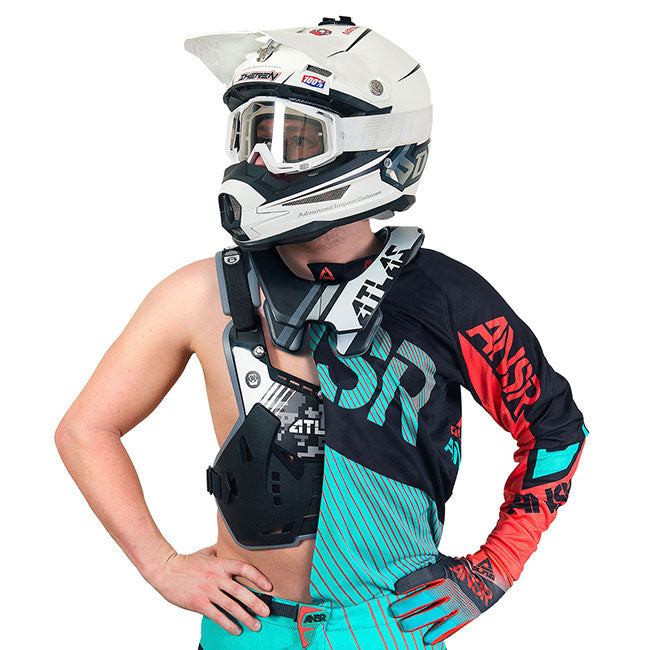 Defender 
The first advancement in 4 decades. - Traditional chest protectors have been the same for over 40 years - A combination of injection-molded plastic, laminated absorbent foam, and a fastening system holding them together. Atlas is proud to introduce the Defender Jr - The first modern solution to body protection made to integrate seamlessly with your Atlas Brace.
Waterproof. FINALLY. - With inspiration from high-end running shoes, Atlas is introducing a big step forward in comfort, durability, and water resistance. The Defender Jr padding is extremely lightweight, incredibly tough and tear resistant, and is completely waterproof. Finally, a chest protector you can wash knowing it will not put on water weight, or be wet for your next ride.
Side Wrap. - The plastic outer shell is extended around the side of the body, met with a layer of padding coming from the back. Together, a full side wrap is created to hug the body, and offer 360-degree coverage.
Integration. And security. - With multiple configurations, and the ability be worn under or over a jersey. Atlas even provides built-in simple elastic straps to hold your brace in place.
One size fits most.
In The Box:
Defender 
Hanger.
Quickstart guide.
Configuration kit. 
{"id":7304344043676,"title":"ATLAS Defender","handle":"atlas-defender-1","description":"\u003cp\u003e\u003cstrong\u003eDefender \u003c\/strong\u003e\u003c\/p\u003e\n\n\u003cp\u003e\u003cstrong\u003eThe first advancement in 4 decades. \u003c\/strong\u003e- Traditional chest protectors have been the same for over 40 years - A combination of injection-molded plastic, laminated absorbent foam, and a fastening system holding them together. Atlas is proud to introduce the Defender Jr - The first modern solution to body protection made to integrate seamlessly with your Atlas Brace.\u003c\/p\u003e\n\n\u003cp\u003e\u003cstrong\u003eWaterproof. FINALLY\u003c\/strong\u003e. - With inspiration from high-end running shoes, Atlas is introducing a big step forward in comfort, durability, and water resistance. The Defender Jr padding is extremely lightweight, incredibly tough and tear resistant, and is completely waterproof. Finally, a chest protector you can wash knowing it will not put on water weight, or be wet for your next ride.\u003c\/p\u003e\n\n\u003cp\u003e\u003cstrong\u003eSide Wrap\u003c\/strong\u003e. - The plastic outer shell is extended around the side of the body, met with a layer of padding coming from the back. Together, a full side wrap is created to hug the body, and offer 360-degree coverage.\u003c\/p\u003e\n\n\u003cp\u003e\u003cstrong\u003eIntegration. And security\u003c\/strong\u003e. - With multiple configurations, and the ability be worn under or over a jersey. Atlas even provides built-in simple elastic straps to hold your brace in place.\u003c\/p\u003e\n\n\u003cp\u003e\u003cstrong\u003eOne size fits most.\u003c\/strong\u003e\u003c\/p\u003e\n\n\u003cp\u003e\u003cstrong\u003eIn The Box:\u003c\/strong\u003e\u003c\/p\u003e\n\n\u003cul\u003e\n\t\u003cli\u003eDefender \u003c\/li\u003e\n\t\u003cli\u003eHanger.\u003c\/li\u003e\n\t\u003cli\u003eQuickstart guide.\u003c\/li\u003e\n\t\u003cli\u003eConfiguration kit. \u003c\/li\u003e\n\u003c\/ul\u003e\n","published_at":"2022-06-20T13:57:19+12:00","created_at":"2022-05-26T23:08:12+12:00","vendor":"Atlas Braces","type":"Apparel-Offroad-Armour\u0026Protection","tags":["S3-Cat-Apparel","S3-Cat-Apparel-Offroad","S3-Cat-Apparel-Offroad-Armour\u0026Protection","Sprint3","Sprint3-New"],"price":24900,"price_min":24900,"price_max":24900,"available":true,"price_varies":false,"compare_at_price":null,"compare_at_price_min":0,"compare_at_price_max":0,"compare_at_price_varies":false,"variants":[{"id":41661217472668,"title":"Defender Armour Digital Stealth Adult Atlas black [A]","option1":"Defender Armour Digital Stealth Adult Atlas black [A]","option2":null,"option3":null,"sku":"CPC-01-010","requires_shipping":true,"taxable":true,"featured_image":{"id":33930842144924,"product_id":7304344043676,"position":1,"created_at":"2022-05-26T23:08:19+12:00","updated_at":"2022-05-26T23:08:19+12:00","alt":"ATLAS Defender Digital Stealth - front","width":650,"height":650,"src":"\/\/motogear.co.nz\/cdn\/shop\/products\/a0b03077064b25512dd0df5c78b0bbdc_b9541cd8-3e97-491a-8b37-9ebb03019152.jpg?v=1653563299","variant_ids":[41661217472668]},"available":true,"name":"ATLAS Defender - Defender Armour Digital Stealth Adult Atlas black [A]","public_title":"Defender Armour Digital Stealth Adult Atlas black [A]","options":["Defender Armour Digital Stealth Adult Atlas black [A]"],"price":24900,"weight":0,"compare_at_price":null,"inventory_management":"sprint3-fulfillment","barcode":"814206024605","featured_media":{"alt":"ATLAS Defender Digital Stealth - front","id":26282539384988,"position":1,"preview_image":{"aspect_ratio":1.0,"height":650,"width":650,"src":"\/\/motogear.co.nz\/cdn\/shop\/products\/a0b03077064b25512dd0df5c78b0bbdc_b9541cd8-3e97-491a-8b37-9ebb03019152.jpg?v=1653563299"}}}],"images":["\/\/motogear.co.nz\/cdn\/shop\/products\/a0b03077064b25512dd0df5c78b0bbdc_b9541cd8-3e97-491a-8b37-9ebb03019152.jpg?v=1653563299","\/\/motogear.co.nz\/cdn\/shop\/products\/837d8b1021f45a54737ebc90171f9fc8_d11f3160-b5fd-4751-b43e-d93bcaf8defd.jpg?v=1653563299","\/\/motogear.co.nz\/cdn\/shop\/products\/11caa1b5a620d4ddb15ce2648b5e739b_0fbe9a32-a64e-4928-ae80-679096c98807.jpg?v=1653563299","\/\/motogear.co.nz\/cdn\/shop\/products\/b5590536f407ea16cbb0fbdd8e770d8b_9a77f34e-c80d-42d2-b47b-26f77ff8677c.jpg?v=1653563299","\/\/motogear.co.nz\/cdn\/shop\/products\/85c657f8167f438414cecbbf69d8425c_179104bc-a997-41b4-8ab6-abbf93976065.jpg?v=1653563299","\/\/motogear.co.nz\/cdn\/shop\/products\/bd90af582714f7f1470214ba0754ce4e_de21237c-4d47-4113-89de-b390bcafda0e.jpg?v=1653563299"],"featured_image":"\/\/motogear.co.nz\/cdn\/shop\/products\/a0b03077064b25512dd0df5c78b0bbdc_b9541cd8-3e97-491a-8b37-9ebb03019152.jpg?v=1653563299","options":["Stock Item"],"media":[{"alt":"ATLAS Defender Digital Stealth - front","id":26282539384988,"position":1,"preview_image":{"aspect_ratio":1.0,"height":650,"width":650,"src":"\/\/motogear.co.nz\/cdn\/shop\/products\/a0b03077064b25512dd0df5c78b0bbdc_b9541cd8-3e97-491a-8b37-9ebb03019152.jpg?v=1653563299"},"aspect_ratio":1.0,"height":650,"media_type":"image","src":"\/\/motogear.co.nz\/cdn\/shop\/products\/a0b03077064b25512dd0df5c78b0bbdc_b9541cd8-3e97-491a-8b37-9ebb03019152.jpg?v=1653563299","width":650},{"alt":"ATLAS Defender Digital Stealth - back","id":26282539417756,"position":2,"preview_image":{"aspect_ratio":1.0,"height":650,"width":650,"src":"\/\/motogear.co.nz\/cdn\/shop\/products\/837d8b1021f45a54737ebc90171f9fc8_d11f3160-b5fd-4751-b43e-d93bcaf8defd.jpg?v=1653563299"},"aspect_ratio":1.0,"height":650,"media_type":"image","src":"\/\/motogear.co.nz\/cdn\/shop\/products\/837d8b1021f45a54737ebc90171f9fc8_d11f3160-b5fd-4751-b43e-d93bcaf8defd.jpg?v=1653563299","width":650},{"alt":"ATLAS Defender Digital Stealth (1)","id":26282539450524,"position":3,"preview_image":{"aspect_ratio":1.0,"height":650,"width":650,"src":"\/\/motogear.co.nz\/cdn\/shop\/products\/11caa1b5a620d4ddb15ce2648b5e739b_0fbe9a32-a64e-4928-ae80-679096c98807.jpg?v=1653563299"},"aspect_ratio":1.0,"height":650,"media_type":"image","src":"\/\/motogear.co.nz\/cdn\/shop\/products\/11caa1b5a620d4ddb15ce2648b5e739b_0fbe9a32-a64e-4928-ae80-679096c98807.jpg?v=1653563299","width":650},{"alt":"ATLAS Defender Digital Stealth (4)","id":26282539483292,"position":4,"preview_image":{"aspect_ratio":1.0,"height":650,"width":650,"src":"\/\/motogear.co.nz\/cdn\/shop\/products\/b5590536f407ea16cbb0fbdd8e770d8b_9a77f34e-c80d-42d2-b47b-26f77ff8677c.jpg?v=1653563299"},"aspect_ratio":1.0,"height":650,"media_type":"image","src":"\/\/motogear.co.nz\/cdn\/shop\/products\/b5590536f407ea16cbb0fbdd8e770d8b_9a77f34e-c80d-42d2-b47b-26f77ff8677c.jpg?v=1653563299","width":650},{"alt":"ATLAS Defender Digital Stealth (5)","id":26282539516060,"position":5,"preview_image":{"aspect_ratio":1.0,"height":650,"width":650,"src":"\/\/motogear.co.nz\/cdn\/shop\/products\/85c657f8167f438414cecbbf69d8425c_179104bc-a997-41b4-8ab6-abbf93976065.jpg?v=1653563299"},"aspect_ratio":1.0,"height":650,"media_type":"image","src":"\/\/motogear.co.nz\/cdn\/shop\/products\/85c657f8167f438414cecbbf69d8425c_179104bc-a997-41b4-8ab6-abbf93976065.jpg?v=1653563299","width":650},{"alt":"ATLAS Defender Digital Stealth (6)","id":26282539548828,"position":6,"preview_image":{"aspect_ratio":1.0,"height":650,"width":650,"src":"\/\/motogear.co.nz\/cdn\/shop\/products\/bd90af582714f7f1470214ba0754ce4e_de21237c-4d47-4113-89de-b390bcafda0e.jpg?v=1653563299"},"aspect_ratio":1.0,"height":650,"media_type":"image","src":"\/\/motogear.co.nz\/cdn\/shop\/products\/bd90af582714f7f1470214ba0754ce4e_de21237c-4d47-4113-89de-b390bcafda0e.jpg?v=1653563299","width":650}],"content":"\u003cp\u003e\u003cstrong\u003eDefender \u003c\/strong\u003e\u003c\/p\u003e\n\n\u003cp\u003e\u003cstrong\u003eThe first advancement in 4 decades. \u003c\/strong\u003e- Traditional chest protectors have been the same for over 40 years - A combination of injection-molded plastic, laminated absorbent foam, and a fastening system holding them together. Atlas is proud to introduce the Defender Jr - The first modern solution to body protection made to integrate seamlessly with your Atlas Brace.\u003c\/p\u003e\n\n\u003cp\u003e\u003cstrong\u003eWaterproof. FINALLY\u003c\/strong\u003e. - With inspiration from high-end running shoes, Atlas is introducing a big step forward in comfort, durability, and water resistance. The Defender Jr padding is extremely lightweight, incredibly tough and tear resistant, and is completely waterproof. Finally, a chest protector you can wash knowing it will not put on water weight, or be wet for your next ride.\u003c\/p\u003e\n\n\u003cp\u003e\u003cstrong\u003eSide Wrap\u003c\/strong\u003e. - The plastic outer shell is extended around the side of the body, met with a layer of padding coming from the back. Together, a full side wrap is created to hug the body, and offer 360-degree coverage.\u003c\/p\u003e\n\n\u003cp\u003e\u003cstrong\u003eIntegration. And security\u003c\/strong\u003e. - With multiple configurations, and the ability be worn under or over a jersey. Atlas even provides built-in simple elastic straps to hold your brace in place.\u003c\/p\u003e\n\n\u003cp\u003e\u003cstrong\u003eOne size fits most.\u003c\/strong\u003e\u003c\/p\u003e\n\n\u003cp\u003e\u003cstrong\u003eIn The Box:\u003c\/strong\u003e\u003c\/p\u003e\n\n\u003cul\u003e\n\t\u003cli\u003eDefender \u003c\/li\u003e\n\t\u003cli\u003eHanger.\u003c\/li\u003e\n\t\u003cli\u003eQuickstart guide.\u003c\/li\u003e\n\t\u003cli\u003eConfiguration kit. \u003c\/li\u003e\n\u003c\/ul\u003e\n"}