Answer Elite Spectre Jerseys
Regular price
Sale price
$129.00
Unit price
/
per
or 4 payments of
Regular price
$0.00
Sale price
$32.25
Unit price
/
per
with
---
---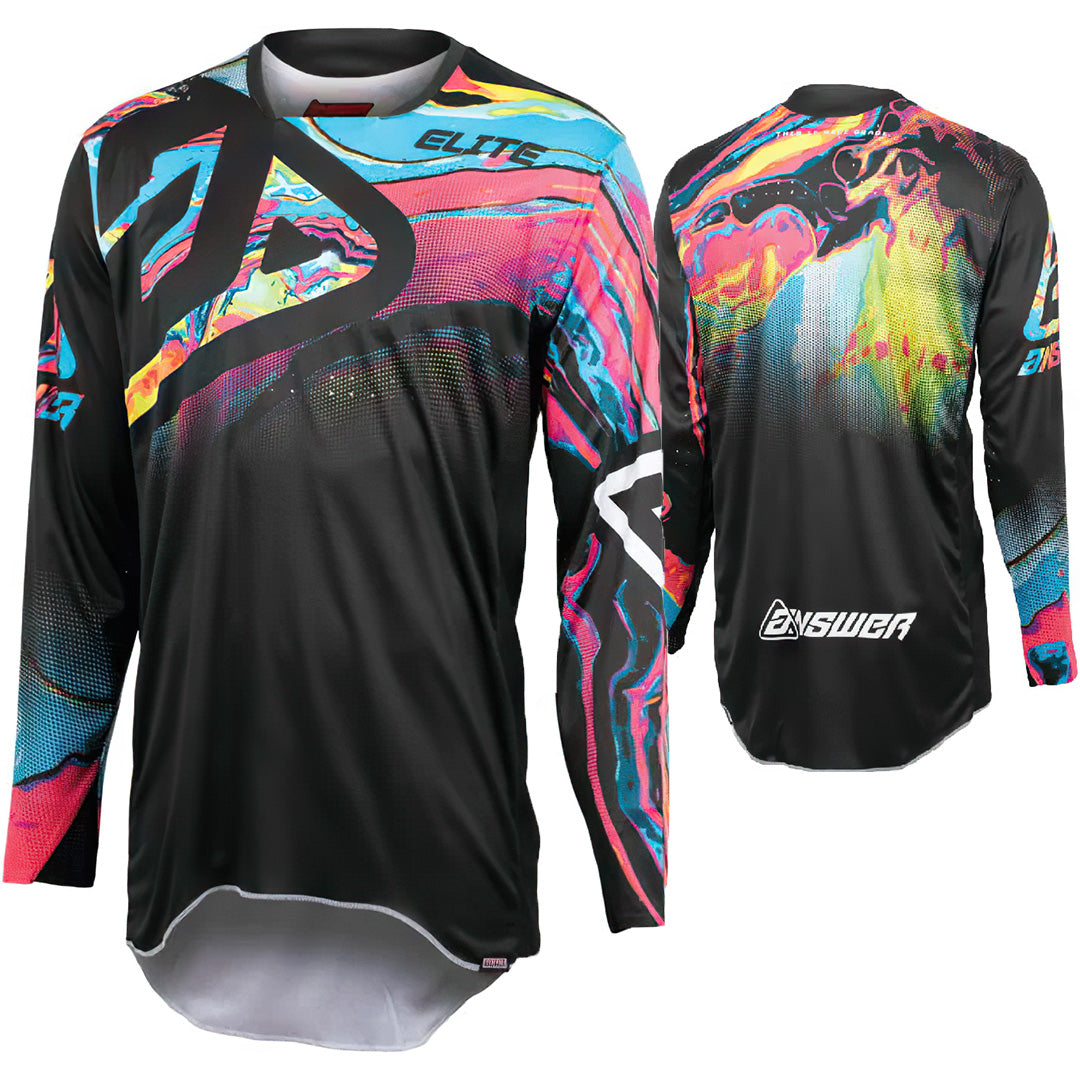 The pro-level design, materials and engineering of Answer's Elite gear provide riders all the advantages they'll need: style and performance. Quality materials and construction stand up to the toughest conditions, and dynamic styles make you stand out. If moto is your lifestyle, dress to look good; if winning is everything, wear what works. Get comfortable, get noticed, and get to the top quickly.
Premium 100% polyester stretch chest panel.
4-way stretch mesh side panels, sleeves and back for increased breathability.
Lightweight self-bonded cuff opening with perforated stretch dart.
Fade-free sublimated graphics.
Custom collar for increased comfort.
{"id":7622245875868,"title":"Answer Elite Spectre Jerseys","handle":"answer-elite-spectre-jerseys","description":"\u003cp\u003eThe pro-level design, materials and engineering of Answer's Elite gear provide riders all the advantages they'll need: style and performance. Quality materials and construction stand up to the toughest conditions, and dynamic styles make you stand out. If moto is your lifestyle, dress to look good; if winning is everything, wear what works. Get comfortable, get noticed, and get to the top quickly.\u003c\/p\u003e\n\n\u003cul\u003e\n\t\u003cli\u003ePremium 100% polyester stretch chest panel.\u003c\/li\u003e\n\t\u003cli\u003e4-way stretch mesh side panels, sleeves and back for increased breathability.\u003c\/li\u003e\n\t\u003cli\u003eLightweight self-bonded cuff opening with perforated stretch dart.\u003c\/li\u003e\n\t\u003cli\u003eFade-free sublimated graphics.\u003c\/li\u003e\n\t\u003cli\u003eCustom collar for increased comfort.\u003c\/li\u003e\n\u003c\/ul\u003e\n","published_at":"2023-05-22T16:22:01+12:00","created_at":"2023-05-10T19:24:47+12:00","vendor":"Answer Racewear (MX gear)","type":"Apparel-Offroad-Jerseys\u0026Jackets","tags":["S3-Cat-Apparel","S3-Cat-Apparel-Offroad","S3-Cat-Apparel-Offroad-Jerseys\u0026Jackets","Sprint3","Sprint3-New"],"price":12900,"price_min":12900,"price_max":12900,"available":true,"price_varies":false,"compare_at_price":null,"compare_at_price_min":0,"compare_at_price_max":0,"compare_at_price_varies":false,"variants":[{"id":42486661087388,"title":"S Elite Spectre MX Jersey Iridium\/Black A23.5 Answer []","option1":"S Elite Spectre MX Jersey Iridium\/Black A23.5 Answer []","option2":null,"option3":null,"sku":"A447970","requires_shipping":true,"taxable":true,"featured_image":{"id":36079978643612,"product_id":7622245875868,"position":1,"created_at":"2023-05-10T19:24:55+12:00","updated_at":"2023-05-10T19:24:55+12:00","alt":"Answer Elite MX Jersey Iridium Black","width":1080,"height":1080,"src":"\/\/motogear.co.nz\/cdn\/shop\/products\/fde82de3ba4a09247d826cf9985a44cf.jpg?v=1683703495","variant_ids":[42486661087388,42486661120156,42486661152924,42486661185692,42486661218460]},"available":true,"name":"Answer Elite Spectre Jerseys - S Elite Spectre MX Jersey Iridium\/Black A23.5 Answer []","public_title":"S Elite Spectre MX Jersey Iridium\/Black A23.5 Answer []","options":["S Elite Spectre MX Jersey Iridium\/Black A23.5 Answer []"],"price":12900,"weight":0,"compare_at_price":null,"inventory_management":"sprint3-fulfillment","barcode":"447970","featured_media":{"alt":"Answer Elite MX Jersey Iridium Black","id":28454068617372,"position":1,"preview_image":{"aspect_ratio":1.0,"height":1080,"width":1080,"src":"\/\/motogear.co.nz\/cdn\/shop\/products\/fde82de3ba4a09247d826cf9985a44cf.jpg?v=1683703495"}}},{"id":42486661120156,"title":"M Elite Spectre MX Jersey Iridium\/Black A23.5 Answer []","option1":"M Elite Spectre MX Jersey Iridium\/Black A23.5 Answer []","option2":null,"option3":null,"sku":"A447971","requires_shipping":true,"taxable":true,"featured_image":{"id":36079978643612,"product_id":7622245875868,"position":1,"created_at":"2023-05-10T19:24:55+12:00","updated_at":"2023-05-10T19:24:55+12:00","alt":"Answer Elite MX Jersey Iridium Black","width":1080,"height":1080,"src":"\/\/motogear.co.nz\/cdn\/shop\/products\/fde82de3ba4a09247d826cf9985a44cf.jpg?v=1683703495","variant_ids":[42486661087388,42486661120156,42486661152924,42486661185692,42486661218460]},"available":true,"name":"Answer Elite Spectre Jerseys - M Elite Spectre MX Jersey Iridium\/Black A23.5 Answer []","public_title":"M Elite Spectre MX Jersey Iridium\/Black A23.5 Answer []","options":["M Elite Spectre MX Jersey Iridium\/Black A23.5 Answer []"],"price":12900,"weight":0,"compare_at_price":null,"inventory_management":"sprint3-fulfillment","barcode":"447971","featured_media":{"alt":"Answer Elite MX Jersey Iridium Black","id":28454068617372,"position":1,"preview_image":{"aspect_ratio":1.0,"height":1080,"width":1080,"src":"\/\/motogear.co.nz\/cdn\/shop\/products\/fde82de3ba4a09247d826cf9985a44cf.jpg?v=1683703495"}}},{"id":42486661152924,"title":"L Elite Spectre MX Jersey Iridium\/Black A23.5 Answer []","option1":"L Elite Spectre MX Jersey Iridium\/Black A23.5 Answer []","option2":null,"option3":null,"sku":"A447972","requires_shipping":true,"taxable":true,"featured_image":{"id":36079978643612,"product_id":7622245875868,"position":1,"created_at":"2023-05-10T19:24:55+12:00","updated_at":"2023-05-10T19:24:55+12:00","alt":"Answer Elite MX Jersey Iridium Black","width":1080,"height":1080,"src":"\/\/motogear.co.nz\/cdn\/shop\/products\/fde82de3ba4a09247d826cf9985a44cf.jpg?v=1683703495","variant_ids":[42486661087388,42486661120156,42486661152924,42486661185692,42486661218460]},"available":true,"name":"Answer Elite Spectre Jerseys - L Elite Spectre MX Jersey Iridium\/Black A23.5 Answer []","public_title":"L Elite Spectre MX Jersey Iridium\/Black A23.5 Answer []","options":["L Elite Spectre MX Jersey Iridium\/Black A23.5 Answer []"],"price":12900,"weight":0,"compare_at_price":null,"inventory_management":"sprint3-fulfillment","barcode":"447972","featured_media":{"alt":"Answer Elite MX Jersey Iridium Black","id":28454068617372,"position":1,"preview_image":{"aspect_ratio":1.0,"height":1080,"width":1080,"src":"\/\/motogear.co.nz\/cdn\/shop\/products\/fde82de3ba4a09247d826cf9985a44cf.jpg?v=1683703495"}}},{"id":42486661185692,"title":"XL Elite Spectre MX Jersey Iridium\/Black A23.5 Answer []","option1":"XL Elite Spectre MX Jersey Iridium\/Black A23.5 Answer []","option2":null,"option3":null,"sku":"A447973","requires_shipping":true,"taxable":true,"featured_image":{"id":36079978643612,"product_id":7622245875868,"position":1,"created_at":"2023-05-10T19:24:55+12:00","updated_at":"2023-05-10T19:24:55+12:00","alt":"Answer Elite MX Jersey Iridium Black","width":1080,"height":1080,"src":"\/\/motogear.co.nz\/cdn\/shop\/products\/fde82de3ba4a09247d826cf9985a44cf.jpg?v=1683703495","variant_ids":[42486661087388,42486661120156,42486661152924,42486661185692,42486661218460]},"available":true,"name":"Answer Elite Spectre Jerseys - XL Elite Spectre MX Jersey Iridium\/Black A23.5 Answer []","public_title":"XL Elite Spectre MX Jersey Iridium\/Black A23.5 Answer []","options":["XL Elite Spectre MX Jersey Iridium\/Black A23.5 Answer []"],"price":12900,"weight":0,"compare_at_price":null,"inventory_management":"sprint3-fulfillment","barcode":"447973","featured_media":{"alt":"Answer Elite MX Jersey Iridium Black","id":28454068617372,"position":1,"preview_image":{"aspect_ratio":1.0,"height":1080,"width":1080,"src":"\/\/motogear.co.nz\/cdn\/shop\/products\/fde82de3ba4a09247d826cf9985a44cf.jpg?v=1683703495"}}},{"id":42486661218460,"title":"2XL Elite Spectre MX Jersey Iridium\/Black A23.5 Answer []","option1":"2XL Elite Spectre MX Jersey Iridium\/Black A23.5 Answer []","option2":null,"option3":null,"sku":"A447974","requires_shipping":true,"taxable":true,"featured_image":{"id":36079978643612,"product_id":7622245875868,"position":1,"created_at":"2023-05-10T19:24:55+12:00","updated_at":"2023-05-10T19:24:55+12:00","alt":"Answer Elite MX Jersey Iridium Black","width":1080,"height":1080,"src":"\/\/motogear.co.nz\/cdn\/shop\/products\/fde82de3ba4a09247d826cf9985a44cf.jpg?v=1683703495","variant_ids":[42486661087388,42486661120156,42486661152924,42486661185692,42486661218460]},"available":true,"name":"Answer Elite Spectre Jerseys - 2XL Elite Spectre MX Jersey Iridium\/Black A23.5 Answer []","public_title":"2XL Elite Spectre MX Jersey Iridium\/Black A23.5 Answer []","options":["2XL Elite Spectre MX Jersey Iridium\/Black A23.5 Answer []"],"price":12900,"weight":0,"compare_at_price":null,"inventory_management":"sprint3-fulfillment","barcode":"447974","featured_media":{"alt":"Answer Elite MX Jersey Iridium Black","id":28454068617372,"position":1,"preview_image":{"aspect_ratio":1.0,"height":1080,"width":1080,"src":"\/\/motogear.co.nz\/cdn\/shop\/products\/fde82de3ba4a09247d826cf9985a44cf.jpg?v=1683703495"}}}],"images":["\/\/motogear.co.nz\/cdn\/shop\/products\/fde82de3ba4a09247d826cf9985a44cf.jpg?v=1683703495","\/\/motogear.co.nz\/cdn\/shop\/products\/bb9701f033210c8d7d6cd4f7e0d738cf_a14d557c-4865-43b1-be6c-7d4bec7c0035.png?v=1683703495"],"featured_image":"\/\/motogear.co.nz\/cdn\/shop\/products\/fde82de3ba4a09247d826cf9985a44cf.jpg?v=1683703495","options":["Stock Item"],"media":[{"alt":"Answer Elite MX Jersey Iridium Black","id":28454068617372,"position":1,"preview_image":{"aspect_ratio":1.0,"height":1080,"width":1080,"src":"\/\/motogear.co.nz\/cdn\/shop\/products\/fde82de3ba4a09247d826cf9985a44cf.jpg?v=1683703495"},"aspect_ratio":1.0,"height":1080,"media_type":"image","src":"\/\/motogear.co.nz\/cdn\/shop\/products\/fde82de3ba4a09247d826cf9985a44cf.jpg?v=1683703495","width":1080},{"alt":"ANSWER Men's Jerseys","id":28454068650140,"position":2,"preview_image":{"aspect_ratio":2.183,"height":447,"width":976,"src":"\/\/motogear.co.nz\/cdn\/shop\/products\/bb9701f033210c8d7d6cd4f7e0d738cf_a14d557c-4865-43b1-be6c-7d4bec7c0035.png?v=1683703495"},"aspect_ratio":2.183,"height":447,"media_type":"image","src":"\/\/motogear.co.nz\/cdn\/shop\/products\/bb9701f033210c8d7d6cd4f7e0d738cf_a14d557c-4865-43b1-be6c-7d4bec7c0035.png?v=1683703495","width":976}],"content":"\u003cp\u003eThe pro-level design, materials and engineering of Answer's Elite gear provide riders all the advantages they'll need: style and performance. Quality materials and construction stand up to the toughest conditions, and dynamic styles make you stand out. If moto is your lifestyle, dress to look good; if winning is everything, wear what works. Get comfortable, get noticed, and get to the top quickly.\u003c\/p\u003e\n\n\u003cul\u003e\n\t\u003cli\u003ePremium 100% polyester stretch chest panel.\u003c\/li\u003e\n\t\u003cli\u003e4-way stretch mesh side panels, sleeves and back for increased breathability.\u003c\/li\u003e\n\t\u003cli\u003eLightweight self-bonded cuff opening with perforated stretch dart.\u003c\/li\u003e\n\t\u003cli\u003eFade-free sublimated graphics.\u003c\/li\u003e\n\t\u003cli\u003eCustom collar for increased comfort.\u003c\/li\u003e\n\u003c\/ul\u003e\n"}